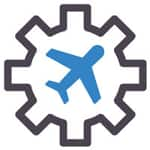 Aviation Management
Degrees offered: B.A., B.B.A, B.C.A., B.Com, B.E /B.Tech, B.M.S, B.Sc.
Q&A : 414 Question
What is Aviation Management
Aviation Management deals with the study of airlines, airports and business related to the aerospace industry. Candidates pursuing aviation management course aim at working at high-level positions where they can work for the security of the airport and air traffic control towers. This course covers the basic topics of aviation. This job involves the activity of planning, designing, operating and maintaining aircraft.


Aviation Management course provides individuals with the education necessary to oversee the departments of airlines and airports. There is a vast scope for aviation management as it is witnessing new heights every day. India has the third-largest civil aviation market in the world. Ground handling, fleet management, ticketing, international tourism board, hospitality and in-flight services are included in aviation management. The career in aviation management is lucrative as the career brings stupendous growth and countless opportunities outside India also. Travelling across the world and getting paid for can undoubtedly be the most satisfying job.
Eligibility Criteria (UG & PG) of Aviation Management
Mentioned below is the eligibility criteria of Aviation Management. Candidates can go through the Aviation Management eligibility criteria course wise before appearing for the entrance exams for Aviation Management:
Undergraduate Level
Undergraduate degree such as BBA in Aviation Management can be pursued only if the candidates fulfil the following criteria
Candidates must have completed their 10th and 12th from a recognized board of education(state board/CBSE/ICSE

The candidate must score at least 50% to be eligible for entrance exam/admission.

Admission for aviation studies varies from college to college. Before selecting a college, the candidate has to look for the selection process and eligibility criteria.

Some universities conduct their entrance exams, and some choose students based on 12th marks.

Postgraduate Level
A minimum mark of 50% in class ten and twelve is required by most of the colleges. Bachelor's degree with 50% marks or equivalent CGPA is needed.

Minimum of two years of experience in the Aviation sector will be best suited for an MBA in aviation management.
Aviation Management Colleges by States
Aviation Management Colleges by Location
Entrance Exams for Aviation Management
CAT- Common Admission Test is conducted for offering admissions to MBA aspirants. The duration of the CAT exam is two hours for all categories. There are 100 questions in CAT, and they must be attended online. CAT score is accepted by FMS Delhi, MDI Gurgaon, SPHIMR Mumbai and more than 200 other colleges and universities in India. Candidates must score at least 50-60% during their class 10 and 12 to appear for CAT.
MAT- Management Aptitude Test is a national level entrance exam conducted by AIMA, All India Management Association for offering MBA courses in over 600 educational institutions in India. MAT is 150 minutes long and comprises 200 questions. There are two modes for MAT one is paper-based, and the other is online. Check other MAT articles.
GMAT- Graduate Management Admission Test is organised to measure the candidate's mathematics, verbal, and analytical writing skills. Candidates from 18 and above 18 years of age can appear for GMAT. It consists of multiple-choice questions and is computer-based. MBA degrees can be pursued globally if a valid GMAT score is achieved. Check other GMAT articles.
SNAP- Symbiosis National Aptitude Online test is a common MBA entrance examination to enrol into 16 symbiosis institutes. SNAP takes place for one hour.
XAT- Xavier Aptitude Test is the key to get admissions in MBA/PGDM programs in XLRI and 160 other top MBA colleges India. There are two papers in XAT. One has 75 questions, and the second has 25 questions for the candidates. The examination is conducted online by XLRI, Jamshedpur.
Scope of Aviation Management in India and Abroad
The huge potential of aviation management is attracting investors from all over the world. In the next ten years, the aviation industry will witness huge investments of up to two lakh crore rupees, demand 935 more planes and traffic growth of 13% CAGR. This will eventually lead to a huge rise in employment opportunities. The average salary of aviation management graduates ranges from Rs. 4-6 lakh p.a. (Approx.). Students with aviation as their area of interest can opt for this course. Common terms in the aviation industry like fuselage, nose, tail, main-plane, port and starboard must be known to aspirants. Students with ideas of pursuing higher studies and interested in teaching aviation are also the best match for aviation management course.
Student Also Liked:
Course Fees Aviation Management
Minimum Fees
Maximum Fees
Private
Government
Private
Government
UG

60.00 K

B.B.A in Aviation Management at Singhania University, Jhunjhunu

51.90 K

B.Voc. in Aviation Management at Mahatma Gandhi Chitrakoot Gramodaya Vishwavidyalaya, Chitrakoot

9.62 Lakhs

B.B.A in Aviation Management at School of Business, University of Petroleum and Energy Studies, Dehradun

60.00 Lakhs

B.E /B.Tech in Aviation Management at Department of Technology, Savitribai Phule Pune University, Pune

PG

30.00 K

Executive MBA in Aviation Management at Singhania University, Jhunjhunu

6.50 Lakhs

P.G.D.M in Aviation Management at HAL Management Academy, Bangalore

15.26 Lakhs

MBA in Aviation Management at School of Business, University of Petroleum and Energy Studies, Dehradun

60.00 Lakhs

M.E /M.Tech. in Aviation Management at Department of Technology, Savitribai Phule Pune University, Pune

DIPLOMA

10.00 K

Diploma in Aviation Management at Singhania University, Jhunjhunu

---

Data not available

1.00 Lakhs

Diploma in Aviation Management at Shree Guru Gobind Singh Tricentenary University, Gurgaon

---

Data not available
Course Subjects
Undergraduate course BBA in aviation management is for three years. Subjects in aviation management included in the syllabus are,
Financial Accounting

Community Service

Business Statistics

Environmental Studies

Cargo Handling

Airport Functions of Airlines

Business Economics

Human Resource Management

Research Methodology and Report Writing

Aviation Marketing

MBA in aviation management is a two-year course and comprises of the following aviation management subjects and more,
E-Business

Aircraft Maintenance Management

Airline Advertising and Sales promotion

Airline Economics

Cross-Cultural Management

Entrepreneurship Development

Total Quality Management
Careers in Aviation Management
The aviation and aerospace industries offer multiple high demand career paths for aviation management. Those who have excellent punctuality and honesty are preferred for the aviation industry. Not many are aware of the different opportunities the aviation industry has to offer.


The first thing that comes to mind when someone thinks of choosing a career in the aviation industry is being a pilot. But the career options after completing an aviation management course are huge and diverse in the aviation sector. Candidates acquire the abilities that would assist them in coming up with the ever-evolving industry. All national and international airlines hire aviation management graduates. They also have the privilege to travel all around the world and meet celebrities. Most of all, the pay is high; the job is interesting for the passionate ones.
Popular Colleges in India offering MBA
Upcoming trends
Technology and Artificial Intelligence- Artificial Intelligence-based systems improve efficiencies and maintain a high level of security. Customer queuing times can be reduced through facial recognition by AI. Chatbots and virtual assistants will provide good customer experience when ticket booking and engaging customers. Data analytics, machine learning and robotics, will assist in recording the passenger behaviour to improve airport design and customer experience


Virtual Reality- Airports and airlines have started to implement virtual and augmented reality in terminal and in-flight as well. Virtual reality headsets are given to watch films in slight. Training cabin crew and new pilots with VR and AR software are used by the French military.


5G is Faster- The 5G technology will lower latency data, offer stability and connect more devices at the same time. Technology will be the connection to satisfy the need for fast connectivity in-flight and at airports. It is four times faster than 4G.
Browse aviation management certification courses
View complete list of Aviation Management Certification Courses
Job Profiles and Top Recruiters
Candidates with required skills have a good aviation management scope. It is a field with an ever-changing environment. Hence, candidates who frequently update themselves have a good scope in Aviation Management. Some of the job profiles in Aviation Management careers with their job descriptions are given for reference
Job Profile

Job Description

Credit Control Manager

A Credit Control Manager oversees an organization's incoming finance. They control the process of payment for the organization's services or products.

Airport Manager

An Airport Manager manages and oversees the daily operations of an airport.

Sometimes the Airport Manager is required to work with airlines and shuttle services.

Program Manager

A Program Manager manages the operations of the aviation department. Maintenance, safety and schedules are monitored by them.

Airport Operations Manager

An Airport Operations Manager is in charge of assessing, evaluation, coordination and overseeing the daily airport operations.

They make sure that the airport complies with aviation regulations and procedures.

Assistant Airport Manager

An Assistant Airport Manager helps the airport manager to fulfil tasks and responsibilities of maintaining the airport.

They purchase, maintain and handle the staffing of airport vehicles.

Airlines Grooming Trainer

A Grooming session emphasizes on how each uniform is worn and how to properly accessorize at work.

The session is taken by Airlines Grooming Trainer.

Aviation Trainer

An Aviation Trainer is responsible for instructions for a safe flight.

Territory Manager

A Territory Manager oversees the daily sales operations in aviation.

They train sales employees, develop effective sales strategies and ensure sales quotas for assigned territory.
Top Recruiters in Aviation Management Sector
Airlines and leading firms in the aviation industry are the top recruiters for aviation management graduates. Names of a few top companies recruiting them are:
Jet Airways

Alliance Air

Air Costa

Air Heritage

Air Deccan

Air India Charters Ltd

Spice Jet

IndiGo

Gulf Air

Qatar Airways

Omni Aviation Services

Amazon Logistics Division

Lemon Tree

Air India

Nvidia
Average Salary
Salary is the foremost thing the student has to know before opting for an aviation management course. Salaries for popular job profiles in the aviation industry are given below:
| | |
| --- | --- |
| Job Profile | Salary |
| Aviation Manager | Rs. 7-10 lakh p.a. (Approx.) |
| Credit Control Manager | Rs. 8-10 lakh p.a. (Approx.) |
| Airport Manager | Rs. 3-6 lakh p.a. (Approx.) |
| Program Manager | Rs. 3-5 lakh p.a. (Approx.) |
| Airport Operations Manager | Rs.6-7 lakh p.a. (Approx.) |
| Assistant Airport Manager | Rs. 5-7 lakh p.a. (Approx.) |
| Airlines Grooming and Aviation Trainer | Rs. 3-4 lakh p.a. (Approx.) |
Required Skillset for Aviation Management
Field Knowledge and Interpersonal Skills- Knowledge of all state and federal requirement related to airport and airline operations. Aircraft maintenance, monitoring and analyzing skills are mandatory. The importance of effective communication is important as the profession holds the responsibility of human lives. Emotional intelligence is the ability to respect and being open to another person's viewpoint. That should be possessed.
Communication Skills- During flight and emergency conditions, communication skills are needed for a profession in aviation. Poor communication leads to even disasters sometimes. Being able to evaluate information and establish certain facts are the key strengths for people in the aviation industry. Analysing a change in weather conditions, aviation managers can react according to their experience.
Work Ethic- Aviation is a fast-paced industry. One has to be a hard-worker to establish a career in aviation. A job in aviation is rewarding, but it is important to choose a job that suits your skills. You cannot be lazy once you are selected for a job in aviation.
Positive Attitude- Everyday work as an aviation manager when you deal with people you must carry positivity with you. The more positive you are when you work, the more productive it turns out to be. Our moods have an impact on those around us.
Course Curriculum for Aviation Management
Aviation management course focuses on marketing management, aviation law, airline management, airline and airport management etc. The course aims to produce aviation management professionals who have stellar communication skills, interpersonal skills, excellent knowledge about air transport, airport operations, cabin crew training to ground staff and ticket management.


Aviation management course imparts knowledge on the airport, business, airlines, and every aspect of the aviation industry.


Aerodynamics, aviation safety, aircraft systems, meteorology, airline management, and international aviation are other topics in aviation management. The course also prepares students for a variety of roles in the aviation industry. Business and managerial aspects of the aviation industry are primarily focused on this course.
Browse Top MBA Colleges Accepting CAT Score: Location-Wise


Browse Popular MBA Colleges By Cities
Browse Popular MBA Colleges By States
Popular Aviation Management Entrance Exams in India
Popular Aviation Management Colleges in India VIEW ALL
Frequently Asked Questions (FAQs)
Question: What are the top colleges offering BBA in aviation courses?
Answer :
Top colleges offering undergraduate aviation management degrees are as follows, Vinod Gupta School of Management-Kharagpur, Department of Management Studies, IIT Delhi, Institute of Management Technology Ghaziabad, Shailesh J Mehta School of Management Mumbai.
Question: Is maths compulsory to pursue BBA in aviation management?
Answer :
Maths in class 12 is not compulsory to be eligible for pursuing BBA in aviation management, India. Some colleges like NMIMS school of commerce demand math compulsorily for admission. It is because the curriculum is exhaustive, and it requires analytical and quantitative skills.
Question: Which countries are best for pursuing aviation management?
Answer :
The United Kingdom, Greece, Spain, Netherlands, Kenya, USA, The Maldives, Sri Lankaare among the best destinations to pursue aviation courses. These countries hold some of the best aviation schools in the world for candidates to pursue flight training & other studies in the sphere of aviation.
Question: Is an aviation degree hard to pursue?
Answer :
A bachelor's degree is the first step to make a career in aviation. The degree is not difficult as there is so much to learn, but it's interesting you'll just want to keep learning when it comes to aviation. The pressure is less while you pursue the degree; the nature of the job is quite difficult and offers pleasure as well.
Question: What is the difference between aviation management and airport management?
Answer :
Airport management includes managing and supervising and coordination operations and maintenance of an airport. Aviation management manages the operations of the aviation department ensuring all maintenance, safety, scheduling operations are executed effectively.
Questions related to Aviation Management
Showing 412 out of 412 Questions
Interested in Aviation Management? Find information around eligibility, career scope, jobs , colleges and exams and much more for free.