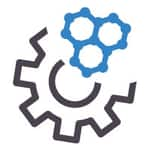 Nano Technology Engineering
Degrees offered: B.A., B.E /B.Tech, B.Sc M.Sc, B.Sc., B.Tech M.Tech, BS, Diploma
Q&A : 18 Question
What is Nano Technology Engineering
Nanotechnology Engineering is the manipulation of nanomaterials to convert it into useful and effective materials, structures, devices. And the branch of engineering that deals with the study of nanotechnology is known as Nanotechnology Engineering or NanoEngineering.


It wasn't 30-40 years that this term was coined, but the technique has been used since a very long time. The centuries-old stained glass window of medieval churches is proof of the use of nanoscale materials.


Scientists and engineers all over the world are in a continuous endeavour to implement the use of Nanotechnology Engineering into various aspects of one's life to take maximum advantage of its enhanced features.


Nanotechnology Engineering includes the formation of products at an atomic level and innovating effective machinery and tools. Various industries such as electronics and power generation have already adapted this technology.


Students who want to build a lucrative career in the field of science can study Nanotechnology Engineering in graduation as it is a promising field and has a wide scope. It is assumed that the revolution brought by nanotechnology will be way broader than IT and the internet.
Eligibility Criteria (UG & PG) of Nano Technology Engineering
For Undergraduate in Nanotechnology Engineering
The candidate applying for Bachelors in Nanotechnology Engineering should have qualified their class 12th board exams from a recognized central or state school education board in India.

The candidate should have mandatorily studied PCM subjects in their class 12th exams i.e. Physics, Chemistry, and Maths.

The candidate must have an aggregate of 55% or more in their class 12th exams for securing admission in most of the colleges.

For Postgraduate in Nanotechnology Engineering
In order to be eligible for admission in PG ecourses, the candidates should have completed their BTech Degree with 50% or more marks from a recognized institution/college/university.

For PhD in Nanotechnology Engineering
The candidates should have completed their master's degree from a recognized college, institute or university with 55% or more marks.

The minimum marks required are reduced to 50% for candidates from OBC/SC/ST category.

Candidates can apply for JRF only till the age of 30.
Entrance Exam for Nanotechnology Engineering
Some colleges provide admission based on entrance exam while some provide admission based on the candidate's merit. Mostly a student must undergo two rounds for selection -
Institutional Test/Entrance Exam (if any)

Personal Interview/ Group Discussion (GD)

The entrance exam for some of the best colleges that provide a UG/PG/PhD programs have been listed below:
At Undergraduate Level –
IIT-JEE (JEE Main and JEE Advanced)- JEE Main is a national level exam conducted by the National Testing Agency (NTA) twice a year for admission to NITs, IIITs and some other government-funded institutes of technology. . Students who qualify JEE Main can only appear for JEE Advanced. By qualifying JEE Advanced, candidates become eligible for admission to IITs and other premier institutes. It provides admission based on the ranks and marks achieved by the students.

WBJEE – West Bengal Joint Entrance Exam- WBJEE is a state-level joint entrance exam for engineering and pharmacy students. It is conducted by West Bengal Joint Entrance Exam Board (WBJEEB).

SRMJEEE – SRM Joint Engineering Entrance Exam- SRMJEEE is a university-level exam for BTech students. It is conducted by SRM Institute of Science and Technology. It is conducted online in June.

At Postgraduate Level –
GATE (Gratitude and Aptitude Test in Engineering)- GATE is an entrance exam conducted by IISC and IIT for admission in PG courses. It's a national level exam, conducted online mode. The exam is composed of objective type questions and is generally conducted in February.

Doctorate Level –
UGC NET (National Eligibility Test) – UGC NET is a national level entrance exam conducted by NTA for Junior Research Fellowship or Assistant professor. It is conducted in September – November.

SIU PET (Symbiosis International University PhD Entrance Exam)- SIU PET is a university-level exam for Symbiosis International University. It is conducted online in June.
Scope of Nano Technology Engineering in India and Abroad
Nanotechnology Engineering is assumed to outshine IT and the Internet in the near future as it is termed as the "green and clean" alternative to the existing ones. There's a huge scope in this field as the government of India is taking the initiative to introduce and implement this technology in various fields.


There are programs such as "Nano Mission" to encourage and research on Nanotechnology Engineering. The most developed field as of now is nanomaterial, Nanoelectronics, and Nanobiotechnology.
Course Fees Nano Technology Engineering
Minimum Fees
Maximum Fees
Private
Government
Private
Government
UG

2.04 Lakhs

B.E /B.Tech in Nano Technology Engineering at Srinivas University, Mangalore

---

Data not available

18.00 Lakhs

B.E /B.Tech in Nano Technology Engineering at Mahindra University, Hyderabad

---

Data not available

PG

20.00 K

M.Phil. in Nano Technology Engineering at MATS University, Raipur

706

M.E /M.Tech. in Nano Technology Engineering at Jawaharlal Nehru University, New Delhi

9.60 Lakhs

Dual Degree in Nano Technology Engineering at Amity University, Jaipur

4.98 Lakhs

M.E /M.Tech. in Nano Technology Engineering at Delhi Technological University, Delhi

DOCTORAL

2.43 Lakhs

Ph.D in Nano Technology Engineering at Amity University, Jaipur

---

Data not available

4.80 Lakhs

Ph.D in Nano Technology Engineering at Shoolini University of Biotechnology and Management Sciences, Solan

---

Data not available

DIPLOMA

70.00 K

Diploma in Nano Technology Engineering at University of Technology, Jaipur

---

Data not available

1.05 Lakhs

Diploma in Nano Technology Engineering at University of Technology, Jaipur

---

Data not available
Course Subjects
The course syllabus differs on the basis of specialisation, but all the Nanotechnology Engineering students are taught four basic Nanotechnology Engineering subjects including micro and Nano-instrumentation, Nano-electronics, Nano bio-systems, and Nano-engineered materials.


Apart from this here's the list of core subjects that are taught while pursuing a course in Nanotechnology Engineering.
Principles of Environmental Science

Biology for Engineers

Elements of Nanoscience and Nanotechnology

Statistical Mechanics and Thermodynamics

Fundamentals of Solid State Technology

Properties of Nanomaterials

Quantum Mechanics

Production of Nanomaterials

Electronic and Optical Properties of Material

Material Science

Non-conventional Energy Sources

Nano Measurement

Atomic and electronic structure of matter

Bioengineered Nanomaterials
Careers in Nano Technology Engineering
Professionals in the field of Nanotechnology Engineering can have a furtive career in diverse sectors from medical to agricultural departments. There's a high demand for skilled Nano engineers in both government and private institutions.


You can choose a career in several fields according to your interest and specialisation as there's specialisation in Nanomaterial which is widely used as a coating for textiles, automobiles and aerospace, then there's Nano Biotechnology which involves research in medicine, non-invasive surgery, and Nanoprobes.


This provides a wide range of opportunities and a dynamic career for the students studying Nanotechnology Engineering. You can be employed by both, the firms that manufacture nanomaterials and the sectors that use it. Nanotechnology Engineering graduates can work as scientists or executive managers in various field such as :
Electronics/semiconductor industry

Textile Industry

Auto and aerospace industries

Biotechnology

Medical fields and pharmaceuticals

Food science (quality control and packaging)

Forensic Industry

Research Industry
Upcoming trends
Nanotechnology Engineering has become a field of interest due to its scope in the near future. Nanotechnology is an important technique to improve and alter the quality of material for various activities and fields.


Following are the few trends that Nanotechnology engineering can bring –
Nanotechnology does not just improve the quality of material, but it also reduces the risk to the environment; thus, there's a huge chance of commercialisation.

Soon, we might see the use of Nanotechnology Engineering to produce renewable materials from extracted agro-industrial waste.

Use of nanomedicines – Advances are made in the use of Nanotechnology Engineering to diagnose and treat a patient, and it is soon medicines will be replaced by nanomedicines because of its requirement of low dosage and fewer side-effects.
Job Profiles and Top Recruiters
Job profile in Nanotechnology Engineering
Job Profile

Description

Project assistant

Project assistants are expected to provide support and create balance at the during executing projects.

They report directly to the project director and are required to ensure that there are no confusions or interruptions impeding the progress of the project.

Project engineer

Project engineers are responsible for discussing the objectives of a project as well as review project proposals with the management.

They must keep a close watch on the project phases and assign tasks to employees accordingly. They must also review bids from various contractors.

Service engineer

Service engineers review each machine at regular intervals so that they can find the fault and rectify it to avoid any major accident. They have to be well versed with a usual manual.

Account executive

Account executives have to manage a lot of tasks as part of their duties, ranging from preparing campaign strategy, developing a budget, creating new campaign ideas, managing the account, sending invoices to the clients, and delivering pitches to the clients.

Lecturer

As a lecturer you will get an opportunity to nurture young minds and train them with the key concepts in the field of Nanotechnology Engineering. You will have to understand the objectives of the institute and then perform all the duties assigned to you as a lecturer to the fullest.
Nanotechnology Engineering Top Recruiters
CSIR

DRDO

BARC

Applied Materials

GE Engineering

Dr Reddy's Lab

IISC

Nano Serendipity Consortium

Amity University

Global Pharma MNC
Average Salary
Per annum based on their skills and the hiring company.
| | |
| --- | --- |
| Job Profile | Average Salary |
| Project assistant | Rs. 2-3 Lakhs p.a. (Approx.) |
| Projects engineer | Rs. 4-7 Lakhs p.a. (Approx.) |
| Service engineer | Rs. 3-6 Lakhs p.a. (Approx.) |
| Account executive | Rs. 2-4 Lakhs p.a. (Approx.) |
| Lecturer | Rs. 7-10 Lakhs p.a. (Approx.) |

Professionals graduating in Nanotechnology Engineering can expect a salary package of 2-5 Lakhs
Required Skillset for Nano Technology Engineering
According to TOI, India produces about 1.5 Million engineers every year, but sadly the number of jobs available is comparatively very low. In a country where 1 out of 10 students is an engineer it's difficult to compete, isn't it?


You might be brilliant, but how will you prove that to your future employer.
Well, every professional must possess academic knowledge, hard skills and soft skills that help the employer pick them from the crowd.


Following is the list of skills that an engineer requires to be better than the rest:
Communication and Leadership Skills – Excellent communication skills are imperative in this field as you need to be able to express your thoughts, views, and opinions to your seniors, subordinates, and clients efficiently. The process of developing/researching concepts requires a brilliant mind. Unless one can collaborate and work with different professionals effectively, it's not possible to deliver the required result.

Knowledge Literacy – It is not possible for an individual to possess knowledge about every topic, provided the limited span of the course but the ability to adapt to changes and new development is of prime importance. A Nanotechnologist must be able to research and analyse any topic and create a powerful project.

Industry Skills – The field of technology demands knowledge in both theoretical and practical form. Lacking either one is not ideal. The course curriculum of an engineer requires them to work on various projects, and therefore the industry expects a graduate in Nanotechnology Engineering to be skilled.

Critical Thinking – After majoring from a subject, everyone will expect you to be an expert in your subject and analyse every matter professionally. You cannot think and work like a layman in a field like Nano Technology. It is important to think wisely to make use of an opportunity.

Problem Solving – You might stumble upon professional problems in your work field that will require you to analyse, reflect and make a quick judgement to end the problem. Having the ability to negotiate a problem is a must.
Course Curriculum for Nano Technology Engineering
Bachelors in Nanotechnology Engineering is a 4 years long professional course, which is divided into 8 semesters. The curriculum is designed to make a student experienced and skilled in topics such as nanotechnology, nano-engineered materials, and their evolving properties.


The Nanotechnology Engineering course curriculum has been designed by the institutions to deliver thorough knowledge and experience to a professional which will help with seamless functioning in the dynamic market landscape. Students are expected to stay updated with evolving technologies, perform the assigned tasks diligently, and take part in seminars and workshops to acquire industrial knowledge.


The curriculum strikes a balance between theoretical knowledge and industry skills.
Popular Nano Technology Engineering Entrance Exams in India
Popular Nano Technology Engineering Colleges in India VIEW ALL
Frequently Asked Questions (FAQs)
Question: Is it necessary to have a bachelor's degree in Nanotechnology Engineering to do a Master's in Nanotechnology Engineering?
Answer :
No, Nanotechnology is a multidisciplinary science subject. Therefore, there are no restrictions. Any engineering student or a graduate from physics can apply for PG in Nanotechnology Engineering.
Question: What are the other courses available in Nanotechnology Engineering?
Answer :
Nanotechnology is a vast field, therefore, its study has been segmented into various courses such as:
Question: Which are the top institutes offering Nanotechnology Engineering Courses?
Answer :
Following is the list of top five colleges offering nanotechnology engineering course-
Indian Institute of Technologies

National Institute of Technologies
Question: What are the industries in which a graduate in Nanotechnology Engineering can work?
Answer :
Nanotechnology is a wide and developing field and offers vibrant career options in various fields like research industry, forensic industry, medical and pharmaceutical industry, biotechnology and electronics industry.
Question: What is the best career option in Nanotechnology Engineering?
Answer :
Material Science is being highly used to replace the harmful material by eco-friendly Nanomaterials. Therefore, candidates majoring in material sciences can have a lucrative career in Nanotechnology Engineering.
Questions related to Nano Technology Engineering
Showing 18 out of 18 Questions
Courses Similar to Nano Technology Engineering
Interested in Nano Technology Engineering? Find information around eligibility, career scope, jobs , colleges and exams and much more for free.