English grammar is like the engine of a car. Now, if you know all the mechanics, you know where the carburetor is and what the various pubes are in the car and how you do this and you become a mechanic. Do you think you can drive the car?
Let us understand some nuances related to the important components of English Grammar.
Hacking Nouns
In English grammar a quick ID check for nouns:-
A noun is a name
A noun will have a verb in a sentence. A noun is normally the subject of the verb
A noun is the object of a preposition
A noun takes a denominator. This does not apply to zero determiners
Abstract Nouns- the neglected nouns; the names of qualities, ideas, feelings and institutions. Endings are: -ist,-ism,-ily,-y, -ness, -ment, -ance, -ship, -ice, -ace, -hood, -dom, -cy.
Hacking Adjectives
In English grammar an adjective always accompanies a noun.
One of the good English grammar rules is that the adjective always needs a noun
One of the good English grammar basics is that some adjectives are before the noun (attributive) and some are after the noun (predicative)- the "pretty" girl, the girl is "pretty".
Adjective or passive verbs mean the same and can overlap- the "broken" vase, the vase was "broken".
Adjective Functions- You can use the Order Acronym as DOSASCOMP+ Noun
An example in English grammar: The wonderful large ancient oblong brown chinese wooden writing table
The - Determiner(D)
Wonderful- Opinion(O)
Large-Size(S)
Ancient-Age(A)
Oblong-Shape(S)
Brown-Color(C)
Chinese-Origin(O)
Wooden-Material (M)
Writing- Purpose (P)
Table - Noun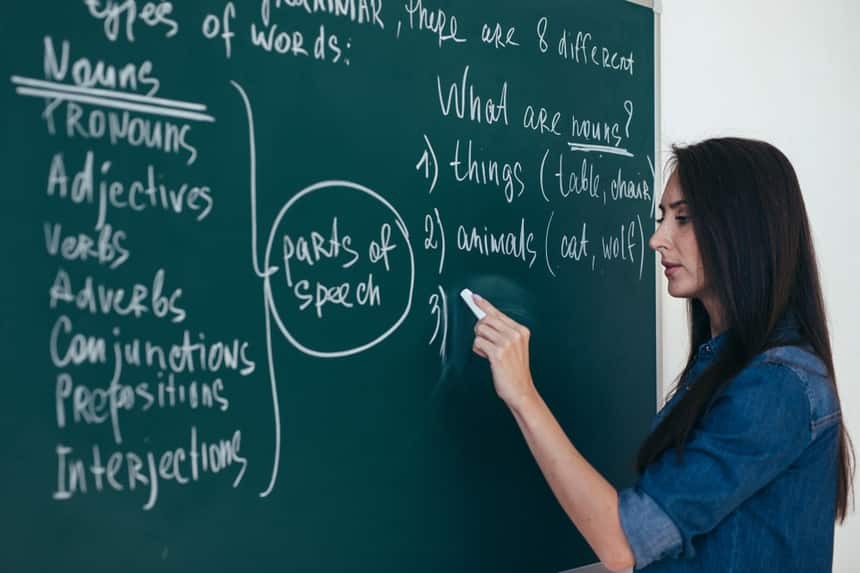 In English Grammar An Adjective Always Accompanies A Noun
Adjective Or Pronouns? Verb Or Adjective?
Possessive Adjective Or Possessive Pronoun?
Radha's bag. Her bag. Pronoun or adjective?
Possessive adjectives: my, your, his, her, its, your, our, their followed by noun)
Possessive pronouns: mine, yours, his, hers, its, yours, ours, theirs. (Subject: This or It-no noun )
Verb Or Adjective?
Another one of the good English grammar rules is that participles (ing words) make continuous tenses (She is laughing at them.) Note that they have a helping verb. English grammar basics say that sometimes they work as adjectives. (The laughing children)
English grammar tips: They don't have an auxiliary or helper.
An Example in English grammar: The -ing imposters. Participles: Bleating sheep, braying donkeys etc. (not verbs) - no auxiliaries.
The chirping birds. (adj) The birds were chirping on the trees. (verb). Do the auxiliary check.
Adjectives are always attached to a noun. So are participle adjectives. They can come before the noun (Screaming kids are noisy.) Or after the verb (The kids began screaming.)
Ask if the -ing word is describing the noun or making a continuous tense with the verb?
The lecture was boring (adjective) (describes lecture) no object . She is boring the class. (verb) (takes an object)
Adjectives And Pronouns
In English grammar, adjectives and pronouns share the same words
One of the good English grammar rules is that the adjective needs a noun. The pronoun replaces a noun. When it is a pronoun, the noun is missing!
Adjectives and Pronouns: indefinite, possessive, demonstrative, distributive, interrogative
Also Read | Communicating Effectively: Tips And Tricks To Speak Better English
The Verb And Its Imposters - Gerunds, Participle, Infinitives
In English grammar, there can be no sentence without a verb. One word sentence - Go. It is a verb. Imposters - gerunds, participles, infinitives
One of the good English grammar basics is that an -ing word without a helper (aux) before it, is NOT a verb.
Swimming is my hobby. Swimming in the lake is my hobby. This special -ing noun is a gerund (as opposed to verbs: is swimming, was talking, will be writing (aux + verb)
Swimming ducks - use the adjective rule.
Swimming in the lake, the ducks looked peaceful. This special -ing adjective is called the participle
I like to swim - to + base verb is called infinitive. We can replace it with a gerund or a noun (I like swimming; I like chess)
Another one of the good English grammar rules is that all the ID rules of a noun apply to a gerund. This does not apply to infinitives.
English grammar tips: Infinitives can be other parts of speech, but they mostly function as nouns. It is all in the function.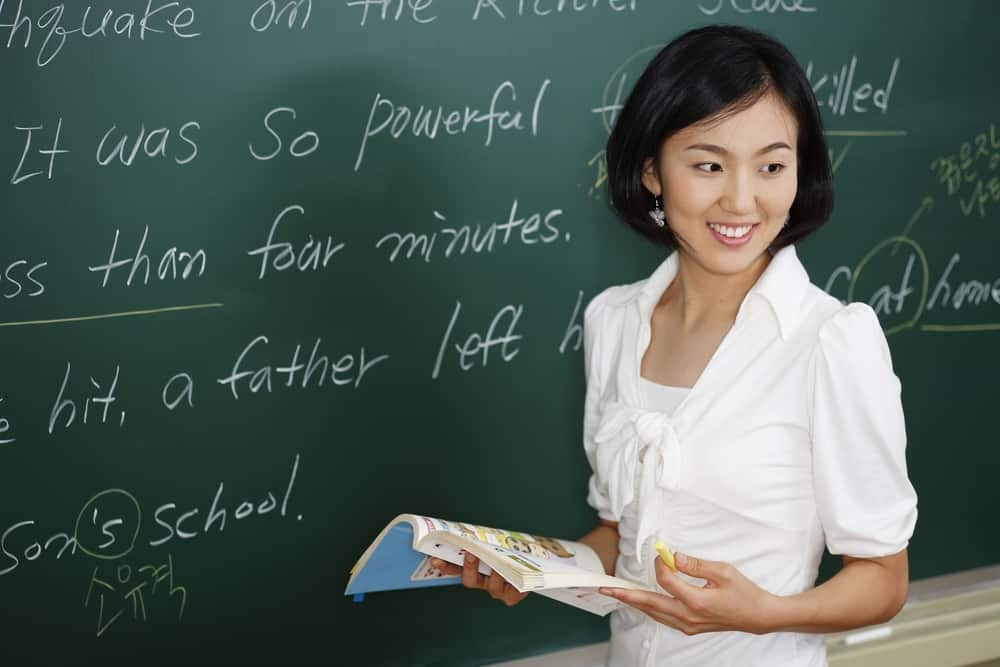 Infinitives Can Be Other Parts Of Speech, But They Mostly Function As Nouns
Adverbs
In English grammar, adverbs tell us more of verbs, adjectives, and other adverbs. The adverb gives us information on the verb using time, place, manner, reason, condition, comparison, consequence, and concession
"He ran" tells us nothing. Until you ask: How? When? Why? Where? Although what? On what condition? Compared to what? consequent to what?
Ran how? Quickly, slowly, lethargically breathlessly
When?- now, then, after sometime (phrase) after it was over (clause)
Where? - nowhere, somewhere, here, there
Why? - on being chased (phrase) because he was chased (clause)
Although what? - being sick (phrase) as he was sick (clause)
Condition? - If late, (phrase) he will run. If he is late, (cl) he will run.
Adverb of negation 'not' - He did not run (verb is did run) not is the adverb.
Adverb of emphasis - certainly, definitely, totally, rather
Also Read | 6 Careers To Consider After An English Major
Prepositions
In English grammar, preposition shows location, position, time, and direction between two objects
The preposition box.
The house and the mountain
The cat's journey to and from the kitchen from 5 to 9
In English grammar, prepositions and adverbs share the same words. E.g. He ran away. He ran to his mother. He fell down. He fell down the stairs
One of the important English grammar tips: prepositions are always followed by object nouns. Adverbs are not.
Nest of Boxes - A prepositional phrase contains a noun phrase which in turn, contains an adjectival phrase
Prepositional phrases can be adjectival or adverbial in function. It means the phrase can be attached to either the noun in the sentence (adjectival) or to the verb (adverbial) E.g. The manager of the large upmarket fashion shop came late to work. The underlined phrase is attached to the noun 'manager' or the verb 'came"? - adjectival (which manager?) Being late, the manager came to work in a terrible and furious hurry. The underlined phrase tells us more about the verb 'came or the noun 'manger? -adverbial (came how?)
Also Read | Exploring English Language Training As A Career
Reduce. Substitute. Extend
In English grammar, strategies to double check adjectival or adverbial.
Prepositional phrases can be related to :-
a) noun/pronoun in the sentence or
b) to the verb.
An e.g. in English grammar -The girl in awe of the highly-talented and extremely arrogant princess was tongue tied.
Reduce (simplify): The awed girl was tongue-tied.
Substitute: The girl in the pink dress was tongue-tied.
Extend: She who was completely in awe of the talented and arrogant princess was tongue-tied.
An e.g. in English grammar -The plane flew over the lush green wheat field. Where? Over the field. Is this describing the plane or the verb 'flew'? It tells us where it flew. This is therefore, adverbial as it tells us more about the verb"flew". If you ask which plane? Will you get the answer? No.
Reduce: The plane flew gracefully.
Substitute: The plane flew very fast and recklessly.
Extend: The plane flew where there were fields. Reduce substitute extend are strategies to double check answers
Conjunctions Or Adverbs? Conjunctions Or Pronouns?
In English grammar, conjunctions can be lead words or markers in subordinating or depending clauses in complex sentences: That, when, where, as if, although, if, because etc. They make nouns and adverbial clauses.
Adverbs or relative pronouns? Who/Which/Whom/That. They make adjectival clauses and are also called relative pronouns
Adverbs or conjunctions? They are called conjunctive adverbs. They act as both conjunctions and adverbs. These are also called transition words. The function of transition words is conjunctive which means to connect. They may be adverbs, showing time, addition, consequence, conclusion, purpose
Example: (in the meanwhile, moreover, consequently, finally, therefore etc.) You need them to combine sentences or paragraphs. They appear at the beginning and must be followed by a comma.
Accordingly, furthermore, however, despite, thus, moreover, consequently etc. They are different from ordinary conjunctions like and, but or yet which have no adverbial function but are pure conjunctions.
Watch Now | Grammar Hacks