Who is a Radio Jockey?
TV gives everyone an image, but radio gives birth to a million images in a million brains ~ Piggy Noonan
A radio jockey is popularly known as RJ. He or she hosts a radio talk show, podcast, or music show. In simple terms, Radio Jockey is the presenter of a radio programme. The career as radio jockey or RJ is about entertaining callers in a chat system, which is apparently broadcast on the radio and communicates with the caller by phone or email, and online chat.
Radio Jockey must be able to engage listeners with his or her voice and word choice and how he or she presents the content before the audience is also important. If you want to know more about career as radio jockey, who is radio jockey, how to become a radio jockey and more continue reading the article.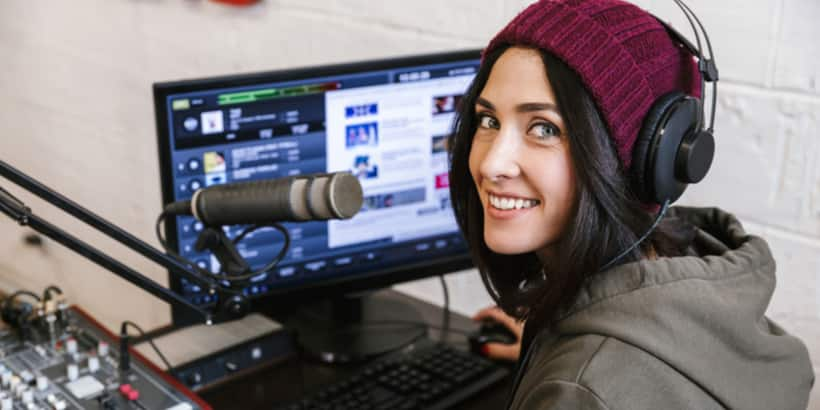 Radio Jockey in a Nutshell
Radio Jockey is an exciting, promising career and a great challenge for music lovers. If you are really interested in a career as radio jockey, then it is very important for an RJ to have an automatic, fun, and friendly personality. If you want to get a job done in this field, a strong command of the language and a good voice are always good things. Apart from this, in order to be a good radio jockey, you will also listen to good radio jockeys so that you can understand their style and later make your own by practicing.
A career as radio jockey has a lot to offer to deserving candidates. If you want to know more about a career as radio jockey, and how to become a radio jockey then continue reading the article.
Quick Facts for Radio Jockey
Industry

Entertainment

Average Salary in India

₹39333.33

Suitable for

Male, Female, Others

A career as radio jockey is not gender-specific. Males, females, and others can choose advertising as a career. Male and female radio jockeys receive equal benefits in India because, in this profession, gender is insignificant.

Any special needs

Yes

A career as radio jockey suit everyone even those with special needs. Occasionally, he or she is asked to attend events but radio jockey jobs are mostly limited to studios. Individuals with body deformities can plan and execute radio shows.
What is the role of Radio Jockey?
The role of Radio Jockey is to inform, refresh and entertain. His or her work involves presenting a variety of music programs and entertaining audiences with other things such as guest interviews of artists, celebrities, and music, or film-related work. In a career as radio jockey one provides music-related comments and manages audience requests.
Target Audience
The role of radio jockey is to work hand-in-hand with the creative producer and the writer of the show. It is essential to keep in mind the target audience of the show they are creating and choose the timing, script, music, and every other related thing according to the theme.
Planning
One must plan out a show well in advance so that there is no confusion and scope of errors last minute. Planning is the key, especially in a show which runs live for the audience as one cannot correct his or her mistakes in a career as radio jockey.
Proofreading
The radio jockey role and responsibilities before a show is to record aired proof-reading the script is essential. This step is never skipped as anything stated or quoted needs to have a credible source behind it, especially in a career as radio jockey dealing with current affairs or newsworthy topics.
Types of a Radio Jockey
FM/AM Radio Jockeys: The role of an FM/AM radio jockey is to communicate with the audience, play music, speak, or both. They usually work on community radio stations.
Talk Radio Jockeys: The role of a talk radio jockey is to speak only throughout the programme, and to discuss various social and political issues depending on the show's theme. They also engage with audiences and viewers.
Sports Talk Radio Jockeys: Sports talk radio jockey is required to work with viewers to discuss a variety of sports news and events. Sports talk radio jockeys are generally former athletes, television anchors, or sportswriters.
Satellite Jockeys: The role of satellite radio jockeys is similar to FM/AM jockeys. They often talk or play explicit content without looking at the seriousness of the problem. They are not controlled by any board of broadcast.
What is the workplace/work environment of Radio Jockey like?
The radio jockey is responsible for recording shows and content that can help in entertaining more and more people and ultimately help in achieving a larger audience. In a career as radio jockey, most of the work is done on the desk therefore, he or she works in an office environment. This is a regular job and the individual has to work at an office desk as well as record shows in the studio, and in a safe atmosphere in general.
Does Radio Jockey require travelling?
Likely
In a career as radio jockey, an individual's work does not include travel, if at all one has to travel it is very rare. This occurs in the case of a famous radio jockeys as these people are called to give appearances, host shows or even called at colleges to give lectures.
Employment Shifts
Full Time, Part Time, Hourly Basis
The job shift for a radio jockey is usually full-time. The radio jockey operates full-time but shifts vary depending on an individual's showtime. In a career as radio jockey, individuals generally work 40 hours a week.
Employment Nature
Contractual, Permanent
The role of radio jockey is generally a permanent one. In a career as radio jockey, individuals may have to work with a radio station on a full-time basis.
Work Place
Studio
In a career as radio jockey, individuals plan and execute radio channel's programme with the entire production team. Once the script is ready the show is either pre-recorded or even aired live.
Presence in Geographical Area
Semi-urban, Urban
In rural areas, the radio jockey has fewer opportunities than in urban or semi-urban regions. The notion of the rural market in India is also emerging and it presents various challenges such as knowing rural customers, reaching out to remote areas, and providing entertainment.
Time Pressure
Likely
In a career as radio jockey, candidates execute certain activities for audiences and sponsors in a specified time span. This needs a lot of time and mental strength. Therefore, there is time pressure when it comes to a career as radio jockey.
Overtime Details
The role of Radio jockey is for nine hours a day. But when it comes to special occasions one may have to work extra hours.
Weekly Hours of Work
Min 9 Hours
The radio jockeys work about forty hours a week, almost nine hours a day. radio jockeys' work comes under certain shifts, and they may even work longer hours on various types of projects.
How to become a Radio Jockey?
Steps to become a Radio Jockey
What are the skills and qualities required to become a/an Radio Jockey?
In order to make a career as a radio jockey, one must possess some skills. Some skills required by a radio jockey are mentioned below:
Creativity: In a career as radio jockey, individuals should be capable of producing unique and innovative concepts. Creativity attracts the listener's psychological, and entertainment demands. It could be as basic as doing voice modulation. Creativity is the most critical thing when it comes to a career as a radio jockey.
Communication skills: In a career as radio jockey, individuals should be able to interact efficiently during the radio show. One should be clear while presenting a show or a piece of content. Having good communication skills helps a lot in a career as radio jockey.
Decision-making skills: In a career as radio jockey, individuals should have the capability to make a decision and contribute to the foundation of a strong and popular content-based show. Decision-making is a process that is needed in every small or large industry. Having decision-making skills enables one to evaluate every situation.
Interpersonal management: In a career as radio jockey, candidates work with a majority of individuals in various positions, both within the radio station as well as with the guests on the show. Interpersonal skills are the qualities and strategies that an individual uses to communicate effectively with everyone. The field involves the willingness of an individual to function well with each other.
Popular Online Arts And Crafts Courses and Certifications
Which certifications and internships can be helpful in becoming Radio Jockey?
Internship Availability
Yes
Internships are seen as the perfect means of gaining exposure in a career as radio jockey. Internships serve to provide the candidate with real-life experience. Internships often provide the future applicant with the opportunity to incorporate the theoretical concepts that they have developed in order to bring them into practical use during their college days. One could find an internship in the field of radio jockeying either through his or her college, or websites or could also contact a radio station directly.
Career Path Progression for Radio Jockey
We have mentioned the types of a Radio Jockey below or careers related to it. One can opt for various roles in the career as a Radio Jockey with the required work experience and skills.
Announcer: In a career as announcer, one reads scripts on radio or television, comments on important news stories, and provides commentary for the audience during sporting events, and parades. Occasionally, he/she might also be required to select programme content and make promotional appearances at public or private events. For certain jobs, they are also responsible for other aspects of radio and public information.
An announcer is sometimes also required to operate studio equipment, sell commercial time to advertisers, and produce advertisements and other recorded material. At various radio and broadcasting information centers, an announcer is required to perform the job as same as that an editor or a broadcast technician.
On-AIR Personalities: An On-Air personality is a radio jockey who has achieved a target audience that is loyal to him or her. Such a radio jockey is sought by several sponsors in order to sponsor the shows. As an on-air personality, one has to be creative and unique in terms of the content he or she creates. It is necessary to stand out in the crowd.
Production Director: Once a radio jockey has skills as well as experience of several years he or she can become a production director. As a production director one gets to decide what kind of shows will be aired at what time. Not only that he or she approves the sponsorship contents as well.
Radio Jockey Jobs and Salaries
Announcer
Monthly Salaries
Average Salary

30000

Junior Level Salary

20000

Senior Level Salary

50000
Job Description
An announcer's main responsibility is to provide a variety of information to his/her audience. The information can be related to either entertainment, politics, or general such as music, news, sports, current events, the weather, the time, traffic updates, and commercials. If working in the television and radio sector, they are often required to interview guests and moderators for discussion regarding various topics.
Salary Description
The income of an announcer depends on job development or is highly dependent on the experience of the particular candidate. The salaries of radio announcer rely on specific industry experience and skills.
On-AIR Personalities
Monthly Salaries
Average Salary

38000

Junior Level Salary

25000

Senior Level Salary

65000
Job Description
These are well-known radio jockeys and their main function is to keep the audience entertained as well as to organise show sponsors and manage studio arrangements.
Salary Description
The salaries are focused around the different divisions and the position that one holds. One radio jockey can be more famous than the other. Depending on an individual's reach he or she is provided with the salary.
Production Director
Monthly Salaries
Average Salary

50000

Junior Level Salary

35000

Senior Level Salary

60000
Job Description
This is a position one can get after becoming a top person on On-Air. This is the person who controls On-Air traffic and production schedules and organises programs.
Salary Description
The more skills you obtain in these fields, the better salaries you will receive in this sector. In the early phase of the career, in order to become a production director, one needs to have several years of experience and it automatically increases the salary.
What is the job outlook for Radio Jockey?
It is expected that the total employment of radio jockeys will rise by 6.2 per cent in the coming five years. It is predicted that entertainment will remain essential as businesses attempt to establish and increase their market share. Radio jockeys prepare, and manage radio shows along with a team of people and cater to the audience's demands accordingly. Radio jockeys are highly creative and often pursued by other professionals.
For entertainment-based content or even advertisements, the best opportunities should be for radio jockeys who can manage the digital environment like YouTube podcasts along with the AIR podcasts to increase traffic. Although a lot of people consider radio an outdated medium. According to research, it is still considered a valuable, strong, and reliable career option, especially in India.
Student Also Liked:
Frequently Asked Questions for Radio Jockey
Que. How much does a radio jockey earn?
Ans.
A Radio Jockey can earn anything between Rs. 10,000 to Rs. 30,000 initially but as one gains experience and popularity, salary of a radio jockey can go up to Rs. 1.5 to Rs.2 lakhs per month. Moreover, popular RJs get additional earning opportunities by hosting private shows, voice over for television and radio advertisements among others.
Que. Radio Jockey eligibility criteria.
Ans.
There are no entrance exams available in order to enroll in a course for making a career in radio jockey. Candidates can also do short-term certificate and diploma programmes in this field. What matters most in this career path is, of course, your voice. Your diction and pronunciation should also be clear. If you want to make a career as a Radio Jockey, then you should meet the basic eligibility criteria like pursuing a certificate, diploma or degree in the field of radio.
Que. Name some top books that can help in becoming a radio jockey.
Ans.
Some top books that can help one in making a career as a radio jockey are:
Romance the Microphone: Be a Radio Jockey by Swaty Gupta

Encyclopaedia of Journalism And Mass Communication by OM Gupta

How to Become a Radio DJ: A Guide to Breaking and Entering by Mike Staff

Fundamentals of Radio Broadcasting by John Hasling

The Radio Jockey Hand Book by Simran Kohli
Que. What can one do in the field of radio jockeying apart from hosting a show?
Ans.
In the profession of radio, the opportunities are not limited to radio jockeying only. In addition to hosting your own radio shows, you can also hold alternative careers in the radio industry, such as that of producer, music manager, copy or scriptwriter, creative engineer, marketing manager, so on and so forth.
Que. What are the Top Colleges for Radio Jockey?
Ans.
Top Radio Jockey Colleges
You might also be interested in
Questions related to Radio Jockey
Showing 4 out of 4 Questions
The question have been saved in answer later, you can access it from your profile anytime.
Access now
Report Question
Select your reason of reporting