Who is a Social Media Manager?
If you make customers unhappy in the physical world, they might each tell 6 friends. If you make customers unhappy on the Internet, they can each tell 6,000 friends ~ Jeff Bezos
Social media managers are in charge of speaking on behalf of a business on social media as the only voice of the brand. They make material, organise campaigns, and reply to comments. These specialists offer firms the direction they need to improve their internet presence. Career as social media manager includes looking after the social media profiles of companies and tries to increase business with the help of social networking sites. Social media marketing managers work for organisations to make money through social media other than being an influencer on Facebook, Instagram, YouTube, and Twitter.
With the help of social media managers skills and social media managers' jobs, it is possible to help brands and companies to build their presence and reputation on social media. Career as a social media manager involves representing brands, companies, and individuals across all social media channels. Career as a social media marketing manager keeps you away from monotonous work as every product or service you work on needs to be approached differently.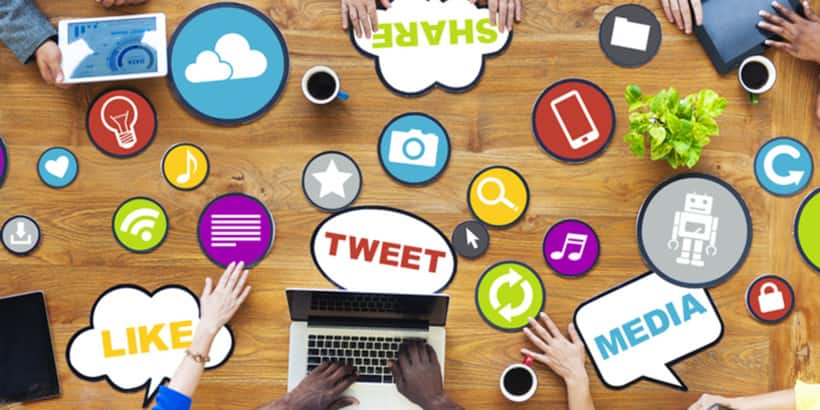 Social Media Manager in a Nutshell
A career as social media manager involves implementing the company's or brand's marketing plan across all social media channels. Social media managers help in building or improving a brand's or a company's website traffic, build brand awareness, create and implement marketing and brand strategy. Social media managers are key to important social communication as well.
Quick Facts for Social Media Manager
Industry

Entertainment, Media

Average Salary in India

₹35000

Suitable for

Male, Female, Others

Career as social media manager is suitable for every gender. With proper social media manager skills. Being a social media manager is one of the sought after professions where the gender of the individual is insignificant.

Any special needs

Yes

Career as social media manager is quite suitable for people with special needs. In a majority of cases, social media managers work from an office location, with occasional travel to client's offices for product meetings. As long as the disability is not interfering with the functioning of the social media manager, it does not matter if the person is specially-abled.
What is the role of Social Media Manager?
Social media managers implement the company's marketing and branding plans in such a manner that the brand/company gains the maximum in terms of revenues and customers. It is the duty of the social media marketing manager to convert the first time visitor to a potential or a permanent customer. Having a career as social media manager, one is expected to respond to queries, commenting on brand pages, taking customer feedback, creating content for general, informative as well as marketing purposes.
Social media managers are usually the first point of contact between the customer and the company for any kind of feedback or complaint. Social media managers also help and support the building of brand identity. They support and drive promotional activities as well. Efficient social media marketing managers also help in creating a two-way conversation strategy with customers. They will understand the nature of the potential customers' buying habits and likes and dislikes, in order to make a successful social media strategy.
Enhances communication
As a social media manager, it is your duty to drive social communication and marketing strategies. If implemented correctly, these can become a good platform to build the brand further. Social networking is about communication, culture, public interaction and relationship development. This is not just a television service, or a branding and marketing method. Truthfulness, transparency and open-minded discourse are essential in this profession. Social media not only enables people to understand what people have been saying about oneself, and it also helps people to react.
Determine design strategies
It is the role of the social media manager to sit with the design team and ensure that the design, colours, and visualisation of the social media pages and sites are in sync with the brand/company's ideology, thought process and goals. Design strategy relates to an internal development process which explores how design and organization could enhance each other. Design strategy seems to be how designers suggest approaching a project while framing the aims and outcomes in a project specifically.
Create and run promotional strategies
Another important aspect of being a social media manager is to create and run promotional strategies for a brand or a company by understanding the key insights such as paid advertising, organic traffic, and influencer management. By understanding these insights social media managers can create and run the most apt strategies.
Reputation management
Reputation management is one of the key areas of responsibility for a social media manager. These days people go on a negative rant about the brand or the company on any of the social networking sites if they are slightly unhappy with the service. This is when reputation management comes into the picture. A social media manager should know how to deal with criticism and turn it into a positive business opportunity.
Develop brand identity
Social media managers assist greatly in developing a brand identity that resonates with not only the existing customers but also with would-be customers. They are also responsible for creating a brand identity in such a manner that existing customers become loyal customers and new customers become regular customers. Social media marketing enables them to establish their brand successfully. Whenever a company's social media behaviour is managed properly, it informs customers that this company is relevant and focused on effective contact with customers. Social media marketing seems to have the aim to expand customer satisfaction.
Types of a Social Media Manager
There are several types of social media manager. We have provided below major types of social media managers descriptions that exist with varying job titles in the industry.
Community Manager: Community managers primarily focus on creating relationships with the brand's target audience, customers, and clients with the help of various tools such as forums, newsletters, and events. One thing which you have to realise is that the community does not necessarily mean the community of buyers or customers, a community generally includes all the stakeholders in the brand. Customers, tech-support, developers, and brand advocates all form a part of the community.
Content Marketer: Content marketing is another career path which a number of social media managers foray into. Those who love to play with words and can convince people to become loyal to a brand becoming a content marketer is the ideal step.
Creative Design: The nature of work is such that social media managers generally have a good visual content sense. Those who want to create something exciting which will also appeal to the masses, one can combine his/her social media knowledge and artistic passion to create something beautiful. This can be in the form of a brand logo or art design for a brand.
Marketing Specialist: Marketing specialist is another role that is quite popular, especially for those who are looking for more than just being social media managers. Those who are Jack of all Trades, generally become marketing specialists. From email to content marketing and making a social media strategy a marketing specialist does all.
Social Media Consultant: After gaining some experience on a number of projects, one can become a social media consultant and work on a freelance basis and offer their services for multiple clients. As a social media consultant, you won't only advise the brands on their social media strategy, you will also be able to help the clients to build their online presence which in turn helps them to achieve their goals.
Account Manager: A person who is pursuing career as account manager directly deals with clients. He or she make beneficial relationships with their clients and keep a record of other beneficial contacts. Key account manager responsibilities include collecting all the necessary information about their clients such as the identification documents.
Also read - Career as a brand manager
What is the workplace/work environment of Social Media Manager like?
Career as social media manager requires them to work in an office environment, but over the past few years things have been changing and office spaces are changing according to the work culture, which is slowly becoming informal in nature. So the present-day work environment is more lively than before. Social media marketing managers are often required to attend meetings with clients and take part in activities outside the office. In a nutshell, the office environment involves working indoors as well as outdoors.
Does Social Media Manager require travelling?
Likely
Career as social media manager often requires them to travel to meet their clients or take part in activities that are at different locations. In certain cases, social media marketing managers are often required to travel out of the station to attend an event or meet clients. Sometimes they are travelling several times a month to meet clients or attend events all over the country.
Employment Shifts
Full Time
In a career as social media manager, they are expected to work regular hours, however, long work hours and overtime are also quite common in this job profile.
Employment Nature
Permanent
In most cases, the nature of employment is permanent, however, certain companies, especially those who are just starting out often prefer hiring social media marketing managers on a contractual basis.
Work Place
Home Office, Office
As far as the workplace is concerned, influencer marketing managers work in an office setup. Social media managers often have regular work hours and work for usually 40 hours a week. These work hours can increase and influencer marketing managers often work overtime when a project is nearing completion or there is a campaign going on.
Presence in Geographical Area
Semi-urban, Urban
Often, most of the digital media agencies or social media platforms are located in an urban setting, as most of the companies that require the services of digital firms are themselves established in urban or metro cities. Due to this, it is easier to interact with the client and vice-versa. Apart from this, a number of institutions that provide courses and certification courses are also present in metro cities in most of the cases. So as far as the geographical areas are concerned, be it the education or job opportunities, they are found plentiful in urban areas. It is a perfectly symbiotic relationship between education institutes, digital and social media firms, and the companies needing the services of social media managers.
However, in recent times, with the penetration of the internet and technology, there has been a shift and companies and firms are establishing their offices in semi-urban, tier two and tier three cities. So, this gives an opportunity to work in such locations as well.
Time Pressure
Likely
Career as social media manager demands working under a lot of time pressure. The job is filled with tight schedules, networking events, and product launches. Hence, social media managers are required to manage all these things along with meeting their project deadlines. The work environment involves a lot of time pressure and stress.
Overtime Details
Typically, in a career as social media managers, they work for nine hours per day. But depending on the deadlines and current situation, they might be required to work overtime. During busy periods and urgency, social media content managers are required to put up some extra hours to the work.
Weekly Hours of Work
Min 45 Hours
Career as social media manager requires them to work in an office environment. Social media managers often have regular work hours and work for usually 45 hours a week. These work hours can increase and influencer marketing managers often work overtime when a project is nearing completion or there is a campaign going on.
How to become a Social Media Manager?
Steps to become a Social Media Manager
What are the skills and qualities required to become a/an Social Media Manager?
There are several requirements to become a social media manager. Having in-built skills to perform everyday tasks in the social media manager job is one of them. We have provided below major social media manager skills. Here, in this section, we will discuss how to become a social media manager.
Social Media Skills: This skill is a no brainer. A person earning his/her salary through social media should have exceptional social media skills. The individual should have a good knowledge of all the social media channels and how to use them. Managing one's own blogs and social media channels will help to develop these skills.
Marketing Skills: Being a social media manager means having a good understanding of branding as well as marketing. Marketing experience and understanding can take a freelance social media manager quite ahead in the profession. Social media acts as a channel for engaging with the customers and understanding their needs and wants and also to put across the company's or the brand's message.
Empathy: A great customer service originates from empathy and patience. Social media channels also double up as great channels for customer service and feedback, hence it is important for social media managers to have a great deal of understanding as to what the customer needs and what difficulties a customer faces. Empathy also helps in creating the right content, which forces the customer to think.
Business Sense: The job profile of a social media manager includes reviewing sites, where people or potential customers share their experiences and opinions. A number of useful questions come upon these sites, it is the duty of the social media manager to keep a lookout for these questions and answer these questions to bring a customer closer.
Sense of Humour: Nothing brings people closer than a joke. A freelance social media manager should have a good sense of humour. Creating content that is humourous will attract a potential customer to your site and might even take up the product you are offering. It is also a great way to keep customers engaged. A smile or laughter is a universal language and understood by all hence, it is important for a social media manager to have a good sense of humour and have a connection with people across the globe.
Popular Online Arts And Crafts Courses and Certifications
Which certifications and internships can be helpful in becoming Social Media Manager?
We have mentioned below several certificate courses that aspiring social media content managers may opt to upgrade their skills.
Internship Availability
Yes
In order to have a better understanding of a career as a social media manager, it is always important to go for an internship. No matter how much practical learning experience your college or university provides, you will get real-world experience by working with a company or an organisation. An internship gives you the insights of an industry and answers several questions in relevance to how to become a social media manager. Nowadays with the more and more impactful effects of social media, almost every company hires a social media manager.
Therefore, finding an internship in the field of social media management is not a tough task. One could either find an internship through his or her college or apply on several online portals. If everything goes smoothly during the time of internship then the candidate might be absorbed in the company.
Career Path Progression for Social Media Manager
There are several job roles in the career as social media manager that you may acquire while progressing in the industry. We have provided below major progressive job roles offered for social media handling with varying titles depending on career progression.
Social Media Trainee: As a social media trainee helps in the delivery of social media campaigns for various clients. They work towards increasing the visibility of client's websites on various search engines. This is done by using a number of online marketing processes.
Social Media Associate: One of the prime responsibilities of a social media associate is to maintain the client's online presence. Social media associates also analyse reports and create social media campaigns to help gain maximum traction.
Social Media Assistant: A social media assistant is required to do research work on competitive brands and create and drive social media campaigns that drive businesses. A social media assistant is also responsible for creating an online brand presence for the client.
Social Media Account Executive: A social media account executive generally creates content on social media platforms such as Facebook, Twitter, and Instagram for the purpose of enhancing their client's profiles and promoting their products and services. A social media account executive often interacts with the client getting the feedback and understanding the requirements.
Digital Marketing Manager: A is a key person who is responsible for developing, implementing, and managing marketing campaigns that help in enhancing a company's products and services. As a job responsibility a digital marketing manager also pics out technologies that will help further in enhancing the client's business.
Content Manager: The role of a content manager is an important position. It is the content manager who creates content for various campaigns, social networking sites. It is the responsibility of the content manager to build brand identity through the dissemination of information. This is done by developing implementing content strategies.
Brand Manager: As a brand manager the individual will be responsible for the digital image of the brand. It is the duty of the brand manager to develop, implement, and manage branding and marketing campaigns of a brand and promote its product and services.
Community Manager: A community manager is usually a person who serves as the face of the company/brand and is responsible for managing communications from clients as well as the digital firm.
Advertising supervisor: An advertising supervisor is responsible for setting up digital marketing campaigns, optimising and reporting on them. The primary focus of an advertising supervisor is focused on paid advertising campaigns across various digital advertising platforms.
Manager of communications: A manager of communications in a digital firm is responsible for promoting an organisation's products and goals. He/she also uses digital marketing strategies to inculcate brand loyalty. In some cases, the manager of communications also manages the company's website or blog and helps in creating content.
Account director: An account director generally looks after the campaigns and ensures that they are on time and within the budget while making sure that they achieve the objectives. He/she also helps in planning, coordinating, and implementing marketing plans and supervises teams who are working on the campaigns.
Creative director: A creative director oversees the advertising and marketing campaigns. A creative director works with designers, artists, copywriters, sales teams and marketers to create a product plan. He/she often supervises the creative processes and provides guidance to the creative people.
Also read - Career as an account manager
Social Media Manager Jobs and Salaries
Brand Manager
Recruiter
Adsyndicate Services Pvt. Ltd.
Monthly Salaries
Average Salary

40000

Starting Salary

35000

Junior Level Salary

35000

Senior Level Salary

150000
Job Description
Brand managers act as the brand guardians by ensuring that the services/products offered by the brand are in sync with current/potential customer's expectations. They usually work hand in hand with the marketing dept. and ensure the execution of optimal brand strategy.
Salary Description
Base pay is generally focused on career prospects, or depends strictly on experience and time spent in the profession. A career in social media could be known as financially advantageous. Salary in a profession like this does not actually depend on the degree but on the hands on experience of the professional. The salary level at the initial stage could be more than five lakhs per year and eventually, it could be more than fifteen lakhs per year depending on the organization and skill of the brand manager.
Content Manager
Recruiter
Adsyndicate Services Pvt. Ltd.
Monthly Salaries
Average Salary

30000

Starting Salary

22000

Junior Level Salary

25000

Senior Level Salary

70000
Job Description
Content manager work is to build a brand identity and online image through multimedia content online. Their duties involve managing content teams, growing social media audiences and keeping track of them, developing content strategies.
Salary Description
The salary of a content manager is good enough. A content manager's pay focuses on the industry-specific skills and experience. Earnings at the entry level will be more than Rs. three lakhs per year, at the senior level that will finally reach about six to seven lakhs per year.
What is the job outlook for Social Media Manager?
The job growth in a career as social media manager is astronomical. Those who have proven track records are the biggest winners in this segment. Individuals with strong social media skills and a decent experience are demanding huge pay packages, and the best part is that companies are willing to expand their salary bracket for certain positions. So as far as the remuneration is concerned, it is well above the national average.
Social media managers are well paid and in some companies are one of the highest earners. The reason why there is such a surge in the remuneration of social media managers is due to the acute demand-supply shortage. Over the past few years, companies have started to give a bigger share to social media marketing, resulting in the career becoming popular. The absence of quality social media managers has shot up the remuneration.
The job market scenario has a positive outlook. Most of the companies have realised the importance of social media marketing, and hence, are expanding their teams. If we take a look at the social media teams a couple of years ago, it had two or three people working in it. Those who are the market leaders are charging as they like. The new generation of social media managers is a smart group that has grown in the shadow of using social networking sites for personal use.

Student Also Liked:
Frequently Asked Questions for Social Media Manager
Que. What platforms do social media managers manage?
Ans.
Social networking sites such as Twitter, Facebook, LinkedIn, Instagram, and many others are managed by social media managers. Depending on client type and requirements, different social media platforms are used in distinct capacities.
Que. How do I become a social media manager at home?
Ans.
In order to become a social media manager, you can start on your own by finding social media clients by using several online and offline tactics. You can also manage your clients using several tools and strategies. Often freelance social media managers have expertise in one niche and they exploit it. They become experts in that particular niche and earn their worth by providing their services.
Que. How do freelance social media managers get clients?
Ans.
There are several ways through which independent social media managers can get clients. They often attend live networking sessions, where they can find their prospective clients. If they have existing clients, they often give referral bonuses to them, if they bring in new clients or they create a lead generation system wherein they provide free content to prospective clients.
Que. What is the social media manager jobs salary?
Ans.
At entry-level social media managers usually earn between Rs. 3,00,000 to Rs. 3,50,000 per year. At mid-level social media, managers earn between Rs. 4,00,000 to Rs 8,00,000 per year. At the top level, the earnings start from Rs. 10,00,000 and above.
Que. What is a social media influencer?
Ans.
A Social Media Influencer is a social media user who has established credibility within a particular sector. A social media influencer has access to a vast population and also could influence everyone by means of their credibility and presence.
Que. What is the social media handler meaning?
Ans.
A Social Media Handler would be one who manages the social media content and other activities. Social Media Handlers also manage all the company's or celebrity's all social accounts. they can also be recruited as social media handlers or public relation experts.
Que. What are the courses I need to study in order to become a social media manager?
Ans.
MBA in digital marketing is the best approach to become a social media manager.
You might also be interested in
The question have been saved in answer later, you can access it from your profile anytime.
Access now
Report Question
Select your reason of reporting