Who is a Researcher?
"No research without action, no action without research" ~ Kurt Lewin
A Researcher is a professional who uses various methodologies to conduct research, collating sources such as newspapers, internet searchers, journals and other publications. In order to investigate topics, find solutions to challenges, and forecast trends, researchers gather, organise, analyse, and evaluate opinions and information. Most scientists take public opinion into account. Social scientists measure how the general public feels about various social concerns, services, political candidates, groups, and personalities. Scientific researchers may serve various roles such as market research specialist, research scientist, reporter and financial analyst.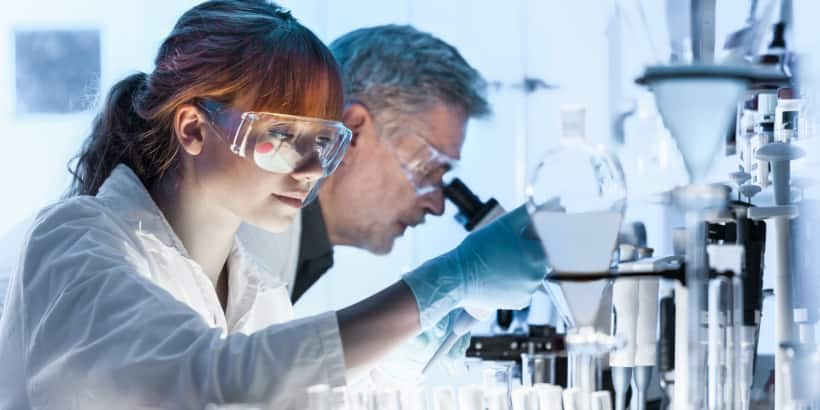 Researcher in a Nutshell
A Researcher is a professional who is responsible for collecting data and information by reviewing the literature and conducting experiments and surveys. He or she uses various methodological processes to provide accurate data and information that is utilised by academicians and other industry professionals. Here, we will discuss what is a researcher, the researcher salary, types of researchers.
Quick Facts for Researcher
Industry

Technology, Agriculture, Finance, Healthcare

Average Salary in India

₹96304.5

Suitable for

Male, Female, Others

A career as a Researcher is suitable for everyone regardless of gender. A researcher career is not gender based. It demands specific skills and academic eligibility to opt for a researcher's role.

Any special needs

Yes

A Researcher career is suitable for specially-abled students. There are numerous desk jobs where researchers are required for data collection, analysis and interpretation from various e-resources. They may also work on spreadsheets to record and analyse data.
Table of Contents for Researcher
What is the role of Researcher?
Researchers are academic professionals who conduct research and write academic theses. They may work in other industries as well besides academics as it is a research-based career. The work responsibilities of a researcher may vary depending on their industry. Most Researchers working in social science-related fields measure public opinions. These researchers are responsible for gauging public opinion concerning social issues, political campaigns, services, parties and campaigns.
Conduct Survey
The most important role of a Researcher is to conduct a survey to know the public's opinion on a social issue, political campaigns, parties and personal. He or she is required to design and administer surveys to analyse market trends. The surveys conducted by Researchers are most likely to influence policies and decisions.
Data Analyses
Researchers are required to analyse and classify data in terms of responses and inclinations and compare studies. They may look for patterns in various data on the same subject to predict future trends.
Prepare Questionnaires
A Researcher is required to prepare an interview or questionnaire to know the opinion of the participatory audience in the survey. The questions framed in the questionnaires must be relevant and drafted in an easy understandable language.
Read Literature
A Researcher is required to read numerous forms of literature such as articles published in newspapers, magazines, books and information from e-resources. In order to collect relevant information about the subject and gather data, they are required to go through numerous resources.
Conduct Experiment
Researchers involved in the field of agricultural, biology, biochemistry, chemistry or physics are required to conduct experiments and record their findings. He or she is required to measure each chemical or substance used in the experiment including temperature and document it with the conclusion and result.
Types of a Researcher
There are types of research career options based on various industries. We have provided below details of major types of researchers.
Actuary: An actuary is a professional who carefully drafts insurance policies. He or she helps in solving problems related to financial risks such as pension plans, health insurance or life insurance. An actuary predicts the probability of future outcomes of the occurrence of a contingent event.
Equity Research Analyst: An equity research analyst is a professional who works in the securities industry. He or she is responsible for producing research reports, recommendations, and projections and predicting the risks involved in future investment concerning companies and stocks. An equity research analyst
Journalist: A journalist is a professional responsible for collecting newsworthy information, drafting it to answer 5W and 1H, and recording or capturing visuals and audio for dissemination to broadcast and print media.
Statistician: A statistician is a professional who manages experiments and conducts surveys. He or she stays involved in analysing data and finding patterns to predict future trends. A statistician provides advice based on his or her analyses to make a strategy.
What is the workplace/work environment of Researcher like?
A researcher's work environment may vary depending on various factors. Those scientific researchers who perform offline surveys may be required to travel to other locations.
Researchers involved in the finance industry usually are required to perform work responsibilities in an office environment. They are most likely to perform research online. Other businesses may also involve conducting surveys through google forms. Researchers involved in the field of science are usually required to perform tasks in a laboratory setting.
Does Researcher require travelling?
Likely
Travelling depends on the scientific researchers' work responsibilities and the industry. Several jobs require researchers to travel to different locations and conduct surveys and polls. While other jobs demand them to work indoors in office environments and laboratory settings.
Employment Shifts
Full Time
A researcher usually works on a full-time basis. He or she is required to work on a full-time basis. A scientific researcher may conduct a survey online or on-call in work from home or remote work environment.
Employment Nature
Contractual, Permanent
A researcher may find employment opportunities on both contractual as well as permanent basis. The scientific researcher may get specific research projects on a contractual basis or may work on a permanent basis where he or she gets varying research assignments.
Work Place
Laboratory, Office Setting
A researcher may work in an office environment or lab setting. The scientific researcher may also be required to travel to conduct offline surveys.
Presence in Geographical Area
Semi-urban, Urban
A researcher finds alluring opportunities in urban and semi-urban areas. There are also research-based opportunities provided in rural areas. The headquarters of research organisations are usually located in urban areas. But, the work responsibilities may demand conducting research in a far away remote location where the human population resides or not.
Time Pressure
Likely
Research projects have a specific deadline.Researchers are required to work under extreme time pressure.
Overtime Details
Researchers are often required to work extended hours. The scientific researchers involved in chemistry or biology relevant industry are required to perform experiments and conduct studies in a specific temperature, climate and time period. The same is applied to the social studies field, researchers are required to conduct surveys during election campaigns.
Weekly Hours of Work
Min 35 Hours
A researcher's work hours vary depending on the employment setting. The scientific researcher may work 42 hours per week in several organisations and other organisations may require them to work only 35 hours per week.
How to become a Researcher?
What are the skills and qualities required to become a/an Researcher?
A career as a Researcher demands numerous skillsets to remain efficient and productive. We have mentioned below major Researcher skills. Here, we have discussed how to become a researcher.
Research Skills: A career as an associate researcher demands specific research skills. He or she is required to study literature, conduct surveys, develop questionnaires, collect data and perform other tasks to research and gather accurate information.
Eye to Details: Aspirants are required to possess a strong eye for detail to become a researcher. A Researcher is required to be attentive to record each and every detail while conducting a survey or experiment. He or she is responsible for providing accurate data.
Communication: Researcher job requires strong communication skills. He or she is required to communicate with a group of people to effectively conduct surveys without being biased and get accurate data or information.
Project Management: Project management is a crucial skill for a researcher. He or she is required to understand the requirements of research and its goal. He or she must look at all the aspects of the project and manage it effectively.
Leadership Skills: An associate researcher must be able to take the leadership role and assign responsibilities to juniors. He or she must take the initiative and responsibility for the successful completion of the research project with accurate findings.
Which certifications and internships can be helpful in becoming Researcher?
We have listed below certification courses for aspirants who want to become researchers. These researcher courses help individuals to upgrade their skills and knowledge.
Internship Availability
Yes
A research internship involves conducting research, implementation of ideas, data compilation and writing papers. There is an opportunity for research interns to turn it into a full-time job with their skills, performance and dedication towards work.
Career Path Progression for Researcher
Aspirants who want to become a researcher are required to start from entry-level and acquire experience to get promoted to senior level roles. We have provided the following researcher career progression details:
Junior Researcher: A junior researcher generally possesses an experience of 1 to 4 years. A junior researcher may provide assistance to a senior researcher and perform documentation work.
Senior Researcher: A senior researcher possesses a work experience of 10 to 19 years or more. A senior researcher is responsible for analysing quantitative and qualitative data. He or she conducts research experiments.
Researcher Jobs and Salaries
Junior Researcher
Job Description
A junior researcher work responsibilities may involve preparing research reports and papers. He or she reviews drafts and changes direction whenever it is required. He or she works under the supervision of a senior researcher.
Salary Description
The salary of a researcher varies depending on his or her skills and experience. The average salary of a junior researcher is Rs. 561,310 per annum.
Senior Researcher
Job Description
A senior researcher having a PhD degree may perform his or her own independent research without being associated with any firm or institution. He or she works with internal and external stakeholders. A senior researcher is responsible for preparing research reports and papers.
Salary Description
The salary of a researcher varies depending on his or her skills, role and work experience. The average salary of a senior researcher is Rs. 1,750,000 per annum.
What is the job outlook for Researcher?
There are constantly growing job opportunities for research careers. Industries are expanding and penetrating the market with the developments of new products that are more reliable than older ones. Everything is constantly changing and upgrading with the advancement of technology and the requirements of human needs. Research is crucial to bring effective products and services in the market that can divert the attention of audiences with its high efficiency and effectiveness. Research opportunities are vast in all the fields of science and technology, finance or social sciences.
Frequently Asked Questions for Researcher
Que. What is the average salary of a researcher in India?
Ans.
The average salary of a research scientist in India is Rs. 901,825 per annum, according to payscale.com.
Que. What is the required qualification to perform independent research?
Ans.
A Ph.D. (Doctor of Philosophy) is crucial to conduct independent research without being associated with any research organisation or firm.
Que. What is the average fee for a Ph.D. in India?
Ans.
The fee for the Ph.D. course varies from institution to institution. The average Ph.D. fee ranges from Rs. 400,000 to Rs. 15,00,000 in India.
Que. What are various research based job roles?
Ans.
The various research related job roles are listed below:
Actuary
Scientist
Equity Research Analyst
Que. What is the minimum required qualification to become a researcher?
Ans.
The minimum required qualification to become a researcher is successful completion of any undergraduate degree programme in relevant subjects.
You might also be interested in
The question have been saved in answer later, you can access it from your profile anytime.
Access now
Report Question
Select your reason of reporting