Who is a Publisher?
The book trade invented literary prizes to stimulate sales, not to reward merit ~ Michael Moorcock
Career as publisher is one of the most revered careers in the media industry. It is a high-pressure job. A publisher gives direction to where the publication wants to head in terms of content. A publisher offers the chance and space for advertisers to display commercials in their applications or on web pages. App developers and agencies can rent space from publishers on their platforms. A publisher is required to not only plan but also execute key ideas, that could be beneficial for the publishing house. Individuals in the publishing career path are responsible for all aspects of a publication; from development to distribution of the book, newspaper and journal. For those who are interested in becoming a publisher, there are no specific courses, however, journalism and general management, media management courses can be of great help, besides law and finance. Here, in this article, we will discuss how to become a publisher in India, publisher career in India, is publishing a good career, and is it hard to get a job in publishing.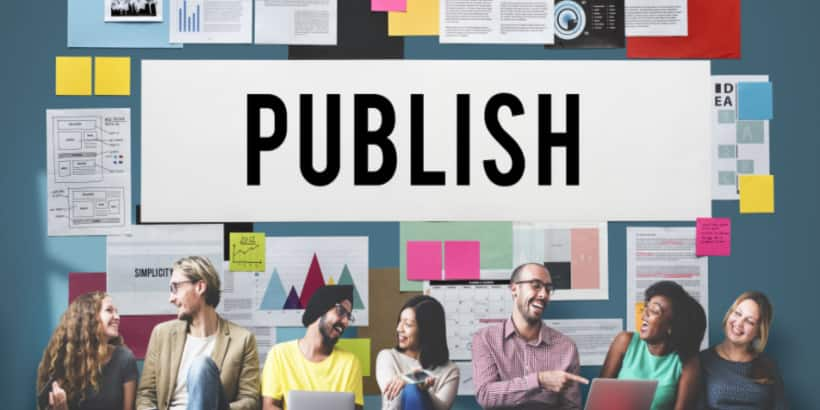 Publisher in a Nutshell
For publishing books, newspapers, magazines and digital material, editorial and commercial strategies are set by publishers. Individuals in publishing career paths make choices about the markets their businesses will reach and the type of content that their audience will be served. Individuals in book publisher careers collaborate with editorial staff, designers, authors, and freelance contributors who develop and manage the creation of content.
Quick Facts for Publisher
Industry

Media, Education

Suitable for

Male, Female, Others

Individuals can take up a career as publishers, it is not gender-specific. Men, women and others can choose a career as publishers. In India, men and women publishers enjoy equal benefits because gender is insignificant in this career.

Any special needs

Yes

Everyone, including those with physical disabilities, is appropriate for individuals who opt for a career as publishers. The career as publisher is well suited to everyone, even those with special needs. They should have the desire to show the world that in all conditions, they can accomplish their goals.
Table of Contents for Publisher
What is the role of Publisher?
A number of publications are created by the publishing industry, comprising magazines, books, newspapers and directories. It also creates, without software, greeting cards, databases, calendars and other published materials. The publishing industry is increasingly producing its materials in other formats, such as CDs, online or other electronic media, although they mainly produce printed materials. However, establishments that primarily manufacture on the Internet are not included in this sector. Individuals in the publishing career path may focus on general fiction or nonfiction in a small publishing house. They can concentrate on more narrow categories in larger firms, such as business textbooks or science fiction. Individuals in book publisher careers produce articles that both readers and advertisers would be drawn to. For example, a fashion magazine publisher may decide to concentrate on high-end fashion aimed at wealthy subscribers who reflect an appealing target market for luxury goods marketers.
Plan strategies
A publisher is required to look at all the divisions of a publication and ensure that each one of them performs at the optimum level; the content team should bring out engaging and error-free content, sales team should ensure that the sales never dwindle, the product team should ensure that the product is smooth and user-friendly, the tech team should ensure that there are no technical glitches. Planning strategies for all these teams requires a lot of patience, foresight and insight, this is where a publisher comes into the picture.
Coordination
If the coordination between all the teams is good, then the company will flourish, if not, then there will be a lot of confusion while decision-making, which could lead to disastrous results. Coordination among all the teams, lack of it can have an adverse effect on the company and its various products, which will, in turn, affect the sales and revenue. Hence, coordination is an important work attribute for a publisher.
Types of a Publisher
In this section, we have discussed the types of publishers.
Journalist: The role of a journalist is packed with passion as well as obligations. One can not afford the details to leave out. A journalist goes about writing a news report depending on those observations. The journalist writes news stories and publishes them. In order for people to formulate opinions and make educated decisions, the reporter provides information. A journalist spends time in news releases and creating ideas for reports, checking the evidence, in-depth reporting and research on a particular topic, and interviews.
Content Writer: Content Writers are the experts who want to provide articles, blogs, and meaningful and engaging content. They accomplish these tasks by researching and deciding what details to add or delete from the site. Content writers must possess the skills to understand the intent of the content in order to produce high-quality content. The primary vision of content writing is to target and sell goods or services to the right audience. Content writing is intended to communicate to a specific audience directly, such as clients, potential customers, investors, workers, or other stakeholders.
Publicist: A publicist is responsible for designing and implementing strategies and promotions that attract awareness for their companies or organisations and create a positive public image. He or she partners with media practitioners to collaborate on successful networking. In transmitting data to the masses, media networks play an important role. For distribution in different media outlets, publicist authors news releases or advertising releases. Many media stations, such as newspapers and electronic media, are kept in touch by a publicist.
What is the workplace/work environment of Publisher like?
A publisher works in an office environment. To attend meetings, conferences and media appearances, he or she may be expected to travel. Working on weekends and late evenings is also expected by a publisher. Under great strain, he or she works. Publishers mainly work in industrial sectors. Individuals in the publishing career path spend much of their time at their desks in the workplace.
Does Publisher require travelling?
Not Likely
Individuals in book publisher careers do not have to travel. Even if it might be important for publishers to visit a certain location a few times or speak to a specific group of people. Travelling depends solely on the niche in which one works.
Employment Shifts
Full Time
If a publisher is working for a publishing company or a magazine, the change timing of the publishers may fall into a certain category, it can be a 9-to-5 job. But if someone works for a media house, the working hours normally vary from 12 to 9. In such situations, there are no defined shifts, depending on the amount of work.
Employment Nature
Contractual, Permanent
The work can be both permanent and contractual in nature. Some businesses can form a contract that is like freelancing, which can be time-based. On the other hand, on a full-time basis, most businesses employ an editor.
Work Place
Office, Work From Home
Depending on the nature of employment, individuals in a book publisher career can either work from home or work from an office.
Presence in Geographical Area
Semi-urban, Urban
People are more aware of publishers in urban cities. The publishers reside in urban areas. All corporate businesses are well established in urban areas rather than in rural areas. A publisher finds alluring opportunities and higher pay in Kolkata, Mumbai, Chennai and New Delhi.
Time Pressure
Likely
Individuals in the publishing career path are expected to work eight-nine hours a day in the profession of a publisher. However, because of the demand for work or customers, there may be times when they would be forced to work past their usual shift. Often, depending on the workload, they are likely to feel some time pressure.
Overtime Details
Since it is a desk-based job, in the career as a publisher, the workplace is often located in corporate sectors. Normally, publishers are not expected to work overtime. While exceptions exist and, depending on the demand for their jobs, they may be forced to work overtime.
Weekly Hours of Work
Min 45 Hours
Individuals in the publishing career path may be required to work on weekends, holidays and late evenings due to excess work pressure and deadlines.
How to become a Publisher?
Steps to become a Publisher
What are the skills and qualities required to become a/an Publisher?
This article describes how to become a publisher in India. Here, in this section, we have discussed some of the skills that are required in a publisher career in India.
Attention to detail- One must have the quality to pay attention to each and every detail to be a good publisher. It helps to correct mistakes without overlooking any errors. A publisher without losing out on any information can carefully go through the written copy.
Social skills- In order to communicate with the audience, a publisher must consider how readers respond to such genres of literature. A writer works about the people that make up society at the end of the day, and a publisher needs to make sure that the writing does not harm another person's feelings. Knowing them is therefore an important skill that a publisher must learn in order to do well in his or her career.
Writing skills- In order to share data and interact with readers, publishers as well as authors must be able to write well. In order to do well in his or her career, it is one of the most important skills needed by a publisher. It is not an ability that can be adopted overnight. Individuals in the publishing career path need time to be able to learn the ability to write. One sometimes needs to be a good writer in order to be a good publisher.
Popular Online Arts And Crafts Courses and Certifications
Which certifications and internships can be helpful in becoming Publisher?
Here, in this section, we have mentioned the certifications that are required for a publisher career in India.
Internship Availability
Yes
In this specific area, several publishing internships opportunity is available. In order to become a publisher in the future, numerous businesses and organisations hire interns with suitable skills and competencies, who will compose, proofread and publish for them. For anyone who wants to be a publisher, there are plenty of internships available. There are both paid and unpaid publishing internships. For each and every organisation or sector, the expectations and specifications vary.
Career Path Progression for Publisher
Trade or general book publisher: Trade or general book publishers develop, edit, manufacture, print, and sell books. Although the structures of the internal business and the organisation of traditional trade publishers differ, each publishes books in a broad range of formats (hardcover, trade paperback, mass market paperback, e-books, audiobooks) and a wide range of subjects and genres in general. Individuals in book publisher careers are components of larger media companies that may also own textbook publishers. There are also a number of small presses starting up daily, and digital start-ups.
Book Packagers and Book Developers: The book packager creates an idea and then sells the notion to a publisher. The packager then does all of the publisher's editorial and development work and normally delivers the finished books directly to the warehouse of the publisher. Packaged books also need a lot of photography or illustration in adult publishing, and the publisher considers it more cost-effective to purchase the already manufactured books than to design and create the volumes themselves. Although the name of the book packager is generally unknown to the customer purchasing the book, somewhere on the title page there is usually an indication of the packager.
Professional Publisher: Professional publishers, using a team of editors, proofreaders, graphic designers and printers, handle the manuscript editing, design and development process. For each step of the project, they have schedules, working backwards from the scheduled date of release. For professionals who need access to accurate, generally accepted knowledge and standards, professional publishers build books and databases. These include accountants, engineers, physicians, lawyers, and psychologists. Much of this data has changed from primarily book form to online access due to the amount of data in these books and the need for frequently updated information.
What is the job outlook for Publisher?
The vast number of employees in this sector are employed by newspaper publishing firms, since they write most of their own content and usually print their articles, and often sell them. Though newspaper publishing is carried out nationally, publishers of magazines and books are based mainly in large cities. Although 52 per cent of publishing establishments have fewer than five workers, 40 per cent of the jobs are in establishments with more than 250 employees. Experience can be acquired by partnering with a publishing company for a school newspaper or by completing publishing internships. Many individuals, however, start by working in smaller cities and towns for small publishing companies or newspapers and work their way up to better-paid positions with larger newspapers or publishers. By doing freelance work, some break into the industry.
Student Also Liked:
Frequently Asked Questions for Publisher
Que. What is a publisher?
Ans.
Microsoft Publisher 2007 is a software for desktop publishing that can be used to generate a range of publications. Users can conveniently make business cards, greeting cards, calendars, newsletters, and much, much more by using Microsoft Publisher 2007.
Que. What does a publisher do?
Ans.
For companies that publish books, newspapers, magazines and digital content, the editorial and commercial direction is set by publishers. They make choices about the markets, and what kind of content they will serve to their audience.
Que. Is it hard to get a job in publishing?
Ans.
It can be a demanding step to get your foot through the door. As in many industries, it takes a fair amount of commitment, analysis, and networking to find your first chance. To get a job in publishing, there is no specific major or degree needed; candidates come from many different educational backgrounds.
Que. Is publishing a dying industry?
Ans.
The business, however, is not at risk of dying, nor will it ever be. In reality, in the last few years, the industry has seen growth, with book sales growing in volume by 1.4 per cent in 2018.
Que. What is the role of Publicist?
Ans.
The publicist works to restore or maintain a company's public image. He or she is responsible for building up a company's image. He or she organises events sponsored by clients. Publicist agency is responsible for spreading the news about their clients for publicity.
Que. What is the role of Public Relation Executive?
Ans.
Public relations (PR) executives help a company, organisation, or government agency to maintain a positive public image. This may be done using different forms of media to convey a positive message to a target audience in a career as public relation officer. Public relations professionals can direct special presentations, including business events, charity functions, or media campaigns.
You might also be interested in
Questions related to Publisher
Showing 5 out of 5 Questions
The question have been saved in answer later, you can access it from your profile anytime.
Access now
Report Question
Select your reason of reporting