Who is a Choreographer?
The job of feet is walking, but their hobby is dancing ~ Amit Kalantri
In career as choreographer, individuals dance and also design dance moves for these songs. Individuals who opt for a career as a choreographer not only demanded in the film industry but besides the film industry, they may have a bright career in teaching dance for various cultural programmes, events or theatres. A choreographer designs various body moves and postures to carry in dance which is catchy, appealing and entertaining. Professionals, those who are famous choreographers not only invent perfect dance moves, but dance choreographers also practice them to make sure that they coordinate with music and provide entertainment for the audience. Individuals who opt for a career as choreographers might work with individual dancers or large groups. While the final dance might be just a few minutes long, it can take weeks and even months to perfect even a short routine. Students can pursue a BPA (Bachelor of Performing Arts), Master of Performing Arts to opt for a career as a choreographer. Here, in this article, we will discuss how to become a choreographer in India, dance choreographer salary, choreographer responsibilities, and how to become a choreographer in Bollywood.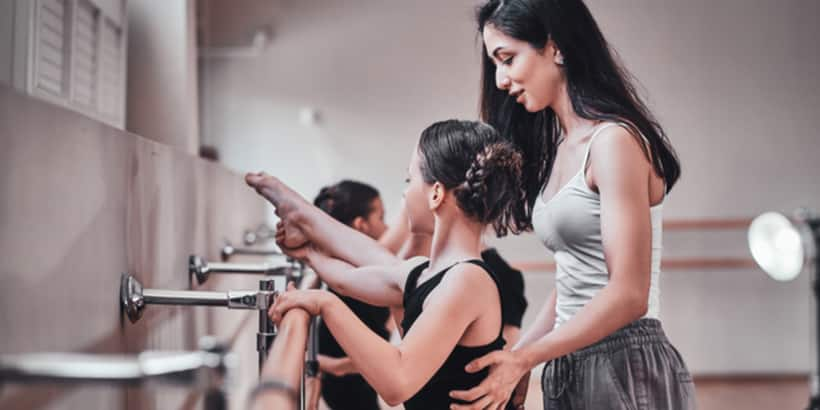 Choreographer in a Nutshell
The word "choreography" actually comes from Greek words that mean "dance writing." Individuals who opt for a career as a choreographer create and direct original dances, in addition to developing interpretations of existing dances. Choreographer dances and utilises his or her creativity in other aspects of dance performance. For example, he or she may work with the music director to select music or collaborate with other famous choreographers to enhance such performance elements as lighting, costume and set design.
Quick Facts for Choreographer
Industry

Entertainment

Average Salary in India

₹35000

Suitable for

Male, Female, Others

Individuals can take up a career as choreographer, it is not gender-specific. Men, women, and others can choose a career as choreographers. There is not any gender suitability anyone can work as a choreographer.

Any special needs

No

People with special needs should not choose a career as choreographers. Career as choreographers is not suited to individuals with special needs. Choreographer's job is not quite appropriate for specially-abled people as it requires physical stamina to endure long hours of dance creation and the subsequent rehearsals are needed to perfect a new work. But over the years the world has witnessed several specially-abled dancers therefore if an individual can pull it off then he or she can become a choreographer.
Table of Contents for Choreographer
What is the role of Choreographer?
A choreographer's job is to make sure that the routine is pleasurable not only for the participants but for the audience and possibly judges, too. The choreographer job demands listening intently to the piece of music that is being used and working out the timing and the feel of the different dance steps. A lot of time is spent inventing new dance moves and editing routines. Famous choreographers also work very closely with the dancers, teaching them choreography lessons by example and by spoken instruction. Individuals who opt for a career as a choreographer may spend weeks or months providing direction and encouragement to the dancers, directing practice, inventing and arranging the choreography, and of course, making the necessary changes and tweaks to perfect the dance. Needless to say, there is an endless practice involved. Dance choreographers need to make sure that the dance is perfect for the audience to see.
Individuals who opt for a career as choreographers teach more than just dance steps, they also help actors and singers develop their characters, selecting rhythm and pacing to enhance their performances. Most celebrities have famous choreographers to create their signature visual images. This makes them a huge influence on every aspect of the mainstream spotlight. Famous choreographers need to have a very keen sense of who dance and art, dance choreographers are as an artist, and also what their target audience needs to see.
Understanding the work environment
Understanding specifications as well as limitations of the project, and collaborating with the Director. Coordinating with lighting, music, and costume departments to ensure dance routines are completed to a high standard. Individuals who opt for a career as choreographers practice for long hours in coming with new dance.
Deciding on appropriate steps
Individuals who opt for a career as choreographers have in-depth knowledge of dance steps. Professional choreographers exercise their creativity and try to create dance steps that will fit with the mood, music, theme perfectly and that are audience-appropriate.
Training and practice
Choreographers spend countless hours for a better outcome. Supporting, guiding, and explaining all steps and formations to dancers. If an individual wants to learn something, it requires a lot of stamina and practice.
Choosing an optimal routine
Individuals who opt for a career as choreographers make a daily routine for practice sessions. Conducting research by watching dance shows, attending performances, and reading up on different routines.
Building a network
If you want to go in this industry, you need to have connections with people who can help you out with your career. And that's only possible when you'll attend shows and events to gain new ideas and network with others.
Identifying the limitations
Notifying the director and other stakeholders about potential issues, and drawing up contingency plans.
Extra support
Scheduling one-on-one sessions and providing extra support where required. If you're lacking in anything, practice it more because practice makes man perfect.
Managing responsibilities
Be responsible, you need to handle various administrative duties and paperwork. Individuals who opt for a career as choreographers should be able to make decisions about their career.
Types of a Choreographer
There are various other types of choreographers depending on their employment, workplace and work responsibilities based on their specialisations.
Dance Teacher: Being a dance teacher allows an individual to remain active physically while sharing their knowledge with others. One can also remain creative through choreographing routines for choreography classes and performances regularly. It helps to know which age group one wants to teach, as some will require extra training or college degrees. These types of choreography options help extend the longevity of a dance career. Without dance teachers, the field of dance as we know it today would not exist. The choreography classes are generally populated by young dancers.
Works for a Dance company or theatre: Experience in the dance world gives a thorough understanding of the art in general, and transitioning to a desk job is a good option to stay involved in the field if one desires to have a less physically active career. This is a great position for those who can organise budgetary finances, schedule meetings, rehearsals, or shows, organise fundraisers, and be a support to the artistic director and overall vision of the company.
Yoga or Pilates Instructor: Yoga and Pilates are not only great conditioning supplements for dancers, but they also make wonderful second careers and additional income to full-time dancers. The language of dance crosses over well into these fields. The breadth of kinesthetic knowledge from dance training translates effectively when teaching these mind-body techniques.
Marketing for dancers: Work in this field could entail designing and maintaining web pages, designing flyers and other promotional materials, promoting events through social media, and more. Graphic design work may require additional training, which one could receive through online courses, community classes, or attending college to obtain a degree.
Dance Medicine Specialist: If an individual has had extensive training, such as going through a college degree program, then he or she would probably have a wide range of anatomy and kinesiology knowledge. These types of choreography can be an excellent and lucrative field for a dancer to enter. The ability to relate to a dancer and understand the dancer's body as a physical therapist or medical doctor will give him or her an advantage that is hard to beat.
Related article - Career as a film director
What is the workplace/work environment of Choreographer like?
Schedules for dancers and choreographers vary, depending on where they work. During tours, dancers and choreographers spend most of the day in rehearsals and have performances at night, giving them long workdays. In their career as choreographers, individuals work part-time at casinos, on cruise ships, and at theme parks. Although dance choreographers who work in dance schools may have a standard workweek when they are instructing students, they spend hours on their own creating new dance routines.
Does Choreographer require travelling?
Likely
There will be travel involved, as popular shows often tour a country or even a continent. It depends on how well an individual is established in the field.
Employment Shifts
Full Time
In a career as choreographer, individuals often work every day, including weekends and holidays, when staging a new work. The working schedule may vary depending on assignments and the workplace. If one is preparing students for a cultural programme, then the working schedule will be managed by the authority of the school.
Employment Nature
Contractual
Choreography jobs may be based around short contracts rather than permanent jobs. IIndividuals who opt for a career as a choreographer are mostly self-employed. He or she may own a private dance institution to provide regular classes to students or work with an established dance institution or school as a dance teacher.
Work Place
On-Field
In a career as choreographer, individuals work on private projects. Choreography jobs include working in studios or in own home. There is no certain time limit for them to work. They can work whenever they want or time specified by their clients.
Presence in Geographical Area
Semi-urban, Urban
Dance choreographers are required to work mostly in urban and semi-urban areas. It is very rare that a rural area would have a choreographer working there.
Time Pressure
Not Likely
Individuals who opt for a career as a choreographer often work every day, including weekends and holidays, when staging a new work. Dance choreographers work more than 40 hours per week. The work hours generally depend on the kind of job. A teacher may work for limited hours but a choreographer in theatre might have to work for a longer duration as the date of their show approaches. Although there is hardly any time pressure, working for long hours is quite common in the profession.
Overtime Details
The working hours of a choreographer tend to be long due to rigorous teaching demands in the daytime and further classes or performances in the evenings because one would tend to be working on more than one performance at a time. Hence, individuals who opt for a career as choreographers are required to stay for long hours working overtime.
Weekly Hours of Work
Min 40 Hours
Individuals who opt for a career as choreographers work more than 40 hours per week. Dance choreographers work hours generally depend on the kind of job. A teacher may work for limited hours but a choreographer in theatre might have to work for longer durations as the date of their show approaches.
How to become a Choreographer?
Steps to become a Choreographer
What are the skills and qualities required to become a/an Choreographer?
Here in this section, we will be providing you with how to become a choreographer in Bollywood:
Athleticism: Athletes are qualified or skilled in physical endurance, flexibility, or power training. Clearly, dance choreographers should first gain physical strength and resilience in their career field and they should master their physical capability. Individuals who opt for a career as a choreographer should have outstanding flexibility, physical capabilities, and muscular flexibility so that they can then move their feet without losing their sense of rhythm. It is evident that a dancer's physical traits are identical to those of an athlete, and that dance is regarded as an art form even though there is much more and that is physical ability and mastery.
Creativity: Creativity allows us to see things in a different way, and also to manage uncertainty in a better way. Research indicates that creative people actually survive easily with instability as they can adjust their mindset to enable the unpredictable to develop. Creativity enables dancers or choreographers to explore innovative ways to convey themselves both physically and emotionally. Individuals who opt for a career as choreographers require creative talent and imagination to use movement to communicate ideas. In order to develop innovative and exciting dance movements, choreographers should always have creative skills and imaginative ideas.
Interpersonal management: Interpersonal skills are a blend of five different ability sets. Those are all: effective communication; legitimate questions; understanding about what the other person has to say and also does; analysis with an unbiased view; and suitable reaction. Now coming back to the dancers and choreographers profession, such skills are particularly important because they would not be capable of expressing themselves adequately without any of those abilities. By collaborating inside the groups, dancers and choreographers could explore opportunities for employment.
Leadership: Leaders are extremely dedicated and empower others to take the same process. These abilities and traits are genuinely valuable in a choreographer's career. Famous choreographers train the dancers while practising by instructing the steps as well as other small details that are required. In career as choreographer, individuals need to be able to guide a team of dancers to execute their developed performances.
Persistence: We all are aware of one thing from our childhood which is not giving up and this is what persistence is. Persistence shows and enhances the confidence and trust to learn new things. Without persistence, the willingness to learn and grow as an individual would be significantly limited. Individuals who opt for a career as choreographers must commit to years of intense practice. After a performance, they would have to be ready to accept the refusal and keep progressing for potential opportunities. The choreographers have to continue to study and make new techniques.
Physical strength: Muscular endurance produces power and speed, which allows movement more effectively. Studies show that dancers may not be as powerful as they must be in assisting their flexibility and methodologies. This enables the dancer to also be capable of holding that pose for longer. In a career as choreographers, individuals have very prolonged periods of regular exercise, and they should be willing to rehearse for several hours without having exhausted themselves.
Teamwork: If someone is involved in dancing, working in a Team is extremely essential. The best way to achieve the target is to function collectively. While choreographers must create and demonstrate specific gestures personally, individuals should also start to communicate with other dancers to teach them the dance steps. Although many dance moves involve a large number so that dancers have to be capable of working together to achieve success.
Also read: Career as Actor
Which certifications and internships can be helpful in becoming Choreographer?
Internship Availability
Yes
To opt for a career as a choreographer, one can start early in his or her life, taking grades equivalent to those on a musical instrument and many go to a specific dance school. Several take a dance or musical theatre degree, some of which will include modules on choreography. Skilled individuals may take up the role of assistant choreographer and step up to become senior choreographers. Assistant choreographers help to rehearse the moves and give their input on what steps would fit, without forcing the full creative burden on the choreographer. Dancers career is emerging because of social media and electronic media. From there, all progression is performance-based and the way to get noticed is to choreograph routines that simply cannot be ignored.
Career Path Progression for Choreographer
We have provided below several choreographer roles with varying job titles and responsibilities that you may take up while progressing in the career as choreographer.
Dance Instructor: A dance instructor is responsible for training students in dance technique and dramatic skills. They often specialize in types of choreography such as ballet, jazz or tap. Sometimes the dance instructor may choreograph some of the routines, and other times they may hire a professional choreographer to do it.
Dance Teacher: Dance teachers are responsible for leading dance classes for individuals or groups of people. Their duties are closely related to teaching various types of choreography.
Artistic Director: The person with overall responsibility for the selection and interpretation of the works performed by a theatre, ballet, or opera company.
Rehearsal Director: The rehearsal director is generally responsible for coordinating and supervising the rehearsals within a company. They may be known as the choreographer's right-hand man' and it is usually their responsibility to ensure that the dancers know and are able to interpret the work as set by the choreographer.
Dance Critic: Dance critics are responsible for attending live dance performances and publishing or broadcasting reviews of those dance performances.
Stage Performers: In the performing arts, a performance generally comprises an event in which a performer or group of performers present one or more works of art to an audience. In instrumental music (and in drama), performance is typically described as "play". Usually, the performers participate in rehearsals beforehand.
Dance Therapist: Dance Therapist is the psychotherapeutic use of movement and dance to support the intellectual, emotional, and motor functions of the body.
Dance Assistant: Dance Assistants are responsible for leading dance classes for individuals or groups of people. Their duties are closely related to teaching various dancing techniques. They may work at production companies and also at schools, universities, and colleges.
Freelance Dance Performance Artist: Freelance dancer means one gets paid for hire based on their artistic talents as a dancer. At times one may be hired as a substitute dancer, artistic consultant, choreographer, dance captain, and the job lasts only for a period of time within a year.
Choreographer Jobs and Salaries
Dance instructor
Monthly Salaries
Average Salary

30000

Junior Level Salary

15000

Senior Level Salary

60000
Job Description
A dance instructor teaches dance technique and theatrical techniques to students. They mostly specialize in some kind of dancing like ballet, jazz, or salsa. The dance instructor often choreographs many of the dances, as well as other times they will employ a skilled choreographer to do otherwise.
Salary Description
A dance instructor with less than one year of experience can expect an annual salary of Rs. two lakhs per year, relied on the responsibilities assigned to the applicant. The salary level also rises with the gradual increase in experience and the outstanding command over knowledge. Senior-level dance instructors would get more than eight lakhs per year.
Dance assistant
Monthly Salaries
Average Salary

40000

Junior Level Salary

15000

Senior Level Salary

70000
Job Description
Dance assistants are responsible for leading individual or group dance lessons. Dance assistants are closely connected with the training of different dance techniques. They can function in production firms, as well as in educational institutes.
Salary Description
Salaries in this profession rely on the skills more than even experience. The entry-level pay could be two lakhs per year, and eventually it could be more than eight lakhs per year.
What is the job outlook for Choreographer?
The employment of dance choreographers is projected to grow 24 per cent from 2012 to 2022, much faster than the average for all occupations. Dance companies are not expected to add many jobs over the decade. Generally, when one company disappears, a new one replaces it, without any change in the total number of companies. There may be better opportunities for career as choreographer in large cities, such as Delhi and Mumbai, with many dance companies and performances. Dancers career is emerging because of social media and electronic media.
A growing interest in dance in pop culture may provide opportunities in fields outside of dance companies, such as TV or movies, casinos, or theme parks. Many dancers and dance choreographers, nonetheless, struggle to find opportunities to express themselves creatively; newer dance companies rely on word-of-mouth, grants, and public funding. However, public funding and grants for dance performances can be highly competitive. The growing interest in dance in pop culture is expected to lead more people to enrol in dance schools, and growing enrollment should create more jobs for choreographers. Dance choreographers face intense competition, and the number of applicants is expected to vastly exceed the number of job openings, in the initial stage dance choreographers salary is comparatively low. Individuals who opt for a career as choreographers attend schools or conservatories associated with a dance company may have a better chance of finding work at that company than others.
Frequently Asked Questions for Choreographer
Que. Do you need a degree to be a choreographer?
Ans.
While a college degree is not required to work as a dancer or choreographer, those interested in this art can pursue a bachelor's degree program in dance to learn about dance styles, dance theory and composition. Master's programs in choreography are also available.
Que. How many years does it take to become a choreographer?
Ans.
Most choreographers have four-six years of work experience and over two years of job training.
Que. Is it too late to become a dancer?
Ans.
The truth is, it is never too late to start dancing. Becoming a professional dancer, however, is a lot more physically and mentally demanding than just dancing as a hobby or even at a semi professional level.
Que. At what age do ballet dancers retire?
Ans.
For the professional dancer, retirement comes far earlier. According to dance.net, the average retirement age is 35. The reason most dancers and particularly ballet dancers retire at such a young age is their bodies simply can no longer withstand the rigors of their profession.
Que. What does a choreographer do in theatre?
Ans.
A choreographer invents as well as directs various dance routines that are involved in a theatre show.
Que. What is a choreographer responsible for?
Ans.
When it comes to dance, a choreographer is responsible for making sure to make the most visually appealing dance routines. Choreographers are also responsible for making sure that their students can perform the routine effortlessly.
Que. What is a B.A. Performing Arts, Music and Dance course?
Ans.
It's a three-year long course divided into six semesters. An integrated study of music and dance traditions is included in the Bachelor of Performing Arts degree course. In this course, students can learn both theory and on-stage performance skills.
You might also be interested in
The question have been saved in answer later, you can access it from your profile anytime.
Access now
Report Question
Select your reason of reporting