Who is a Acrobat?
The job of feet is walking, but their hobby is balancing ~ Amit Kalantri
We've all been to a circus and witnessed acrobats showcase their talent with complete perfection. In fact these days acrobats are not just limited to circus or television reality shows but are also a part of Olympics. An acrobat entertains the audience by showcasing his or her agility, coordination as well as balancing act. One might be a solo performer and can also perform in groups. An acrobat may design his or her own routine in order to show the kind of skills he or she excels in. It is a field for people who want to be artists and follow their passion. If you want to know more about the career, continue reading the article.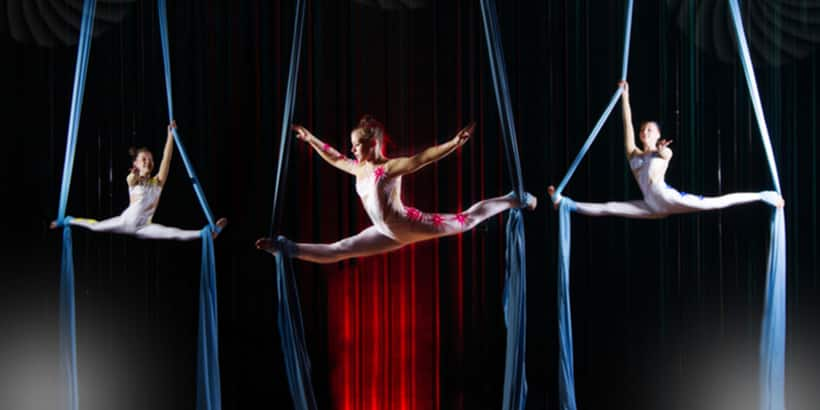 Acrobat in a Nutshell
Acrobats create and direct original routines for themselves, in addition to developing interpretations of existing routines. The work of acrobats can be seen in a variety of performance settings, including circus, reality shows, sports events like the Olympics, movies, and commercials. Acrobats must be prepared to face rejections and intermittent periods of work. The creativity of acrobats may extend to other aspects of the performance. For example, he or she may work with gym trainors, celebrities or collaborate with other professionals to enhance such performance elements as costume and or maybe at the teaching end of the career.
Quick Facts for Acrobat
Industry

Entertainment

Average Salary in India

₹26666.67

Suitable for

Male, Female, Others

There isn't any gender suitability anyone can work as an acrobat. It is not a gender-biased field and any one who has the skills and abilities or wishes to acquire the skills can become an acrobat.

Any special needs

No

An acrobat's job is not quite appropriate for specially abled people as it requires physical robustness to endure long hours of training and subsequent rehearsals are needed to perfect a new work. But over the years the world has witnessed several specially abled acrobats therefore, if an individual can pull it off then he or she can become an acrobat.
Table of Contents for Acrobat
What is the role of Acrobat?
Acrobats delight viewers, creating balance, coordination, and resilience. They can do it individually or in groups. While acrobatics are often associated with skills that involve only the human body, circus people sometimes perform aerial services with props, such as flying trapeze, wire, wind cloth, or rope. Some acrobats use bases, such as hoops, balls, wheels, or Chinese poles.
Acrobats show great flexibility, strength, and perseverance, often recording their own ways to incorporate their specific strengths and skills. Travel is required, and a number of tangible risks exist, especially in the completion of the aerial acrobatics. Safety gear may be required. The acrobatic skills often begin with youth activities, such as dance, rolling, or gymnastics, with advanced acrobatic skills learned by attending specialized training centers.
Understanding the work environment
Understanding specifications as well as limitations of the project, and collaborating with the employer, as well as lighting, music, and costume departments to ensure the routines are completed to a high standard.
Planning
Creating acrobatics steps that fit with the mood, music, theme, and that are audience-appropriate is one of the most important things for any entertainer let alone an acrobat. Therefore, one must have a routine not just focussing on showing the skills one has but also towards meeting with the requirements.
Training
Acrobats, especially in India begin their career by performing in circuses. It gives them the experience of performing in front of large crowds as well an opportunity to learn from the fellow acrobats. Supporting, guiding, and explaining all steps might be required in such settings as acrobats is largely performed in groups of people in case of a circus.
Identifying the limitations
One must go through a self-analysis for himself or herself in order to understand the weak points. It is essential for not just an acrobat but everyone in order to improve his or her performance in the coming times. It enables the person to better himself in the artform.
Punctuality
Showing up on time for all rehearsals, performances, and meetings is very important in order to shine. Being a good performer won't be enough if one doesn't take other people's time seriously. Practise for a group as a whole suffers if one person is also not punctual enough.
Types of a Acrobat
Acrobatics Trainer: Being an acrobat trainer allows an individual to remain active physically while sharing his or her knowledge with others. One can also remain creative through choreographing routines for different forms of acrobatics regularly. It helps to know which age group one wants to teach, as some will require extra training and experience in order to qualify to do so. This is a great option that helps extend the longevity of the career. Acrobatics classes are generally populated by young dancers.
Arts Administrator: Experience in the field of acrobatics world gives a thorough understanding of the art in general, and transitioning to a desk job is a good option to stay involved in the field if one desires to have a less physically active career. It is an ideal position for those who can organise budget and finance related work, schedule meetings, rehearsals, or shows, find fundraisers, and be a support to the artistic director and overall vision of the entire company.
Marketing for acrobats: Work in this field could include activities like designing and maintaining web pages, designing flyers with other promotional and marketing materials, promoting events through social media, and several similar activities. Graphic design work may require additional training, which one could receive through online courses, community classes, or attending college to obtain a degree as well.
What is the workplace/work environment of Acrobat like?
The workspace is very subjective in nature. An acrobat can be traveling all the time in order to do shows or one could also be working full time with an acrobat hiring organisation. The work environment rarely involves one to be working on the desk. For any acrobat it is more about practicing and making the skills better therefore he or she spends most of the time in a rehearsal area or stage.
Does Acrobat require travelling?
Likely
The job of an acrobat can involve a lot of travelling especially if an individual is a performer. For example, the acrobats who work in a circus keep on travelling from one place to another in order to do shows.
Employment Shifts
Full Time, Hourly Basis
The shift timing of the acrobat can be really tiring and long once the show comes near as one devotes most of his or her time in practicing the routine. There are no shifts as such, it all depends on the date of the show. One may have to practice for extra hours in order to correct his or her form or skills.
Employment Nature
Contractual, Permanent
The employment can be both permanent as well as contractual in nature. Some companies may form a contract which can be ranging between two to three years in length. It varies from company to company. Whereas it is a field where an individual can work for himself or herself or as a freelancer and in that case the work can be contractual in nature.
Work Place
An acrobat cannot work in an office, he or she keeps moving for shows from one place to another. The kind of work an individual is doing. If an acrobat is working for a circus then depending on the schedule he or she would have to work at the location of the circus.
Presence in Geographical Area
Urban
An acrobat can work in any type of geographical location, especially if he or she works as a freelancer. But if one works in any entertainment company then it is most likely that he or she would have to work in an urban location.
Time Pressure
Not Likely
There is not much time pressure as after a point of time the acrobats have learnt the skills thoroughly. Therefore, time pressure is less likely to occur.
Overtime Details
An acrobat might have to work for extra hours in cases where there is a show to be done in a very limited time or maybe a few days before the performance.
Weekly Hours of Work
An acrobat is not like any corporate job. There are no specific work hours. It all depends on how much has to be done in how much time, apart from that it is a field which requires physical activity therefore nobody can do it for extremely long hours even in pressure.
What are the skills and qualities required to become a/an Acrobat?
Physical strength: Successful acrobats must have an excellent balance, physical strength, along with physical dexterity, so they can move their bodies without falling or losing their sense of rhythm. It is one of the basic requirements for an individual aspiring to be an acrobat. Being able to move effortlessly is the
Creativity: Acrobats need an artistic ability and sense of creativity in order to express ideas through movement. There are already so many great acrobats who have shown their best moves simply by being creative. Therefore, acrobats must have artistic ability and innovative ideas, to create new and interesting dance
Interpersonal management: Having interpersonal management skill is essential to do well in every possible field including that of acrobats. Acrobats may find job opportunities by networking within their communities. Having contacts and knowing the right people always helps in an artistic
Leadership: After gaining an experience of a few years individuals can get promoted to better work positions and become an instructor. It is important that acrobats must be able to direct a group of dancers to perform the routines that they have created. It is essential that one must possess leadership skills in order to guide and instruct people in enhancing their skill sets.
Which certifications and internships can be helpful in becoming Acrobat?
Internship Availability
Yes
Acrobats begin training early in their lives, Therefore, candidates while being young can also be working in this field. Students can either work under a trainer or an acrobat at a higher level in order to get a headstart.
It is a field that requires people to be good at their skills as the competition is very tough. Therefore, knowing more about a profession one desires to join in the future is important. Also, it can help in network and contact building which can help acrobats to have a permanent job.
Career Path Progression for Acrobat
Acrobatics instructor: A acrobatics instructor is responsible for training students in dance technique and dramatic skills. They often specialise in some or the other form of acrobatics such as gymnastics, tight rope walking or trapeze. Sometimes the acrobatics instructor may form some of the routines, and other times he or she may hire a professional acrobat to do
Acrobatics Assistant: Dance assistants are responsible for leading dance classes for individuals or groups of people. Their duties are closely related to teaching various dancing techniques. They may work at production companies and also at schools, universities, and
Rehearsal Director: The rehearsal director is generally responsible for coordinating and supervising the rehearsals within a group of acrobats for instance in a circus. He or she may be known as the acrobat's 'right-hand man' and it is usually his or her responsibility to ensure that the acrobats know and are able to interpret the work as set by the
Physical Therapist or Medicine Specialist: If an individual has had extensive training, such as going through a college degree programme, then he or she would probably have a wide range of anatomy and kinesiology knowledge. This can be an excellent and lucrative field for an acrobat to enter. The ability to relate to an acrobat and understand the other acrobat's body as a physical therapist or medical doctor will give him or her an advantage that is hard to beat.
Acrobat Jobs and Salaries
Acrobatics Instructor
Monthly Salaries
Average Salary

30000

Junior Level Salary

25000

Senior Level Salary

40000
Job Description
An acrobatics instructor teaches dance technique and theatrical techniques to students. They mostly specialise in some kind of balancing activity like gymnastics or aerial acrobatics. The acrobatics instructor would often plan many of the routines, as well as other times he or she will employ a skilled acrobat either an intern or employee work accordingly.
Salary Description
An acrobatic Instructor with less than one year of experience can expect an annual salary of Rs. two lakhs per year, relied on the responsibilities assigned to the applicant. The salary level also rises with the gradual increase in experience and the outstanding command over knowledge. Senior level acrobatics instructors would get more than eight lakhs per year.
Acrobatics assistants
Monthly Salaries
Average Salary

25000

Junior Level Salary

18000

Senior Level Salary

38000
Job Description
Acrobatics assistants are responsible for leading individual or group acrobatics lessons. They are closely connected with the training process of different dance techniques. They can function in circus, production firms, as well as in educational institutes.
Salary Description
Salaries in this profession rely on the skills more than even experience at times. The entry-level pay could be two lakhs per year, and eventually it could be more than eight lakhs per year.
Rehearsal Director
Monthly Salaries
Average Salary

25000

Junior Level Salary

19000

Senior Level Salary

32000
Job Description
In the field of acrobatics a rehearsal director is someone who has the job of coordinating and managing all the people who are acrobats. Not only that he or she manages the time and venue for the rehearsals.
Salary Description
The salary depends on the organisation who has hired a rehearsal director. Employers in the television industry pay much more than employers of a circus. Although, managing acrobats in a circus can be more difficult than the television crew.
What is the job outlook for Acrobat?
Employment of an acrobat is projected to grow six per cent from 2012 to 2022, slower than the average for all occupations. Employment of acrobats is projected to grow 24 per cent from 2012 to 2022, much faster than the average for all occupations. For an individual who possesses the required set of skills can experience job growth quite quickly as it is a field for artists.
An individual who performs acrobatics well can showcase it and grab several job growth opportunities.
The research group IBISWorld (Indian Market Research, Reports and Statistics) reported that in 2015, the dance studios industry generated Rs. 20 crore and that consumer spending on acrobatics instruction had increased gradually between 2010 and 2015.
There are relatively few sectors within the acrobat's industry. In general, it can be divided into two main categories: professional and amateur. The professional acrobat industry is the traditional one in which workers are employed by companies to perform during a season that is typically about nine months in length. Other employees in the profession are responsible for carrying out duties like a rehearsal or master dancers, administrators and recruiters, lighting and set designers and operators, makeup artists, and publicists. Approximately 20,100 acrobats were employed as of 2014.
Frequently Asked Questions for Acrobat
Que. Do you need a degree to be an acrobat?
Ans.
While a college degree is not required to work as an acrobat, those interested in this art can pursue a bachelor's degree programme in liberal arts or any other related field that can help in providing a back-up.
Que. How many years does it take to become an acrobat?
Ans.
It is very subjective in nature. Some people can master the skill in a few months but some may take one or two years in order to do well. Acrobats are about balancing at large, so the one who can balance well will be able to learn it well.
Que. Is it too late to become a dancer?
Ans.
The truth is, it is never too late to start anything in life and the same goes for acrobatics. Becoming a professional acrobat, however, is a lot more physically and mentally demanding than just dancing as a hobby or even at a semi-professional level.
Que. What does an acrobat do in theatre?
Ans.
An acrobat is required in theatres where the script of the play demands scenes like some aerial performance or some balancing act.
You might also be interested in
The question have been saved in answer later, you can access it from your profile anytime.
Access now
Report Question
Select your reason of reporting