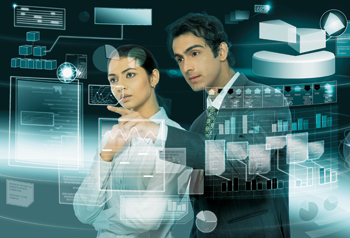 Photo: Shutterstock
TECHNOLOGY PROFESSIONALS need to understand business needs in depth
FAST FACT
Programme: MBA (Technology Management)
Top institutes: IITs (Madras, Delhi, Kharagpur), Indian Institute of Science (Bangalore), CEPT University (Ahmedabad), Bangalore Institute of Management
Position: Analyst, Corporate Administrator, Business Strategist, Technology Manager, R&D Specialist, Manager (Innovations), Consultant 
Work area: Public & Private (all sectors), Government organisations and think tanks, Academia
Avg. starting salary: 8 lakh p.a.

In response to the rapid development in businesses with technology at the core, organisations are showing a keen interest in hiring professionals who can make decisive interventions in handling data and carrying out robust analyses. A cursory glance at the profiles of 'technology management' professionals across the globe indicates that these executives have an edge for several reasons. They have a fair knowledge of business processes; the ability to understand, evaluate and forecast how technologies impact the systems within and outside the organisation, and an ardent desire to be a change agent to make life better for people.

Educational credentials
Typically, the formal educational background of this breed is an undergraduate degree in technology, or systems (even Master's in Science) coupled with work experience in a data-driven organisation. "Being an Engineering student I am interested in innovations, new ideas and gadgets. This inclination and my long- cherished dream to join a management course made me join this programme," shares M Nirmal kumar, a Master of Management candidate at Indian Institute of Science, Bangalore, specialising in Technology Management. 


| | | |
| --- | --- | --- |
|   |   |   |
|   | "Positions that await professionals after doing an MBA in Technology Management are there in government, industry and academia " |   |
|   |   |   |
About the programme
In order to meet the distinctive needs of high-tech industries of emerging India, the Master's Programme in Technology Management (TM) emphasises on training people in understanding the nuances of technology: its creation, assessment, forecasting, transfer, absorption, diffusion etc as also in educating about management, planning, business operations, analytics and so on.

Pursuing the course, concepts such as technology forecasting, adaptation, and implementation will sound meaningful to you. At the micro-level, you will have a fair idea of the technological transformation process in an organisation and will be able to bring more clarity to concepts in relation to TM such as productivity, employment, human resources and organisational development.


What more will you know?
There are extremely engaging and exciting disciplines such as technology road-mapping or R&D management that could draw your interest and it may just happen that certain topics engross you to such an extent that you end up probing issues around it as your PhD problem. TM being multi-disciplinary, studies the interaction of technologies in various management domains. "An interest in how social networking is changing marketing aspects or how SAP is reducing operational inefficiencies", influenced Manohar Nagula, a third semester student at DMS, IISc, to take the course.

Course curriculum
The course offerings vary from institute to institute, however, apart from the General Management courses there are core courses such as Strategic Management, Entrepreneurship, Innovation Management, Intellectual Property Rights, and Project Management that constitute a full-time programme. In addition, one has to study elective courses depending on the available options and interest. These include Sustainable Development, Management of Change, Economics of Technology, Management Information Systems, Energy Policy, Investment Strategy, Global Marketing, Public Policy Theory, Decision Support Systems, Logistics & Supply Chain Management, Simulation and System Dynamics etc.  
MH Bala Subrahmanya
Professor & Chairman, Department of Management Studies,
Indian Institute of Science, Bangalore


"Forecasting technology is a prominent role"


Q. What courses does one study in TM?
A. At DMS (IISc) the management students essentially study eight hard core courses (Economics, Behavioural Science, Statistics, Marketing, HR, Operations, Finance and Principles of Management) which gives them the grounding in basic disciplines of management. Then the students opting for TM as specialisation have to undergo four core courses - Technology Management, Management of Innovation & Intellectual Property, Entrepreneurship for Technology Start-up, and Management of Technology for Sustainability. There are 27 elective courses that one could choose to do of which 17 are from any other department in IISc. The project work fetches 16 credits out of a total of 64.


Q. What is unique to Department of Management Studies at IISc?
A. Being a research institute, at present we have 82 students, of which 51 are research scholars and 31 are in the Master's programme. There are 11 faculty members of which 10 are PhDs. The two-year residential Master's programmes have two specialisations, Business Analytics and TM. A distinguishing feature is an intensive six-month internship project in the last semester which includes formulating a problem, making a presentation, defending it before a committee, facing work-in-progress viva voce and presenting a final report by June 30 every year. Our PhDs in particular are greatly sought after by both Indian and global firms.
Summer internships
An integral component of the course is summer internships. This intensive arrangement allows the candidates to work with public sector, private sector, R&D establishments and/or in high-tech industries in the corporate world. Alternatively, some students could opt for a life-time exposure to business incubation units, successful start-ups, or venture capital funds. The five-six weeks of summer term exposes the students to live problems and pragmatic approach/ challenges of running an enterprise.

Roles of TM professional
As a professional, you would encounter operational issues that explain the role of management in technology. You would be expected to analyze operational change and help in improving the performance level. Using project management skills, you may be able to evaluate how to manage change with respect to continuous improvement, new product development or process redesign. "We will be better than other MBA graduates in technology-intensive companies and their functions such as technology marketing, strategy, IP and at the senior and top level management, inputs like R&D Management, Sustainability, Management of Innovation etc will give us an edge over others in this technology-oriented era," says, Nirmalkumar of IISc, now in his third semester.
Study destinations (India & Abroad)
As you move up the ladder
In a senior position, responsibilities would demand you to study the patterns of innovation in your domain that may demonstrate the need for continuous incremental improvement and you could suggest structured approaches to the same. This work is often very exciting as it rekindles your thought process in recognising the need for technological development, and design which talk to the dynamic market needs. The trajectory of a striking novel idea to its development and commercial usage, leads to innovations (sometimes radical too). And as a consultant, analyst or manager your role would be to facilitate the same in the right direction, and assess theory and practice of innovation in organisations. You would also debate among other decision makers, the various sources of innovation, similar cases of technology advancement and the implications.
 
 

 

 

 

"Technology managers are needed primarily to assess associated risk in businesses and reduce uncertainties"

manohar nagula, Master's in Management (2011-13) dms, IISc, bangalore

 

 

 

 
Career prospects
The advent of MNCs in manufacturing and services (largely consultancy services in management and technology) juxtaposed with the rapid growth of domestic enterprises in these sectors, is another reason for an imminent rise in TM professionals. Positions that await professionals after doing an MBA in Technology Management are there in government, industry and academia. While more graduates wish to join the corporate sector as Analysts and Consultants (Strategic, Business, or Lead in specific domains) or as Corporate Administrators and Managers; in the government, opportunities exist in planning, policy analysis & framing, administration etc. "Technology managers are involved in technology transfer and valuation aspects, as also in IP activities like patent filing, maintaining patent portfolio so, organisations with research & IP orientation can hire us," shares Nagula. In academics there is a dearth of people who understand the interrelation of technology and management. Though there are very few institutions that offer MBA in TM, the scenario will be different in the coming years, with more opportunities coming our way.

Looking ahead
While most of the opportunities today exist in sectors like financial services, IT, utilities and manufacturing, it is a matter of time when TM professionals would be needed in almost every sector. The broad learning canvas of an MBA curriculum coupled with focus on TM, will give the graduates an added advantage to hold strategic and eminent positions in organisations across industry.