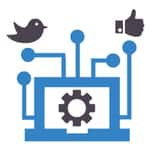 Media Management
Degrees offered: B.A., B.A.(Hons), B.B.A, B.M.M., B.M.S, B.Sc., B.Sc.(Hons)
Q&A : 33 Question
What is Media Management
Media management is a branch of business administration which focuses on the development, planning, and brand building among media enterprises. This course program trains its students to develop an understanding and experience on the production, marketing, finance, and operations in the field of media management.


Media management is an interdisciplinary research area that studies the organization and functioning of media to meet the needs and wants of society, with the help of scarce resources. It is seen as a business administration discipline that describes strategic and operational phenomena in the workings of media companies. It is an important part of operating media strategies effectively for planning and managing market issues.


One can pursue this course with a BBA and MBA degree course in media management. IIMs, NMIMs, XLRI are among the top 10 best colleges in India to pursue a course study in media management.
Eligibility Criteria (UG & PG) of Media Management
Eligibility criteria are necessary to find potential students to pursue various courses. Several eligibility criteria are made necessary for admissions to various course degrees. The eligibility criteria for admissions to UG and PG in media management are given below.


For undergraduate degree
Candidates must have scored at least 50% marks during their class 12.

They must have completed class 12 in any stream, but preferably commerce.

Admission process will be based on entrance exam score or merit-based.

For postgraduate degree
Individuals must score at least 55% during their bachelor's degree.

Candidates must have completed their bachelor's degree in commerce/business management or related course.

The candidate must complete their entrance exam or get a merit-based admission based on the university.
Entrance Exams for Media Management Course
Entrance Exams are conducted by educational institutions at a national or university level, to select prospective students for admissions to various courses of their choice. Some universities do not require entrance exams and admissions are done on merit-based.


However, for media management candidates are usually required to give entrance exams, admissions are granted based on the scores they have achieved during their entrance exams. Let's take a look at some of the entrance exams for an undergraduate and postgraduate degree in media management or BBA/MBA.
DU JAT- Delhi University Joint Admission Test, commonly known as DU JAT is a national level entrance test conducted by Delhi University for admissions to various undergraduate courses in the university. It is conducted online, annually and is 2 hours long.

IPMAT- Integrated Program in Management Aptitude Test (IPMAT) is a national level entrance exam for various management courses at IIM Indore. It is conducted by IIM Indore every year. The exam is conducted online and is 2 hours long.

CMAT- CMAT or Common Management Admission Test is an aptitude entrance test conducted by the National Testing Agency (NTA). It is a national level entrance exam conducted to grant admission into the MBA/PGDM courses in B-schools across India. The exam is conducted in an online mode with 3 hours exam duration.
Scope of Media Management in India and Abroad
Media is said to be one of the most organized sectors that have grown dramatically since ages. Media itself represents all the new trends and information needed for understanding how the world works. Media management provides skills needed for efficiently managing the works of media-related aspects for future career scope.


Experience and skills in the media management field are the only way to get more job opportunities or future scopes. There are tons of opportunities available in the media sector in India as well as abroad, related to marketing, digital media, and much more. One can even opt to pursue higher studies abroad for better future scope in career aspects. Individuals can get a future scope in the field of media, marketing, management since this course covers all the skills needed for these fields of work.
Course Fees Media Management
Minimum Fees
Maximum Fees
Private
Government
Private
Government
UG

53.37 K

B.M.M. in Media Management at Bhavan's College, Mumbai

54.00 K

Other Bachelors in Media Management at Tilak Maharashtra Vidyapeeth, Pune

85.00 Lakhs

B.B.A in Media Management at Whistling Woods International, Mumbai

54.00 K

Other Bachelors in Media Management at Tilak Maharashtra Vidyapeeth, Pune

PG

24.00 K

MBA in Media Management at Global Open University, Dimapur

14.40 K

M.A. in Media Management at Jamia Millia Islamia, New Delhi

13.34 Lakhs

MBA in Media Management at School of Modern Media, University of Petroleum and Energy Studies, Dehradun

2.50 Lakhs

P.G.D in Media Management at Indian Institute of Social Welfare and Business Management, Kolkata

DOCTORAL

4.80 Lakhs

Ph.D in Media Management at Himgiri Zee University, Dehradun

27.57 K

Ph.D in Media Management at English and Foreign Languages University, Hyderabad

18.00 Lakhs

Ph.D in Media Management at Mahatma Gandhi University, Tura

27.57 K

Ph.D in Media Management at English and Foreign Languages University, Hyderabad

DIPLOMA

21.95 K

Diploma in Media Management at Bharti Vishwavidyalaya, Durg

---

Data not available

19.76 Lakhs

Diploma in Media Management at Pearl Academy, West Delhi Campus, New Delhi

---

Data not available
Course Subjects
Various subjects of different topics are given by universities and the board of studies for media management courses. It includes all the subjects related to the course and the important subjects that will benefit and help its students grow with expertise and understanding in the field.


Subjects for undergraduate
Business accounting

Business economics

Computing

Media and culture

Communication theory

Public Relation and Mass Communication

Policy and Strategy

Subjects for postgraduate
Modern Business Organization

Modern Marketing Management

Business Communication Skill

Global Business Environment & Economics

Consumer Behavior

Media Law and Regulations

Business Ethics and Corporate Government

Entrepreneurship & Innovation Management

Media technology

HR & OB
Careers in Media Management
After completion of a degree in media management in BBA or MBA, one can get job offers from many companies and organizations. The demand for individuals from this course has increased over the years with the emerging benefits of marketing business assets and production through media. With media management, one can carry out many works and job roles such as digital marketer, project manager, media planner, market analyst, communicator, manager and much more in the fields of media and business market, not only in India but also abroad.


Many even opt to pursue further studies of MBA in media management abroad due to many opportunities to work at prestigious companies like JP Morgan, Amazon, Apple, and much more. From recent observations, this sector job opportunities will never cease due to emerging and many more future trends in this field of work.
Students also liked
Upcoming trends
There are various upcoming, existing trends and topics in media management with every change we face in the field of technology or digital marketing strategies with regards to business development.

More schools will adopt responsibilities of leadership in this field of study for preparing students for the future of the field of marketing and business. New subjects and topics on leadership management and strategies on taking various responsibilities and roles will be introduced and included as a subject in this course. Media management programs will continue to undergo digitalization, with more techniques and specialized skills that will emerge in the academy institutions of the course. The opportunities in the job world of marketing, business and media will continue to grow and transform throughout the upcoming years, and even more developed than it is now with the help of various new trends and subjects that will be covered in the course study.
Browse media management certification courses
Job Profiles and Top Recruiters
With a degree in media management, one can pursue a wide range of careers in various sectors. Various job profiles are offered by many top recruiting companies for a student with a degree in media management.
| | |
| --- | --- |
| Job Profile | Job Description |
| Media strategist | A Media strategist helps in building and planning for ad campaigns which are designed to capture various potential clients or customers and to maintain the loyalty of existing customers. They also advise and formulate media strategies to help launch client products and services. |
| Marketing Analyst | A Marketing analyst, also known as a market research analyst, helps and coordinate with companies and organizations to decide which products and services to sell or pitch to customers and in choosing the right customers or clients. |
| Media Manager | Media Managers are experts with skills in communication and dealing with clients. They implement and develop all targeted contents for various media platforms. They assist team members in bringing out marketing strategies and plans for benefiting the company. |
| Channel Head | A Channel Head is responsible for planning and implementing customer needs, and to monitor activities of their competitors. They help in communication, planning for business growth, market shares, and various other activities. |
| Project Manager | Project Managers are responsible for managing various projects assigned by the company with the help of their team and plan to bring out positive results efficiently. They conduct research related to the projects and check various ways to improve and create unique plans for benefitting the department, and the company as a whole. |
Top Recruiters in Media Management
Amazon

Citigroup

Facebook

BCG

TATA Consultant Ltd.
Popular Online Media Courses and Certifications
Average Salary
Average salary may be less for most individuals in any job career. However, with skills, experience and higher degree level, an individual can get higher job roles with a high salary.
| | |
| --- | --- |
| Job Profile | Income Per Annum |
| Market analyst | Rs. 3 to 6 lakhs p.a. (Approx.) |
| Media strategist | Rs. 4 to 6 lakhs p.a. (Approx.) |
| Digital media manager | Rs. 4 to 7 lakhs p.a. (Approx.) |
| Project manager | Rs. 5 to 7.5 lakhs p.a. (Approx.) |
| Channel head | Rs. 5.5 to 8 lakhs p.a. (Approx.) |
Required Skillset for Media Management
Media management is related to marketing in digital platforms or the field of mass media. Communication and interactive skills are considered very important and necessary to maintain good relationships with clients all over the world and in fulfilling various projects.


Problem-solving skills, analytical skills, digital technology handling skills, graphic designing, research skills, are all the required skill sets to understand the course subject efficiently and put it in practice in future job roles related to the media management field. Most of all, a hard-working and dedicated mindset and a passionate interest in the field of the subject is a plus point for anyone studying this course.
Course Curriculum for Media Management
Media management course which is a branch of business management and also media, provides a wide subject curriculum of various aspects on dealing with business strategies, digital business or marketing, media market, research analytics, and much more. The course focuses on imbibing the knowledge and skills of all media management-related subjects for successfully shaping its student's future career.


Students pursuing this course studies concepts and processes of management, information technology, managerial economics, consumer behaviour, marketing management, strategies, and much more to gain understanding and expertise in the field. This course aims at educating and making students understand the impact of media management for the development of the country's economy.
Popular Media Management Entrance Exams in India
Popular Media Management Colleges in India VIEW ALL
Frequently Asked Questions (FAQs)
Question: Is it worth studying media management?
Answer :
The study of media management can open many opportunities in various job sectors in the future. It will never go waste, the knowledge one learns or gains with this course study. Therefore, keeping in mind all the opportunities and future scope is worth studying media management.
Question: Which college is best to pursue media management in India?
Answer :
Many universities provide a course study in media management, and most of them are considered to have a well-structured curriculum of the course in India. NMIMs, IIMs, XLRI are some of the top colleges to pursue media management course subjects, and they also provide great placement opportunities by the completion of the course.
Question: What is the study of media management?
Answer :
Media management as a branch of business administration is the study of how business works with the application of media and how to manage the market. They also learn about the concepts, strategies, plans and operations of the media field of management studies. The subjects include financial management, business economics, market strategies, communication skill, market management, and much more.
Question: What are the career opportunities with a media management course degree?
Answer :
With a degree in media management, one can work as a media manager, market analyst, channel head, project manager, and media manager in various job sectors and prestigious companies like Apple, Amazon, JP Morgan, Citigroup and much more. Therefore, it provides a lot of career scope in many fields of work, from market, media, to financial institutions or companies.
Question: What are the functions of media management?
Answer :
The functions of media management include planning, leading, organizing, and controlling the process of media management and marketing strategies. They conduct research and analyze various data and information related to market business, media planning and much more.
They play an important role in managing the media platforms of marketing and business models for bringing profit and positive results for the company's products and services.
Questions related to Media Management
Showing 33 out of 33 Questions
Courses Similar to Media Management
Interested in Media Management? Find information around eligibility, career scope, jobs , colleges and exams and much more for free.