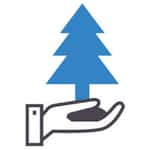 Forestry
Degrees offered: B.Agri, B.F.Sc., B.Sc., B.Sc.(Hons), BS, Diploma, M.A.
Q&A : 340 Question
What is Forestry
Forestry is a course where students have to work with some of the fundamental facts, concepts, and implementation of different ideas to the system. The goal is to make sure that the extension of the area of the forest can be done along with the number of resources that are coming from the forest that do not get decreased.

During the course, students gain knowledge of the theoretical and practical fields, mostly on forestry and other related fields.


Students, after pursuing either UG or PG courses in Forestry, can get jobs both in the public and private sectors. Students might get opportunities to either work or research with the Indian Council of Forestry Research & Education and other Forestry Research Institutes such as Forest Research Institute, Institute of Social Forestry, Eco-Rehabilitation, and more related affiliated forestry institutes.
Eligibility Criteria (UG & PG) of Forestry
For Undergraduate courses:
The eligibility criteria for most of the institutes are similar. Students seeking to get admission to pursue a Forestry course must have certain criteria to take the admission test. Those are as follows:
The student seeking to get admission must have passed class 10+2 or equivalent exams from a recognized board/institute.
The student must have scored a minimum of 50% marks on aggregate in the qualifying examination. For reserved category students, this percentage is less.
There is no certain age limit; however, it might be up to certain institutes to decide strictly according to their guidelines.
For Postgraduate course:
To be eligible to take the admission test and get admission in the respective institutes, students need to pass the UG course only in the forestry or agriculture field.
Entrance Exams for Forestry:
There are two ways different colleges accept students, merit-based (marks obtained in the qualifying exam), entrance based (rank in the entrance test). There are different entrance exams available for Forestry admission in different institutes. Here are some details about those exams as follows:


For admission in the UG course
CG PET: This exam is conducted by the Chhattisgarh Professional Examination Board, Raipur. This is a test which is also known as CG PAT. By qualifying this test, students will get a chance to take admissions to courses like Bachelor of Science (BSc) in Agriculture, Forestry, Horticulture at the different colleges affiliated to Indira Gandhi Krishi Vishwavidyalaya. This entrance exam is held offline. It is a pen-paper based exam, and there are around 35 test centres all around in Chhattisgarh. There are three groups of question papers where each set came from an agricultural group, PCB (Physics, Chemistry, and Maths) group, PCM (Physics, Chemistry, and Biology) group.
OUAT: The Odisha University of Agriculture and Technology (OUAT) conducts an entrance test every year to take students in different courses like agriculture, horticulture in the different colleges under them. The test is taken offline. It is a test of 200 marks where 200 questions are there. Questions usually come from subjects like physics, chemistry, biology/mathematics from the 10th/12th standard.
GSAT: Gandhi Institute of Technology and Management Science Admission Test (GSAT) is a national-level entrance exam. This exam is conducted every year to take students in various degree courses in both UG and PG offered by this institute. GSAT is a pen paper-based test taken in offline mode.
BHU UET: BHU UET is a national level entrance exam conducted by the Banaras Hindu University. Students from all over India can get admissions to various UG courses in this university and the colleges under it. The exam is conducted as a pen paper-based test as well as an online test. Candidates have to choose their appropriate paper to take admission in the respective course of Forestry.
NEST: NEST (The National Entrance Screening Test) is a national-level entrance test conducted by the National Institute of Science Education and Research(NISER), Bhubaneshwar, and the University of Mumbai -Department of Atomic Energy Centre for Excellence in Basic Sciences(UM-DAE CEBS), Mumbai. NEST is a test by which students can get admissions into the 5-year Integrated M.Sc Programme in Basic Sciences (Physics, Chemistry, Biology, and Mathematics). The question paper is based on the above-mentioned subjects. It is a Computer Based Test (CBT).
For PG course
To get admission into PG courses, there are two systems available. One is a merit-based system, in which students can get into PG courses after completion of their UG course according to their aggregate marks in the UG courses. The other one is entrance test-based, where some institutes take entrance tests for taking students into respective courses like Forestry.
Scope of Forestry in India and Abroad
There are a lot of opportunities and demands for Forestry . The popularity of this course is increasing day by day and students are getting more and more inclined to this course. The Opportunities in India and abroad is pretty noticeable. Students will get opportunities in the wildlife department, forest departments, and national parks & sanctuaries, govt as well as in the private departments. Therefore, after completion of Forestry will get a lot of opportunities to the graduates with high paying job opportunities.
Students also liked
Course Fees Forestry
Minimum Fees
Maximum Fees
Private
Government
Private
Government
UG

35.00 K

B.Sc. in Forestry at Mayfair Business School, Kolkata

22.12 K

B.Sc. in Forestry at Hemvati Nandan Bahuguna Garhwal University, Pauri Garhwal

8.50 Lakhs

B.Sc.(Hons) in Forestry at Malla Reddy University, Hyderabad

4.61 Lakhs

B.Sc.(Hons) in Forestry at Sam Higginbottom Institute of Agriculture Technology and Science, Allahabad

PG

20.00 K

M.Sc. in Forestry at Singhania University, Jhunjhunu

---

Data not available

2.70 Lakhs

M.Sc. in Forestry at Shoolini University of Biotechnology and Management Sciences, Solan

7.80 Lakhs

P.G.D in Forestry at Indian Institute of Forest Management, Bhopal

DOCTORAL

72.00 K

Ph.D in Forestry at Career Point University, Kota

60.50 K

Ph.D in Forestry at Salim Ali Centre for Ornithology and Natural History, Coimbatore

3.90 Lakhs

Ph.D in Forestry at Shoolini University of Biotechnology and Management Sciences, Solan

60.50 K

Ph.D in Forestry at Salim Ali Centre for Ornithology and Natural History, Coimbatore

DIPLOMA

---

Data not available

2.10 K

Diploma in Forestry at Uttarakhand Open University, Haldwani

---

Data not available

23.80 K

Diploma in Forestry at Birsa Agricultural University, Ranchi
Course Subjects
The subjects that are taught in the UG courses and the PG courses might be different. However, most of the subjects in the UG courses are similar. The same thing is found in different colleges for the PG courses too. The goal is to keep the course content the same. Here are subjects taught in Forestry in different institutes are as follows:
Principle of civil culture

Introduction to forest soil science

Professional communication

Environmental studies I

Fundamentals of Extension Education

Forest mensuration

Human development

Surveying

Forest ecology

Principles of forest soil sciences

Dendrology

Cytology

Elementary Mathematics

Agro Meteorology

Introduction to Tree Science

Tree Seed Technology

General Biochemistry

Physical Education

Computer Applications

General forest microbiology

Forest Entomology

Environmental Studies II

Forest Management

Silvicultural Systems

Agroforestry

Wood Science

Fundamentals of Wildlife

Livestock Management

Silviculture of Indian Trees

NCC and NSS

Statistical Methods

Wood Anatomy

Statistical Methods

General Forest Microbiology

The fertility of Forest Soils

Forest Soil Survey

Nursery Management

Tree improvement

Forest utilization I

Forest utilization II

Forest biotechnology

Rangeland Management

Fruit production

Tree physiology

Wildlife management

Commercial forestry

Forest pathology

Forest soils

Plantation forestry

Forest production economics

Forest policy legislation

Wood seasoning

Bioenergy

Soil water management

Forest project

Ecotourism

Forestry work experience

Climate change

Environmental Impact Assessment
Careers in Forestry
After finishing the UG courses and PG courses in Forestry, students can easily get jobs mainly in the government sector as well as in the private sector. Here are some institutes and organizations, where students can get placed easily in Forestry department as follows:
Indian Council of Forestry Research and Education (ICFRE) and its affiliated institutes
Wildlife research institutes and ranges
Zoological parks
National parks & sanctuaries
Forest nurseries
Upcoming trends
There are a lot of upcoming new trends in the Forestry field. Students who are adventurous, love to enter this field. Therefore, a lot of people are getting engaged in this field, and hence new sides of this field are gaining popularity. Apart from keeping the forests safe, collecting products from the forests in an industrial way are also popular at this moment in the field of Forestry .
Job Profiles and Top Recruiters
There are a lot of opportunities available in Forestry courses, and job roles might vary according to availability and personal interest. After completing the course, the candidates will get different roles such as Assistant Manager, Forest Officer, Agricultural Manager, Nursery Manager, Farming Manager, Teacher, and many more in both government and private sectors.


Here is a table that may give some insight about job positions that a candidate can get after the completion of the Forestry course as follows:
| | |
| --- | --- |
| Job Position | Job Description |
| | They used to work as the manager of a farm and take the responsibilities to develop and supervise all the needs of the farm. They sometimes come forward by raising their helping hands with the labourers to complete any work precisely. |
| Assistant Manager | The Assistant Manager is always there to look after work in a nursery or farm. He/She takes care of the work, provides useful suggestions, and helps to grow the overall efficiency. They are very well at planning and organizing teamwork. This is one of the most sought jobs after the completion of Forestry |
| Agri-Credit Manager | Agri-Credit Managers used to work more with corps rather than the plants. They look after the quality development of the crops growing in a field. They used to look for the corps to be sold to the consumers and maintain business relations with the consumers. |
| Nursery Manager | The Nursery Managers are those who always look after the plants in a nursery, work with them, and help them grow in good condition. They are the ones who decide the type of plants, the number of plants to grow, and many more aspects related to business operations. |
| Teachers/ Professors/ Lecturers | A teacher/ professor/ Lecturer used to teach in colleges/ institutes various subjects to the students enrolled in different UG and PG courses. |
Top recruiting areas
The popular forestry employment areas are the following:
Forest Departments
Zoological Parks
Horticulture Departments
Wildlife Research Institutes
Wildlife Department
National Parks and Sanctuaries
Wildlife Ranges
Forest Nurseries
College & Universities
Average Salary
A candidate can secure a decent job after ensuing a degree in this field. However, the salary may differ according to institutes/organizations. Here are some salary ranges in the field of Forestry are as follows:
| | |
| --- | --- |
| Job Position | Average Annual Salary |
| Farming Manager | Rs. 6-7 Lakhs p.a. (Approx.) |
| Assistant Manager | Rs. 5-8 Lakhs p.a. (Approx.) |
| Agri-Credit Manager | Rs. 5-7 Lakhs p.a. (Approx.) |
| Nursery Manager | Rs. 4-6 Lakhs p.a. (Approx.) |
| Teacher | Rs. 3-5 Lakhs p.a. (Approx.) |
Required Skillset for Forestry
There are some personal skills and interests required in this field of Forestry to study and do well in this course. Here are some points required to get success in this field as follows:
People who are interested in this field need to be adventurous as they have to stay and work inside a forest for most of the time.
They should be fit physically and mentally, and they must be aware of conserving the natural resources and to protect it.
In the professional fields of Forestry , a person has to work with conserving forests, maintaining forest resources, and continuing supplies of products from the forest, applying new technologies in the forest to maintain the overall growth and development of the forest.
Course Curriculum for Forestry
Undergraduate Course
Bachelor of Science in Forestry is a four-year undergraduate program. Here, each year has two semesters in it. Therefore, a student needs to study for a total of 8 semesters to complete his/her UG degree.
During this course, a student gets to know about the detailed information and gain a very good knowledge of the training and development in Forestry. The forestry program helps students to understand the importance of the forest and natural sources for the environment.
Postgraduate Course
M.Sc Forestry is a PG degree course that is two years long. In this course, a student gets to know more detailed things that he/she learned during his/her UG course. The field is more study-oriented, rather than practicals. Students might choose further research after completion of the Forestry course. In M.Sc courses, students need to study a total of 4 semesters to complete the course.
Popular Forestry Entrance Exams in India
Popular Forestry Colleges in India VIEW ALL
Frequently Asked Questions (FAQs)
Question: Is this field suitable for both boys and girls equally?
Answer :
Apart from those office works and teaching, there are some tough tasks to do. However, anyone either boys or girls who are physically fit enough to be compatible with this job can go ahead.
Question: Are all the job profiles in the Forestry field tough to maintain?
Answer :
It completely depends on anyone's interest and choice. There is a lot of work to do in Forestry as the fieldwork remains mostly inside a forest. However, everything will depend on various factors like job profile, location, shift, and many more.
Question: Can any graduate students apply for Forestry courses?
Answer :
No, all the graduates are not eligible to apply for this course. Rather only graduate students who already completed graduation with specializations in agriculture/forestry are eligible to apply for this course.
Question: What would be the prospects of Forestry in India?
Answer :
There are some huge prospects in this field in our country. A greater number of students are choosing this field, and there are also job opportunities available in different organizations.
Question: What is the duration of work in the field of Forestry ?
Answer :
On average, an employee needs to work around 8-10 hours as per the guidelines of the Forestry organization he/she is working for. However, it may change depending upon different factors like job profile, location, requirements, and many more.
Questions related to Forestry
Showing 303 out of 303 Questions
Courses Similar to Forestry
Interested in Forestry? Find information around eligibility, career scope, jobs , colleges and exams and much more for free.