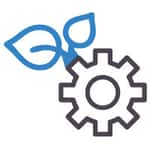 Geotechnical Engineering
Degrees offered: B.Tech M.Tech, Dual Degree, M.E /M.Tech., Ph.D
Q&A : 84 Question
What is Geotechnical Engineering
An engineering discipline dedicated to the study of the Earth, Geotechnical Engineering defines soil properties and strength, as well as the mechanics of soil and rocks. It involves other important Earth materials like snow, clay, silt, and sand. Geophysics, Geology and Hydrogeology- all these fields fall roughly under the Geotechnical Engineering umbrella.


Being a branch of engineering (Geotechnical Engineering is a branch of Civil Engineering), the discipline focuses on the use of scientific methods and engineering principles to interpret the characteristics of the ground to determine suitability for building and construction. The practical aspect of this discipline is called Foundation Engineering, and the term Geotechnics describes both the theoretical and practical aspect of the subject.
Eligibility Criteria (UG & PG) of Geotechnical Engineering
For Undergraduate
Candidates must have passed their Class 12th examination with minimum aggregate marks (most colleges require 50% on an average) with the core subjects Physics, Chemistry, and Mathematics.

For Postgraduate
Candidates are eligible if they possess a degree in Bachelor of Technology (B.Tech)/Bachelor of Engineering (B.E.) in a relevant branch such as Geo-Informatics or Geo-Information Technology.
This, in addition to a good score in PG level entrance exams conducted by various state, private and central authorities ensure a candidate's admission into a PG programme.
Entrance Exams for Geotechnical Engineering
Interested students can apply to study Geotechnical Engineering in certain select institutes of India which offer the course programme. Some of the top entrance exams in India are:
Joint Entrance Exam (JEE Main and JEE Advanced)- IIT-JEE is conducted in two stages- JEE Main and JEE Advanced. JEE Main is conducted by NTA twice a year for all the eligible aspirants to offer admission into undergraduate engineering courses. Candidates who qualify JEE Main are eligible to appear for JEE Advanced, conducted once a year, for admission into engineering courses in IITs and other premier institutes. With IIT-JEE scores, students can also apply to the institutes accepting JEE ranks/scores as admission criteria.
Graduate Aptitude Test in Engineering (GATE)- The top national-level entrance examination for postgraduate students, the GATE exam is highly competitive and allows the top scorers admission into the best engineering colleges (primarily the IITs) to study an M.E./M.Tech course.
Check More Details about GATE
Maharashtra Common Entrance Test (MHT CET)- For admission into engineering colleges in Maharashtra, one must appear for this examination. One of the best colleges for studying Geotechnical Engineering- College of Engineering, Pune- accepts MHT CET scores for admission.
Check more details about MHT CET

Apart from the above, students may also appear for entrance exams conducted separately by certain colleges such as:
SRM Institute of Science and Technology Joint Engineering Entrance Exam (SRMJEEE)- This is a university-level entrance exam conducted for both UG and PG levels (SRMJEEE and SRMJEEE PG respectively) to grant admissions into all SRM Group Institutes located in NCR- Ghaziabad, Sikkim, Amravati, Ramapuram Part- Vadapalani, Kattankulathur and Haryana.
Scope of Geotechnical Engineering in India and Abroad
Geotechnical Engineering students are presented with a plethora of opportunities in the Civil Engineering profession. Professionals interested in the combination of geotechnical expertise and managerial skills can find themselves in high demand in the industry.

With time, as more and more construction work is undertaken and completed, land space is shrinking rapidly. As a result, large and complex structures sometimes have to be built on weak grounds. It is the job of Geotechnical Engineering professionals to plan and execute the inspection of soil and the ground, laboratory testing of the same, and then interpret the results to propose construction and designs to minimize risk.


Obviously, in India, where development and expansion of many important cities have been going on for quite some time now, Geotechnical Engineering students are more in demand to deal with the intricacies of construction.


Both within the country and abroad, government and private sector job opportunities are plentiful. Firms involved in constructing public structures, commercial buildings and other structures recruit graduates in large numbers. Other firms which employ Geotechnical Engineering graduates are those involved in petroleum extraction and natural gas and mining.
Course Fees Geotechnical Engineering
Minimum Fees
Maximum Fees
Private
Government
Private
Government
UG

12.77 Lakhs

B.E /B.Tech in Geotechnical Engineering at BML Munjal University, Gurgaon

10.05 Lakhs

B.Tech M.Tech in Geotechnical Engineering at Indian Institute of Technology Madras

12.77 Lakhs

B.E /B.Tech in Geotechnical Engineering at BML Munjal University, Gurgaon

12.21 Lakhs

Dual Degree in Geotechnical Engineering at Indian Institute of Technology Roorkee

PG

74.00 K

M.E /M.Tech. in Geotechnical Engineering at Kandula Srinivasa Reddy College of Engineering, Cuddapah

7.90 K

M.E /M.Tech. in Geotechnical Engineering at LD College of Engineering, Ahmedabad

6.00 Lakhs

M.E /M.Tech. in Geotechnical Engineering at PES University, Bangalore

4.98 Lakhs

M.E /M.Tech. in Geotechnical Engineering at Delhi Technological University, Delhi

DOCTORAL

7.44 Lakhs

Ph.D in Geotechnical Engineering at Lovely Professional University, Phagwara

1.82 Lakhs

Ph.D in Geotechnical Engineering at National Institute of Technology Hamirpur

7.44 Lakhs

Ph.D in Geotechnical Engineering at Lovely Professional University, Phagwara

1.82 Lakhs

Ph.D in Geotechnical Engineering at National Institute of Technology Hamirpur
Course Subjects
A typical M.Tech course in Geotechnical Engineering involves advanced versions of study of Bachelor's level subjects, along with subjects exploring additional areas in the domain. Some of the main subjects taught throughout the course are as follows:
Advanced Soil Mechanics

Advanced Engineering Mathematics

Advanced Foundation Engineering

Geotechnical Laboratory

Theoretical Soil Mechanics

Dynamics of Soil and Foundation

Computer Application in Engineering

Geotechnical Investigation Practice

Project Planning Management

M.Tech. course curriculum includes a mandatory dissertation.
Careers in Geotechnical Engineering
With a shortage of experienced professionals in the Geotechnical Engineering field, job prospects and job security at various levels in this profession are always good. An entry-level Geotechnical Engineer, one who has not earned a Master's degree, will have to seek their respective state's professional engineer license to work as an engineer. The path in this case usually begins at an engineering intern, then with sufficient experience, taking the professional exam.


With a Master's degree in Geotechnical Engineering paired with additional work experience, aspirants can go on to become a senior Geotechnical Engineer or a senior Geotechnical Project Manager. Geotechnical Engineers are accredited with intimate involvement in some of the most incredible building structures across the world, like the Burj Khalifa (the world's tallest building) and the Danyang-Kunshan Grand Bridge (the world's longest bridge). Countless admirable feats of engineering can be seen across the world, ranging from impressive skyscrapers to the very buildings in which we live, work and study.
The construction field relies heavily on Geotechnical Engineers, which makes them indispensable to all kinds of firms involved in construction work, mining work, or anything that the Geotechnical domain covers. Thereby, a Geotechnical Engineering professional's career can be extremely lucrative and rewarding, with room for exponential growth.
Popular Online Engineering Courses and Certifications
Upcoming trends
India has emerged as one of the faster-growing economies in the world, with urban development and infra projects taking the lead. Geotechnical Engineering is the foremost, most important aspect of this progress and the field has been seeing many emerging trends in terms of design, analysis and construction of structures and associated site inspections.


Some of the trends that have been the talk of the world of Geotechnical Engineering are:
Prefabricated Vertical Drains: PVDs are strip-shaped plastic drains usually installed in square or triangular arrays, each drain about 4mm thick and 100mm wide. This was presented as a simple solution for radial consolidation, based on the finding that the degree of consolidation achieved from pore pressure measurements is less than the same values received from settlement measurements.

Coal Ashes: Findings have shown coal ashes to have low specific gravity, a higher rate of consolidation, high CBR, lower compressibility, high strength, water insensitivity to compaction, high volume stability and pozzolanic reactivity- all advantageous properties which make them a very useful material in Geotechnical Engineering. Also, using these in bulk ensures an eco-friendly manner of their safe disposal.

Recent Developments in Ground Stabilization Techniques: Ground improvement has, for a while, been the need of the hour. Growing populations have increased the demand for space beyond what is available, as a result of which underground parking lots, and highways. have become increasingly common. Innovative ground improvement techniques have been, and still are, being developed to meet this increasing issue that is still very much at large.
Browse geotechnical engineering certification courses
View complete list of geotechnical engineering certification courses
Job Profiles and Top Recruiters
Geotechnical engineers have a high job scope abound with many different job profiles that are concerned with different aspects of the field. Some of the common job profiles for which Geotechnical Engineering candidates are hired are (in no particular order):
| | |
| --- | --- |
| Job Profile | Responsibilities |
| | Drawing up and studying blueprints, estimating the material costs and the expected length of the project, directing and guiding the building process, making sure that government regulations are adhered to |
| Site Civil Engineer | Directing and assessing a project, surveying the area of execution of a project, take care of government codes or environmental issues that require special attention, preparing reports on subsequent findings and consulting with others who are involved with the project |
| Technical Officer | Reviewing business structures to ensure proper functionality and flow of a business's internet systems. They generally work in office environments, but occasionally need to venture into a systems or server area for monitoring and troubleshooting hardware. |
| Manager | Planning and organizing the geotechnical activities of the government and other agencies, responsible for supervising various departments from accounts payable to human resources, coordinating educational assignments for the staff, reviewing budgetary information, interpreting financial data, monitoring expense reports based on cost-benefit analyses on various programs |
| | Responsible for handling costs, assessments, needs and benefit analyses to incorporate existing technology into business strategies. Getting business needs from soliciting products, management, and dealing with enhancement requirements of end-users. Must be able to convert requests into workable solutions, work directly with clients, possess good communication skills, and troubleshoot fundamental technical issues. |
Geotechnical Engineering Top Recruiters
In India, the top recruiters of Geotechnical Engineering graduates include highly prestigious companies/firms such as:
3M

Microsoft

Accenture

Adobe

Amazon

Mu Sigma

ONGC

Infosys

ITC

Citigroup

Cadbury

TATA

Qualcomm

Oracle Financial

John Deere

Eaton Ltd

Barclays Bank

Morgan Stanley
Also Read: Online Geotechnical Engineering Courses & Certifications
Average Salary
The average salary of a Geotechnical Engineer, in any job profile, varies based on career trajectory and the organization or firm with which they work. However, an estimation of the average salary earned in each of the common job profiles are:


| | |
| --- | --- |
| Job Profile | Average Annual Salary |
| Civil Engineer | Rs. 3.25 Lakhs p.a. (Approx.) |
| Site Civil Engineer | Rs. 2.40 Lakhs p.a. (Approx.) |
| Technical Officer | Rs. 6.14 Lakhs p.a. (Approx.) |
| Manager | Rs. 7.75 Lakhs p.a. (Approx.) |
| Business Analyst | Rs. 5.84 Lakhs p.a. (Approx.) |
Required Skillset for Geotechnical Engineering
Candidates aspiring for a career in Geotechnical Engineering must inculcate certain discipline-specific skills which are in high demand among top recruiters in the domain.
Laboratory Test Results- Experience in characterizing the index and shear strength properties of fly ash materials with the use of field data, and reviewing field data including field inspection reports and boring logs, assessment of concrete and soil laboratory test results, and designing of Geotechnical engineering projects.

Technical Reports- Experience in verifying cross-sections, calculations pertinent to developing geological sections, and contour maps. Preparation/review of technical reports, supervision of drilling operations, preparation of proposals and technical reports for geotechnical engineering studies.

Geotechnical Investigations- Planning and management of investigations and remedial measures in construction, planning and conducting of geotechnical investigations, and weekly and monthly site visits to construction projects.

Foundation Design- Modeling and analysis of subsurface conditions for the foundation design of mid-rise to tall structures, preparation of preliminary foundation design reports and cost estimates, field investigation and field/lab testing.

Water Samples- Experience in monitoring groundwater well installations, groundwater, surface water samples, collected soil, vapour and sediment.

Slope Stability- Performing drilling investigations for slope stability estimation, supervising slope stabilization construction of concrete caisson piles and berms, performing static and seismic analysis of slope stability for earth-rock dam projects and transportation.

In addition to the above, skills in Ground Improvement, Site Investigations, Engineering Analysis, Subsurface Investigations and Exploration, Construction Materials, and Project Management. are essential to job recruiters in the Geotechnical Engineering domain.
Students also liked
Course Curriculum for Geotechnical Engineering
Courses offered under Geotechnical Engineering at the UG level primarily include Soil Mechanics, Applications of Geotechnical Engineering, and Foundation Design. At the PG level, important courses include Rock Mechanics, Ground Improvement Techniques, Foundation Dynamics, Geotechnical Earthquake Engineering, Soil-Structure Interactions, Plastic Equilibrium in Soils, Risk and Reliability in Geotechnical Engineering, so on and so forth.
Popular Geotechnical Engineering Entrance Exams in India
Popular Geotechnical Engineering Colleges in India VIEW ALL
Frequently Asked Questions (FAQs)
Question: Would a career as a Geotechnical Engineer suit me?
Answer :
You know a career in Geotechnical Engineering is suitable for you if:
You are interested in the technical details of how something works.

The prospect of working on-site rather than inside offices excites you.

You can draw basic sketches and have good documentation skills.
Question: What other skills should a Geotechnical Engineer have?
Answer :
Excellent communication skills are imperative to any field of engineering. Apart from this, Geotechnical Engineers are required to write a lot of technically accurate reports about site characterizations, analyses performed and their implications on the design- all of these in a manner that a non-technical reader will be able to grasp.
In this profession, one must also be prepared to work outdoors a lot- this involves working in various weather and environmental conditions. A geotechnical engineer typically splits time between working outdoors and in an office, the latter part of work involving the use of specialized Geotechnical software programs and databases. This, in turn, means that they should have excellent computer skills, too.
Question: What is the difference between a Geologist and a Geotechnical Engineer?
Answer :
The speciality of a Geologist lies in the Earth's crust and core in order and understanding the history of our planet, and how we fit in with the environment.
A Geotechnical Engineer, on the other hand, is an engineer with a geological background with a focus on using this expertise to design structural foundations that are best suited to the area's geographical offerings.
Question: How much weightage does work experience carry in a career in Geotechnical Engineering?
Answer :
Geotechnical Engineering is a majorly practical field of work, "practice" contributes enormously to a professional's ability to understand, analyze and make decisions better.
When recruiting professionals for senior-level job roles, recruiters seek applicants with maximum experience because this is a career in which no amount of theoretical study can compensate for learning on the job.
The more the experience one gains with each project, the more sound and capable one becomes of taking on more important responsibilities.
Question: What are the career options available immediately after graduation?
Answer :
Most universities conduct campus placements in the final year of study of a BTech programme, during which many companies visit the campus with placement procedures that select eligible candidates for the job. In addition to this, one can either apply for off-campus company placements or pursue higher studies to open up more career paths for themselves in the future.
Questions related to Geotechnical Engineering
Showing 80 out of 80 Questions
Courses Similar to Geotechnical Engineering
Interested in Geotechnical Engineering? Find information around eligibility, career scope, jobs , colleges and exams and much more for free.