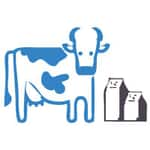 Dairy Technology
Degrees offered: B.E /B.Tech, B.Sc., B.Sc.(Hons), B.Tech M.Tech, B.Voc., Diploma, M.A.
Q&A : 217 Question
What is Dairy Technology
Dairy Technology, as evident from its name is an engineering discipline which deals with the processing of milk products. The study involves storage, packing, processing, transporting and distributing dairy products with an understanding of nutrition, biochemistry and bacteriology. In addition to that, some physics, chemistry, engineering, and economics principles are included in the Dairy Technology field, for the proper utilisation and development of milk and its products. Dairy Technology is a highly experimental field of study where the effects of different kinds of feed are observed, the environmental conditions required for milk production are understood, and research areas are explored regarding how to prevent the damage and wastage of milk and its products.
Eligibility Criteria (UG & PG) of Dairy Technology
Candidates who wish to pursue an undergraduate degree in Dairy Technology must fulfil the following basic criteria:
They must have cleared their Senior Secondary Examination (class 12) with Biology, Physics, and Chemistry as the mandatory subjects

They must have scored a minimum of 55% when averaged in this examination

Apart from that, students who have secured a three-year diploma in the relevant field from a recognised university or institute are eligible for lateral entry.

At the postgraduate level, the eligibility criteria which aspirants must fulfil to qualify for an M.Tech. or M.Sc. in Dairy Technology include:
The aspirant must have completed their undergraduate course in the Science discipline.

The aspirant must have scored a minimum of 50% in the qualifying examination for graduation.
Entrance Exams for Studying Dairy Technology
At the undergraduate level of study, students can opt for either a Bachelor of Technology (B.Tech) in Dairy Technology, or study a Bachelor of Science in the same. The former is a four-year course, whereas the latter course is a three-year duration.


Admissions to the B.Sc. Dairy Technology degree course is conducted based on merit. On the other hand, admissions to the B.Tech Dairy Technology course are conducted through entrance exams at the national, state, and/or university level. Some of the top entrance exams for studying Dairy Technology are:
Joint Entrance Examination (JEE): The most common engineering entrance exam conducted by the National Testing Agency at the national level, the JEE has two phases- JEE Main for all aspirants and JEE Advanced for those who achieved the qualifying score in JEE Main.

Students who sit for this examination are offered admission to various undergraduate engineering programs across the country.
West Bengal Joint Entrance Examination (WBJEE): A state-specific entrance examination, the WBJEE is conducted for offering students admission to various undergraduate Engineering, Architecture, Pharmacy and Technology courses in colleges in the state of West Bengal.
Vellore Institute of Technology Engineering Entrance Examination (VITEEE): The VITEEE is a university-level engineering entrance exam conducted by the Vellore Institute of Technology for admissions to its various undergraduate Engineering programmes. Students are offered admission to either of the four campuses in Vellore, Bhopal, Chennai and Amaravati.

At the postgraduate level, once again students have two options to pursue studies in Dairy Technology- either through a Master of Technology (M.Tech) or a Master of Science (M.Sc.). Some of the popular entrance exams for admissions into these courses are:
I. Indian Council of Agricultural Research All India Entrance Examination (ICAR AIEE): The Indian Council of Agricultural Research conducts an entrance examination for its undergraduate, postgraduate and doctoral courses in allied sciences and agriculture.
This examination is conducted in the online mode every year, and its scores are accepted by a majority of the 102 ICAR institutes and 71 agricultural universities all over India.


II. Graduate Aptitude Test in Engineering (GATE): The most common engineering entrance examination for PG engineering courses, the GATE is a national-level exam which tests students based on their comprehensive understanding of the engineering and science disciplines in which they completed their undergraduate degree.
GATE scores are accepted by most of the colleges offering M.Tech and M.Sc. courses in India.
Scope of Dairy Technology in India and Abroad
Dairy Technology is a field abound in job opportunities for skilled graduates. In a country where the agricultural sector is home to the predominant profession, Dairy Technology is a vital factor which affects the agricultural economy. Candidates who hold a degree from a reputed institute are exposed to a vast array of diverse career opportunities in Dairy Technology ; they can work with NGOs towards rural education in collaboration with the dairy industry or can work with large companies like Amul, Nestle, and Mother Dairy.


They can also take it upon themselves to improve the current practices that are followed in the dairy industry, and introduce new technology and more efficient methods for improved results and greater output. Dairy Technology graduates enjoy high demand abroad in countries like Denmark, Switzerland and Australia. Aspirants can work as Dairy Technologists in these countries or can explore more job profiles such as quality controller, supervisor or food inspector. Another lucrative job profile that one may pursue in these countries is a dairy consultant, a job which requires significant experience in the dairy industry.
Course Fees Dairy Technology
Minimum Fees
Maximum Fees
Private
Government
Private
Government
UG

75.00 K

B.Sc. in Dairy Technology at Sri Satya Sai University of Technology and Medical Sciences, Sehore

16.85 K

B.Voc. in Dairy Technology at Dayalbagh Educational Institute, Agra

8.64 Lakhs

B.E /B.Tech in Dairy Technology at Mansinhbhai Institute of Dairy and Food Technology, Mehsana

5.30 Lakhs

B.E /B.Tech in Dairy Technology at Warner College of Dairy Technology, Allahabad

PG

40.00 K

M.Sc. in Dairy Technology at CMJ University, Shillong

11.55 K

M.A. in Dairy Technology at Dayalbagh Educational Institute, Agra

1.20 Lakhs

M.E /M.Tech. in Dairy Technology at NIMS University, Jaipur

2.17 Lakhs

M.Sc. in Dairy Technology at College of Veterinary and Animal Sciences, Mannuthy

DOCTORAL

---

Data not available

71.75 K

Ph.D in Dairy Technology at West Bengal University of Animal and Fishery Sciences, Kolkata

---

Data not available

22.08 Lakhs

Ph.D in Dairy Technology at Guru Angad Dev Veterinary and Animal Sciences University, Ludhiana

DIPLOMA

20.00 K

Diploma in Dairy Technology at Singhania University, Jhunjhunu

10.90 K

Diploma in Dairy Technology at National Dairy Research Institute, Karnal

1.74 Lakhs

Diploma in Dairy Technology at RIMT University, Gobindgarh

1.32 Lakhs

Diploma in Dairy Technology at College of Veterinary and Animal Sciences, Mannuthy
Course Subjects
Some of the key subjects covered in Dairy Technology courses, both at the undergraduate and postgraduate level, include:
Physical Chemistry of Milk
Fluid Mechanics
Introductory Dairy Microbiology
Thermodynamics
Market Milk
Milk Production Management and Dairy Development
Heat and Mass Transfer
Condensed and Dried Milk
Cheese Technology
Fat Rich Dairy Products
Ice cream and Frozen Desserts
Dairy Process Engineering
Refrigeration and Air Conditioning
Dairy Biotechnology
Starter Culture and Fermented Milk Products
Food Chemistry
Chemical Quality Assurance
Principles of Dairy Machine Design
By-Products Technology
IT in the Dairy Industry
Packaging of Dairy Products
Dairy Process Biotechnology
Advanced Food and Dairy Processing
The technology of Food Emulsions, Foams and Gels
Membrane Technology in Dairy Processing
Rheology of Dairy and Food Products
Careers in Dairy Technology
In India, agriculture is a traditional profession in which a majority of the population (mostly rural) finds employment. Today, the industry is in dire need of modernisation. With cutting-edge technologies introduced that could change the landscape of agriculture, the industry needs professionals who can ideate and implement such technologies. Dairy Technology is a lucrative field of work with plenty of opportunity for the development of the industry and of each professional who contributes to it. A career in Dairy Technology can open up many options for those who wish to explore and can support a comfortable lifestyle not only in India but abroad as well.
Upcoming trends
Each new generation, it seems, follows a distinct pattern of eating vastly different from what the earlier generation is familiar with.


With the oldest of the millennial generation has reached an age group where their preferences are trend-setting, new practices of eating are gaining popularity. For instance, many have been switching to a vegan diet. Given these trends, the dairy industry is undergoing certain developments too. Some of the latest trends that are inciting change in the Dairy Technology industry include:
Sophisticated snacking- With consumers showing an increasing interest in smaller meals, there has been a demand for innovative and healthy snack options that one can have on-the-go. Statistics show that a large part of the population in the UK skip at least one meal a day in favour of a snack, owing to time constraint and convenience.
As a result, established brands in the food industry have started expanding their businesses to come up with indulgent, "guilt-free", practical snack versions of their existing products.
In the Dairy Technology industry, this trend has increased the need for deliciousness, time and convenience packed into dairy-based snacks.
This demand has been met with the conversion of traditional Dairy Technology products into drinkable cartons and reduced sugar, cheese snack bars.


Ditching dairy- An alarming trend that means bad news for the dairy industry, is being observed among health-conscious consumers who believe that Dairy Technology alternatives are healthier than the original products.
Not surprisingly, the dominant demographic that is fuelling this trend is the younger population. Another predominant reason for the dairy-ditching health trend is an increased awareness of animal welfare.
As a result, plant-based alternatives have profoundly challenged the Dairy Technology industry.


Fermented Dairy: With consumer awareness of gut health on the rise, people have become more educated on the effect of a healthy gut on overall well-being.
Researchers say that optimal gut health can be achieved with consuming more dairy-rich in probiotics, prebiotics and fibre all of which is found in fermented Dairy Technology products like milk, cheese, yoghurt, kefir, and gut shots.
Kefir, a lightly fermented milk beverage which has a slightly thinner texture than yoghurt, is packed with calcium, thiamine, vitamins K2, B1 and B12, and folates all of which have lent it a stellar reputation for improving digestion and gut health. In further years, we can expect this positive influence that fermented Dairy Technology has on gut health to accelerate its momentum and demand.


Technology in Dairy Farming: Over the next decade, the use of technology in the dairy industry is expected to evolve with the increasing need for improved efficiency, cost reduction and compliance with corporate social responsibilities. Worldwide, current technologies have already boosted milk production and herd monitoring.
Collar technology has made it easy to determine a cow's production levels and health, robotic cow milking equipment has helped dairy farmers shave off valuable time because these systems not only milk the cows but also feed, massage, and wash them.
Students also liked
Job Profiles and Top Recruiters
Dairy Technology Job Profiles
The dairy industry is rich in career opportunities for Dairy Technology graduates. Some of the top job profiles that these candidates receive employment in are:
| | |
| --- | --- |
| JOB PROFILE | RESPONSIBILITIES |
| | Invention and upgradation of methods used for processing of dairy products like ice cream and cheese by the use of chemical processes and scientific principles. |
| Dairy Nutritionist | Preparing diet plans according to dairy products. |
| | Overall management of the dairy herd. This includes health, breeding, and milking of the animals as well as upkeep of the facilities. |
| Microbiologist | Planning and executing trials on dairy products, preparing reports after extensive research on safety measures for the processing and packaging of dairy products. |
| Dairy Scientist | Applying their scientific and technical knowledge and skills to ensure safe and efficient safe production and processing of dairy products. |
Top Recruiters
Amul
Nestle
Mother Dairy
Reliance
Metro Dairy
Heinz
ITC (Food Division)
Vadilal
COMPFED (Sudha)
Average Salary
With variations owing to factors like experience, responsibilities and recruiting company, the average salaries earned by professionals in some of the Dairy Technology career fields can be estimated as:
| | |
| --- | --- |
| JOB PROFILE | AVERAGE ANNUAL SALARY |
| Dairy Technologist | Rs. 5.24 lakhs p.a. (Approx.) |
| Dairy Nutritionist | Rs. 6.75 lakhs p.a. (Approx.) |
| Farm Manager | Rs. 7.54 lakhs p.a. (Approx.) |
| Microbiologist | Rs. 8.54 lakhs p.a. (Approx.) |
| Dairy Scientist | Rs. 4.21 lakhs p.a. (Approx.) |
Required Skillset for Dairy Technology
In a field of work requiring fast and efficient communication, prompt decisions, patience and motivation; several skills, mostly soft skills, go into making a candidate fit for the job in Dairy Technology . Some of these skills include:
Excellent Communication Skills: A career in Dairy Technology means that you will work and interact with several people, with whom you must be able to communicate efficiently and effectively to achieve time-effectiveness in work. Dairy Technology products are highly perishable in raw form and require that all decisions, functions, and operations are carried out quickly. With excellent communication skills, one can bridge the communication gap, which can otherwise slow work down tremendously.
Attention to Detail: This is a profession in which the most subtle details can lead to serious problems. Enormous quantities of milk are compromised when the smallest error occurs because bacteria multiply rapidly with the slightest increase in temperature. Without attention to detail, one can be prone to frequent mistakes in this area of work.
Sound Logical Thinking: Dairy Technology is a field in which work is systematic and methodical. Haphazard decisions can cause serious harm to the products. Therefore, these professionals must be capable of logically analysing situations and keeping track of and evaluating work progress systematically.
Credibility and Trustworthiness: Needless to say, a professional who plays a role in food products to be consumed by the public must be dependable and trustworthy. One cannot afford to let their guard down in terms of quality, or the repercussions could affect millions of consumers. Therefore, a Dairy Technologist must be incorruptible and must hold consumers at a high value.
Intrinsic Motivation: Dairy technology is not a profession for those who can only work when pushed around. Several projects involve working alone, where no teammates or supervisors will ensure regular progress and outcomes. Therefore, professionals in this field must be intrinsically motivated and can handle disappointments.
Course Curriculum for Dairy Technology
The study of Dairy Technology includes a great deal of Biology, Chemistry, Economics, and other subjects which play a role in the dairy industry. Students are provided with an in-depth understanding of the various units, their operations and the basic concepts involved in dairy processing and the dairy industry. Some of the areas of study include:
Bio-protective factors that help preserve raw milk

Micro fluidisation of milk, principles of the Bactotherm and bactofugation processes

Control of water activity in different dairy products concerning their microbiological, chemical and textural characteristics

Current trends involved in the sanitisation and cleaning of dairy equipment

Dehydration and drying of milk and its products

Methods to determine thermal processing lethality
Popular Dairy Technology Entrance Exams in India
Popular Dairy Technology Colleges in India VIEW ALL
Frequently Asked Questions (FAQs)
Question: Can a Humanities stream student apply for BTech Dairy Technology?
Answer :
Unfortunately, no. The eligibility criteria for any undergraduate course in Dairy Technology requires that the candidate come from a Science background.
Question: Can a degree in Dairy Technology be pursued in distance learning mode?
Answer :
Depending on the degree, certain institutes like Indira Gandhi National Open University (IGNOU) offer distance learning mode.
Question: Can candidates get government jobs after BTech Dairy Technology?
Answer :
Yes, upon completion of the BTech course, students can apply for and receive placements in government jobs (such as hospitals).
Question: Who should opt for higher studies in Dairy Technology?
Answer :
Candidates who wish to work as consultants or in senior-level positions in Dairy Technology may pursue higher studies in the same. Additionally, those who are interested in starting their own small-scale business in milk products could benefit largely from a Master's degree in the same.
Question: Which are the top institutes offering M.Sc. Dairy Technology?
Answer :
Some of the institutes are National Dairy Research Institute (NDRI), Anand Agricultural University (AAU), Chandra Shekhar Azad University of Agriculture and Technology, West Bengal University of Animal and Fishery Sciences, and many others.
Questions related to Dairy Technology
Showing 207 out of 207 Questions
Courses Similar to Dairy Technology
Interested in Dairy Technology? Find information around eligibility, career scope, jobs , colleges and exams and much more for free.