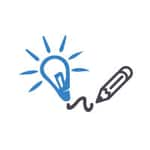 Product Design
Degrees offered: B.A., B.A.(Hons), B.Des, B.E /B.Tech, B.F.A., B.Sc., B.Sc.(Hons)
Q&A : 101 Question
What is Product Design
Product Design is a course which deals with the design, manufacturing, and use of products around us. A course in Product Design prepares students for a career in product designing and manufacturing industries. Students are taught in-depth skills on how to tackle complex problems, explore creative solutions, designing skills, and much more.


The course on Product Design can be pursued with a degree in BA/B.Des., M.Sc/M.Des. or even with a diploma and through online certifications. The course has a lot of in-demand opportunities in various fields of product industries and companies.


Since every product we come across in our daily lives consists of the use of some kind of products, product designers are at some point involved in designing and manufacturing of every product we use or buy or see around us. Therefore, they play an important role in the field of product and design.


Detailed information on the course study of product designing will be given below along with the eligibility criteria, course curriculum, the scope of the course, course subjects, job profiles, top recruiters, and average salary.
Eligibility Criteria (UG & PG) of Product Design
The eligibility criteria for an undergraduate and postgraduate degree in product design is different since they are different degrees. For individuals who want to pursue further studies after completion of bachelor degree can opt to pursue a master in product design or even to the extent of PhD. Let's take an in-depth look at the various eligibility criteria required by universities and colleges.


For Undergraduate Degree
Interested candidates should score at least 50% or above in their 10+2 qualifying exams.

Individuals can complete 10+2 in any stream from a recognized board.

Either merit-based or entrance exam score is considered to grant admissions, depending on the college.

For Postgraduate Degree
Interested candidates should score at least 50% or above in their previous qualifying exams.

They are eligible to apply if they have completed a bachelor's degree in design, engineering, or any other related field of study.

Either merit-based or entrance exam score is considered to grant admissions, depending on the college.
Entrance Exams for Product Design
The admission process for product designing courses is usually based on merit in most colleges in India. However, some institutes or colleges require the candidates to clear certain entrance exams to grant admission into their colleges. Some of the most popular entrance exams for a product design course in UG and PG level are given below.
UCEED- Undergraduate Common Entrance Examination of Design (UCEED) is a National level entrance exam conducted by IIT Bombay. The exam is conducted to grant admissions into the Bachelor of Design (B.Des.) programs offered by colleges accepting UCEED scores. The duration of the examination is three hours and is conducted only once a year.
AIEED- All India Entrance Exam for Design (AIEED) is an entrance examination conducted to grant admissions into undergraduate and post-graduate course degree in various design programs offered by Arch College of Design and Business. The exam is conducted at the university level exam by Arch College of Design and Business. The entrance exam comprises General Aptitude Test (GAT) and Creative Aptitude Test (CAT). It is conducted online and is conducted only once a year.
CEED- Common Entrance Examination for Design (CEED) is conducted by the Indian Institute of Technology, Bombay (IIT, Bombay) to grant admissions into a post-graduate degree program in design courses. It is a national level entrance exam which is conducted once every year. The exam is conducted online and the duration is three hours.
Scope of Product Design in India and Abroad
Individuals who have graduated in product design can look for jobs in various industries, multinational companies, and even in thriving businesses who are constantly dealing with design and creation or manufacturing of various products. The advantage of this course study is that in completion of the course individuals can open their own business and start selling and designing their products.


This course is usually pursued by business-oriented individuals with a keen interest in setting up their own business. If they want to pursue higher studies at the postgraduate level, they will even have more opportunities in India as well as abroad among multinational companies.


The scope offered by this course is the main reason for pursuing the course degree. The undergraduate level may not have many opportunities with high paying jobs from prestigious companies. However, individuals with a master's degree in product design may get many job offers from prestigious companies in India and abroad.
Course Fees Product Design
Minimum Fees
Maximum Fees
Private
Government
Private
Government
UG

1.80 Lakhs

M.Des in Product Design at ITM University, Gwalior

---

Data not available

27.85 Lakhs

B.Des in Product Design at Pearl Academy, West Delhi Campus, New Delhi

14.79 Lakhs

B.Des in Product Design at National Institute of Design Ahmedabad

PG

70.00 K

M.E /M.Tech. in Product Design at Sreenivasa Institute of Technology and Management Studies, Chittoor

---

Data not available

12.50 Lakhs

M.Des in Product Design at The Design Village, Noida

10.75 Lakhs

M.Des in Product Design at National Institute of Design Ahmedabad

DOCTORAL

1.50 Lakhs

Ph.D in Product Design at Unitedworld Institute of Design, Ahmedabad

---

Data not available

6.64 Lakhs

Ph.D in Product Design at Karnavati University, Gandhinagar

---

Data not available

DIPLOMA

3.00 K

Diploma in Product Design at Arya Kanya Mahavidyalaya, Kurukshetra

70.00 K

Diploma in Product Design at Indo German Tool Room, Aurangabad

27.69 Lakhs

Diploma in Product Design at Pearl Academy, Mumbai

70.00 K

Diploma in Product Design at Indo German Tool Room, Aurangabad
Course Subjects
Product design course subjects differ among colleges according to the facilities offered by them. There are also differences in subjects between UG and PG level of degree. The course is usually focused on subjects from designing to communication skills. The subjects are based on both practical and theory. The core subjects studied in both UG and PG degree in product design include;


Subjects for Undergraduate degree
Elements of design

Foundation drawing

Basics of Digital Design

Creativity skills

Creative writing for designers

Business communication and presentation skills

Digital illustration techniques

Physics for designing

Product Design- Projects

Studio practice- Practical's

Subjects for Postgraduate degree
Elements of design

Digital design

Mechanism designing

Digital modelling and animation

Communication and presentation skills

Manufacturing processes

Printmaking techniques

Technology use in product design
Careers in Product Design
Product designing offers a wide range of career opportunities related to product design and manufacturing industries; therefore, it is tremendous in scope. Product designers are in huge demand by industries as they possess fresh ideas and skills to create innovative products and designs which work in a better and more efficient manner than an already existing one to make consumers interested in buying their products.


They play an important role in product manufacturing companies since they are dependent on the product designers when it comes to planning for a new product or upgrading their existing product. Many companies also use them to pitch their products as a product marketer to their target audience since they are taught to have good communications skills.


They can opt to work abroad in various fields of product industries and in India too. Some of the career options are advertising director, graphic designer, product designer, product tester, product manager, and many others. Hence, the field of product design offers a good scope with regards to future career aspects.
Also Read: Online Product Design Courses
Upcoming trends
We all depend on various products to meet our daily needs, whether it is technology, clothes, household products or other essentials. The fact is that all consumers want the newest of all products with the best of quality and well designed.


They are also willing to pay more for new products as long as it meets their needs. Consumers are increasingly wanting and opting for environmentally sustainable products, and they want to buy products which are authentic and relatable brands. Business and individuals that design and manufacture products face more competition.


Keeping that in mind, various new trends and topics related to product design will be added in the course subjects to provide updated and future trending skills to students so that they are well equipped and ready to face any changes and updates that will take place in the product designing sector.


Knowledge on how to design and create environmentally friendly and sustainable products, use of wireless tech in designing, designing the most efficient smart health products and sustainable fashion designing products will be introduced and taught in colleges and universities where product designing course prevails.
Students also liked
Job Profiles and Top Recruiters
Job Profiles of Product Design
In completion of the course study in product design, whether undergraduate or postgraduate degree, provides various job profiles from many top recruiting companies in colleges or outside the campus. There is a wide range of job profiles to choose from according to an individual's skills and knowledge in the field concerned. Let's take a look at some of the best job profiles and top recruiters for people completing the course degree in product design.
Job Profile

Job Description

A Product Manager identifies the needs of customers and keeps a track on the company's business objectives.

They analyze if the products will fulfil the needs of the customers and carry out various projects with team members and work on turning product visions to reality.

Marketer

A Marketer aims and works towards maximizing profits in the company and provides ideas on how to pitch marketing skills effectively to gain more customers or clients and be a trusted company to them.

They develop sales strategies that match customer's requirements by promoting their products, services, and ideas.

Marketers oversee and develop marketing campaigns to promote the company's products to customers.

A Product Designer is responsible for designing and developing the most efficient consumer products by collaborating with team members.

Their duties include improving existing product designs and analyzing work and design concepts launched by competitors of similar products to match quality and performance and trying to create a better and improved version of their company's products.

Design Consultant

A Design Consultant is responsible for evaluating the needs of their clients and customers and developing and designing products about that.

They study what a product serves for the user and how to enhance their experience with the product.

Design consultants also share their ideas with the company, and accordingly, products are evaluated by them.

Advertising Director

An Advertising Director is responsible for assisting team members and overseeing different projects and campaigns launched by the company.

They manage the budget of the company and conduct various meetings to share ideas of other team members for the betterment and improvement of the company's business.

Product Manufacturer

A Product Manufacturer is responsible for creating and designing various new products either from raw material or by assisting workers on how the product should be manufactured and what materials are to be used.

They also perform quality checks on new products and maintain the production equipment.

They are given the overall responsibility to take care and oversee the product manufacturing department and work on creating and manufacturing the products as per required.
Top Recruiters in Product Design Field
Since the product designing course is also related to engineering and some individuals pursue engineering in product designing too, the job opportunities after the completion of this course are huge. Top recruiting companies offer various job profiles and average salaries to recruited the individual. Some of the top recruiters are given below.
WIPRO

Amazon

Flipkart

Accenture

Myntra

Bajaj

Reliance Entertainment

Red Chilies Entertainment

Godrej

Facebook

One should keep in mind that the job profiles and top recruiting companies differ from individual to individual depending on the skills, knowledge, expertise, and experience in the field of work. Individuals with outstanding performance in academics and previous work experience are given more priority by top companies. It also depends on colleges since the placement opportunities differ from college to college.
Average Salary
An individual with a degree in product design, in the undergraduate level, may get low pay compared to individuals with a post-graduate degree in the same course subject. Therefore, the average salary may differ with degree level achieved, job roles, skills, and even in expertise. However, the average salary offered to an individual in completion of product design course degree is given below in detail according to the job role.
| | |
| --- | --- |
| Job Profile | Average Salary Per Annum (in Rs) |
| Product manager | Rs. 3 to 9 lakhs p.a. (Approx.) |
| Marketer | Rs. 2 to 7 lakhs p.a. (Approx.) |
| Product designer | Rs. 2 to 7 lakhs p.a. (Approx.) |
| Design consultant | Rs. 2 to 8 lakhs p.a. (Approx.) |
| Advertising director | Rs. 4 to 10 lakhs p.a. (Approx.) |
| Business manager | Rs. 4 to 9 lakhs p.a. (Approx.) |
Required Skillset for Product Design
Studying a course degree in design and creativity requires various skills from the individual pursuing the course study. Product design is a tech and designing based course subject that requires aspirants to be good in drawing, along with the ability to understand the needs of consumers.


They must have skills in solving problems, generating solutions to various problems, communications, basic computing, computer designing, creativity, and should be organized. Since their course subjects are based on practical means of learning than theory, they should be well versed with the foundation of the course study.


While pursuing the course attention to detail learning and dedication to the course study is necessary apart from the skills.
Course Curriculum for Product Design
The course curriculum for product design is designed to impart creativity skills and technical knowledge to the students pursuing the course so that they excel in the field of product design and manufacturing.


With the inclusion of concepts of 3D design, sketching, product manufacturing, digital designing, business communications, product design is the application of technology and designing knowledge in different product designing and manufacturing processes.


The course curriculum may differ from college to college. The overall curriculum of the course aims at building skills of students with the required knowledge that will help in upgrading the product design field of work.
Popular Product Design Entrance Exams in India
Popular Product Design Colleges in India VIEW ALL
Frequently Asked Questions (FAQs)
Question: What is the average salary of an individual with a degree in product design?
Answer :
The average salary for individuals with a degree in product design ranges from Rs. 3 lakhs to Rs. 7 lakhs per annum. However, it differs from person to person as per their skills, knowledge and expertise in the field.
Question: Which is the best college in India to pursue product design?
Answer :
National Institute of Design (NID) Ahmedabad and Lovely Professional University Phagwara, are among the top colleges to pursue product design.
Question: Is it worth pursuing a product design course degree?
Answer :
For individuals with interest in the field of design, or want to set up their product the business later, product design is a good course of degree, and it is worth pursuing it, keeping in mind the career scope it offers.
Question: How many years is a course study in B. Des/BA in product designing?
Answer :
The course study of B.Des./ BA in product designing is 3 years duration.
Question: What does the study of product design deal with?
Answer :
Product design is all about dealing with designing, creativity, solving product-related issues and providing solutions to various issues in product designing.
Questions related to Product Design
Showing 92 out of 92 Questions
Courses Similar to Product Design
Interested in Product Design? Find information around eligibility, career scope, jobs , colleges and exams and much more for free.