B.E. (Bachelor of Engineering) Course, Admissions, Eligibility, Syllabus
Bachelor of Engineering (B.E.) - Bachelor of Engineering is the full form of B.E. which is a four-year-long course which comprises eight semesters. A B.E. course mainly focuses on theoretical knowledge and also the engineering aspect of science. Bachelor of Engineering does not focus on technical knowledge or application-based studies. Students can pursue some specialization in the engineering domain. Aspiring students have numerous options to opt for their specializations.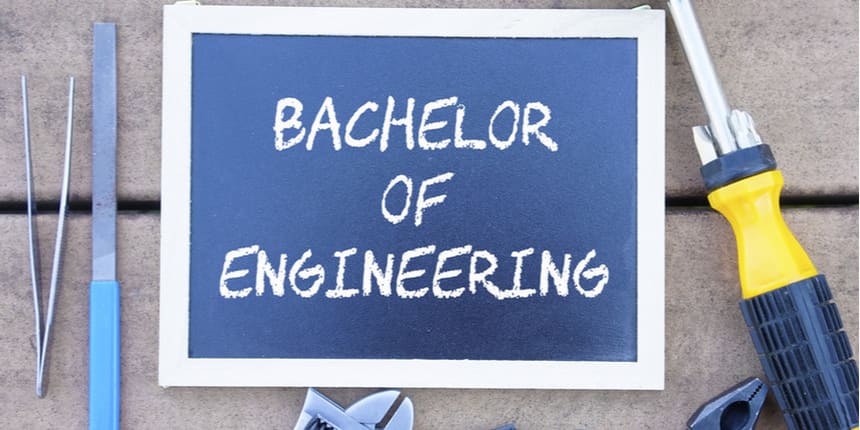 B.E: Course Highlights
| | |
| --- | --- |
| Course Name | B.E. |
| Full Form | Bachelors of Engineering |
| Eligibility | Passed 12th with physics, chemistry, and mathematics as mandatory subjects |
| Duration | 4 years |
| Fee | 45,000 to 1 lakh per semester |
| Course Type | Classroom program/ Distance learning program |
| Starting Salary | 15,000-30,000 per month |
| Similar Course | B.Sc (Bachelors of Science) |
| Employment | Corporate, Research and Development |
Specialization in B.E. programme
Bachelor of Engineering is considered to be one of the reputed courses in the world for a long time. Along with the degree, students can also get a great placement opportunity from colleges or universities. This course helps engineers to get the ability to implement the latest trends and technologies to solve problems. As we have mentioned before that this course has several streams in it, those fields of specializations are listed below.
Eligibility criteria for B.E. programmes
Students who are aspiring to become future engineers need to take science streams on board. Physics, Chemistry, and Mathematics (PCM) are the mandatory subjects that students should have at the time of their 10+2 boards. Computer Science, Biology, and Geography are also important subjects for those who opt for Computer Science and Engineering, Biological Engineering, and Geological Engineering. Aspiring students who want to take up a Bachelor of Engineering and do a specialisation of their choice should complete their 10+2 education from a recognized board. Students need to score a minimum of 50 per cent marks in the boards but some universities also require 75 per cent marks in class 12th board examination. But the most important criterion is to get through the Joint Entrance Examination or other equivalent examination.
Popular Online Engineering Courses and Certifications
Key Entrance Examinations for B.E. programmes
Students who want to become engineers need to appear in some entrance examinations. There are various examinations, held for the bachelor of engineering courses. Aspiring students should appear in the entrance examinations, conducted by the government as well as private institutes for B.E. courses in India.
Some of the key entrance examinations are listed below.
JEE Main - Joint Entrance Exam Main
JEE Advanced - Joint Entrance Exam Advanced
VITEEE - Vellore Institute of Technology Engineering Entrance Exam
BITSAT - Birla Institute of Technology and Science Admission Test
WBJEE - West Bengal Joint Entrance Examination
IPU CET - Indraprastha University Common Entrance Test
TS EAMCET - Telangana State Engineering, Agriculture, and Medical Common Entrance Test
UPSEE - Uttar Pradesh State Entrance Exam
MHT CET - Maharashtra Common Entrance Test
AP EAMCET - Andhra Pradesh Engineering, Agriculture, and Medical Common Entrance Test
KCET - Karnataka Common Entrance Test
SRMJEEE - SRM Joint Engineering Entrance Exam
TNEA - Tamil Nadu Engineering Admissions
Ways to pursue B.E. programme
Students can pursue their Bachelor of Engineering in two ways. Bachelor of Engineering degree comprises eight semesters. Students can either do a B.E. degree in three years after completing their Diploma in Engineering or they can also opt for a four-year-long degree course in B.E. after successfully completing their 10+2 education levels. B.E. degree for four years is more impactful than the diploma in terms of depth and curriculum of the subjects.
Fee structure of B.E. programme
The course fee in the Bachelor of Engineering ranges from twenty-five thousand to two lakhs per year. Even the fee structure may vary according to the institute and specialisation.
The total fee for pursuing B.E. in Computer Science and Engineering from Coimbatore Institute of Technology is Rs. 2.83 lakhs.

The total fee for pursuing B.E. in Computer Science and Engineering from BITS (Goa) is Rs. 16.73 lakhs.

The total fee for pursuing B.E. in Computer Science and Engineering from Chitkara University (Himachal Pradesh) is Rs. 5.60 lakhs.

The total fee for pursuing B.E. in Computer Science and Engineering from the RNS Institute of Technology is Rs. 3.48 lakhs.

The total fee for pursuing B.E. in Automobile Engineering from Dhole Patil College of Engineering, Pune is Rs. Four lakhs.

The total fee for pursuing B.E. in Civil Engineering from CMS College of Engineering and Technology is Rs. 1.65 lakhs.

The total fee for pursuing B.E. in Computer Science Engineering from Chitkara University Institute of Engineering and Technology is Rs. 6.63 lakhs.
List of Colleges for Bachelor of Engineering
There are a huge number of colleges/universities that provide B.E courses for students who are interested in making a career in the engineering field. Some of the top colleges of this field are listed below.
Kalinga Institute of Industrial Technology
Delhi Technological University, New Delhi
Meghnad Saha Institute of Technology (MSIT), West Bengal
Top recruiters for B.E. students
Students, who have completed their B.E. programme can get jobs in multiple sectors. Private, government bodies and other sectors of any size can recruit students from this field. There are several companies, who hire freshers from the engineering domain for their technical as well as theoretical knowledge. The top recruiters of the B.E. graduates are listed below:
Microsoft
Google
TATA Consultancy Services (TCS)
Cognizant Technology Solutions Corporation (CTS)
Infosys
Apple
ISRO
Intel
Tech Mahindra
IBM Global Services
HCL Technologies
Accenture Services
Morgan Stanley
Sysmex
ITC Limited
Amazon
Siemens
Larson & Toubro
JP Morgan
HSBC
Career Options after completing B.E. programme
Graduates of this domain have a great scope in the majority of the sectors. Recruiters hire them for their technical and theoretical expertise. Students having a degree in engineering get a handsome salary. Salary may differ in companies but all of them offer on the basis of marks, aptitude tests, and the interview.
Graduates can get opportunities in several fields and in various designations. Profiles that students achieve after their graduation are listed below.
Software Developer
Data Analyst
Database Administrator
IT System Manager
Software Engineer
Business Analyst
Assistant Engineers
Salary of a B.E. graduate
Graduates get above-average salary packages at the starting of their careers. The salary usually depends on specializations and the company they work for. People with some years of experience can lead them to better career options. The average salary of B.E. graduates up to 6.5 lakh per year.
Difference Between B.E. and B.Tech. programmes
Students often get confused with the two similar terms, those are Bachelor of Engineering and Bachelor of Technology. Apparently, these two are the same in terms of orientation. One should be aware of certain facts about these two courses. The key difference is B.E. refers to the theoretical study of science whereas B.Tech. is more application-based. B.E. mainly focuses on the engineering aspects of science and B.Tech. gives the room to the technical aspects of Science. The basic syllabus is more or less the same.
Students also liked
Conclusion
Bachelor of Engineering or a B.E. course is a professional degree programme that is dedicated to the field of engineering. B.E. degree is being offered after successful completion of four years of academic study. A B.E. course falls under the All India Council for Technical Education (AICTE) and the National Board of Accreditation (NBA). Many graduates who have done a B.E. courses are working on their own startups. Students can go to several other fields after this course. This course is one of the reputed of all career options.