B. Tech in Textile Technology: Courses, Fees, Eligibility, Syllabus, Scope
B. Tech in Textile Technology is a professional undergraduate degree that can be pursued by the students after the completion of class 12 from the science stream. This four-year undergraduate program is a gateway to your career in engineering. This program is offered by various engineering colleges across India. The top colleges to pursue a bachelor's degree are such as IITs and NITs. There are many other good colleges like BITS, VIT, SRM, from which you can pursue your b.tech. There are many colleges who provide B.E. (Bachelor of Engineering) degree which is different from a B.tech degree but the course structure is similar to some extent and career prospects are also very similar. B.tech degree is offered across various specializations. B.Tech in Textile Technology in a 4-year undergraduate degree to provide world-class education in textile technology for the students who wish to pursue their career in the textile industry. In this year of the program, you will study from polymer science, fiber manufacturing process to fabric manufacturing and finishing process. Also, you will study some mathematics and applied for mechanics courses. As the domestic textiles and apparel industry contributes 2.3% to India's GDP and accounts for 13% of industrial production and 12% of the country's export earnings. It has a huge opportunity to grow, so there is a need for textile engineers and textile technologists. Some common fields are mentioned below.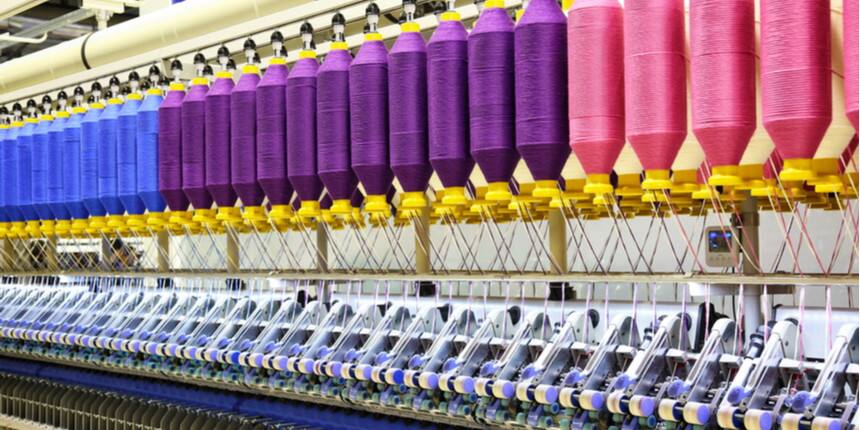 B.Tech in Textile Technology: Overview
| | |
| --- | --- |
| Course Name | B.Tech in Textile Technology |
| Duration | 4 years |
| Eligibility | 10+2 or equivalent from a recognized school board (Science stream is mandatory) |
| Admission Process | Entrance test/ Cut-off |
| Fees | Upto INR 7 lakhs |
In the 4 years of the under graduation program, you will learn about the different types of manufacturing plants of the textile goods and apparel industry, machinery, and management of the plants. Although the different college has a different curriculum, the first year of the college you will have introduction courses of all core branches. In 2nd year of the college, you will study some introductory courses of fiber properties and different types of the fiber manufacturing process. Then you will learn the different processes for yarn and fabric manufacturing. You will also learn about the characteristic techniques, chemical processing, finishing, and nanotechnology. You will find that 50% of the courses are other than the textile core courses. You will study some courses from the humanity department and other departments of your choice. Based on your interest you can take courses related to statistics techniques, programming, mathematics or other science or mechanics which will help in your career. If we talk about the b.tech textile technology from elite league colleges or tier-one colleges, only 1-2% of candidates are working in the core textile manufacturing industry rest are working in the consultancy firm, analyst, software developer, researcher or any other fields based on their interest. There are some core textile goods manufacturing areas mentioned below where the textile technologists are working.
Leather technology

Nano-technology

Fibre science and technology

Textile processing

Silk technology

Fabric Manufacturing
Some of the key factors which are mandatory for a b.tech textile technology to develop an interest in the textile are
Textile fibers are made of polymer chains, so your strong foundation in chemistry, especially in polymer science, will help you to understand the concept easily.

There are some courses like textile processing, textile after processing, dyeing and printing of textile fabrics, where you will need some knowledge of chemistry. It will help you to find the science behind the coloring of textile fabrics.

In all the courses related to fabric manufacturing like blow room, carding, drawing, warping, sizing, ring spinning, rotor spinning, you will study their working principle. So some basic knowledge of mechanics will help you understand these concepts very easily.

In all the courses related to textile manufacturing or textile processing, you will have simultaneous practical classes in which you will observe the working mechanism of the machines and will do some required calculation that will give you more clarity to the concepts that you learned in the class.

You will be having a characterization technique and textile testing lab also where you will learn about some characterizations like DSC (Differential scanning calorimetric, XRD (x-ray diffraction), TGA (Thermogravimetric analysis), and strength testing, etc. Some basic knowledge of material science and chemistry will be needed for these practical classes. All these things will be taught in your theory class.
How to get admission in B. Tech in Textile Technology? (Admission Process)
There are many colleges and universities that offer b.tech in textile technology. All the colleges have a different admission process but there are several documents a candidate must keep ready when trying to take admission in B.Tech in textile technology.
Marksheets for 10th & 12th standard

Passport size photographs

Passing certificates for 10th & 12th standard

Character certificate

Transfer certificate (in case of going outside hometown to study)
B.Tech in Textile Technology - Top Exams to get admission
There are some universities/colleges who provide admission on the basis of the marks in the 12th board exam and some colleges give admission through the entrance exam. The list of top 6 engineering entrance exams is given below. types which aspiring candidates for making a career in mechanical engineering can take.
Eligibility Criteria for B.Tech Textile Technology
Things which every candidate needs to keep in mind are:
The student should pass 10+2 (Science stream a must) or it's equivalent from any recognized board

The qualifying examination should be with Physics, Chemistry, Maths and an extra subject of the students' choice

Students should secure at least 50% in their aggregate percentage
Top Institutes for B.Tech Textile Technology
B.Tech Textile Technology Career Prospects
After completing your B.tech textile technology, there are many opportunities to pursue your career. There are many reputed manufacturing firms like Raymond, Trident, Welspun, Arvind, Bombay Dyeing and manufacturing, Birla, Vardhman, Sutlej .etc hire students after b.tech textile technology. You can get a job based on your knowledge and skill from the various profiles which are listed below.
Industrial engineer

Quality control engineer

Sales engineer

Quality assurance

Mill management

Garment manufacturing

Textile Chemical Processing

Computer applications

Textile testing

Yarn manufacturing

Fabric Manufacturing (Woven and Knitted)
You also have an opportunity to study further to get M.tech and Ph.D. After that, you can become a lecturer/professor or research scientist. Textiles has a huge potential in research and nanotechnology is a new emerging area on which research scholars and scientists are working. In this field, the researchers are working to develop things, materials, and devices on the scale of atoms or molecules.
B.Tech Textile Technology: Salary Trends
The starting salary for a b.tech textile technology can be expected from 2 l.p.a. to 6 l.p.a in the private sector. You can also join PSUs in the textile industry where you can get an average 60k per month salary and other perks also. The average median salary trend for a textile technologist is tabulated below.
| | | |
| --- | --- | --- |
| Domain: Textile Technology | Years of Experience | Salary Figures |
| Entry/Junior Level Salary | 4 yrs. - 5 yrs. | INR 8 lakhs p.a. - INR 16 lakhs p.a. |
| Middle-Level Salary | 12 yrs. - 15 yrs. | INR 15 lakhs p.a. - INR 35 lakhs p.a. |
| Senior Level Salary | 18 yrs. - 25 yrs. | INR 24 lakhs p.a. - INR 55 lakhs p.a. |
Above given salary in an average salary. There are some people who earn more than this and there are people who earn less also. So it totally depends on the knowledge and skill set of the candidate.
Conclusion
As India is a textile hub and industry is growing with good pace, there is a huge demand for the textile engineer & this course is offered by only a few universities. So you can fulfill this demand gap after completing the b.tech in textile technology. You may get a lucrative opportunity to work with some top brands like Raymond, Trident, Welspun, Arvind. The starting salary is not much in the industry but after the 5-6 year experience this number is quite high. This course is for the students who are keen to work in the textile manufacturing industry.
Frequently Asked Question (FAQs) - B. Tech in Textile Technology: Courses, Fees, Eligibility, Syllabus, Scope
Question: What is a textile engineer do?
Answer:
Textile helps in the industrial production fabrics and various kind of cloth material. Along with production, textile engineer also helps in many other processes in the industry.
Question: Which is the best college for B.Tech Textile engineering in India?
Answer:
MSU Baroda - Maharaja Sayajirao University of Baroda is considered as one of the best college for Textile engineering in India.
Question: What are the exams through which I can get admission in B.Tech Textile engineering?
Answer:
Candidates looking for admission in B.Tech Textile engineering can appear for MET, SRMJEEE, VITEEEE, JEE Main and BITSAT.
Question: What is the minimum educational qualification required to pursue B.Tech Textile engineering ?
Answer:
For admission in B.Tech Textile engineering , candidate must have passed 10+2 or equivalent from a recognized school board.