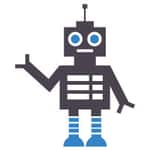 Automation and Robotics
Degrees offered: B.E /B.Tech, B.Voc., Diploma, M.E /M.Tech., M.Sc., P.G.D, Ph.D
Q&A : 484 Question
What is Automation and Robotics
With the advent of the new era technology, we are currently in the midst of a revolution. With the evolution of virtual systems and modern devices, we seek to make our lives easier, portable, and convenient. As the name suggests, Automation and Robotics is a branch of engineering which revolves around creating robots and machines that are programmed to work automatically.
Automation and Robotics line of engineering majorly relies on the principle of artificial intelligence and encompasses the process involved from designing the prototype to building the final resourceful output. Candidates who are fascinated by the idea of robotic mechanics are most suitable for this course. In India, Automation and Robotics is an upcoming branch of engineering with a lot of scope for growth in future. Industries like education, nuclear science, and aviation etc. can be benefited a great deal from the developments in Automation and Robotics course.
Eligibility Criteria (UG & PG) of Automation and Robotics
The basic requirement for entry into any Engineering college for Automation and Robotics courses is almost the same across all institutions.
For Undergraduate Course
Must have completed class 12th from a recognised board with subjects like physics, chemistry, and mathematics as a part of the non-medical stream along the minimum aggregate marks-40-50%.

Undergraduate Degrees for R&A course range from B.sc to B.E. and B.Tech. Hence, the subjects swing between physics and maths.

Some universities have their entrance examination, and any potential candidate is required to reach the minimum cut-off released before the commencement of admission procedure.


Eligibility criteria for postgraduate Automation and Robotics
For entry in courses like M.Tech, ME, the candidates should have a bachelor's degree in the required line from a recognised institution.

Must have scored at least 50-60% aggregate in the relevant bachelor's degree like mechanical engineering, Robotics engineering, Electronics engineering, etc.

State-level and national-level entrance exams are annually held for aspiring candidates. Some of these entrances like GATE have common eligibility criteria across all universities.
Browse Automation and Robotics Colleges by Locations
Browse and Robotics Colleges States
Entrance Exam for Automation and Robotics
JEE Main and JEE Advanced- These are the national-level engineering entrance exam conducted to screen eligible candidates for admission into various undergraduate and postgraduate engineering courses in premier colleges and institutes.
Uttar Pradesh State Entrance Examination (UPSEE)- The state-level entrance exam is conducted every year for admission to various undergraduate and postgraduate courses respectively.
SRMJEEE- SRM conducts the SRM Joint Engineering Entrance Examination every year to test the efficiency of students interested to pursue undergraduate engineering courses across all branches. Applications begin in October of the previous year.
GATE- Graduate aptitude test in engineering common national level exam conducted annually to test the engineering aptitude of people who want to seek admission postgraduate engineering courses. The applications usually begin in September.
BVP CET- Bharati Vidyapeeth University conducts this university-level entrance test for admission into various science and engineering courses.
BITSAT- Birla Institute Of Technology Admission Test is an online entrance examination for admission into various Engineering and Science programs.
Scope of Automation and Robotics in India and Abroad
The scope and suitability of pursuing a course in Automation and Robotics have increased manifold in the current times. We are all moving towards a society where artificial intelligence is taking over a major share of many departments that otherwise included manual and tedious work. Coupled with Automation and Robotics, this industry is ready to touch its peak with factors like software development, computer-integrated manufacturing system, digital electronics, and microprocessors. Currently, graduates and postgraduates are hired vastly by private employers working in the manufacturing sector.
Recently drone technologies have also turned up, and major International firms are trying to devise methodologies to gather information through them. The various military organisations have also started incorporating personnel from the Automation and Robotics sector into their development to make the most out of this new, modern-age technology. Hence the scope and suitability of Automation and Robotics are expanding. This system is also widely used in dropping large materials from one place to another. According to sources, the growth potential of Automation and Robotics will just increase over time due to the current need.
Students also liked
Course Fees Automation and Robotics
Minimum Fees
Maximum Fees
Private
Government
Private
Government
UG

1.40 Lakhs

B.E /B.Tech in Automation and Robotics at Swarnandhra College of Engineering and Technology, Narsapur

18.00 K

B.E /B.Tech in Automation and Robotics at Government Engineering College, Rajkot

14.00 Lakhs

B.E /B.Tech in Automation and Robotics at Amrita School of Engineering, Coimbatore

3.46 Lakhs

B.E /B.Tech in Automation and Robotics at Khwaja Moinuddin Chishti Language University, Lucknow

PG

1.00 Lakhs

M.E /M.Tech. in Automation and Robotics at Bannari Amman Institute of Technology, Erode

19.30 K

M.E /M.Tech. in Automation and Robotics at Visvesvaraya Technological University, Belagavi

6.76 Lakhs

M.E /M.Tech. in Automation and Robotics at School of Engineering, University of Petroleum and Energy Studies, Dehradun

2.30 Lakhs

M.E /M.Tech. in Automation and Robotics at Indira Gandhi Delhi Technical University for Women, Delhi

DIPLOMA

80.00 K

Diploma in Automation and Robotics at Vivekananda Global University, Jaipur

17.05 K

Diploma in Automation and Robotics at Institute of Human Resources Development, Trivandrum

2.15 Lakhs

Diploma in Automation and Robotics at Vivekanand Education Society's Polytechnic, Chembur

70.06 K

Diploma in Automation and Robotics at College of Engineering, Pathanapuram
Course Subjects
A list of the subjects studied by students pursuing Automation and Robotics are given below:
Computational Geometry

Computer-aided Manufacturing

Industrial Robotics

Automation

Biocybernetics

Digital Electronics And Microprocessors

Design And Control

Robot Manipulators

Air Traffic And Management Systems

Artificial Intelligence

Signal Processing

Medical Robotics

Robot Motion Planning

Computer Integrated Manufacturing System
Careers in Automation and Robotics
In recent times, many options have been available for people pursuing a career in Automation and Robotics. This is because this technology is new and is making rounds in the market as everyone is trying to adapt to the intelligent method of change in systems.
Graduates and postgraduates of Automation and Robotics course are highly specialised in software development, Logistics, Robotics engineering, and coding programs. These new technologies are also being used in the sector, including Enterprises, Military and Defence organisations, or in a private firm.
Hence, the career prospects in Automation and Robotics are flourishing and will continue to flourish in the upcoming times.
Popular Engineering Colleges in India
Upcoming trends
Trends are constantly revised and updated with new technologies resurfacing each day. Automation and Robotics is a fields that can do wonders with a hint of innovation in a lot of sectors. Arena like artificial intelligence is the core of this field.
Especially in the health and safety sector, robots with automatic programming are being developed and placed outside hospitals and medical institutions. These robots are designed to collect the personal data of the visitors and register it in the hospital's database for record purposes. Following is the list of upcoming trance crucial to Automation and Robotics:
Artificial intelligence

Sustainable development

Health and Safety

Quality and innovation
Browse automation and robotics certification courses
View complete list of Automation and Robotics Certification courses
Job Profiles and Top Recruiters
In recent years, technology has managed to fascinate bigger forms and enterprises into believing in the possibility of change. This is why various companies are advancing their systems by adopting artificial intelligence. This has opened new job positions in many national and international companies and fostered the recruitment of talented graduates and postgraduates from the Automation and Robotics industry. There are a wide number of job positions available in Automation and Robotics filed, some of them being application developer, software engineer, aeronautical engineer, robotic engineer, quality and process assessor, and many more.
Following are the job profiles that are offered to a candidate who pursue Automation and Robotics course:
| | |
| --- | --- |
| Job Profile | Job Description |
| | The job description of a Software Development Engineer includes writing algorithms and programming codes for better robotic applications and programming the equipment. |
| Aerospace Robotics engineer | Aerospace Robotics Engineers usually take care of the designing, manufacturing, supervising, and controlling definitions of aircraft and Aerospace products. They have the autonomy to determine the feasibility of the technical proposal. |
| Robot design engineers | The job description of Robotic Design Engineers is to devise blueprints of robots and layout the plan of the prototype as well as provide technical support in debugging the robot program. |
| Automated product designer | The job description of an Automated Product Designer is to copy all the codes and algorithms and implement them into an automated framework and run tests. |
| Senior Robotics specialist | Senior Robotics specify the issues in robotic systems and communications, diagnose them and design corrective measures to maintain the Robotics systems automated. |
| Process engineer | A process engineer is the one who studies designs, runs tests and improves the system. Further, he/she is responsible to configure and optimise the process from beginning to end. |
| | Quality Engineers deal in preparing a layout, raw material, quality control system that is required in designing a robot. They supervise and enhance quality improvement measures. |
Also Read: Online Automation And Robotics Courses & Certifications
Automation and Robotics Top Recruiters
Automation and Robotics sector has been gaining popularity in the youth because of the concept and structure of the course. This has helped in generating a pool of highly specialised and qualified manpower skilled in computer-oriented systems.
Following is the list that includes some of top recruiters that hire Automation and Robotics graduates:
TATA

Asimov Robotics

DRDO

BARC

SYSTEMANTICS

DIFACTO Automation and Robotics

BHEL

INFO

NASA

Tech Mahindra Ltd

Robots Alive

KUKA ROBOTICS

Gridbots

Milagrow

ISRO
Average Salary
Different organisations offer attractive packages depending upon the job role. Mentioned below are the job profile with average annual income offered to Automation and Robotics graduates:
| | |
| --- | --- |
| Job profiles. | Average Annual salary |
| Software development engineer | Rs. 10-12 Lakhs p.a. (Approx.) |
| Aerospace Robotics engineer | Rs. 5-6 Lakhs p.a. (Approx.) |
| Robot design engineers | Rs. 4-6 Lakhs p.a. (Approx.) |
| Automated product designer | Rs. 6-8 Lakhs p.a. (Approx.) |
| Senior Robotics specialist | Rs. 6-7 Lakhs p.a. (Approx.) |
| Process engineer | Rs. 5-6 Lakhs p.a. (Approx.) |
| Quality engineer | Rs. 6-7 Lakhs p.a. (Approx.) |
Popular Online Engineering Courses and Certifications
Required Skillset for Automation and Robotics
Skills required for pursuing a career in Automation and Robotics are the same as the skills required in almost every other branch of engineering. However, this one comprises a lot of Creative Thinking because it is close to bringing an idea to life.
Every skill required in the Automation and Robotics field originates from the need for problem-solving and making lives easier and more convenient. Following are the three broadly categorised skills mandated for candidates to possess:
Research and Development: Candidates pursuing Automation and Robotics must have a knack for digging into the process of designing and coming up with new modifications for the development of more advanced models. Hence Research and Development are indispensable attributes of Automation and Robotics.
Technical skills: The candidate needs to have technical skills in any branch of engineering because that's what the entire process depends upon. Without knowing the technical aspect lying behind products, machines, and Systems, a candidate cannot grow in the field of Automation and Robotics.
Soft skills: Soft skills like Creative Thinking interpretation, flexibility, time management, and conflict resolution, help the candidate in maintaining a balance in input and output, thereby enhancing efficiency.
Course Curriculum for Automation and Robotics
The curriculum of Automation and Robotics is evenly broken up into four and eight semesters depending upon the nature of the degree pursued. Bachelor's degree in Automation and Robotics usually is for four years, whereas a master's degree is for two years. The curriculum involves practical, theoretical, and technical knowledge of the subject distributed equally across all semesters.
Every new subject in the next semester is an advancement of the previous one. Various electives covered in this course include Programmable Logic Control, finding faults and diagnosis, maintenance of Automation, robot processes and functions, developing and designing control systems and software, as well as Process Optimisation. The curriculum of Automation and Robotics is a stepping stone for people who are looking to work and develop their potential within the manufacturing environment
Popular Automation and Robotics Entrance Exams in India
Popular Automation and Robotics Colleges in India VIEW ALL
Frequently Asked Questions (FAQs)
Question: What is the scope of Automation and Robotics in India?
Answer :
As the world is slowly moving into aspects where our human body limits us, Automation and Robotics will be more and more important. Thus making those who are experts in this field very important for further development.
Question: What are the different entrance exams one can take to enter a course for Automation and Robotics?
Answer :
1. JEE (MAINS and ADVANCED)
2. UPSEE
3. SRMJEE
4. GATE
5. BVP CET
6. IPU CET
7. BITSAT
Question: How many years will it take to complete the Automation and Robotics course?
Answer :
Any engineering course takes up to a minimum of 4 years for a Btech degree and 2 years for a Master's (M.Tech) degree. However, integrated programs for 5 years have been launched in recent times.
Question: What is the average starting salary of a production engineer and manager?
Answer :
The average starting salary of a Automation and Robotics Specialist can fluctuate from one job profile to another, but as per a tentative idea, it should range somewhere between Rs. 5 lakhs to Rs. 6 lakhs per annum.
Question: How are Automation and Robotics different from Production/manufacturing engineering?
Answer :
Automation and Robotics deal with the creation of new ideas and methods and includes the process of design and development of a blueprint for software and coding programs. These programs are further adapted and fed into the robot to generate the automated output.
Production engineers, on the other hand, deal with the individual part production of the larger product. This work is more related to output in terms of hardware.
Questions related to Automation and Robotics
Showing 455 out of 455 Questions
Courses Similar to Automation and Robotics
Interested in Automation and Robotics? Find information around eligibility, career scope, jobs , colleges and exams and much more for free.