Who is a Dairy Technologist?
Growing upon a dairy farm, you certainly learn discipline and a commitment to purpose ~ Mike Johanns
Everything has a shelf life. But, have you ever thought about how a packet of toned milk can last as long as ninety days after production whereas even fresh milk can't be kept beyond two-three days. The answer is simple, dairy technologists work behind inventing such technology that can preserve dairy products. Individuals who opt for a career as dairy technologists are responsible for developing new and more effective methods of production, preservation, and utilization of dairy products using the principles of physics, chemistry, economics, engineering, and bacteriology. Keep reading the article to know complete information on how to become dairy technologist.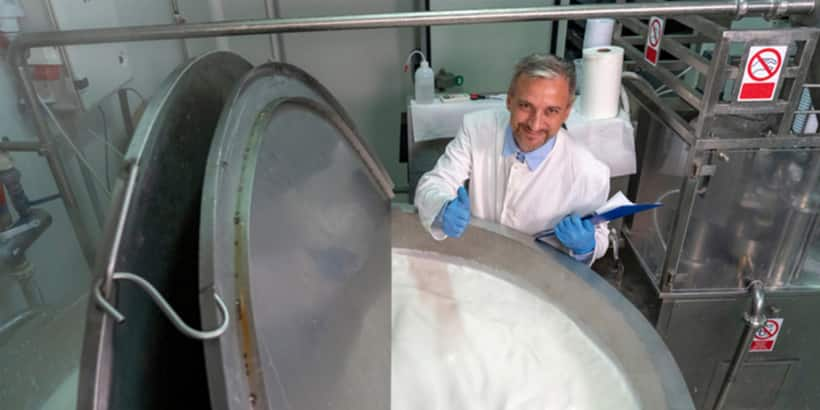 Dairy Technologist in a Nutshell
Dairy technology job is concerned with the handling and management of milk starting from production and processing right down to consumption. It includes processing, storage, packaging, transport and physical distribution. It aims at preventing spoilage of milk, increasing its shelf-life and improving quality and making it safe for human consumption. Do you want to learn how to become dairy technologist? There's no need to be concerned; we have devised a simple dairy technologist career path for you. Scroll through the page and read.
Quick Facts for Dairy Technologist
Industry

Agriculture

Average Salary in India

₹32500

Suitable for

Male, Female

Individuals can take up a career as dairy technologist, it is not gender-specific. Men, women, and others can choose a career as dairy technologists. A dairy technologist is a gender-neutral profession. People from all the genders can pursue this career.

Any special needs

Yes

Everyone, including those with physical disabilities, is appropriate for individuals who opt for a career as dairy technologists. Career as dairy technologist is well suited to everyone, even those with special needs. If the disability is not impeding the efficiency of the task then dairy technologist could be an apt career choice for people with special needs as it does not involve any physical activities that require strength or stamina.
What is the role of Dairy Technologist?
Dairy technologists are food scientists who work primarily with dairy and dairy products. Dairy technologists study the chemical makeup and properties of milk, yogurt, butter, ice cream, and cheese. Individuals who opt for a career as dairy technologists might work for private businesses or universities, and sometimes they're self-employed. While there is some fieldwork, many of their days are spent in offices or research labs. Generally, these professionals work standard business days, and both pay and job growth prospects are average to slightly-above-average. They often work with agricultural managers and farm managers as well.
Application of principles
In dairy technology job, principles of bacteriology, chemistry, physics, engineering, and economics apply to develop new improved methods in production, preservation, and utilization of milk, cheese, ice cream, and other dairy products. In a country where there is high consumption of dairy products, it is essential to find and create new ways to process dairy products in such a way that there is maximum output, without reducing the quality.
Experimentation
A dairy technologist is expected to do a lot of experimentation in order to prevent harmful bacteria making the dairy products harmful for consumption. Bacteria tend to increase during milk handling, processing, and transportation phases. Hence, it is important to keep experimenting and find out new and efficient ways to do pasteurization, or develop new ways for packaging the product.
Design equipment
Dairy technologists often design equipment as well, so that there is maximum efficiency while producing dairy products. Individuals who opt for a career as dairy technologists have to keep in mind the production processes, storage issues, packaging, and transportation while designing any sort of equipment meant to handle dairy products.
Types of a Dairy Technologist
Dairy Supervisor: The primary job of a dairy supervisor is to look after the dairy and all the activities taking place in it. A dairy supervisor is in charge of the dairy and usually looks after the daily operations. These types of dairy technologists often manage the workers present in the dairy and assign daily them their daily tasks. They also ensure that animals in the dairy are in good condition and that they are looked after well.
Dairy Consultant: Dairy consultants provide support to the organizations in the dairy industry looking for investors, help build them strategic alliances, joint ventures, foreign partnerships and help existing dairy units to be more effective and efficient and also improve their profits by being efficient at all functional areas.
Government Officer: Often dairy technologists are hired by government agencies to look after the government dairies or act as quality control agents for the government. They visit several private dairies and ensure that the products coming out of them are of good quality. They are also tasked with the job to check whether the rules and norms are being followed or not. These types of dairy technologists have the power to close down operations of a dairy if they find evidence that the quality is not maintained or the rules are not being followed.
Food Scientist: Food scientists are responsible for inspecting safety compliance in compliance with government regulations on efficiency, sanitation conditions, and waste management. In terms of consistency, protection and nutritional value, they ensure that food ingredients comply with the necessary requirements. Food scientists ensure that the quality of food, such as its texture , colour, composition, comfort and nutrient content, is enhanced. They help to establish food quality and protection programmes for food processing and storage operations.
Food Inspector: Food inspectors are the professionals who analyse the safety and quality of the food products, the materials used for the manufacture of the food products and the hygiene of the equipment used and the place of manufacture of such products. Food inspectors track compliance with safety and sanitation standards by food producers, distributors and processors and report violations to the relevant authorities.
What is the workplace/work environment of Dairy Technologist like?
A dairy technologist typically works in an office setting, a research laboratory, industrial floor, fieldwork, and universities and other higher learning institutions. He or she stays involved in studying the chemical makeup of yogurt, cheese, cream and other dairy products. Do you want to learn how to become a dairy technologist? To clear your doubts, scroll and read the entire article.
Does Dairy Technologist require travelling?
Not Likely
A dairy technologist might not require to travel on a regular basis, but in case there is an inspection that needs to be done or a new site which has been established for a new dairy farm that needs to be checked out, then a dairy technologist might need to travel. However, most of the time they spent their working hours in the dairy itself.
Employment Shifts
Full Time, Part Time
A majority of the dairy technologists work full time with government agencies or private dairy companies. There are some dairy technologists who also work on a project basis and might be attached to a dairy for a particular period of time. Individuals who opt for a career as dairy technologists work on a part-time basis and are not regular employees.
Employment Nature
Permanent, Contractual
The nature of employment in most of the cases is permanent, however, there are lot of dairy technologists who are hired on a contractual basis as well.
Work Place
Private Offices Factory, On-Field, Laboratory, Office
Most of the time dairy technologists work in fields, where they look after the entire dairy farm. Individuals who opt for a career as dairy technologists also work in office environments and laboratories, when they have to write a report or do some research work.
Presence in Geographical Area
Rural, Semi-urban, Urban
As far as the work opportunities are concerned, a dairy technologist can find work in urban, semi-urban as well as rural areas in farms. In rural areas, dairy technologists mostly work in the capacity of a government official.
Time Pressure
Not Likely
The work pressure for dairy technologists is considered moderate. Dairy technologists usually work indoors in labs conducting their research and preparing samples for a particular project. They are usually required to work at least 45 hours per week. Individuals who opt for a career as dairy technologists may sometimes work irregular hours to monitor experiments that can't be completed during regular working hours.
Overtime Details
Dairy technologists are usually required to work at least 40 hours per week. Sometimes, when the work pressure is more and they are required to accomplish a project in less time, their working hours may extend to 45-50 hours per week. Individuals who opt for a career as dairy technologists may also be required to work in day, evening, or night shifts if working in production.
Weekly Hours of Work
Min 45 Hours
Generally, dairy technologists work around 45 hours a week. Incase there is an emergency these weekly hours can also go well above 60 hours a week; but generally, this is not the case. Individuals who opt for a career as dairy technologists have regular working hours with remote chances of them getting extended to overtime.
How to become a Dairy Technologist?
Steps to become a Dairy Technologist
What are the skills and qualities required to become a/an Dairy Technologist?
Here we have described the steps to know how to become a dairy technologist. Possessing a specific skill set required in performing day-to-day tasks in the career as dairy technologist is crucial. We have provided below major dairy technologist skills.
Teamwork: Dairy technologists may work as part of a research team or with a team on a farm. It's important for them to develop communication and interpersonal skills necessary to enhance the functionality of a team. Individuals who opt for a career as dairy technologists can do so by participating in undergraduate research studies, joining group-oriented extracurricular activities, and taking communication courses.
Leadership: Leadership skills are required for dairy scientists leading research teams. Dairy scientists can develop these skills by working as teaching assistants, serving as leaders in extracurricular groups, and taking leadership courses and workshops offered through their school.
Which certifications and internships can be helpful in becoming Dairy Technologist?
We have mentioned below several certifications that will help you to upgrade your skills and increase your chances to opt for a career as a Dairy Technologist.
Internship Availability
No
Internships are a good way to gain a foothold for individuals who opt for a career as dairy technologists. It gives the person the requisite exposure to the sector and the work environment, so they are prepared for the pressure that comes with the profession in some way. For dairy technologists, effective communication skills are needed.
Career Path Progression for Dairy Technologist
We have provided below the dairy technologist careers list. One can acquire varying dairy technologist job roles while progressing in the industry. Check out these amazing careers in the field of dairy technology.
Microbiologist: A microbiologists monitor and study microbes such as bacteria, fungi and viruses by using a variety of analytical and scientific techniques. These types of dairy technologists usually study organisms that cause disease and environmental damage or are of agricultural or industrial interest.
Dairy Nutritionist: A dairy nutritionist is directly involved with the dietary management of dairy cattle herds. The main aim of a dairy nutritionist is to ensure maximum production while maintaining overall herd health.
Dairy Scientist: Dairy scientists are agricultural scientists who help increasing milk production and to streamline milk processing. These types of dairy technologists also helps in improving animal welfare and productivity through more efficient means of producing as well as using milk.
Dairy production manager: Dairy production managers are responsible for assisting the manager in the financial and physical performance of the farm. These types of dairy technologists implement short and long term business plans and ensure optimizing the performance of the farm.
Dairy Manager: Dairy managers are mostly involved with the supervision of workers in all aspects of dairy products such as preparing the required feed, maintaining the milking equipment, managing the herd, and so on.
Logistics and distribution manager: The responsibility of a logistics and distribution manager is to organise the storage and distribution of goods. A logistic ensures that the right products are delivered to the right location at the right time.
Farm Manager: The farm manager is responsible for directing and coordinating worker activities such as irrigation, harvesting, grading, payroll, record keeping. These types of dairy technologists sometimes also contract with farmers for raising crops or management of crop production.
Quality Control Officer: Quality control officers' responsibility is to ensure that dairy products meet the required quality and efficiency standards.
Related article - Career as food inspector
Dairy Technologist Jobs and Salaries
Farm Managers
Recruiter
Nestle, Religare Enterprises Limited, Britannia Industries Ltd., Mother Dairy Fruit & Vegetable Pvt. Ltd.
Monthly Salaries
Average Salary

40000

Starting Salary

25000

Junior Level Salary

25000

Senior Level Salary

85000
Job Description
Farm managers oversee workers, manage animals and plants and conduct various administrative tasks. They develop budgets, purchase equipment, develop relationships with suppliers and consumers, and guarantee the highest productivity.
Salary Description
The salary of the farm managers is decent and also better than other professions in this particular field. At the beginning of their career, they receive yearly up to six lakhs, and more than twelve lakhs at the senior stage of their career.
Dairy Nutritionist
Recruiter
Nestle, Britannia Industries Ltd., Reliance Industries Limited, Mother Dairy Fruit & Vegetable Pvt. Ltd.
Monthly Salaries
Average Salary

25000

Starting Salary

15000

Junior Level Salary

15000

Senior Level Salary

60000
Job Description
A dairy nutritionist designs feeding plans and tracks the dairy cattle state to ensure quality targets are achieved. They are actively involved in the nutritional care of dairy herds of cattle. A dairy nutritionist's primary objective is to improve productivity while protecting overall herd safety.
Salary Description
Salaries in this profession of dairy nutritionist based on the skills and experience. The entry level pay could be up to three lakhs per year, and eventually it could be more than seven lakhs per annum.
What is the job outlook for Dairy Technologist?
With a boom in the dairy technology jobs in the last couple of decades with the commercialization of every dairy product, the scope for these professionals is bound to increase in the times to come especially in the countries like India, Australia, New Zealand where the population of Milch animals is comparatively very high. A couple of years dedicated work and some experience along with a master's degree could lead a dairy technologist to pay a package of nearly Rs 50,000 per month. There is a lot of scope for those who are joining the dairy industry as dairy technologists in the present scenario. One can join private or government jobs in the dairy industry. Apart from joining private or government Milk processing units like Verka, Vita, Amul and many more. Individuals who opt for a career as dairy technologists join educational institutes for research activities which are taking place on a large scale to improve the quality and quantity of these products from the limited resource.
Frequently Asked Questions for Dairy Technologist
Que. What does a Dairy Scientist do?
Ans.
Dairy scientists work to safely and efficiently produce and process dairy foods such as milk, cheese, eggs and yogurt. These food experts may use their education and skills to manage a small dairy farm, oversee plant operations, market dairy products or improve the health of livestock.
Que. What is Dairy Science?
Ans.
Dairy science focuses on the production and manufacturing of all dairy products, including milk. Entering this field requires knowledge of animal nutrition, reproduction, lactation and business. Dairy scientists must be able to produce a healthy dairy herd, inspect dairy products and assist with dairy farm management.
Que. What does a dairy specialist do?
Ans.
As a dairy specialist, your job duties include negotiating pricing and contracts with farmers for the purchase of dairy products, reviewing orders for accuracy, and arranging for transportation and storage of the purchased products.
You might also be interested in
The question have been saved in answer later, you can access it from your profile anytime.
Access now
Report Question
Select your reason of reporting