Who is a Aircrew officer?
For most people sky is the limit, for Aircrew officers the sky is home ~ Anonymous
Do you consider yourself a wanderlust and have always wished to travel the world? How about having a job that pays you to travel? Well, you can be a part of the cabin crew. Haven't we all wished to be able to fly at least once in our lives? What if you can make others fly along with yourself? It is possible if you choose to become an aircrew officer. Of course, in the beginning, you will be assigned for domestic flights only but as and when you gain experience, you can take over the responsibility of flying the international aircraft as well. An aircrew officer is a professional whose primary duty is to ensure the safety and comfort of passengers while taking the flight from one place to another. An aircrew officer is a highly trained as well as highly experienced individual. An aircrew officer is of two types: one who flies commercial aircraft while the other one flies a military aircraft.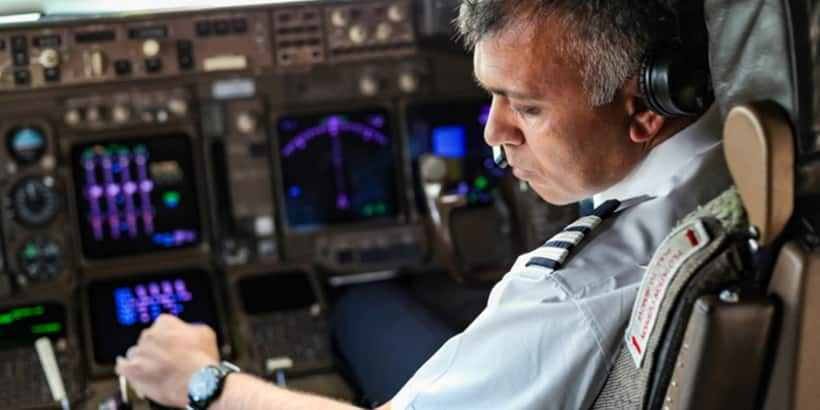 Aircrew officer in a Nutshell
An aircrew officer or airline commanders fly aircraft to provide transportation to passengers or cargo. The aircrew officer operates the engines of aircraft and controls to navigate and fly the airplane. The ability to learn new technologies every time and to stay up-to-date with the changes in the industry is what the aircrew officer should possess. This could be possible through membership with professional pilot associations. The aircrew officer is also one of the highest-paid professionals and the job is quite coveted. Keep reading to find out what you need to know about how to become aircrew officer.
You may also read career as Airline Pilot.
Quick Facts for Aircrew officer
Industry

Aviation

Average Salary in India

₹52000

Suitable for

Male, Female

Aircrew officer requirements are gender independent and it is appropriate for any of the gender types. Anybody can aim at however, there are more male aircrew officers than female aircrew officers according to the statistics.

Any special needs

No

Aircrew officer's job is not quite appropriate for specially-abled people as manufacturing facilities are filled with potential dangers while dealing with sophisticated machineries. Individuals with special needs won't be able to carry out the work smoothly as during emergencies. Once an aircraft is in the air there are several situations that can occur which would require an aircrew officer to be physically fit. Differently-abled people cannot be a part of an aircrew officer's job as it is a critical field and according to the rules one needs to be physically fit.
What is the role of Aircrew officer?
An Aircrew Officer has to perform numerous tasks on a daily basis. The most complicated and dangerous part of any take-off flight is landing. An Aircrew Officer must complete a pre-flight checklist to monitor the integrity of aircraft systems to avoid any causalities. An Aircraft Systems contain hydraulic, engine, or metal checks. Other preflight activities of the aircrew officer include monitoring the latest weather advice and arranging flight schedules with airline controllers. This requires a great deal of cooperation between pilots and air traffic controllers in order to navigate safely. Mid-flight tasks for an aircrew officer are based on flight control function, flight monitoring, and navigation with a pre-approved flight plan. The captain supervises the entire flight while the first officer assists the captain in the flight or monitors the flight status. Both the pilot and the pilot take turns flying. The function of post-flight tasks involves the proper installation of the required documents and monitoring of the final status of the aircraft.
Also Read: A Career as Airline Pilot
Give instructions
An aircrew officer gives instructions to the crew members on board and also coordinates take-off and landing systems with crew members. Pilots inform the crew members of news regarding the aircraft. An aircrew officer needs to be clear as well as precise while giving instructions as any ambiguity can turn out to be dangerous.
Technical activities
An aircrew officer calculates fuel consumption based on the weight of the aircraft and also reports any types of malfunctions of the flight to engineers. It is one of the most crucial pre-flight activities as running out of fuel during the time the aircraft is flying can turn dangerous for a large number of people. There are times when there's a lot of traffic on the airport for the landing so the aircrew officer might have to delay the landing of till the time there's a free runway for the landing. All these possibilities need to be kept in mind before measuring the fuel requirements.
Communication
An aircrew officer is responsible for contacting air control towers for takeoff and landing clearances. An aircrew officer also communicates with other air vehicles to systemise movements. Therefore, one must have a good command over his or her language in order to deliver the message correctly to the concerned people about any issues.
System check
An aircrew officer does several system checks before the flight is taken off. He or she monitors engine operation, fuel consumption, and other systems during flight and also redesign the route and flight pattern when required due to several possible reasons. An aircrew officer also notifies the air traffic control in emergency situations, problems, and hazards.
Types of a Aircrew officer
There are various other aviation career options. We have mentioned below major career options as an alternative to a career as Aircrew Officer.
Commercial and Civil Aviation Pilot: Pilots who work in aviation are responsible for flying for many reasons. They fly planes for a variety of purposes such as rescue operations, photography, firefighting, and high utilisation and for many other reasons. Pilots also deliver packages and parcels for major cargo companies and are known as cargo pilots. Corporate pilots and airlines often fly small, corporate jets and even for rich and famous businessmen.
Co-Pilot: These pilots mostly handle almost all flight operations. They take care of the plane, the team, the passengers and everybody present on the flight. Co-Pilots are responsible for testing all special features made during or before the flight.
Chief pilot: The primary function of chief pilots is to manage the general operations of aeronautics offices. The job includes ground staff, support staffing, booking flights and other obligations.
Pilot: The basic function of pilots is to use an aeroplane. Pilots also check the weather and check that the plane is in good condition before takeoff. Their job is to take care of the safety of the passengers and the on-flight crew members while reaching the destination.
Aircraft Inspector: The aircraft inspectors' job involves testing new and updated aircraft to determine their airworthiness. They also evaluate aircraft design, capabilities, equipment, prepare written and oral reports on their technology, and make suggestions for improvement. Manufacturers, private enterprises, defense forces, federal government, and other aviation-related businesses need these types of aircraft inspectors.
What is the workplace/work environment of Aircrew officer like?
As an Aircrew Officer, one must have the ability to travel long distances and work in different kinds of environments. A career as an Aircrew Officer is extremely demanding in all aspects be it physically, mentally, or psychologically. When it comes to the work schedule of an aircrew officer, it depends on the amount of non-flight job duties are assigned to him or her. For example, a senior airline captain performs fewer pre-flight checks as compared to the first officer. Are you looking for information about how to become Aircrew Officer? To clear your questions, scroll and read.
Does Aircrew officer require travelling?
Likely
An Aircrew Officer job is about travelling. He or she rarely has to do any sort of desk work. There are several checks that need to be done pre-flight as well as post-flight but that also requires him or her to be on the field around the aircraft. This is an ideal career path for those who love to travel and do not like monotonous desk jobs.
Employment Shifts
Full Time, Hourly Basis
The shift timing of the aircrew officer falls under a certain category. Unlike every other job, an aircrew officer needs to work or fly the aircraft for a minimum 120 hours a month, which is equal to five complete days or five sets of twenty-four hours. An aircrew officer needs to work for five days a week and get two days off which is not necessarily a weekend. In fact there are more flights which take off on weekends than on weekdays.
Employment Nature
Permanent
The employment for a career as an Aircrew Officer is permanent in nature. Some companies may form a contract which can be ranging between three to five years in length. It varies from company to company.
Work Place
Air Craft, On Flight
An aircrew officer works on an aircraft. Most of his or her time is spent in the cockpit, flying the aircraft. Other than that he or she does some pre-flight and post-flight checks which are again done on the aircraft. So he or she does not spend any work hours in an office-like environment.
Presence in Geographical Area
Semi-urban, Urban
An aircrew officer can work only in places which have an airport or a hangar for keeping the aircrafts. Since airports are located in urban or semi-urban geographical areas, therefore he or she has to work either in urban or semi-urban geographical locations.
Time Pressure
Not Likely
The job of an aircrew officer is to take the aircraft from one place to another keeping all the security requirements in mind. However, this career does not impose any sort of time pressure on the individual. The required time for reaching a destination can change depending on several factors like weather conditions, air traffic, or unavailability of free runway. Controlling all these things is not in the hand of an aircrew officer.
Overtime Details
An aircrew officer might have to work for extra hours in cases of emergencies or when the airline has less number of pilots and more trips to finish. Freshers are generally asked to work for extra hours so that they can have more experience. The ones who have enough experience might not be asked to do overtime unless it is very necessary.
Weekly Hours of Work
Min 30 Hours
An aircrew officer has to work for 120 hours a month which is the minimum requirement. It may increase depending on the airline. These hours can be divided in any order depending on the airline's timetable and requirement.
How to become a Aircrew officer?
Steps to become a Aircrew officer
What are the skills and qualities required to become a/an Aircrew officer?
When it comes to how to become aircrew officer, the first thing that they should know about is the skills required to become an aircrew officer. Some of the essential skills we have mentioned below.
Communication skill: Communication skill is important in almost every career but this is a skill that is much more important in an aircrew officer's career. Incorrect or incomplete communication of the chief or co-pilot can be the factor for eighty per cent of flight accidents. The aircrew officer and the controller communicate with each other for clearance, provide instruction, and other conditional statements. An aircrew officer needs to follow the air traffic control (ATC) instructions like traffic information, radar vectors, weather, or advice in emergencies to ensure safety regarding while flying and landing. Communicating with the passengers and co-workers on a daily basis and to give attention to their complaints provides them to polish their interpersonal skills as well.
Decision making skills: Situation like turbulence, can test an aircrew officer's critical thinking ability, the situation where it is very common to be nervous. When an aircrew officer encounters obstacles or emergencies, he or she follows one certain check-list, to make those situations under control. The checklist contains specific procedures to overcome the obstacles. However, not every solution is explained there, so in those unexplained situations, an aircrew officer needs to think carefully about the obstacles and the ways to overcome them.
Leadership: Leadership is an inherent personal quality and as well as a learned skill. An aircrew officer must be aware of the facts of effective leadership and poor leadership. They need to be well-versed with the customer relationship management and standard operating procedure which are commonly known as CRM and SOP to manage the cockpit. In a flight, there should be one leader and that is the aircrew officer who leads the crew towards success in any crisis.
Situational awareness: An aircrew officer should be prepared to appreciate everything that is going on throughout flying, controlling and maintaining an aircraft. An aircrew officer needs to create a picture in his or her mind of the flight conditions, location, configuration of the aircraft. Insufficient knowledge of the situation can end with fatal results such as loss of control, airspace infringement, loss of separation, or an encounter with adverse weather conditions.
Teamwork: Many accidents while flying were caused because of the breakdown in teamwork, where the crew members work individually than as a team. An aircrew officer should communicate and cross-check with each other's work throughout the team. This cross-checking and effective communication reflect a positive impact on the level of flight safety. Without proper teamwork, the operation would not be able to function properly.
Popular Online Hospitality Courses and Certifications
Which certifications and internships can be helpful in becoming Aircrew officer?
Internship Availability
Yes
Several internship opportunities are available in this particular field. Different companies and organisations, with appropriate abilities and competencies, employ interns who can learn to fly commercial aircraft in order to become an aircrew officer in future. One can explore internship opportunities through the online hiring portals. The individuals get hands-on experience through internships. Higher-education colleges and private airlines therefore provide internship opportunities.
Career Path Progression for Aircrew officer
An aircrew officer can be promoted to the role of third officer. A third officer further gets promoted to the role of second officer. A second officer gets promoted to the role of first officer depending on the skills and experience.
Co-Pilots: Co-Pilots check every single essential during or prior to flying. All these essential checks are done under the supervision of the chief pilot. Pilots who are working in commercial airlines are responsible to fly an airplane for several purposes. Commercial pilots fly the air vehicles, for several operations, such as airborne photography, putting out fires, and elevated application and for several other reasons. Every airline pilot first joins as a co-pilot and then upgrades himself or herself as the captain.
Test Pilot: Test pilots' responsibility includes testing flights to ensure airworthiness. They also test the airplane's design, strength, equipment, prepare written and oral reports on their expertise, and also make suggestions for improvements. Manufacturers, private businesses, defense systems, the federal government, and other aviation businesses require similar such pilots.
Aircrew Officer: An aircrew officer's job includes monitoring the latest weather advice and arranging flight schedules with airline controllers. This requires a great deal of cooperation between pilots and air traffic controllers in order to navigate safely. Mid-flight tasks for an aircrew officer are based on flight control function, flight monitoring, and navigation with pre-approved flight plan. An aircrew officer also looks at fuel levels and the condition of the engines.
First Officer: The first officer is the second airline pilot of an aircraft. After the captain, the first officer is second-in-command of the aircraft, who is the legal commander. In any event where the captain is absent then the command of the first officer will be assumed as the highest one.
Also Read: Career as Flight Attendant
Aircrew officer Jobs and Salaries
Aircrew officer
Monthly Salaries
Average Salary

52000

Junior Level Salary

45000

Senior Level Salary

100000
Job Description
An Aircrew officer's key function is to ensure that the passengers are safe while he or she is flying the aircraft. His or her job is to take care of all the pre-flight, on-flight as well as post-flight duties. An aircrew officer makes in-flight announcements in the beginning of the flight as well.
Salary Description
Aircrew officers' salary might vary based on his or her skills, and experience. Aircrew officers' average salary structure is more than Rs. 49,000 per month. As the individual gains experience the salary grows and it can be above one lakh on a monthly basis.
What is the job outlook for Aircrew officer?
Aircrew officers generally opt for commercial and regional aviation companies. Competition among the applicants is less in these two sectors than for the major airlines. The major brands or more specifically the big airlines attract more airline pilots than their actual number of vacant posts. Though this is one of the finest jobs in the market, still India is facing a shortage of quality airline pilots and cabin crew, which affects the aviation industry a lot. Passenger traffic in India stood at 316.51 million during April 2018 - Feb 2019. Out of which domestic passenger traffic stood at 252.92 million while international traffic stood at 63.59 mn. India has 91 international carriers comprising five Indian carriers and 86 foreign carriers, which ensure that India is well connected with most major countries. Revenue passenger kilometre (RPK) in domestic airline demand growth of 18.6 per cent in 2018 was three times the global RPK growth of 6.5 per cent.
Student Also Liked:
Frequently Asked Questions for Aircrew officer
Que. How long does it take to become a pilot captain?
Ans.
It varies for different airlines and the individual who wants to become an airline captain. To be a captain of a commercial aircraft, firstly one must have logged at least 1,500 flight hours and hold a full Air Transport Pilots Licence (ATPL). However in reality, most short-haul airlines require a minimum of 3,000 hours before considering any pilots for promotion.
Que. How many airlines are in India?
Ans.
There are a total of 26 airlines currently operating in Indian domestic sector. The most famous and major airlines are Indigo, Air India, SpiceJet, Vistara, GoAir, Air Asia. These airlines cover 98.8 per cent of domestic market share.
Que. How long does it take to become an Aircrew officer?
Ans.
Unlike other fields, in the aviation industry the duration to reach a designation varies from person to person as well as airline to airline. Firstly an individual needs to acquire a commercial pilot's license. Once that is done he or she can become an aircrew officer after having an experience of flying in a commercial airline for a minimum of 500 hours.
Que. Are flying schools very expensive?
Ans.
Flying schools are quite expensive as it takes Rs. 19 lakhs on an average to get trained from a flying school in India.
You might also be interested in
The question have been saved in answer later, you can access it from your profile anytime.
Access now
Report Question
Select your reason of reporting