Who is a Flight Attendant?
For most people sky is the limit, for flight attendants the sky is home ~ Anonymous
A flight attendant is a professional whose primary duty is to ensure the safety and comfort of passengers during an airline flight. An individual who is pursuing a career as flight attendant are part of the cabin crew for the plane, a team of personnel who operate a commercial, business, or even military aircraft while traveling domestically or internationally. Career as flight attendant goes back to 1912, when only women choose the field, but over the past few years men too have also been known as stewards or air hosts and females as stewardesses or air hostesses. Individuals as pursuing a career as flight attendant are specially trained for the aircraft in which they work, since passenger safety is their foremost concern.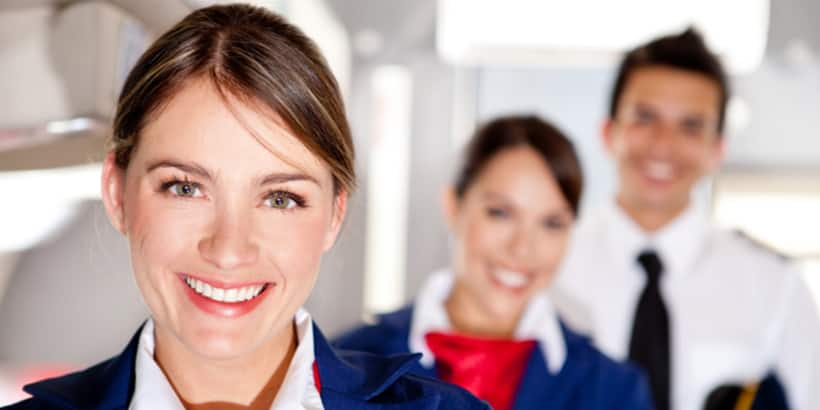 Flight Attendant in a Nutshell
The flight attendant job description includes ensuring passenger safety during flights by adhering to safety regulations. Individuals pursuing career as flight attendants are also tasked with serving meals and drinks to passengers, but this is mostly a secondary responsibility. Flight attendants are employed by airlines and most of them work in commercial flights, although there is also a market for private flight attendants (e.g. private charter planes or jets). Depending on the size of the plane, international safety regulations demand a certain number of Flight Attendants to be on board the aircraft. The standard rule is that there should be one Flight Attendant for each 50 passengers.
Quick Facts for Flight Attendant
Industry

Aviation

Average Salary in India

₹54250

Suitable for

Male, Female

The career as flight attendant is not gender-specific. Men, women and others can choose a career as flight attendants. Flight attendant requirements are gender independent and it is appropriate for any of the gender types. However, there are more female flight attendants than male flight attendants.

Any special needs

Yes

Career as flight attendant is not quite appropriate for specially-abled people as manufacturing facilities are filled with potential dangers such as ovens and cutters, few of the traits that a flight attendant requires is physical strength and stamina.
What is the role of Flight Attendant?
A career as flight attendants participates in preflight briefings with the pilots to discuss cabin conditions and flight details. He or she also conducts preflight inspections of the emergency equipment. It is the flight attendant's duty to demonstrate the use of safety and emergency equipment. Flight attendant jobs is to ensure that the passengers have their seatbelts fastened when required and that all the other safety requirements are observed. A person who is pursuing career as flight attendant also takes care of the passengers' needs, especially those with special needs. A flight attendant is also trained to administer emergency medical care as and when needed. Airlines are required by law to provide flight attendants for the safety and security of passengers. The primary job of flight attendants is to keep passengers safe, ensuring that everyone follows security regulations and that the flight deck is secure. Flight attendant jobs is to make flights comfortable and stress-free for passengers. At times, they may deal with passengers who display disruptive behaviour.
Managing
A career as flight attendants are the face of the aviation industry. They take care of the passengers, comfort and their needs. It is important for flight attendants to manage and monitor safety standards and activities to maintain a high degree of aircraft safety standards.
Assisting
Generally, as a first responder, it is the duty of the flight attendant to assist aircraft staff with safety checks, cabin preparation, and passenger checks to ensure the safety of all flights and passengers. A career as flight attendants ensures that emergency exit seats are occupied by passengers that are willing and able to respond in case of an emergency.
Analysing
As a flight attendant it is important to analyse and resolve any safety concerns that occur during emergency situations in order to ensure passenger safety.
Providing information
Flight attendant jobs are to provide travelers with all information regarding safety guidelines to be followed while onboard and necessary actions during emergencies. The primary job of the flight attendant is to keep passengers safe.
Ensuring company standards
Ensure compliance with company standards and maintain a high level of personal decorum and professional conduct. A career as flight attendants manages all kinds of communication to ensure the safety of passengers.
Communication
Flight attendants must know what passengers and their needs and manage all communication with company staff to ensure safety standards in all flights. Flight attendants need to have good communication skills.
Participating in training programmes
A career as flight attendants needs to participate in different training programs organized by the company and provide updates on all techniques relevant to safety management. Training programs teach them about safety measures, emergency procedures, and other services.
Ensuring safety
Ensure the safety and comfort of all passengers in line with company rules and regulations. Flight attendants ensure the safety of passengers during the flight. They review safety and emergency procedures for the safety of passengers.
Learning
Maintain and gather knowledge on emergency operations such as aircraft evacuation, administering first aid to ill or incapacitated customers and manage unusual incidents.
Types of a Flight Attendant
Cargo manager: A cargo manager or a handler supervises and coordinates the activities of ground crew in the loading, unloading, securing, and staging of aircraft cargo or baggage. He or she may determine the quantity and orientation of cargo and compute the aircraft center of gravity.
Air hostess: An air hostess or cabin crew or flight steward is responsible for the passengers' or the travellers' welfare, comfort, and safety at the time of the boarding and till the last passenger deboard the flight. These types of flight attendant jobs are to check the emergency arrangements before takeoff and landing the flight.
Ground operator: The individuals working in ground operations have job duties that vary from welcoming passengers to airports, to ensuring an aircraft's takeoff. These types of flight attendant jobs are to play a crucial role in areas such as commercial activities, airline operations, and the running of airports.
Management personnel: Airport managers often are employed by the city where the airport is located, and they are responsible for all airport operations. These types of flight attendant jobs are to oversees all other employees and departments and manages the day-to-day operations as well as future airport planning.
Captains: Commercial airlines usually have at least two pilots on board during flights. The captain is the pilot in command and supervises all crew members. The copilot helps the captain communicate with the tower, monitor flight instruments, and operate controls.
First officers: In aviation, the first officer (FO) is the second pilot (also referred to as the co-pilot) of an aircraft. The first officer is second-in-command of the aircraft to the captain, who is the legal commander. In the event of incapacitation of the captain, the first officer will assume command of the aircraft.
Flight engineers: A flight engineer (FE) is a member of an aircraft's flight crew who monitors and operates its complex aircraft systems. In the early era of aviation, the position was sometimes referred to as the "air mechanic".
Air Traffic Controller - Air traffic controllers are responsible for the separation and efficient movement of aircraft and vehicles operating on the taxiways and runways of the airport itself, and aircraft in the air near the airport, generally 5 to 10 nautical miles (9 to 18 km) depending on the airport procedures.
Flight operator: A flight Operator (also known as an airline dispatcher, flight follower, or flight operations officer) assists in planning flight paths, taking into account aircraft performance and loading, enroot winds, thunderstorms and turbulence forecasts, airspace restrictions, and airport conditions.
Related article - Career as airline pilot
What is the workplace/work environment of Flight Attendant like?
Individuals who pursue career as flight attendants work at nights, weekends, and holidays. Attendants usually spend 65-90 hours in the air and 50 hours preparing planes for passengers monthly. Most airlines usually guarantee attendants at least 65-85 flight hours every month, usually with opportunities to work overtime.
Does Flight Attendant require travelling?
Likely
Since flight attendants work in the travel industry, a part of their job profile is to travel. There is a lot of travelling involved in this profession.
Employment Shifts
Hourly Basis
Since most attendants are union members, they usually work set hours. Most attendants are usually limited to working 12 hours shifts but some are allowed to work 14 hour shifts.
Employment Nature
Contractual
Companies provide contracts of three–five years to employees which vary from company to company.
Work Place
A typical on-duty shift is usually about 12 to 14 hours per day. However, duty time can be increased for international flights. Attendants usually fly 75 to 90 hours a month and generally spend another 50 hours a month on the ground, preparing flights, writing reports, and waiting for aircraft to arrive.
Presence in Geographical Area
Urban
Time Pressure
Likely
There is a lot of time pressure on flight attendants. Flight attendant working conditions are very stressful. Flight attendants spend 25 per cent of their time flying while the rest of their time preparing for flights, writing reports, and waiting for planes to arrive.
Overtime Details
The working hours for flight attendants are generally 75 hours to 100 hours per month. Flight attendants are required to work nights, weekends, holidays, and may spend a lot of time away from their home base. However, even the odd working hours are already scheduled before so they're only required to work as per their allotted time and not overtime.
Weekly Hours of Work
Min 12 Hours
Yes, the career as flight attendant comes with a certain day shift which is usually between 12 -14 hours on a daily basis.
How to become a Flight Attendant?
What are the skills and qualities required to become a/an Flight Attendant?
Communication Skills: Every step of your journey as a flight attendant will be wrapped up in your ability to communicate well. Part of these people skills includes an ability to "size up" your passengers. Public speaking will be unavoidable as a flight attendant. When you're on a flight, you're going to be operating in a small team of flight attendants. This particular skill is also essential for other careers such as software engineer.
Learning Skills: The flight attendant jobs are never stagnant. As regulations come and go, and you board a multitude of different aircraft, there will always be a new learning opportunity.
Flexibility: The average flight attendant sees about three days of flight time and three or four days off time. During those "on" days, you could find yourself in any corner of the world. The thrill of that is worth its weight in gold. Like many other professions, it'll be quite some time until seniority allows you to dictate your work schedule. You may even be required to be on-call at times. Many of your holidays will also be spent high in the sky.
Physical Strength: A career as flight attendants needs to spend a good portion of every flight on their feet. You'll be wearing the carpet down on that center aisle as you offer food and beverages, and answer call signals. Likewise, those good, strong feet will need to be firmly planted on the ground as you test your balancing skills. Good feet will also help you heft those heavy carry-ons into the overhead compartment for those who are unable.
Pleasing Personality: Every airline has strict grooming standards. Many airlines will dictate how you style your hair, makeup, pantyhose, and shoes. You'll also abide by strict regulations pertaining to your uniform, keeping it neatly pressed, even amidst all your travels. Your lip and nail color must be muted. Although bodyweight restrictions no longer exist, you'll also have to demonstrate your ability to move through emergency exits, and up and down the aisles with agility.
Popular Online Hospitality Courses and Certifications
Which certifications and internships can be helpful in becoming Flight Attendant?
We have mentioned below certifications that individuals may opt who want to establish a career as Flight Attendant.
Internship Availability
Yes
Once a cabin crew members are hired, airlines provide his or her initial training, ranging from three to six weeks. The training usually takes place at the airline's flight training center and is required for FAA certification. Trainees learn emergency procedures such as evacuating aircraft, operating emergency equipment and administering first aid. Individuals pursuing career as flight attendant also receive specific instruction on flight regulations, company operations and job duties. Toward the end of the training, students go on practice flights. Individuals pursuing career as flight attendants must successfully complete the training to keep a job with the airline. Once they have passed initial training, new flight attendants receive the FAA Certificate of Demonstrated Proficiency. To maintain their certification, flight attendants must take periodic retraining throughout their careers.
Also read - Career as flight engineer
Career Path Progression for Flight Attendant
There are several job roles in the hierarchy of a career as flight attendant. We have mentioned below major job roles that a flight attendant can opt while progressing in his or her career.
Cabin Crew: A cabin crew member of a boarding plane is assigned with several tasks and responsibilities that involve attending staff meetings about flight schedule and route. A cabin crew member is responsible for checking supplies on the plane and ensuring emergency equipment is functioning efficiently. On flight, cabin crew members are responsible for ensuring that passengers are comfortable during their on flight journey.
Cabin Crew Trainer: A cabin crew trainer is also known as cabin crew instructor. A cabin crew instructor is responsible for providing accurate training to cabin crew staff to manage the passenger requirements and ensuring they stay comfortable throughout the on air journey.
Cabin Crew Supervisor: A cabin crew supervisor oversees the cabin crew team members and ensures that they are briefed about their work responsibilities prior to the flight. He or she is responsible for ensuring that there is no communication gap between cabin crew members and management to avoid any mismanagement on board flight and delays.
Cabin Crew Head: A cabin crew head is also known as chief purser. He or she is responsible for managing the cabin crew staff to meet needs of passengers. A cabin crew head ensures accurate security and safety procedures are observed. He also oversees food and drinks served in the right manner in the flight.
Flight Attendant Jobs and Salaries
What is the job outlook for Flight Attendant?
Flight attendant jobs will be in high demand. Airline Industry - as Air hostess, flight steward, traffic assistant, ticketing/reservation staff, Customer service agent, Sales/marketing staff, Airline call centers. Revenue passenger kilometer (RPK) in domestic airline demand growth of 18.6 per cent in 2018 was three times the global RPK growth of 6.5 per cent. Indian carriers are projected to increase their fleet size to 1,100 aircraft by 2027. Freight traffic on Indian airports is expected to cross 11.4 MT by 2032. India has 91 international carriers comprising five Indian carriers and 86 foreign carriers, which ensure that India is well connected with most major countries. Revenue passenger kilometer (RPK) in domestic airline demand growth of 18.6 per cent in 2018 was three times the global RPK growth of 6.5 per cent.
Student Also Liked:
Frequently Asked Questions for Flight Attendant
Que. What is the difference between a stewardess and a flight attendant?
Ans.
The terms "stewardess" and "flight attendant" describe the same basic job of tending to airplane passengers' needs and safety. "Stewardess," however, is an outdated term that has been replaced by "flight attendant" on all airlines.
Que. How does IGIA provide job assistance?
Ans.
We provide job assistance for one and half years after the successful completion of the course. We expect our students to get a job in this much period only. If they don't get a job offer within this period; our counselors will try & help the student in identifying and analyzing the reasons and suggest a remedial action to follow and prepare a career path that could be followed to achieve the ultimate career goal
Que. How long does it take to become a flight attendant?
Ans.
New flight attendants typically receive paid training after being hired by an airline, but flight attendant schools to train aspiring candidates do exist and some choose to pay for their own training before seeking a job. Training programs can take up to eight weeks to complete.
Que. Is a flight attendant costume different for different airlines?
Ans.
Yes, different airlines have different uniforms for their cabin crew members.
Que. How much does a flight attendant make in India?
Ans.
Different airlines have different pay packages but Air India pays the highest amount to its flight attendants. The initial salary is Rs. 40,000 per month.
You might also be interested in
Questions related to Flight Attendant
Showing 4 out of 4 Questions
The question have been saved in answer later, you can access it from your profile anytime.
Access now
Report Question
Select your reason of reporting