Who is a Forester?
The altruism of foresters can serve as a motto for humanity in general: "We reap what we have not sown. We sow what we do not reap ~ Léo Errera
There are people who have an immense amount of love and affection for greenery, trees, and forests. If you are one of them then becoming a forester can be your opportunity to grab a dream job. In the career as a forester, individuals will be taking care of trees, managing forests, and planting. A forester also aims at restoring as well as conserving the woods. The job of a forester is important for nature and to create a balance between deforestation and afforestation.
Their main aim is to have ecological restoration. As the name suggests a forester must be a professional wandering in forests. But there is something more about this wandering. A career as a forester requires you to implement the science of managing forests in your everyday work life. A forester is involved in various activities such as ecological restoration, timber harvesting, and management of protected areas. In this article, we will be discussing the details of a career as forester, such as a forester job, forester salary, and how to become a forester.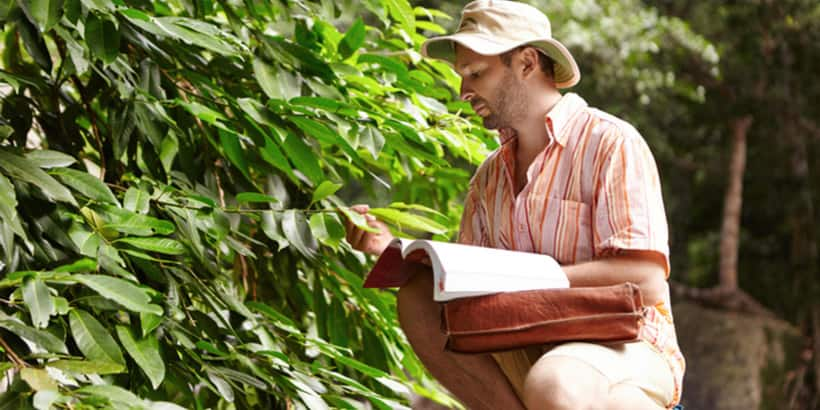 Forester in a Nutshell
A career as a forester seems so adventurous. Yet, it is no less than an adventurous ride in itself. But, it has its own sets of challenges. Staying for days in the woodlands, facing adverse weather conditions is not an easy job. There is wildlife which may turn into a threat to one's own life. There are also venomous insects and reptiles. The candidates are provided training to learn the skills to sustain in such conditions.
Quick Facts for Forester
Industry

Agriculture

Average Salary in India

₹30000

Suitable for

Male

A career as a forester is more suitable for the male gender. There are not any gender biases. The women having such technical skills and physical fitness to work in the woodlands of the forest are also preferred.

Any special needs

No

A career as a forester is not suitable for candidates with special needs. The career requires traveling in the woodlands which are natural habitats of wild creatures such as insects and animals.
Table of Contents for Forester
What is the role of Forester?
A forester oversees the woodlands of forests. A forester ensures the sustainability of the forest's land by keeping an eye on illegal activities such as poaching, deforestation, and other natural calamities too. A forester engages himself or herself in the harvesting trees and creating more forest areas, conserving wildlife by saving their natural habitats. A forester plans the creation of an original timber plan to ensure the protection of natural resources. He or she is responsible for forestry law enforcement.
Foresters are specialized in their respective areas such as timber forestry and conservation forestry. A forester monitors the ecological impact of harvesting timber. The privately-owned timber companies employ timber foresters. Timbers foresters oversee the farms and forest lands of the privately-owned timber companies. They are responsible for harvesting trees, approval of timber harvesting plans, looking after yields, selecting trees for harvesting.
Conducting technical surveys
A forester is responsible for conducting technical surveys in forests that involves the marking of timber, volume estimation, analyzing the condition of forest lands, and other related activities. The technology survey has been conducted among some of the faculty of an institution to determine their level of technology use and perceived usefulness from the use or non-use of technologies.
Collection of forest data
A forester is responsible for collecting the data from the forests such as the species of plants and animals, fire-affected areas, or other related data. Data collection is the method of collecting and evaluating information in an existing framework on specified variables, which then helps one to answer specific questions and assess information. Data collection is a research aspect in all fields of study like foresters.
Measuring forests
A forester often requires to measure the forest sample plots or establish such plots by reforestation. Forest measurements, one of the key elements of the forest management framework, is the science and technology of providing the numerical information required for forest management, planning, and analysis on trees and forest ranges.
Prepare contracts
A forester is also responsible for preparing contracts for the harvesting of forest products or other contracts. Contracts for the harvesting of natural resources are written or oral agreement between two or more parties. Individuals, corporations, non-profits or government entities may be the parties. Two or more parties with a contract agree to share services or commitments.
Marking trees
A forester work responsibility also involves the marking of trees for harvesting. Marking trees on the basis of spacing is a way of reducing friction amongst trees for resources and regulating forest floor lighting. Light management in improving the setting up and development of successful tree growth. A simple line of flags would work, marked with colour on the marked trees. They could only see the boundaries while you're in the harvesting sector.
Interpret aerial photographs
A forester is also involved in the interpretation of aerial photographs of the plots of forests. Photographic interpretation is the process of studying photographs with the aim of identifying things and evaluating their importance. There are several considerations that are recognized as in-depth in preparing topographic and forest maps from aerial photographs.
Evaluation of burned areas
Forests are more likely to catch seasonal fire due to adverse weather conditions. A forester is responsible for maintaining the burning records and evaluating them. A firebreak is a difference in vegetation or other flammable objects that functions as an obstacle for slowing down a bushfire or wildfire development. Firebreaks can sometimes be man-made, and many of them can happen naturally.
Wildlife protection
A forester is responsible for overseeing the human activities in the forest and preventing any harm to wildlife. Forestry is the study of forest growth and wildlife protection. Forests and wildlife are integrated as forests function as a habitat for wildlife and animals, and also as an environmental resource for food and medicinal herbs as well.
Wildlife emergency
Foresters are required to always be ready for such emergencies in the form of natural calamities such as fire or excess rain. A forester is also responsible for saving wildlife in such cases. Foresters need to look after the woods as well as the habitat of the forests, the wild animals to be safe and to preserve them and provide a better environment to live in.
Types of a Forester
Farmer: A farmer is someone who is involved in the agricultural occupation. Farmers grow food products for human and animal consumption. There are also poultry farms where farmers raise animals for milk and eggs for human consumption. While there are farmers who grow varieties of crops in the fields of farmlands.
Environmentalist: An environmentalist is a professional involved in the protection of the environment from degeneration. An environmentalist works to prevent the extinction of animals and birds from the earth. He or she is responsible for protecting the elements of the environment such as air, water, trees, and other natural resources from pollution, deforestation, or other harmful causes.
Food Scientist: A food scientist is involved in creating technology, methods, and ways to ensure safety and hygiene in producing processing, and shipping food. A food scientist examines crop health and animals for human consumption. A food scientist either works in a laboratory or field.
Botanist: A botanist is a highly educated and skilled scientist who studies plant life and organisms. The field botany is very broad, it encompasses the study of more than three hundred thousand species of plants ranging from ground-hugging mosses to giant redwood trees.
Ecologist: An ecologist is a scientist who studies about how living beings like animals and plants interact with their environment. To be an ecologist, first an individual has to learn about ecology as a subject.
Conservationist: A conservationist is someone who protects and preserves natural habitats such as forests, rangelands, parks and other areas. A conservationist is also known as a conservation scientist, soil scientist, or water conservationist. A conservationist career is also known as a green career.
Wildlife Enforcement Officer: The wildlife enforcement officer is a professional responsible for enforcing laws on matters of wildlife and natural resources. A wildlife enforcement officer works in a less populated area, unlike other law enforcement officers who work in populated areas. A wildlife enforcement officer is required to be equipped with both skills and equipment.
Also read - Career as conservationist
What is the workplace/work environment of Forester like?
People might be thinking that a forester works in open fields or woodlands of tropical forests. But it is partially true. A forester may work in an office as well but his work responsibilities require him to spend most of his or her time in outdoor remote areas. Individual in the career as forester has to work in challenging conditions, sometimes he or she may have to deal with terrific weather conditions. A forester's role demands him or her to be physically strong enough to spend days in the woodlands and work hard. Woodlands are not easily accessible places, it requires several hours to reach work sites.
A career as forester involves spending time in the forest and takes a few days off between work periods. Their work hours may stretch as it is not always fixed like any 9:00 am to 5:00 pm jobs. During the period of natural calamities such as forest fires or similar emergencies, foresters are required to work longer hours to bring the situation under control.
Does Forester require travelling?
Likely
A career as forester requires travelling to outdoor places. They may own an office but can't limit their work there. Foresters require to spend most of their time in the woodlands.
Employment Shifts
Full Time
A career as forester involves working full-time. There is no room for work from home neither for hourly basis employment in this career. The forester's job requires a dedication towards work to ensure the conservation of the natural habitat of the wildlife creatures.
Employment Nature
Contractual, Permanent
A career as forester is permanent as well as on a contract basis. It completely depends on the requirement of the organization. The contractual duration typically extends to six months, one year, or two years.
Work Place
On-Field
The woodlands or forests are not comfortable workplaces for every person. Physical fitness and consciousness are important to work in such habitats. There are insects, reptiles, and wild animals inside the forests. A lot of safety measures and training are required to work in such habitats.
Presence in Geographical Area
Rural, Semi-urban
Woodlands are found in rural areas or semi-urban areas. There are the least woodlands in urban areas.
Time Pressure
Likely
Although most foresters work in offices, some collect and analyze samples in laboratories or work in the field. Foresters who work in fields or outdoors are more likely to face time pressure because of factors such as traveling discrepancies, or weather conditions.
Overtime Details
Generally, foresters work according to their time schedule. However, if there is a deadline to be met for a company, foresters sometimes work extra hours. Foresters work overtime, depending upon the roles and responsibilities they're required to fulfill.
Weekly Hours of Work
Min 40 Hours
A conservation forester working for state and federal agencies has a schedule. They work forty hours a week. But, other foresters do not have a fixed schedule. During the time of natural calamities such as forest fires and floods, a forester requires to work extra hours.
How to become a Forester?
Steps to become a Forester
What are the skills and qualities required to become a/an Forester?
Here, in this section, we will be discussing how to become a forester and the skills that are required for forester job.
Time Management: Time management is the method of preparing and implementing active regulation of the time spent on particular tasks, particularly in order to achieve high performance, better productivity. It requires, with the finiteness of time, a balancing act of changing demands on an employee in relation to work, social existence, health, leisure, personal ambitions, and obligations. Time Management is an important aspect as forests are vast and it may require time for the survey. It is important to leave forests before darkness.
Communication skills: Communication focuses specifically on achieving targets and objectives which is the growing profits of the investor in the case of a public company or other organization. The method of communication means recognizing, exchanging, and significance and consists of the following essential components: origin, message, channel, recipient, suggestions or responses, surroundings, interpretation, and involvement. Individual in the career as forester might have to interact with the indigenous tribe living in forests. It is necessary to understand their gestures and communicate with them.
Problem Solving ability: Problem-solving is interpreted as implementing processes in order to reduce or remove barriers that prevent them or others from managing the organization's strategic business objectives. Understand the problems and set it out and focus on the issue according to scale, possible effect, and priority. There are times when decision-making and problem-solving skills prove to be life-saving during natural calamities and other conditions.
Science Skills: The primary objective of science skills is to enable the individual to use the abilities of scientific processes; in other words, is being able to describe the issues concerning them, assess, evaluate, make the assumption, experiment, reach the conclusion, make generalizations, and process the knowledge they have with the relevant skills. It requires a lot of calculations while planting the new trees and science skills are equally important to become a forester.
Also read - Career as wildlife enforcement officer
Which certifications and internships can be helpful in becoming Forester?
Internship Availability
Yes
Internships are a great way to catalyse your career as a forester. Internships work as a guide to how to become a forester. Internships in professional organizations such as research labs, industry, small businesses, NGOs, government agencies, nonprofits, and education prove to be useful for initial training. The work task may vary as per organizations. The intern may be required to guide visitors and track illegal trails such as hunting in a bio reserve. A student learns about ecological restoration with native tree species through a combination of practical work and data analyses in the context of many current research projects during internships.
Forester Jobs and Salaries
Forestry science technicians
Monthly Salaries
Average Salary

30000

Junior Level Salary

25000

Senior Level Salary

60000
Job Description
Forestry science technicians protect, preserve, and collect information on acres and acres of natural environment like forests and mountain ranges. Forestry technicians conduct a range of tasks, such as pollution control, data analysis, implementation of regulations, and repair of trails
Salary Description
Forestry science technicians may begin their career to receive up to four lakhs per year. Forestry science technicians with experience and skills will be compensated an average salary of more than seven lakhs per year.
What is the job outlook for Forester?
The government agencies manage forests and rangelands. The suppression and prevention of wildlife fire have become an important concern for government agencies. Job growth is ensured in the area of local and state government. Private consulting firms also ensure good opportunities. The changes in weather patterns and the development of unused land has increased the risk of wildfires. This has increased the employment opportunities of foresters in government sectors.
The growing demand for timber projects of private-owned forests has also increased the jobs for foresters. The city planning, revitalisation, and eco-management projects have increased the additional positions for urban foresters. The conservation programs have resulted in the increased requirement of foresters for the use of forests to mitigate carbon emissions and develop renewable energy forms. Foresters with expertise in the GIS (Geographical Information Systems) technology, remote sensing, and other required software tools find better opportunities.
Frequently Asked Questions for Forester
Que. What are the top entrance examinations one can pursue in order to become a forester?
Ans.
The following are the top entrance examinations one can pursue to become a forestor - Joint Entrance Examination Main, Birla Institute of Technology & Science Admission Test, Indian Institute of Science Education and Research Entrance Examination, Joint Entrance Examination Advanced, SRM Joint Engineering Entrance Examination Engineering.
Que. Do foresters get weekends?
Ans.
It depends on organizations and workplaces. In some organizations, foresters work on regular hours and get week offs. While in some organizations, foresters do not get weekly offs. Their work responsibility varies from the regular nine to five jobs. They get holidays for a few weeks once or twice a year.
Que. What is the average salary of a forester?
Ans.
A forester with skills and experience can expect anything between Rs.3,00,000 to Rs.5,00,000 per annum.
Que. How much a bachelor of science in forestry costs?
Ans.
The average fees of a B.Sc. (bachelor of science) in forestry may cost up to Rs. 5000 to Rs. 3,00,000 for four years.
Que. What is forester?
Ans.
A person who engages in forestry, which is the science, art, and profession of managing woods, is known as a forester.
Que. What does a forester do?
Ans.
A forester works to preserve wildlife by preserving their natural habitats by cutting down trees and establishing new forest areas. To ensure the preservation of natural resources, a forester prepares the development of an original timber plan.
You might also be interested in
Questions related to Forester
Showing 1 out of 1 Questions
105 Views
how can find jobs in Forester department
Hi Sweta!
Different States have different Criteria for them hiring in their Forest Departments. Incase of Tamil Nadu, they have 1178 posts for Front Line Staffs.
Which includes 300 Foresters, 726 Forest Gaurds and 152 Forest Gaurd with Driving Licence. The Exam will be Online Mode and later, the selected Candidates are called for Certificate Verification, Physical Standards Verification, Endurance Test and Personality Test!
So, every State has its own way of recruiting. Kindly view in their respective Offical Website for further more details!
Hope this is helpful!
All the best!
The question have been saved in answer later, you can access it from your profile anytime.
Access now
Report Question
Select your reason of reporting