Who is a Botanist?
Botany the eldest daughter of medicine ~ Johann Hermann Baas
Do you like to be around the greenery? Or do you like to be outdoors gazing at several plant species? What if you can get paid to be around them and know them more, it is true, that's what a botanist does. It's his or her job to explore several plants, find new ones and study the harmful effects of pollution on plants. Not only that, but a botanist also studies plants and its parts for medicinal purposes or if they are fit for human consumption and several such tasks. A botanist is an expert on plant life and organisms. Their field is very broad, it encompasses the study of more than three hundred thousand species of plants ranging from ground-hugging mosses to giant redwood trees. Many Botanists work in colleges and universities where they conduct research. While some are employed by government agencies. Although their jobs may differ widely, most botanists are scientists who carry out research at least some of the time.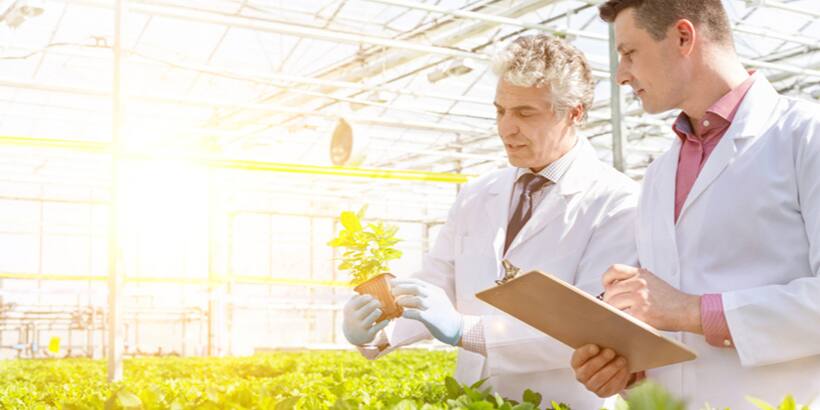 Botanist in a Nutshell
It is necessary to score well to have a better future as a Botanist. Various public sectors in India such as the Botanical Survey of India (BSI), National Institute of Oceanography (NIO), Indian Agricultural Research Institute (IARI), and Indian Council of Forestry Research and Education (ICFR) offer numerous jobs for a Botanist every year. Being a botanist requires the appropriate education as well as persistence, attention to detail, and a keen interest in evaluating numerous aspects of plant life.
Quick Facts for Botanist
Average Salary in India

₹27500

Suitable for

Male, Female

An individual from any gender can become a botanist. This field is not gender-specific. Anyone with the right attitude and skill can become a botanist.

Any special needs

Yes

This career is suitable for candidates with special needs as long as the disability does not hinder the daily functioning of the professional. As long as there is not affect, anyone can become a botanist.
Table of Contents for Botanist
What is the role of Botanist?
Botanists work in a wide variety of settings. They also focus on the agricultural applications of plants used for making food, fiber, fuel, turf, and cover crops, studying thor responses to stress from pests, disease, and climate variations. Botanists work on plant breeding to develop harder strains and conduct experiments to enhance the yield, disease resistance, drought resistance, or nutritional value of crops. The important work of botanists is critical to environmental conversation. Their job also includes ecological work, managing a botanical collection, searching new species, identifying, classifying, recording, and monitoring plant species and biodiversity.
Collection
Botanists collect all sorts of plants to identify their properties and for research purposes. Collection of various samples of plants for testing purposes forms an essential part of the botanists job profile. From a garden to the deep within the jungles, botanists collect specimens from all sorts of environments to understand particular properties.
Monitoring
Botanists also monitor different plant species in order to understand their physical properties. In order to fully understand how a bio-organism works, continuous monitoring is required of the specimens that have been collected. This monitoring can range from a few hours, to a few days, weeks and even months in order to fully understand the functioning of a plant.
Surveying
Surveying forms an important part of a botanist's job. He or she carries out an environmental survey to identify plant species, their natural habitat, and other aspects related to plant life.
Breeding
Botanists are also responsible for breeding and developing crops that are less susceptible to diseases, pests, and drought or other natural or man-made calamities. With the rise in population and the changing of the weather conditions, it is essential to produce a resilient breed of crops.
Types of a Botanist
Airport wildlife biologist: A qualified airport wildlife biologist helps to ensure passenger safety by analyzing potential wildlife hazards at airports and recommending strategies that can be implemented to reduce the attractiveness of that airport to wildlife that could pose a risk to human life and aircraft.
Aquatic biologist: Aquatic biologists study organisms in lakes, streams, ponds, oceans and other bodies of water. Biologists specialize in species based on their environment. Because of the number of bodies of water on Earth, as well as the vast diversity of organisms that live underwater, projects and roles do vary.
Environmental quality analyst: Environmental analysts examine and study the interaction of the environment and people, as we live, pollute and change the earth. Environmental analysts may work in the public or private sector, analyzing data about different topics such as soil, water, or air pollution, geology, or hydrology. A bachelor's degree in environmental science or a related major is typical for entry-level positions.
Farm manager: A farm manager is responsible for the management and general maintenance of a farm. On a crop farm, a farm manager will supervise the fertilizing, planting, spraying, cultivating and harvesting procedures of crops.
Fish and wildlife technician: Wildlife technicians help with data collection. This typically means inventorying wildlife populations, trapping and tagging animals, and taking blood and tissue samples. They may also collect samples of water, soil, and plants. Wildlife technicians evaluate the health of animals, looking for signs of illness. They're often responsible for caring for captured animals.
Laboratory technician: Lab technicians are skilled workers that work with complex systems or perform highly technical mechanical or diagnostic tests in medical or scientific laboratories. Depending on the field, technicians may work independently or under the direction of a professional
Wetland scientist: A wetland specialist works in the natural science profession assessing the health of wetlands and determining through field experimentation how human and natural activities influence a wetland's physical conditions.
Also read - Career as a conservationist
What is the workplace/work environment of Botanist like?
Working conditions vary widely throughout the field. Some botanists work indoors in clean, well-lighted laboratories. Others spend much of their time outdoors or in greenhouses. Some botanists need to travel from time to time to sites where they can collect plant specimens
Does Botanist require travelling?
Likely
Yes, Some botanists need to travel from time to time to sites where they can collect plant specimens.
Employment Shifts
Full Time
Their working hours are generally flexible but sometimes have to work rotating shifts.
Employment Nature
Permanent
Botanists need to have a permanent working employment nature.
Work Place
Private Offices Factory, On-Field, Laboratory
Botanists need to work in Laboratories, On-Field maintenance and Private Office Factory for checking the new development and health condition of plants.
Presence in Geographical Area
Semi-urban
Urban environments pose unique challenges to any plant. Cities are generally warmer, have significantly higher CO2 levels, and experience altered levels of disturbance and precipitation patterns than do rural areas nearby. urban plants produced far more seed than their rural counterparts. This very well may be due to the fact that urban plants tended to be larger.
Time Pressure
Likely
Time pressure is quite active for botanists. Apart from performing their own research and work, they are also required to supervise and verify the work done by their team members. Hence, botanists work under a lot of time pressure.
Overtime Details
The allotted working hours for botanists is nine hours per day typically. But because of the responsibilities assigned to them, they work overtime for half the time in a month.
Weekly Hours of Work
Min 40 Hours
Often total more than forty hours a week.
How to become a Botanist?
What are the skills and qualities required to become a/an Botanist?
Scientific skills: An Individual should have knowledge of biology and chemistry, which are the core subjects of botanists. The aim of scientific literacy is to allow employees to use the skills of scientific processes; basically to be able to identify the issues concerning them, evaluate, observe, hypothesize, analyze and implement new information they have with the skills that are needed.
Research skills: The research's main objective is to explain the action, demonstrate a concept, and lead to the improvement of knowledge in a profession or study. A resource for knowledge-building, development, and implementation. It focuses on understanding and to increase public awareness of various major problems. Strong research skills help with projects. It helps in understanding the plants better.
Evaluation skills: Evaluative skills should be used to validate the authenticity of assertions made or posted by individuals, and to enhance the relevance of reasoning displayed by individuals when making an argument or giving explanations. The accuracy of claims and the integrity of speakers and authors can be measured by people with decent assessment skills. Critical assessment skills involve analysis, review, perception, assessment, judgment, inference, description, problem-solving, and decision-making. Individuals always need to pay attention to details, what the other person is saying. It might be useful in your work.
Problem-solving ability: Problem-solving skills involve the ability to cope with challenging or unpredictable workplace situations, as well as complexities regarding business problems but here, for this profession it regarding the plants. Institutions count on people who can analyze all types of problems and find solutions in a rational way. One should know how to handle difficult or unexpected situations while working outdoors/field.
Communication skills: Communication is an important the transferring of knowledge between one place, individual to another. Each interaction requires one transmitter, a text and a receiver. Which may look easy, but interaction is, in reality, such a complicated matter. Communication skills are must, one must know how to communicate with others, Explain in a way that people can understand. Use simple language while communicating.
Attention to detail: Eye for detail is the ability to perform a task with attention and accuracy. Attention to detail is helpful because it makes to avoid mistakes and to make the work environment extremely easy. Paying attention to the smallest details will translate your ability to analyze and solve problems, especially small troubles. One mistake can lead to incorrect information, one needs to be accurate and pay attention.
Patience: Patience is not the secret to success but a secret to achieving your goals. Patience often allows one to achieve a positive outlook by optimistic attitude. It also makes the work easier and much more productive. Patience is how an employee do the effort and they need to accomplish their objective. Patience is the ability of calmly waiting, without worrying. A person should know how to react in difficult circumstances.
Which certifications and internships can be helpful in becoming Botanist?
We have mentioned below certifications that aspiring individuals can opt to upgrade their skill sets to perform efficiently as a botanist.
Internship Availability
Yes
Internships provide you valuable experience and expertise that can help you secure your dream (R&D) job in the biotechnology industry. Whether an internship is paid or unpaid, it doesn't change its value. It is an investment in your future. The best part about internships is that it teaches students about the specific industries and institutes they are interested in. Companies are much likely to hire a candidate having internships and practical knowledge rather than a candidate with a generic resume, lacking experience. Internships provide you the base you need for your future. So it is very necessary to choose internships according to your interest. An internship will help you in building your stores so that when you're ready to go on job hunting, you have the skills, the experience, the desire, and the confidence to make it happen.
Career Path Progression for Botanist
Industrial Ecologists: Industrial ecologists are scientists who work with factories and other industrial sites to help them use resources more efficiently and prevent damage to surrounding ecosystems. An industrial ecologist might, for example, take samples from nearby waterways to determine if chemicals from a factory are leaking into rivers, and develop a plan to help filter these out to better protect local plants and wildlife.
Agriculture Plant Scientists: Plant scientists in agriculture use their knowledge of botany to increase crop yields, achieve greater production, minimize waste, or fight pests that reduce yield. A plant scientist might, for instance, develop a new means of ensuring soil remains fertile by alternating different crops, or search for less-damaging alternatives to pesticides. Beginning a career as a plant scientist typically requires a bachelor's degree, although high-level research positions may be limited to those who hold PhDs.
Soil and Water Conservationists: scientists who work to conserve natural resources. They work on plans to keep soil from being depleted of nutrients or to prevent underground aquifers from running dry. Planting trees to prevent erosion of soil by a nearby stream, for example, might help to sustain the land in an area and allow it to remain useful for many years to come.
Horticulturist: Horticulturists care for and develop plants of all varieties, but are generally not concerned with creating the massive crops seen in industrial agriculture. Horticulturists might grow plants such as flowers or trees which are only intended for beautification, rather than consumption as food or raw materials. They will often create new and unique cultivars that help certain species better adapt to the growing conditions of regions where they are not native. They may also focus on how different plants react when grown in proximity to one another.
Also read - Career as ecologist
Botanist Jobs and Salaries
Horticulturist
Recruiter
The International Crops Research Institute for the Semi-Arid Tropics
Monthly Salaries
Average Salary

25000

Starting Salary

20000

Junior Level Salary

20000

Senior Level Salary

60000
Job Description
Horticultural workers carry out different gardening duties in settings such as nurseries, parks, and botanical gardens. They operate under a supervisor's guidance, and after many years of job experience, can progress to a managerial position.
Salary Description
Basic income based on organizational knowledge and experience. The entry level salary may be up to three lakhs annually, and, depending on the experience, could eventually be more than seven lakhs per year at the senior level.
Agricultural Plant Scientist
Recruiter
The International Crops Research Institute for the Semi-Arid Tropics
Monthly Salaries
Average Salary

30000

Starting Salary

20000

Junior Level Salary

20000

Senior Level Salary

70000
Job Description
Agricultural plant scientists are studying plants, animals, and soils for analysis and eventually increasing the quality of nutrition, agriculture, or the ecosystem. In agriculture, plant scientists use their mastery of botany to increase agricultural productivity, generate higher production, reduce waste, or tackle yield-reducing pests.
Salary Description
Salaries in this sector rely on the skills and experience in this area. Rs. four lakhs per year is the entry-level salary. Those with some experience can earn up to Rs. eight lakhs per year at the top levels.
What is the job outlook for Botanist?
Not all botanists get the jobs of their choice, as it depends on how skilled they are at what they do. Organisations/industry usually hire those who have requisite formal academic qualifications in botany or allied subjects with experience in their field of specialisation they require. The demand for phytomedicines & herbal extracts is increasing significantly in various applications, including skincare, health care, functional food, nutraceuticals, and cosmetics, due to the growing awareness of its health benefits among consumers. Also, improper use of antibiotics causes certain bacteria strains to develop resistance, which further leads to fatal consequences. These instances have encouraged the demand for plant-based medicines and supplements. Herbal medicines are witnessing an increasing preference as they mainly protect from several infections and are considered better alternatives for existing and emerging antimicrobial drug-resistant (ADR) pathogens.
Frequently Asked Questions for Botanist
Que. Should I study botany?
Ans.
Botany is important primarily because it is the scientific study of plants, which are in turn used in many aspects of human life. Botany is an important field of science that is very much related to plants. Botanists interested in ecology study interactions of plants with other organisms and the environment.
Que. Is Botany a growing field?
Ans.
Plant science is a growing field as more and more people recognise how vital plants are to several aspects of society. However, some areas are more competitive than others.
Que. What is the oldest branch of botany?
Ans.
The oldest branch of botany is plant taxonomy, which is the classification, naming and description of plants.
Que. Which is harder botany or zoology?
Ans.
However, the idea that botany is more complex than zoology isn't universally true. And in zoology, there are vertebrates and invertebrates. Those classical portions are a little bit of boring. There are many difficult terms and they are hard to remember.
Questions related to Botanist
Showing 1 out of 1 Questions
16 Views
What are the types of botanist ?
Hey friend!
Botany is a biological study of plants or multicellular organisms that carry out photosynthesis. As a biology division, botany is often referred to as plant science or plant biology.
- Agriculture and Crop Science: This is an agricultural science in the area of crop production and land conservation.
- Algology and Phycology: This is the Algae Research.
- Bacteriology: This is the study of bacteria (also considered to be part of microbiology).
- Bryology: This is a study of mosses and liverworms.
- Mycology: This is a fungus research.
- Paleobotany: This is a study of the fossils of plants.
- Anatomy of plants and physiology: This is an analysis of the form and role of the plant.
- Biology of plant cells: This is an analysis of cell structure and function.
- Genetics of Plants: This is a genetic inheritance analysis of plants.
- Pathology of Plants: This is the study of plant diseases.
- Pteridology: This is the study of ferns and their relatives
All the best friend!
The question have been saved in answer later, you can access it from your profile anytime.
Access now
Report Question
Select your reason of reporting