Who is a Ecologist?
Time spent among trees is never time wasted ~ Katrina Mayer
The world consists of a huge variety of living creatures and if you wish to know about them then being an ecologist can be the right career choice for you. As an ecologist you will be required to study the relationship between an organism and the environment. There is a lot to study in this field but it will only bring you closer to your environment. As an ecologist, you can also work in the field of nature conservation which is currently the need of the hour. Individuals who opt for a career as ecologists are scientist who studies about how living beings like animals and plants interact with their environment.To be an ecologist, first an individual has to learn about ecology as a subject. Ecology is defined as the study of organisms and how they relate to their environment. It is a detailed study about the behaviour of animals and plants in the ecosystem. Here in this article we will be providing you what do ecologists do, ecologist education requirements, what is an ecologist and other details about ecology careers.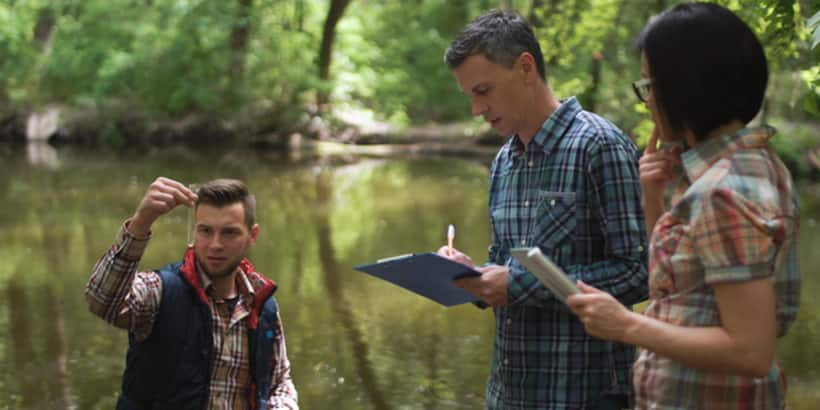 Ecologist in a Nutshell
An ecologist is the professional responsible to look at the impact of housing, recreational facilities and farming methods and urbanization on the environment. Individuals who opt for a career as ecologists are also involved with conservation programmes and providing scientific expertise in support of management decisions. Making a career in the field of ecology is a smart choice. The demand of ecologists is growing day by day. In the current scenario, there are so many career opportunities available for an ecologist in so many fields related to the environment. An ecologist is in demand in a lot of fields like agriculture, nature conservation, forestry, environment pollution control, regional development and many more.
Quick Facts for Ecologist
Suitable for

Male, Female, Others

Individuals can take up a career as ecologists, it is not gender-specific. Men, women, and others can choose a career as ecologists. An individual from any section or gender can become an ecologist. It doesn't matter which gender he/she belongs to when it comes to taking up a career in ecology. Being an ecologist is one of the most desired professions where an individual's gender is insignificant. The field of ecology is opening up with new prospects which makes it attractive to a growing number of students, including women. Women in the field of ecology have been growing in recent times. The past decade has shown significant growth in the number of women ecologists.

Any special needs

Yes

Everyone, including those with physical disabilities, is appropriate for individuals who opt for a career as ecologists. Career as ecologist is well suited to everyone, even those with special needs. When it comes to an ecologist's job it is better to be physically fit for a better and more efficient way of working. However, there is no hard and fast rule that it is compulsory to be physically fit in order to become an ecologist. As long as the disability doesn't come in the way of one's work they are good to go for an architecture career.
Table of Contents for Ecologist
What is the role of Ecologist?
The work of the ecologist brings the knowledge and tools that are needed to protect it. Ecologists use their expertise to solve environmental problems. Ecological work includes investigating the factors at play in a disturbed ecosystem, anticipate potential effects of proposed actions, or design sustainable practices. The ecologist may do fieldwork to collect and analyze data on environmental conditions or to assess or certify a habitat. An ecologist uses the information they gather to plan habitat management or environmental restoration projects, including procedures, resources, schedules, and budgets. Individuals who opt for a career as ecologists communicate their recommendations to landowners, clients, and policymakers, often with maps made with geographic information systems (GIS) or diagrams created with computer-aided design (CAD) programs.
Testing
It is essential to ensure that the process does not result in inadequacies and that in the future or in the development stage it can be very costly to maintain. Appropriate testing is done to ensure that every product or environment detects defects and issues early in its initial stage of the development process. Individuals who opt for a career as an ecologist develop and test hypotheses about populations, communities, and ecosystem function.
Research work
Ecology is necessary for the sustainability of biodiversity, natural resources, and agricultural productivity. Without a clear knowledge of biodiversity and it would be pointless to research other fields and the human race would be endangered. A collection of research studies with real-world applications created to assist enhance our ability of employee relations issues like ensuring conformity and job prospects, discovering solutions to minimise stress in the workplace, analyzing productivity and job satisfaction among people, and other subject matters. Ecologists conduct field, lab, and theoretical research.
Analysis
In the profession of ecologists, data analysis is necessary to understand the challenges an organization faces, and to analyze data in practical ways. Data are mere verifiable facts and figures in existence. Data analysis assembles, interprets, structural elements and provides the data into meaningful information that further will provide the changes in internal and external data. An ecologist analyses data using statistical models.
Conduct studies
With a thorough understanding of the situation, defining your choices, rivals and associates would be simpler. This will help the management of the community get familiar with the issue and then do something meaningful. It will really serve to strengthen the confidence of the community. Studies determine the future, the ecologist teaches us interesting concepts and they encourage everyone to adapt and develop. Research ecologists study plant and animal characteristics over time.
Assessing
Assessment is an important component of knowledge. Continuous and frequent proposed additional intermediate stages in the education and training development. The assessment offers knowledge and suggestions on what was learned and what more needs to be learned. The objective of the assessment is to recognize the ecosystem structure and work to establish strengthened management options. Research ecologist assesses the biodiversity of ecosystems and examines influencing factors like pollution.
Advisory
The primary role of advising the members in the workplace about ecosystems is to protect or restore the structure, function and compilation of plants and animals inside the structure. This could get difficult soon, as everything else in an environment has an adverse effect. The best way to protect an ecosystem is by viewing it from a specific point of view. In addition, the creation of models for predicting ecosystem response to changes contributes to developing a specific management strategy. Research ecologists provide useful data and advice to internal and external parties.
Model Making
Models allow ecologists to visualize large-scale experimental studies that would be just too expensive or unethical for actual ecosystem performance. For various purposes, the ecologists use quantitative models. Most essential, quantitative models transform environmental theories into assumptions that can be assessed in light of unknown or proposed data. Research ecologist uses modelling techniques to assess the potential impact of ecosystem changes.
Types of a Ecologist
Conservation Scientist: Conservation scientists focus on natural resources, and finding the balance between the use of resources and conserving them for future generations and the health of the planet. Conservation scientists oversee forest workers and technologists, direct their tasks and assess their performance. These types of ecologists make suggestions to the workers and technologists who generally do the manpower required to preserve the forest adequately.
Environmental Scientist: Environmental science covers a wide variety of occupations, from researching and working with polluted land and water to tracking air quality. An environmental scientist safeguards human wellness and the environment by natural science research and education. They assess the potential dangers and consequences that the environment may be suffering from a wide range of chemicals, advise policymakers, clean up harmful pollutants and promote waste management sectors.
Wildlife Biologist: A wildlife biologist researches the wildlife population including their effect on the environment and on the endangered species. The primary responsibility of wildlife biologists is to research the biology, behavioural patterns, and habitats of a diverse array of wild animals and natural ecosystems. Also, these types of ecologists can operate in conservation or research positions for the state and often within agencies.
Administration and Teaching: A Ph.D. in ecology or related environmental science offers the best long-term prospects for employment. These types of ecologists could teach at the university level with a doctorate; function as a professional environmental consultant for private consulting companies; and become an administrator or senior project manager for government organizations.
Forester: A forester is involved in a variety of activities, including ecological restoration, timber harvesting, and protected area management. They supervise the ongoing activities in the forests that include conservation, outdoor recreation, aesthetics, hunting and extraction of raw materials.
Botanist: A botanist is a highly educated and skilled scientist who studies plant life and organisms. Their field botany is very broad, it encompasses the study of more than three hundred thousand species of plants ranging from ground-hugging mosses to giant redwood trees.
What is the workplace/work environment of Ecologist like?
Individuals who opt for a career as ecologists work outside doing field research on land or underwater. Others work in labs, or work in the community with natural resource managers or government officials who develop policies. Some ecologists work in offices where they analyse data and build computer models. Ecologists work for educational and other nonprofit organisations, government agencies, research centers and private companies.
Does Ecologist require travelling?
Likely
The job of an ecologist is mainly in the field so they keep travelling to the area of work. But the ones who work in the labs do not have to travel.
Employment Shifts
Full Time, Part Time, Hourly Basis, On Call, Work From Home
Individuals who opt for a career as an ecologist work on a full time basis. The ecologists who work in the field of agriculture for instance may have to work for extra hours depending on the season. But, the ones who do research work generally have a 9-5 job.
Employment Nature
Permanent
The nature of employment of an ecologist is permanent.
Work Place
An ecologist for instance working on the pollution levels of a metropolitan city will have to work in an urban environment. But, on the other hand if he/she is assigned to study the agricultural environment then they might have to work in rural geographical areas.
Presence in Geographical Area
Rural, Semi-urban, Urban
Individuals who opt for a career as an ecologist can be assigned to work in any kind of geographical area beit urban, rural or semi-urban.
Time Pressure
Likely
The time pressure for ecologists is quite moderate. Ecologists' working hours tend to fluctuate depending on the nature of the work being carried out. However, an ecologist working in a laboratory or an office will enjoy a much more consistent daytime working schedule. Which is like a 9 to 5 job with weekends off. Individuals who opt for a career as ecologists tend to spend a lot of their time working outdoors in all kinds of weather. Hence, for ecologists working outdoors, time pressure is a little high.
Overtime Details
Individuals who opt for a career as ecologists work on a full-time basis. The ecologists who work in the field of agriculture for instance may have to work for extra hours depending on the season. And so they are required to work overtime. But, the ones who do research work generally have a 9-5 job.
Weekly Hours of Work
Min 45 Hours
Ecological work hours tend to fluctuate depending on the nature of the work being carried out. For instance, if you're working out in the field, your schedule will be determined by the seasons and the specific ecosystems that you are investigating. However, an ecologist working in a laboratory or an office will enjoy a much more consistent daytime working schedule. Which is like a 9 to 5 job with weekends off.
How to become a Ecologist?
What are the skills and qualities required to become a/an Ecologist?
When it comes to how to become an ecologist, the first thing that they should know about are the ecologist skills. Some of the essential skills we have mentioned below.
Interest in the natural world: Since an ecologist works in order to improve the quality of the environment that people live in, it is important for him/her to have love for nature. People have to love and care for nature and living creatures as it is essential to have the environment pure. Humans would not be capable of surviving without plants and trees. The environment is good and healthy and helps you to keep breathing. Ecology carer depends on the fact they need to be concerned about the environment. These are the most important ecologist skills.
Analytical skills: It is one of the most important ecologist skills. An ecologist must have analytical skills as they conduct various tests, do research, and many other functions which demand analytical skills. Analytical skills enhance the ability to compile and evaluate knowledge, to solve problems by making choices. Workers who have these skills which will help solve various problems and increase its profitability and performance.
Communication skills: Individuals who opt for a career as an ecologist must have good communication skills in order to make the people he/she is working for, understand their perspective. Communication skills are the tools that you use when you provide and accept various types of information. Some instances involve sharing the plan with new ideas, thoughts or perhaps a change. Good communication skills require listening, speaking, understanding, and compassion.
Technical skills: An ecologist also spends a lot of time on a computer in order to carry out various tasks. Therefore, they should be able to operate the system with efficiency. There are a number of reasons why technical skills are essential. They will enable you to perform more efficiently, increasing your confidence and make you a more appealing prospect for employment. In fact, workers with specialized competence in a demanding and dynamic profession also get better at multitasking.
Learning skills: Individuals who opt for a career as ecologists must be interested in fieldwork, they need to spend an adequate amount of time working in the fields and be willing to learn the tricks of the trade. Learning at work will boost the performance of workers by giving them the opportunity to evolve with the business and contribute to a community centred around success. When provided the chance to do so, employees are also more likely to achieve success.
Which certifications and internships can be helpful in becoming Ecologist?
We have mentioned below several certifications offered in the field of environmental science that aspiring individuals may opt to upgrade their skills.
Internship Availability
Yes
Internships are the best possible ways to gain practical knowledge about the field of work. Several organisations and companies give students the opportunity to intern with them while they are still studying. Not only that, if a student performs well in his or her internship period then the firm may call the student back to work with them on a full-time basis. When it comes to the ecology jobs, internships are very important since they give the student hands-on experience. Individuals who opt for a career as ecologists could look for an internship on several web portals or could contact the organisation of his or her choice directly.
Career Path Progression for Ecologist
Junior Ecologist: They identify common or indicator species using appropriate aids.
Ecologist: Ecologists identify all species of a taxonomic group, or most species within a given habitat type using appropriate aids.
Senior Ecologist: Senior ecologists identify all species (including a limited number of critical species) of a taxonomic group, or nearly all species within a given habitat type using appropriate aids.
Principal Ecologist: Principal ecologists demonstrate specialist knowledge of a taxonomic group or habitat type and identify all relevant species within that taxonomic group or habitat type. These types of ecologists design, supervise and mentor complex and large geographical scale ecological surveys, which are fit for a specific ecological purpose.
Urban Ecologist: Urban ecology is a recent field of study compared to ecology as a whole. Urban ecologists study ecosystems that include humans living in cities and urbanizing landscapes. To be more specific, they study the relation of living organisms with each other and their surroundings in the context of the proposed urban environment.
Forest Ecologist: Studying and classifying the different species of plants, animals and insects in the forest is one of their major tasks. These types of ecologists will also study the impact of humans and global warming on forest soil and climate.
Marine Ecologist: this branch of ecology deals with aquatic life and the impact it has on the environment that we live in. Marine ecologists will study aquatic life forms like fish, plants, etc and study the impact on their environment. These types of ecologists will also work in zoos, and aquariums to help preserve and protect marine life forms.
Restoration Ecologist: They work in areas where there has been ecological damage like deforestation and try to revive the environment by planting trees and at times removing non-native weeds. Restoration ecologists will work on projects dealing with reviving the environment by introducing measures like re-vegetation.
Wildlife Ecologist: Wildlife ecologists study animals, especially animal populations, and seek to identify ways in which those populations can be helped. The main objective of an ecologist working in this setting is to promote healthy animal conservation.
Environmental Biologist: Environmental biologists study a specific environment and the organisms and wildlife that inhabit it. An environmental biologist aids in the protection and survival of wildlife within the ecosystem, ensuring against endangerment and assessing the impact of human activity on the environment.
What is the job outlook for Ecologist?
The growth of ecology careers depends on the type of organisation the ecologist is working for. If an ecologist is working in India in a privately owned company or organisation then the growth is comparatively faster than the ones working for the firms owned by the government. If an individual works sincerely and puts in enough hard work in ecology jobs, then he or she could get the first promotion in about two years. According to a study conducted, the job market scenario for the broader category of ecologists was expected to be 11 per cent between 2016 to 2026. Although the world economy is in crisis due to the outbreak of Covid-19 pandemic, ecologists are still expected to get employed. Since experts have indicated that there might be other such pandemics in the future more and more ecologists would be needed to study the ecosystem and the interaction amongst the organisms. Opening of more research firms are expected in the coming years therefore the ecology jobs are likely to increase.
Frequently Asked Questions for Ecologist
Que. What do ecologists study?
Ans.
Ecology is the study of the relationships between living organisms, including humans, and their physical environment; it seeks to understand the vital connections between plants and animals and the world around them.
Que. What are the different fields of ecology?
Ans.
The different types of ecology include- molecular ecology, organismal ecology, population ecology, community ecology, global ecology, landscape ecology and ecosystem ecology.
Que. What are 3 different methods of studying ecology?
Ans.
The three main research methods used are observation, modeling and experimentation.
Que. How do ecologists use modeling?
Ans.
Ecologists use modeling to study events that occur over such long periods of time or such large areas that they are difficult to study directly. They use energy they take in from the environment to convert inorganic molecules into complex organic molecules.
Que. What are some examples of ecology?
Ans.
An example of ecology is the study of wetlands. Ecology is defined as the branch of science that studies how people or organisms relate to each other and their environment. An example of ecology is studying the food chain in a wetlands area.
Que. What is general ecology?
Ans.
The theory and practice of ecology, including the ecology of individuals, population dynamics and regulation, community structure, ecosystem function, and ecological interactions at broad spatial and temporal scales.
Que. What is B. Tech in Environmental Science and Engineering?
Ans.
B. Tech in Environmental Science and Engineering is an engineering course that covers the subject area related to mechanics of fluid, microbiology and different processes of environmental engineering.
You might also be interested in
The question have been saved in answer later, you can access it from your profile anytime.
Access now
Report Question
Select your reason of reporting