Who is a Geologist?
All geologic history is full of the beginning and the ends of species–of their first and last days, but it exhibits no genealogies of development ~ Hugh Miller
In career as geologist, individuals attempt to comprehend the historical backdrop of the planet we live on, all the more likely to anticipate the future and clarify current events. Individuals in the geologist career path analyze the components, deployments, results, physical characteristics, and past of the planet. Geomorphologists examine the landforms and landscapes of the earth in relation to the geology, climatic, and human processes that have shaped them. Individuals in the geologist career path typically study geography, although backgrounds in physics, chemistry, biology, and other sciences are also useful. He/She studies earth procedures, for example, seismic tremors, avalanches, floods, and volcanic eruptions to review land and draw up safe structure plans. When geologists research earth materials, they explore metals and minerals, yet in addition search for oil, petroleum gas, water, and strategies to extricate these. Overall, the geologist career path is worried about the progressions of the earth after some time, for example, environmental change and land development.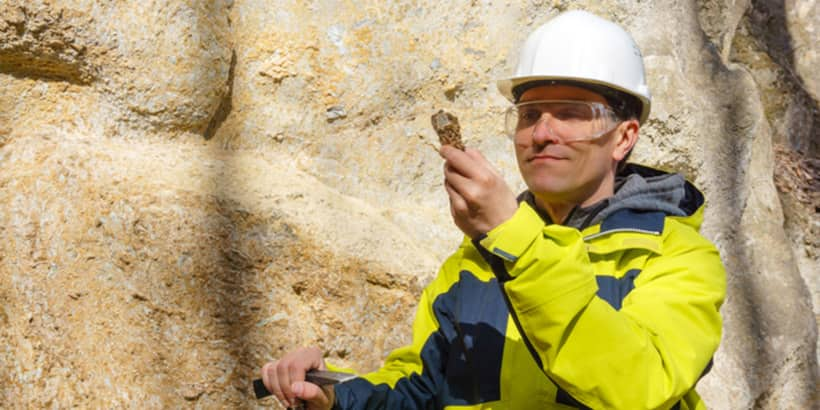 Geologist in a Nutshell
Individuals who opt for a career as a geologist are required to study the earth's s structure and its various components that are present in solid, liquid, and gaseous forms. In engineering geologist jobs are often found to be assisting mining companies in the search for precious minerals apart from doing their regular research and survey. Jobs in geology are expected to venture out to remote spots, staying there for a considerable period, regulating the entire group, and persuading colleagues is not a simple activity for everybody. Here, in this article, we will discuss geologist career path, such as how to become a geologist, geologist salary, and geologist career scope.
Quick Facts for Geologist
Industry

Energy

Average Salary in India

₹86000

Suitable for

Male, Female, Others

Career as a geologist is suitable for both genders. As long as the person has the right attitude towards discharging his or her duties anyone can become a geologist, irrespective of gender.

Any special needs

No

No, career as a geologist does not suit candidates with special needs. This career requires travelling to remote areas and spending a lot of time working outdoors.
Table of Contents for Geologist
What is the role of Geologist?
All divisions of geologist career path provide exceptionally helpful data towards understanding the earth and its inhabitants. Depending on the specific specialization in geography, a geologist may study and guide rock arrangements, gather rock samples and fossils, or measure the physical properties of the earth. This assists in geology jobs with interpreting the dynamic geological processes during the past few million years of the earth's history. Geology plays an essential role in the accomplishment of numerous other disciplines, for example, climatology, structural design, and evolutionary biology. Individuals in the geologist career path work with mineralogy, petrology, geographical mapping, financial geology, and petroleum geography. Geographical mapping comprises recording geological formations on a map, such as rock patterns and distribution.
Communicate
Communicate geological discoveries by preparing research papers, taking part in meetings, as well as teaching geographical science at colleges. Communication can be regarded as the method through which geological knowledge is communicated within the practitioners, using verbal and nonverbal approaches. Highly qualified geologists use scientific terminology and when learning a foreign language, this is as essential as vocabulary.
Measurement
Measure attributes of the Earth, for example, gravity and fields, utilizing equipment, for example, seismographs, gravimeters, torsion balance, and magnetometers. Measurement skills encompass all the skills a child needs to measure something effectively. It's the understanding of how to measure objects' physical qualities such as how to use measuring equipment and proper techniques adequately.
Examining
Examine industrial diamonds and abrasives, soil, or rocks to determine their geological characteristics, utilizing optical, x-ray, temperature, acid, and precision instruments. Examining skills are used to determine the legitimacy of statements made or shared by individuals, and to evaluate the consistency of logic exhibited by individuals when presenting arguments or providing a description. The accuracy of claims and the integrity of other experts can be assessed by people with good examining abilities.
Evaluation
Evaluate ground and surface water movement in order to provide advice regarding issues such as waste control, layout and site preference, and the restoration of contaminated sites. Evaluation is a method that evaluates a project objectively. It includes gathering and evaluating the knowledge of the activities, features, and implications of a programme. Its aim is to make decisions about a program, enhance its effectiveness and decision-making in programming.
Planning
Planning and analysing geological, geochemical, and geophysical field researches and surveys; sample collection; and drilling and assessing programs used to collect data for research and/or application. Strategic planning includes the knowledge which the top management requires to make more informed decisions on how to distribute the resources so that if the company could accomplish its objectives.
Preparation of maps
Prepare geographical maps, cross-sectional graphs, diagrams, and reports concerning mineral extraction, land use, and asset the board, utilising results of fieldwork and laboratory research. Of all the major uses of maps, the scale is highly probable to be the most essential because it provides concrete fundamental understanding to any research because it allows for significant spatial connections that are important in any field of research within human geography, especially demographic information.
Exploration
Discover and evaluate probable natural gas, oil, and mineral ore deposits and underground water resources, utilising aerial photographs, charts, and investigation and survey results. Geologists employ the geophysical method to identify geographic distribution in search of environmental assets, such as mineral resources, oil, and natural gas. They also function as advisors for mining and energy firms, performing experiments in mines or near drilling sites on rocks and minerals samples.
Types of a Geologist
There are several types of geologists. We have provided below the geologist job description as per their specialisations.
Marine Geologist: They study the ocean floor while physical oceanographers study the physical aspects of oceans such as currents and their contact with the atmosphere. They properly evaluate the movement of surface and groundwater to advise on major problems like wastewater treatment, or recovery of polluted areas. They use computer software to analyze and interpret geological data. They develop and perform geological, geochemical, or geophysical field studies or assessments, sample preparation, or drilling and testing projects used mostly for analysis or application data collection.
Petroleum Geologist: A petroleum geologist is also known as an earth scientist who is involved in the area of petroleum geology, covering all aspects of oil exploration and manufacturing. Petroleum geologists are normally associated with the original oil exploration and the detection of potential oil reserves or sources. They conduct tests for locating natural gas and oil deposits both onshore and offshore. They also give advice on the commercial viability of an exploration project.
Seismologists: They interpret data to locate earthquakes and earthquake faults. A seismologist studies motions and earthquakes on Earth. Seismologists are mainly accountable for seismological analysis and interpretation of data, which also refers to the study of earthquakes, plate tectonics and earth imaging. Such professionals collect information about changes in the earth's crust using seismographs and other devices. Although many seismologists remain sceptical about the probability of seismic assessment, their work has been important in the development including such tsunami warning systems.
Engineering Geologist: They investigate sites before foundations and earthworks for large civil engineering projects begin. It is the duty of engineering geologists to define the geological factors which could affect building projects. They study ground materials to determine their potential risks and recommend appropriate construction practices and building material suitability. Engineering Geologists operate as consultants to private and public entities on the natural, environmental and geological risks to the development of the real estate. They will evaluate whether the ground stone is sufficiently stable, whether it is a relatively secure type of rock to construct on.
Geothermal Engineer: Geothermal engineers are professionals who research and explore new ways to utilise geothermal energy with the use of technology. Geothermal energy is highly popular and its use is rapidly increasing. Geothermal energy can be defined as thermal energy stored in the earth.
Geotechnical Engineer: Geotechnical engineer is a professional who uses the applications of scientific methods and engineering principles to improve ground engineering design. Geotechnical engineer uses methods such as acquisition, interpretation, and knowledge of the use of materials of the earth's crust and earth materials for the solution of engineering problems along with the design of engineering works.
What is the workplace/work environment of Geologist like?
Individuals who opt for a career as a geologist have a work environment that depends on the particular specialisation they opt for and study. Different geologists work in various conditions depending on the nature of the work. A geologist starts by working in fields and sites. Working for long, hard physical labour with no companion in harsh conditions is part of fieldwork. Individuals in the geologist career path also work in laboratories for research and analysis, while some geologists work in institutions and colleges as professors sharing the same environment as other professors from different backgrounds.
Does Geologist require travelling?
Likely
In career as geologist, individuals frequently require travelling. Geologists who focus on the study of how the Earth was made often need to visit areas where the rocks disclosing the past can be viewed firsthand, such as a mountain range or a valley that was an inland sea earlier. Moving from site to site at different places are the part and parcel of a geologists daily activity.
Employment Shifts
Full Time, Part Time
A career in geology in India includes both full-time and part-time work depending on the requirement of the organisation. The segregation of employment can be on the basis of the specialised field of the geologist. This is because various geologists have different job roles. Individuals in the geologist career path working in a research laboratory are likely to work less number of hours compared to other geologists who is working on-site or in fields. There is no provision for work from home in this career as a person needs to be physically present in order to examine a site or complete research work in a laboratory.
Employment Nature
Permanent
Engineering geologist jobs involve working on a permanent basis. However, there are some exceptions where the geologists might be hired on a contractual basis. The geologists have hired a contractual basis in institutions where they perform research and educate students who choose geologists as their career.
Work Place
Laboratory
Geologist career path involves working in a variety of settings which totally depends on the specialisation they opt to study. Geologists can be found working in a range of places, including offices, laboratories and isolated mine sites, and underground in dark, dirty and cramped conditions. Individuals in the geologist career path start working in fields and sites. Some geologists also work in laboratories for research and analysis, while some geologists work in institutions and colleges as professors sharing the same environment as other professors from different backgrounds.
Presence in Geographical Area
Rural, Semi-urban, Urban
The sites or fields of work are mostly situated in urban areas. However, the offices and institutions are situated in Semi-urban or rural areas. Since the profession is related to understanding the earth and its inhabitants, the sites and fields have to be in the area where there is no population or less population; so the sites can be far away from cities in the urban areas.
Time Pressure
Likely
In career as geologist, individuals require to work under frequent time pressure to meet deadlines. He or she cannot work in outer locations beyond the sunset, hence they are required to finish their work in time instead stretch it for extra hours.
Overtime Details
Individuals in the geologist career path usually requires to spend hours travelling to reach the site and reach back to the laboratory. A geologist who works in a laboratory may also work overtime occasionally.
Weekly Hours of Work
Min 45 Hours
Individuals in the geologist career path involve working in a research laboratory and put fewer hours compared to the other geologist who is working on-site or in the fields. A geologist working in fields or sites has to work more hours as travelling from one side to the other adds up to an hour of work. There is no extra pay for the overtime done by geologists.
How to become a Geologist?
Steps to become a Geologist
What are the skills and qualities required to become a/an Geologist?
In this section, we have discussed some of the skills required in a geologist career path. Here, we have discussed how to become a geologist.
Observational skills: At the time out in the field collecting samples, mapping areas or charting the composition of particular sites, it's crucial to have a keen sense of observation. Individuals in the geologist career path must notice key features of the environment quickly and effectively and take in a lot of information from survey sites and determine what samples are needed. He/she needs to do initial surveys, and, based on the findings, determine a plan of action for further investigation. What he/she initially notices is very important, because it determines whether sites are examined further and what resources are devoted to those further studies.
Analytical skills: Individuals who opt for a career as a geologist are involved in making relevant analyses of findings. To execute an effective analysis, you need to have a solid background in several interlocking disciplines, such as maths, physics and biology. Individuals in the geologist career path prepare questions on the basis of scientific methods and do experimentation and investigation to find the outcomes. After identifying key features of a particular site or experiment, he/she then must determine what the findings mean in a broader sense. In other words, he/she needs to understand what the results of every experiment mean for the field as a whole and how they apply practically to future attempts.
Equipment handling: A lot of geologists spend far more time in the lab than out in the field. Samples and data collected from a particular site need to be researched, observed and experimented with for many years. As geology is a lab-oriented discipline, he/she needs to understand and have highly developed craft skills when it comes to operating lab equipment, such as microscopes and advanced computer programs. With a thorough knowledge of how to use the equipment, he/she also needs to know how to maintain it and understand its inner workings and processes.
Teamwork: Teamwork creates an environment that nurtures dedication and mutual trust. Such close-knit relationship quality relation employee motivation and integrate others to work harder, cooperate as well as encourage each other. Individuals. Strong teamwork means creating morale at work, making workers more efficient and eventually maximizing profits. Problem-solving is simple and easy for institutions with team support-since individuals with different backgrounds and experiences will come together to make a potential solution. Individuals in the geologist career path must be able to work effectively in teams with varied compositions. They have to collaborate with the other engineers and coworkers in order to accomplish the findings as a team.
Which certifications and internships can be helpful in becoming Geologist?
We have provided below certification courses in geology and its related aspects. Aspiring individuals can opt for any of these courses to upgrade their skills.
Internship Availability
Yes
Internships have a great geologist career scope and insights on how to become a geologist. Internships are available at various exploration and production companies such as mining industries, oil, and petroleum refining companies nationwide and abroad. A geology internship may require collecting materials in the field, testing soil samples in the lab, and analyzing data in the office. A geological intern assists the senior in making maps, collecting rock samples, or removing toxic chemicals from the water with a local team or one that travels to remote locations such as the Arizona desert or the ice caps of Alaska. Be sure to learn the tools of the trade during your geology internships such as radar equipment in the field, X-ray equipment in the lab, and GIS and modelling software to analyse data in the office.
Career Path Progression for Geologist
Junior Geologist: This is the entry-level of this profession which includes planning geology projects and field sampling events. They also survey sites and create logs and maps using the Geographic Information System(GIS). They also gather and analyse geological data with the help of coordinating research programmes. They examine the composition of samples and specimens and write the findings of the research. They conduct quality control on the suitability of materials and inspect projects. They also extensively study the sites for developments, formations, hazards and composition. The job includes many more activities apart from the few mentioned above; keeping in mind the environmental and other regulations.
Senior Geologist: A geologist gets promoted to Senior Geologist after gaining experience after four to five years. The primary responsibility of senior geologists is to supervise entry-level geologists for the smooth functioning of the processes of a firm. Individuals in the geologist career path are also responsible for evaluating and generating new drill sites, recommending leasing efforts, and coordinating and designing operational support for programmes.
Superintending Geologist: This position is earned by senior geologists after gaining experience of 5 years. The responsibility of superintending geologists includes regular monitoring of a project by interacting with the field geologist to ensure the progress of the project. They provide scientific guidance to field geologists to update the geologists about the latest advancement in the fields. They provide periodical refreshers to the geologists and interact with them to provide them with solutions to any hurdles that they might come across while working in the fields. They interact with the people of other departments to monitor the health of the project from each aspect.
Director Geologist: A Superintending Geologist gets promoted to the position of director geologist after completing eight years of fieldwork. Director Geologists are required to be flexible in taking up various administrative and technical roles as and when required. Arranging the timely departure of field workers and vehicles to the sites is also one of the responsibilities. Individuals in the geologist career path also supervise and monitor the progress of each activity happening in a firm to achieve the targets on a monthly and quarterly basis. They carry out field inspections and arrange timely submission of progress reports in order to check the real-time status of the project. They supervise the work of the different departments in order to achieve the pro-rata targets.
Deputy Director General (geology): The role of the Deputy Director-General includes motivating and encouraging supervisory officers and field officers to achieve the pro-rata targets. They are responsible for updating the progress status of each division. They review the samples from each lab on a quarterly basis to make sure the quality of work is not compromised at any cost. Individuals in the geologist career path compile data on a monthly basis in order to send the reports to the higher authorities. They need to take care of the necessary facilities for each worker working in the office. They are also responsible for maintaining administration and financial efficiency in the office.
Director-General: This is the topmost position of the profession that a geologist can reach after years and years of experience. The director-general supervises and coordinates with other officers of the division for the smooth workflow of the division. They need to assess the annual reports submitted by the Deputy Director-General.
Geologist Jobs and Salaries
Mining Safety Engineer
Monthly Salaries
Average Salary

86000

Junior Level Salary

61000

Senior Level Salary

108000
Job Description
A mining safety engineer is responsible for applying best practices and utilising his or her knowledge of mine designing. He or she is accountable for ensuring safety of workers and maintaining compliance with state and federal safety regulations. A mining safety engineer job includes inspection of walls, roofs of mines, monitoring and air quality. He or she is also responsible for examining mining equipment for possible hazards.
Salary Description
The salary of mining and safety engineer varies depending on skills and experience. An entry-level mining safety engineer could earn more than Rs. 700,000 per annum. A senior-level mining engineer could earn more than Rs. 1,300,000 per annum.
What is the job outlook for Geologist?
A geologist career path is quite challenging as this is a profession requiring a lot of hard labour and intense fieldwork on a regular basis. The job growth in this career is not as fast as compared to other professions. However, this career would be in demand irrespective of the lesser growth percentage of jobs in the coming few years. A determined candidate with the right attitude can definitely grab this as an opportunity and succeed in life. The growing population drives more demand for energy among the people which is beneficial for expanding job opportunities in this profession. In short, the job growth opportunities in this profession would be expanding in the upcoming years.
In India, geologists and earth science specialists work in firms like Central Ground Water Board and the Geological Survey of India, Coal India, Oil & Natural Gas Corporation, Mineral Exploration Authority, Hindustan Zinc Defence and other Paramilitary forces. The role of these specialists is to deal with the environment. The world's mining exploration budgets are on the rise so the geologist career scope is huge. The present challenges in the world are decreasing energy, mineral and water resources, and increasing environmental concerns. The areas of opportunities for geologist career in India are in demand on the pending retirement wave and a closer focus on climate change and environmental issues. The important driver of the workforce in the future would be the environmental implications of oil exploration and extraction.
Frequently Asked Questions for Geologist
Que. What does a geologist do every day?
Ans.
The day to day work of a geologists involves travelling from one site to the other, developing research offers and completing contracts. They work in laboratories observing, sampling and testing the samples of materials found on earth.
Que. Do geologists use a lot of math?
Ans.
Maths in geology is more of an optional subject if compared to the maths from other engineering professions. The basic knowledge of maths(10+2) can definitely work in this profession.
Que. Is geologist a good career?
Ans.
Yes definitely this career is definitely a good career that can be opted by students. According to Bureau of Labor Statistics the employment in this career would only increase by 6 percent from 2018-2028.
Que. What is a geologist salary?
Ans.
Geologists on an average earn Rs 2.5 to Rs 3.5 lakhs per annum in either public or private sectors. The salary of geologists increases with time and experience.
Que. What are the top institutes to pursue Bachelor of Science?
Ans.
Following are the top institutes to pursue a Bachelor of Science:
You might also be interested in
Questions related to Geologist
Showing 3 out of 3 Questions
42 Views
What is the work duration of geo scientists in India?
Hello candidate,
There is no particular restriction or time limit for the geo scientists working in various fields of research and other activities in India, and it only depends on the tasks are the activities needed to be completed within a certain deadline. Many organisations such as the geological survey of India and various other government and private agencies hire geoscientists where the work for around 8 to 10 hours a day on an average basis.
Hope you found it helpful. If you have any further queries feel free to post it here!!
86 Views
What will be the salary of Geo scientists with 10-15 years of experience?
Hello candidate,
There are several companies in the world such as the some of the firms hire Geoscientists and the salary of these professionals mostly depends on which organisation or company they are working with. So, on an average basis you scientist having 10 to 15 years of experience generally earn in between 10 to 12 lakhs per annum in India. Some of the best companies recruiting these professionals are Schlumberger, Halliburton, Oil and natural gas corporation of India, British petroleum, Saudi aramco, and several others.
Hope you found it informational. If you have any further queries feel free to post it here!!
The question have been saved in answer later, you can access it from your profile anytime.
Access now
Report Question
Select your reason of reporting