Who is a Chef?
A burnt and experienced hands are more important than the vessels in the kitchen ~ Anonymous
We have all referred to our mom as a chef at some point in our lives, whenever she cooks a great meal. But being a chef is a lot more than just being great at the skill of cooking. It is sure a primary requirement but there is a lot more to the field. If you have a passion for cooking and want to learn more about it then being a chef can be an exciting career option. Every restaurant needs a chef and the country has a thousand great restaurant chains. So, there are immense career opportunities as well.
In layman's language, the professional chef is the one who cooks food in hotels, restaurants, and other food service. In the real world chefs are not just cooks but an experienced perfectionist who supervises the kitchen and overlooks every little thing. They plan the menu, observe the kitchen, and supervise the entire kitchen staff. At the trainee level, they work closely with the senior chef to master the skills. In the beginning, they might be asked to wash dishes, clean the kitchen, chop vegetables. There is a gradual process of learning and growth to reach the final destination 'head chef'.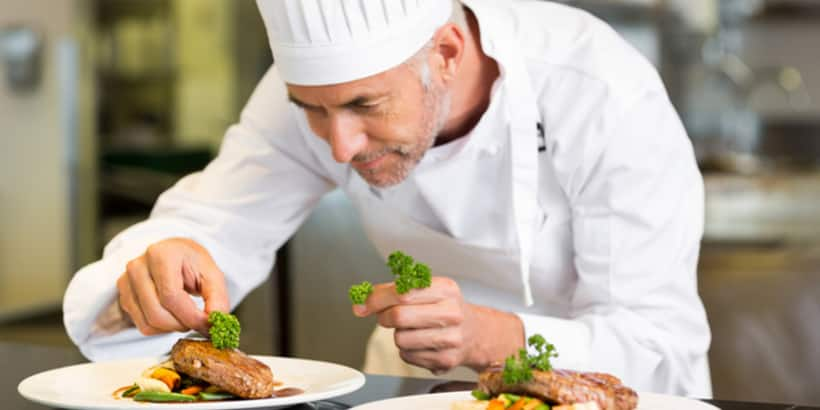 Chef in a Nutshell
Cooking careers comes up with great opportunities as there is huge job growth in the hospitality industry. Chefs are employed at hotels, casinos, resorts, restaurants and all those places where people dine and lodge. Hospitals, schools, corporate facilities and municipal cafeterias also require the services of chefs for their customers such as patients, students, and employees.
Quick Facts for Chef
Industry

Hospitality

Average Salary in India

₹34000

Suitable for

Male, Female, Others

It is suitable for all gender types, who have a keen interest in cooking and love to experiment with ingredients to create tasty and healthy dishes.

Any special needs

Yes

No, this career does not suit candidates with special needs. The candidate should be physically fit and possess good stamina. This profession requires standing for long hours, multi-tasking in limited time such as chopping, measuring ingredients, kneading and other things.
Table of Contents for Chef
What is the role of Chef?
A chef is a professional who handles all the activities related to the kitchen, from managing the staff, to deciding the weekly menu and ensuring that food is of good quality, there are several hats that a chef wears, apart from wearing the chef cap. A chef is responsible for running the kitchen smoothly so he or she looks after the logistics as well. Keeping the kitchen and the restaurant safe and clean is also one of the prime responsibilities of a chef. Supervision, planning the menu, keeping a stock of all the ingredients, managing the staff, and ensuring that the food which is served is of good quality and is safe for consumption.
Supervision
A chef's responsibility includes supervising the staff during food preparation and presentation. He/she provides instructions and guidance to staff. There are several activities happening inside a kitchen, hence it is important to supervise so that there is no confusion, which might lead to unwanted delays.
Planning the menu
Chef plans the menu and makes sure everyone in the staff knows about the planned menu and prepares for it. The menu is what attracts people to a restaurant in the first place. Hence, it is important for a chef to plan the menu in such a way that it draws customers to the restaurant. The idea is to keep the menu exciting for the customers to try it out.
Keeping the record of ingredients
Chefs are required to keep a record of all the ingredients that the cook needed for preparation. They are responsible for ordering the ingredients for the kitchen and its cost estimation.
Staff management
They make sure to fulfil the staff requirements and manage the production schedules. In many hotels and restaurants, chefs are responsible for hiring the kitchen staff. Everyone is given a single task to do. This is done so that the kitchen runs smoothly and there are no delays. If all the activities are done efficiently then the food rolled out is also good and the customers are also happy, and a satisfied customer means a successful restaurant.
Ensuring Food quality and taste
Chef ensures the food quality, checks on the ingredients being used while preparing the dish. He/she also approves the taste of the dishes. He/she guides other staff members to add the restaurant's or hotel's signature style to dishes.
Types of a Chef
Commis Chef: The Commis Chef is a trainee who learns the tricks to master the skills. Commis chefs work closely with their seniors to learn the basics of food preparation. They chop vegetables, sharpen knives, fetch measuring cups and clean up the mess at the initial learning period.
Chef de Partie: Chef de Partie is a type of chef who specializes in the preparation of a particular type of food. They will only cook fish until they become specialized in it. Once they become specialized in it, then they move to another. Hence, they get trained for all types of food.
Sous Chef: The Sous Chef is the assistant to the Head Chef and responsible for the kitchen management. Sous Chef is also known as a senior chef. He/she is skilled in all aspects of food preparation.
Executive Chef: The executive chef is in charge of the whole kitchen, whether it is planning the menu, food preparation, hiring or supervising kitchen staff.
Head Chef: A restaurant is known by its signature style. The head chef brings this signature style to the restaurant and supervises the staff to keep it in the dishes being served. The head chef is responsible for the success of the restaurant with his or her vision.
Travelling Chef: A travelling chef is someone who owns a food truck or works in a food truck travelling to different locations, cities and different countries. Many students wish to be entrepreneurs after passing from culinary institutes and own their restaurant or roving food truck.
What is the workplace/work environment of Chef like?
Chefs work in restaurants, hotels, private households, and other food service establishments. Self-employed chefs run their restaurant or catering business. They look after the other aspects of the business, such as bills and salaries of employees as well and things do tend to become stressful. Kitchen chefs stand for long hours while working. They perform multiple tasks in a limited time. Cleanliness and sanitary is a necessity to ensure optimum food quality.
Does Chef require travelling?
Likely
Yes, a chef requires travelling. In most entities, chef's daily duties include stocking ingredients and estimating cost. Chef often has to travel to grocery stores or meat markets to bring the ingredients required for the menu. Chef often visits spice markets to bring necessary spices on wholesale. They perform a quality check to ensure the ingredients are fresh or fit for cooking. Apart from this, the chef's career comes up with the adventurous opportunity of turning into a travelling chef.
Some chefs work on cruises and ships travelling across the seas. Chefs working on cruises and ships require to be more careful and follow all the rules and regulations on board. Such chefs stay on ships for months away from their families. Everything comes with its pros and cons. The paycheck of a chef working on cruise or ship is higher as compared to those who work in regular restaurants or hotels.
Employment Shifts
Full Time, Part Time, Hourly Basis, On Call, Work From Home
The chef can have permanent as well as contractual employment. This career does not come with work from home or on-call opportunities unless one becomes an entrepreneur and starts cooking and delivering food from home. Most chefs work full time including early mornings, late evenings, holidays and weekends. Their work schedule extends 40 hours in a week. The travelling chef working on cruises or decks works 7 days a week and 10 to 14 hours per day. This career involves working on night shifts and early mornings as well. Working on public holidays is quite normal as there are more visitors on public holidays.
Employment Nature
Contractual, Permanent
This career comes up with both types of employment opportunities contractual as well as permanent. Travelling chefs who work on cruises and decks are hired on a contractual basis while those who work with restaurants' chains serve as permanent employees.
Work Place
Sometimes kitchen chefs work in huge areas and often travel to the market to bring the ingredients. Their working conditions may vary. Chefs are also required to work in high temperatures between the machinery. They have to work with various ingredients and take care of all the safety measures. Accidental burns and cuts are quite common while working in the kitchen. One needs to be quite alert to avoid such accidents. Patience and time management is important for effective performance in the kitchen.
Cleanliness is a necessary aspect to ensure hygiene. Using fresh vegetables while cooking and serving, checking the expiry date of ingredients before making them is important. Effective measurement of ingredients is necessary to prepare dishes. Most chefs work full-time, their work-shifts include early mornings, late evenings, holidays and weekends.
Presence in Geographical Area
Rural, Semi-urban, Urban
Talented chefs are in huge demand in urban areas. There are plenty of opportunities for them in the cities. The rural areas have the least opportunities unless the area is a tourist spot. The cities such as Mumbai, Delhi, Goa, and Bangalore act as prominent food hubs. These cities have huge chains of food industries. Therefore, it provides huge chef job opportunities.
People from different parts of the country come to Delhi, Mumbai, and Bengaluru for employment as these cities are corporate as well as financial hubs. Hence, it brings golden opportunities for the hospitality industry, which in turn leads more opportunities for chefs. These days food from all over India can be found through the length and breadth of the country. Be it the dosa from Tamil Nadu or Litti Chokha from Bihar, it can be found everywhere. Even international cuisine can be found in India, courtesy chefs. From pasta, to noodles, to momos and rolls are quite popular in India.
Time Pressure
Likely
Cooking is more of a creative profession. Chefs working on a permanent basis hardly face any time pressure. However, during holiday seasons and weekends, the production-consumption increases hence they're likely to face time pressure in such situations.
Overtime Details
Chefs working as an employee in a big hotel or restaurant don't face overtime issues. However, one who works in a small restaurant of his/her own is usually required to stay for long hours because of external work factors such as billing, cleaning, and supervising.
Weekly Hours of Work
Min 40 Hours
What are the skills and qualities required to become a/an Chef?
Physical strength: Practically every occupation requires physical power. Although some desk jobs do not require too much physical activity, every professional still requires to be fit and healthy in order to successfully carry out their tasks. In any profession, mental health is also important, now that we are addressing this particular profession, yes, it certainly takes physical and mental strength to stand for long hours. Chefs and cooks have to stand for hours. They work under pressure and require more focus. They have to look after each passing second as cooking requires time management
Dexterity: Dexterity helps the fingers and hands to accomplish the tasks perfectly, such as writing, knitting, and cooking. Mental dexterity implies a smoothness of mind, or willingness to think outside the box, and rapidly and effortlessly grasp and convey something. Chefs are required to be expert in using knives for cutting vegetables, slicing meat or fish, any other ingredient. Chefs are required to be accurate and quick in terms of measuring ingredients for the preparation of the dish.
Patience: As a chef, it takes a lot of time to get the best out of it. If somebody does not enjoy their occupation, it is also very difficult to cultivate endurance. In any kitchen or restaurant, one could be a professional chef with specific talent and excellent practice. Those who work in the foodservice business know it can turn out to be so hectic. They are required to be calm in the busiest rush hours. As it could spoil the whole dish and may get accidental cuts in panic. Chefs are also required to help the rest of the kitchen staff during rush hours
Communication skill: In a professional kitchen, the cooks prepare a significant amount of food during meals. The work of a chef is very much exhausting with potential risks like chopping on sharp utensils, flaming and stumbling on slippery kitchen floors. Communication is a vital factor to keep the kitchen functioning properly without raising the risks. They are required to communicate effectively with the kitchen staff to avoid any kind of mismanagement. Chefs who run their restaurants also need to communicate with the customers to know the orders and take their feedback about the food and services
Attention to detail: Cooking can be defined as an art as well as science. Almost every component and measurement should be accurate along with purchasing food items or trying to figure out how long it would take to prepare food because then they are all placed sequentially. For detailed information like measurement methods, heat control, product quality, appearance, and much more, a chef needs to have an eye for details. Chefs are required to pay attention to detail because even a pinch of extra salt may spoil the taste. They are required to be more accurate and specific about the measuring ingredients as per the quantity of dish to be prepared.
Also read - Skills required to become a baker
Which certifications and internships can be helpful in becoming Chef?
Internship Availability
Yes
To start a cooking career, considering a hotel internship would be best. It is important to apply for internships two months before. By doing so, the candidate would be able to choose the best internship options and destinations. It will bring him/her more internship opportunities. The intern would be required for helping in the kitchen for the preparation of dishes and understanding hotel kitchen plans. He/she would be required to perform simple tasks such as peeling, storing, cleaning, preparing the ingredients. Interns would also be asked to assist in the preparation of desserts and cuisines. Such internships help the candidates to get hand learning experience. As an intern, Chef service covers performing tasks such as cleaning and sanitation. Chef service includes cleaning the floor, tools, machines required for preparing the dough. They are in charge of following up on stocks and communicating with the staff about the number of ingredients available. They receive and store kitchen provisions.
Career Path Progression for Chef
Executive Chefs: Executive Chefs are on the top of the management framework in the kitchen. Mostly the biggest organizations have an executive chef; executive chefs are also responsible for multiple outlet services. They provide managerial work in the hotel industry.
Head chef: From managing kitchen staff and regulating kitchen expenses to working closely with suppliers and creating menu options, the head chef primarily manages the whole kitchen.
Commis chef: Junior employees who operate under the supervision of a party chef to understand every single detail of a particular establishment are also named as Commis chef. These very individuals are usually the ones who have successfully completed formal culinary education or are still pursuing the course.
Chef Jobs and Salaries
Executive chef
Monthly Salaries
Average Salary

50000

Junior Level Salary

40000

Senior Level Salary

150000
Job Description
The executive chef is responsible for the entire kitchen, making plans and implementing menus, recruiting and managing employees, setting the expenditure, and much more. For the restaurant, the head chef sets the standard, with his signature style on a special food item.
Salary Description
Salary is centered on career progression or depends in particular on industry knowledge and experience spent. In this career, salary relies not on the degree but on the experience solely. The entry-level salary could be more than seven lakhs per year and it could finally be more than twenty-two lakhs per year depending on the experience and skills.
Commis chef
Monthly Salaries
Average Salary

18000

Junior Level Salary

15000

Senior Level Salary

40000
Job Description
The commis chef is like an intern, working in the kitchen. They have to cut vegetables, sharpen the knives, and clean the mess. They work under a party chef's guidance to grasp every minute detail about a particular hotel.
Salary Description
Salaries in this profession rely on the skills and experience, the institution in which they work. The entry-level pay could be up to two lakhs per year, and it could eventually be above four lakhs per year.
What is the job outlook for Chef?
Food that brings water in the taste buds has huge demand in every corner of the world. The cities with higher densities of the population have more restaurants such as New Delhi and Mumbai, Bengaluru, Hyderabad, and Kolkata. There is a huge competition in this field at entry-level. There is a demand for good chefs all over the world. Some of the top restaurants, hotels in the world have multi-cultural kitchen staff. The job is not restricted to just one region or country, it is spread across the world.
Many people have dreamt of becoming a chef since their childhood. Over the past few years, there has been a huge exposure to international cuisines and a number of chefs have started specialising in a certain kinds of food. Most of the chefs have their own signature dish, some of which are popular all over the world.
Being Chef is not an easy job, they have to spend long hours standing in the kitchen preparing the meals. Since people visit restaurants more on public holidays, chefs are less likely to get off on such days. The extremely talented chefs make it to the best restaurants and take away huge salaries. Some chefs also become celebrities and have their cooking shows on television. There is an 11 per cent expected job growth in the next decade for the chef's career in the market.
Frequently Asked Questions for Chef
Que. Is it compulsory to have a degree from a culinary institute to become a professional chef?
Ans.
No, having a certification or degree in culinary arts is not necessary. One needs to learn the skills to perform in the global kitchens of international restaurants. Culinary courses help one to master the skills required in Kitchens such as different styles of chopping and cutting.
Que. Can there be any online certification course related to culinary arts?
Ans.
No, the profession of a chef is more about practical exposure and mastering the skills required in the kitchen. Therefore, there is not any online certification course available in the specialization of culinary arts or for the chef's career.
Que. Can I become a chef after pursuing a B.Tech?
Ans.
Anyone can become a chef who has a keen interest in cooking. The basic requirement to become a chef is to master the skills required for kitchen management. It is required to stay updated about the latest technology used in machinery required in Kitchen. Internships in hotels and restaurants are beneficial to becoming a professional chef.
Que. How to be a chef?
Ans.
The best way to become a chef in today's competitive world is by getting a professional education. Most of the hotels and restaurants now require their chefs to be professionally and educationally qualified. There are a number of bachelors, masters and diploma courses which help an individual to become a chef.
Que. What are the duties of an executive chef?
Ans.
An executive chef is the top chef in any restaurant, or a hotel. Some of the duties which a person has to perform while being an executive chef are managing the daily operations of the kitchen, hiring, training and supervising the kitchen staff, ensuring the quality of the food and maintaining safety and cleanliness.
Que. Where can I find internship opportunities?
Ans.
There are many recruitment websites where recruiters put details about internships. One can search for culinary internships through online platforms such as Ambition Box, Glassdoor, Indeed, Naukri.com, LetsIntern, Internshala. One requires to work as an intern in hotels or restaurants to establish a career as a professional chef.
Que. What is the kitchen hierarchy in a 5 star hotel?
Ans.
In a 5 star kitchen hierarchy and right at the bottom, then a commis, followed by demi chef, chefs de partie, sous chef and Chef de Cuisine and the executive chef is right at the top.
You might also be interested in
The question have been saved in answer later, you can access it from your profile anytime.
Access now
Report Question
Select your reason of reporting