Who is a Baker?
No matter what the recipe, any baker can do wonders in the kitchen with some good ingredients and an upbeat attitude ~ Buddy Valastro
In career as baker, individuals are someone who mixes ingredients according to the recipes to make a variety of items such as cookies, cakes, pastries and pies. Most of us would have had failed attempts at baking. Baking is considered an art in the cooking profession and bakers are the professionals who master this art. Professional bakers are surrounded by ovens and a variety of baking tools and machines. Individuals in career in baking in India work in bakeries, restaurants and grocery stores. However, some work in industrial and manufacturing settings working for companies that produce mass quantities of baked food. If you are someone who loves to bake and has enough dedication to understanding the process involved in baking different kinds of edibles like bread, cookies, cakes, pies, and several such recipes then the baking careers belong to you. Here, in this article, we will discuss the details of baking careers, such as baking as a career in India, how to become a baker in India, and what qualifications do you need to be a baker.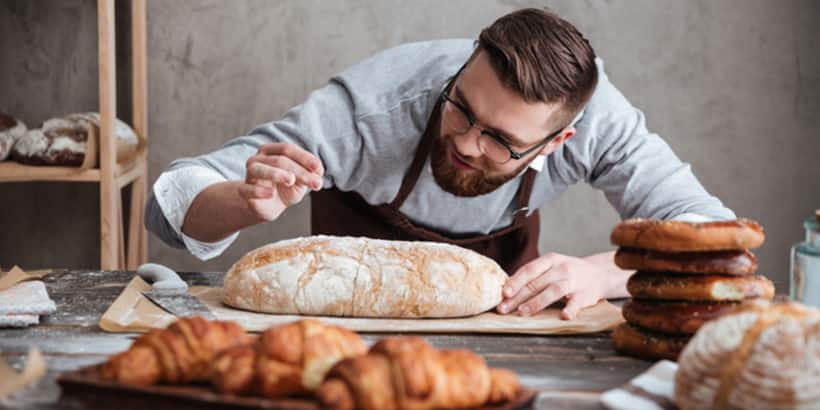 Baker in a Nutshell
Baking careers are filled with creativeness and originality. Some people have a secret talent when it comes to baking. Many people enjoy making luscious desserts, one of those is bakers who make a variety of baked goods from fresh loaves of bread to layer cakes for restaurants, bakeries, and hotel dining rooms.
Quick Facts for Baker
Industry

Food and Beverage

Suitable for

Male, Female, Others

An individual aspiring to become a baker can do so irrespective of his or her gender. Baking is a profession where an individual's gender becomes insignificant. Career as a baker is limited to a kitchen kind of environment which does not require him or her to put in any kind of heavy physical efforts therefore, making the job suitable for all the genders.

Any special needs

Yes

A career as a baker is not quite appropriate for specially-abled people as manufacturing facilities are filled with potential dangers such as ovens and cutters, besides a few of the traits that a baker requires are physical strength and stamina. However, as long as the disability is not proving to be a hindrance while working, anyone can have a career as a baker.
Table of Contents for Baker
What is the role of Baker?
Individuals in career in baking in India make the delicious bread and pastries that people enjoy at their favourite grocery shops, restaurants and bakeshops. Baker job description includes mixing ingredients and following recipes to come up with baked goods. Individuals who opt for a career as a baker have to be especially dedicated to their craft as the job entails working in a hot environment. Buns and cuts are also common in bakers. Professional bakers also need to be able to lift heavy trays filled with baked goods. Apart from having a knack for making sweet confections, baking careers need to have a fondness for making accurate measurements as this is necessary to bake delicious cakes, pastries, bread and other sweet products. So how to become a baker and what does it take to become one?
Packaging
When a customer orders cookies, cakes, pastries, bakery workers make sure that the item is properly packed, secured, presentable and neat. The packaging is of considerable importance for the food industry. They are used for packaging a variety of food items such as cereals, snacks, baked items, bakery products and more. Professional design of the food boxes requires know-how and expertise. Printing can add a spectacular view to your display.
Maintain cleanliness
The area should be clean and sanitized, which includes cleaning the work area, wiping surfaces, and washing utensils and machinery after use. Maintaining cleanliness is an essential part of a healthy life because it is only cleanliness that helps to improve our personality by keeping it clean both externally and internally. It is the responsibility of everyone and one should remain clean and hygienic to themselves and their surroundings.
Manage customers
Customer relationship management is a marketing technique that lets individuals and organizations optimize communication systems and sales efforts with their customers. It allows the team to develop relationships much more appropriately and then provide the best possible customer service from assessment to buy and far beyond. They occasionally take orders from customers in addition to handling customer complaints. They have to make sure that customers' needs are met.
Inspect products
Product inspection is the method of inspecting products for compliance with clients' standards and needs. Generally performed at the factory that makes the product, the testing method of the product mainly focuses on examining the product 's design, quality and basic feature. Bakery workers count, inspect and keep a track of the products. They also visually make sure that the quality is maintained in all products.
Types of a Baker
Food Technologists: One of the important roles of a food technologist is sustaining the food quality and checking its processing and manufacturing. Food technologists often keep track of food products or meal-related research. They are accountable for maintaining no damage to safety from packaged foods. A food technologist is responsible for the new implementations of new products, processes and changes to existing products, ensuring product quality safety and legal requirements are met.
Production Manager: Food production managers at food production houses are in charge of production and manufacturing food items. Their job involves supervising daily operations in food industries to enhance the organizational quality of the product and maximum value for the management of the business. The production manager is responsible for the production of the bread developed by the Product development department.
Product Development Manager: The product development manager controls and operates the projects for product management. Analyzes and solves functional correctness, structural design and quality issues. Being a product development manager implies quality requirements are aligned with branding and advertising or sales promotions. Product development is responsible for driving exciting NPD Projects from concept to launch as well as consumer and health trends.
Technical Manager: A technical manager should be able to perform all required duties, including troubleshooting any technological issues, related to company systems. After evaluating everything from an expense to software and hardware performance, they are accountable for making major decisions about performance difficulties associated with the business. Technical Manager manages all technical team activities. Must have a degree qualification in Food Science discipline and experience in Food Manufacturing.
Quality Assurance Manager: Quality assurance managers play a very important role in the business by making sure that the products reach specific suitability limits. They plan, organise programmes for quality improvement and propose recommendations for quality management. They often function to increase the productivity and efficiency of a company by eliminating waste. The quality Assurance Manager ensures the quality of all products and hygiene standards within the manufacturing environment.
Chef: A professional chef is one who cooks food in hotels, restaurants, and other food service. In the real world chefs are not just cooks but experienced perfectionist who supervises the kitchen and overlooks every little thing. They plan the menu, observe the kitchen and supervise the entire kitchen staff. At the trainee level, they work closely with the senior chef to master the skills.
What is the workplace/work environment of Baker like?
Bakers and pastry chefs work in the kitchen and stand near the oven almost all day. However, most kitchens are well-lightened and convenient to use. Industrial bakers have to do repetitive tasks. Individuals in career in baking in India often have to work at night or extremely early morning in the morning so that their baked goods are fresh when customers buy them. Most bakers work forty-eight hours a week.
Does Baker require travelling?
Not Likely
It depends on the kind of organisation an individual is working for. Baking careers generally do not involve travelling but there are bakers who are also educators, they travel to various locations in order to conduct a workshop.
Employment Shifts
Full Time, Part Time
Individuals in baker jobs generally involve working early mornings, late evenings, weekends, and holidays. There is the utmost possibility that some of them work as self-employed bakers. Individuals in career in baking in India who work in commercial bakeries may have to work late evenings and sometimes on weekends. Generally, the shifts start in the early mornings and end in the late evenings.
Employment Nature
Contractual, Permanent
Baking careers involve employment on a permanent as well as a contractual basis. The nature of employment entirely depends on whether the baker has his or her own bakery or is employed in a bakery or a bakery plant.
Work Place
Private Offices Factory, Hotels
Individuals in baker jobs usually work in bakeries or bakery factories. They often work in hotels as well.
Presence in Geographical Area
Semi-urban, Urban
As bread and biscuits are fast-moving consumer goods (FMCG), they are consumed on a daily basis by the consumers which increases the sales of these products in India. In addition to this, growth in fast-food chains further stimulates the demand for bread as they are used in sandwiches, burgers, soups, and snacks.
Time Pressure
Likely
A career as a baker is more of a creative profession. Bakers working on a permanent basis hardly face any time pressure. However, during holiday seasons and weekends, the production-consumption increases hence they're likely to face time pressure in such situations.
Overtime Details
In baking as a career in India, working as an employee in a big factory or baking company doesn't face overtime issues. Individuals in a career in baking in India who work in a small bakery of his/her own is usually required to stay for long hours because of external work factors such as billing, cleaning and supervising.
Weekly Hours of Work
Min 45 Hours
Individuals in a career in baking in India usually involves working 45 hours a week over five days, with very early starts. Plant bakeries usually operate shifts on a rotation system, which includes nights and weekends. As an in-store or craft baker, you would also be expected to cover weekends.
How to become a Baker?
Steps to become a Baker
What are the skills and qualities required to become a/an Baker?
This article describes how to become a baker in India. Here, in this section, we have discussed some of the skills required in baking careers.
Organisational Skills: Maintaining organizational skills allows the individual to execute various responsibilities and expectations as per their profession. Establishing an organisation in the company encourages individuals to function effectively and also helps to support the organisational goals of the job and career of an employee. Great bakers in the industry know that the process of baking requires the organisation as well as careful timing. The minute things go mislaid, it will lead to the destruction of the product.
Communication Skills: Communication skills are important which you use whenever you offer and receive various types of information. Such instances involve sharing the project with fresh ideas, thoughts or perhaps an update. Communication abilities include listening, speaking, comprehension, and compassion. Like the other chefs in the kitchen, professional bakers most often work in a fast-paced environment with other culinary professionals alongside them. You should have a clear manner of communication so you can keep pace with your task which is extremely important.
Attention to Detail: Attention to detail is important in order to achieve better performance because detail-focused workers are less prone to make mistakes and errors in their workplace. This is the capability to effectively allocate one behavioural resource to complete assignments with promptness and high accuracy. Attention to detail skills can help employees to enhance efficiency, effectiveness and success in the organization. All ingredients must be weighed and measured accurately. A few extra grams or an oven with 25 degrees hotter can ruin your item. You need to have all your eyes on the products.
Self-Control: At the workplace, leaders with better self-control levels show more successful leadership behaviours Self-control is the ability to control and modify reactions to prevent unwanted behaviour, improve positive behaviour, and accomplish long-term objectives. Studies have also shown that having self-control can be significant for well-being and safety. Things can get heated up in a commercial kitchen, not just the oven firing at 500 degrees. All chefs and line cooks need to stay calm. If you allow yourself to get distracted in the hustle and bustle, you run the risk of making mistakes with your measurements, which can lead to a negative impact.
Creativity: Creativity motivates workers to work cooperatively. Individuals who opt for a career as a baker ask coworkers for their input because they have innovative ideas. The creative process enhances communication through design, and it is the most significant advantage of having a workplace where creativity and innovation could actually happen. Baking is a unique fusion of art and science. Great professional bakers are curious and are ready to experiment with different combinations and accept failed experiments as learning.
Patience: Patience is a basic component of career advancement. You have to tackle some circumstances often which need patience. That is because when, due to the urgency of certain issues, they have to operate several additional hours. Baking is the most well-planned process and every stage is essential. Some days might feel good while some might feel long and annoying. Try your best to master the classics and innovative recipes. Long-term patience and dedication will pay off as you utter your craft. If it's something you'd like to achieve it will take practice, patience, dedication and a good education.
Popular Online Hospitality Courses and Certifications
Which certifications and internships can be helpful in becoming Baker?
We have mentioned below certification courses that aspiring individuals may opt to upgrade their skills and knowledge for baking as a career in India.
Internship Availability
Yes
In order to have a better understanding of a career as a baker, it is always important to go for an internship. No matter how much practical learning experience your college or university provides, you will get real-world experience by working with a company or an organisation. When it comes to a career as a baker, internships are very important since they provide an individual with practical knowledge about the field. Nowadays, the internship has become an integral part of a career in shaping budding chefs into, professionals under a disciplined setup. Bakery job salary in India depends on the baker company. The environment in academics is surely controlled and students have access to the best of everything. There is a pressure of volume, cost and performance which a student should know how to handle before he/she works with a star hotel or opens her own bakery/ restaurant.
Also read - Career as chef
Career Path Progression for Baker
Head Baker: The head baker job description should be started as they are responsible for developing, planning the recipes and overseeing the daily production of bread and other baked goods at the bakery. As a bakery chef head, they must be extremely good with bread, cookies, puffs, etc. Head bakers are required to supervise and oversee the work of executive chefs working under them. Additionally, they also must be able to develop SOPs and calculate costing and they must be able to minimize costing and wastage. Sometimes, they are required to check and verify the accounting of the bakery they work in. hence, a knowledge of computers is a big plus.
Pastry Chef: This job title is so fascinating and so is their work. Now coming to the pastry chef job description, pastry chefs are the ones who are trained and skilled in making pastries and other desserts. Pastry chefs are employed in large hotels, restaurants, cafes, and bakeries. The roles and responsibilities of a pastry chef include cleaning kitchen equipment and tools before use, weighing flour and other ingredients to prepare the dough, bake different bread types and desserts as per customer's requirements. They are also required to adjust oven temperatures to ensure proper baking. Pastry chefs manage inventory management of the bakery. They also ensure all the food safety standards are maintained
Artisan Baker: The artisan baker is responsible for doing the crafty things on cakes, pastries and other baked goods. They have the ability of mixing, shape, bake and developing a handcrafted loaf of bread. As artisan bakers, they are required to bake a wide variety of bread, cakes, and other bakery products from scratch. Artisan bakers mostly work in small independent bakeries and restaurant kitchens. They specialise in the baking of a certain type of bread or product. Their job duties include wrapping, slicing, and packaging bread products for sale in shops and delicatessens. They are also responsible for decorating cakes, serving customers and making deliveries.
Bread Baker: A baker is sometimes a tradesperson who baked and sometimes sells bread and other products. The bread bakers are required to perform several job duties such as production, preparation and baking of different bread rolls, bread, and croissants ensuring that standards are of the highest quality. They are also required to ensure that menus, recipes, guidelines and methods provided are followed accordingly. They are responsible for all raw bakery products onboard in terms of portion control, ordering and stock rotation. Bread bakers are also required to deliver training to other bakery teams in terms of the various types of grains and flour and baking techniques.
Cake Baker: Cake bakers specialised in the preparation and presentation of cakes. Their creations are prepared in large commercial bakeries, markets, cafes and restaurants. Individuals with career in baking in India are also required to prepare a wide variety of goods such as cakes, cookies, pies, and bread. following traditional and modern recipes. They create new and exciting desserts to renew our menus and engage the interest of customers. They decorate pastries using different icings and toppings. to ensure the presentation will be beautiful and exciting. They also monitor stocks for baking ingredients such as flour and sugar. and make appropriate orders within budget
What is the job outlook for Baker?
The Indian market has seen a proliferation of bakery café chains or baker company like Barista, Café Coffee Day & Monginis. It has also witnessed a myriad of companies like Britannia and Unibic expand their line of biscuits and other baked products. The baking careers are the largest industry of all the segments of India's food processing. A report released through leading marketplace research company IMARC in March 2019 stated that baking as a career in India reached a fee of dollars 7.22 billion in 2018. The marketplace fee is projected to exceed $12 billion in the next five months increasing at a compound annual increase of 9.3 per cent during the year 2019-2014. A large part of this marketplace nearly 80 per cent is run by bread and biscuits which are items of mass consumption. India is the 2nd in terms of biscuits manufacturing. As bread and biscuits are fast-moving consumer goods (FMCG), they are consumed on a daily basis which is the main reason for increases in sales of these products in India.
Student Also Liked:
Frequently Asked Questions for Baker
Que. Is a baker a good career?
Ans.
The aroma of fresh-baked bread, cakes, and pastries is just one of the job benefits that bakers get to enjoy every day. Retail bakers work primarily in grocery stores and specialty shops. They may take orders from customers, prepare goods to order, and produce a wide variety of flavors and sizes.
Que. What are the assistant baker duties and responsibilities?
Ans.
Bakery assistant accepts orders from clients, responds to customer requests, packages bakery products, maintains stores, reviews expiry dates and maintains the work area neat and clear.
Que. Describe the bakery operator job description.
Ans.
Bakery operators operating in a large-scale bakery, produce various types of bread, cakes and other items. Individuals who opt for a career as a baker learn and comprehend indications and directions and have a good mathematical level for calculating measurements and ratios, cooking and freezing times as well.
Que. What are the top bachelor degree programmes I can pursue in order to become a baker?
Ans.
Following are some of the popular bachelor degree programmes that will help you on your way to how to become a baker:
| | |
| --- | --- |
| BHM (Bachelor of Hotel Management) | BA (Bachelor of Arts) Culinary Arts |
| BSc. (Bachelor of Science) Hospitality Administration | B.Sc. in Hospitality and Hotel Administration |
| BSc. in Culinary Arts with specialization in Bakery and Pastry Management | - |
Que. What are the top master degree programmes I can pursue in order to become a baker?
Ans.
| | |
| --- | --- |
| NCHMCT JEE: National Council of Hotel Management and Catering Technology Joint Entrance Examination | AIMA UGAT (BHM): All India Management Association Undergraduate Aptitude Test (Bachelor of Hotel Management) |
| UPSEE BHMCT: Uttar Pradesh State Entrance Examination for Bachelor of Hotel Management and Catering Technology | MAH HM CET: Maharashtra Hotel Management Common Entrance Test |
| AIHMCT WAT: Army Institute of Hotel Management and Catering Technology Written Admission Test | PUTHAT: Panjab University Tourism and Hospitality Aptitude Test |
Que. What are the top colleges to study to have a career as a baker?
Ans.
You might also be interested in
Questions related to Baker
Showing 1 out of 1 Questions
The question have been saved in answer later, you can access it from your profile anytime.
Access now
Report Question
Select your reason of reporting