Who is a Agricultural Technician?
Everything that slows us down and forces patience, everything that sets us back into the slow circles of nature, is a help. Gardening is an instrument of grace ~ May Sarton
A farmer does not have all the knowledge when it comes to agriculture and this is one of the reasons why a farmer undergoes loss or faces poor crop yield. There is a lot of research done in order to know the soil's mineral content and which crop will give better results on that particular soil. For example, clayey loam soil in a monsoon land is considered the best soil for rice cultivation. So who provides this information to the farmer? It is the agricultural technician who spreads awareness about this kind of information to the farmer so that they can maximise their yield and earn more profit.
An individual who is pursuing a career as agronomist or agricultural technician evaluates how the environment impacts crops in order to help improve an operation's overall production by conducting research and experiments on farms, collecting and analyzing data, and preparing reports based on their findings. Agricultural technicians are required to use their knowledge of agriculture technology in order to help the farmers run their businesses, finding the most cost-efficient way to work their land.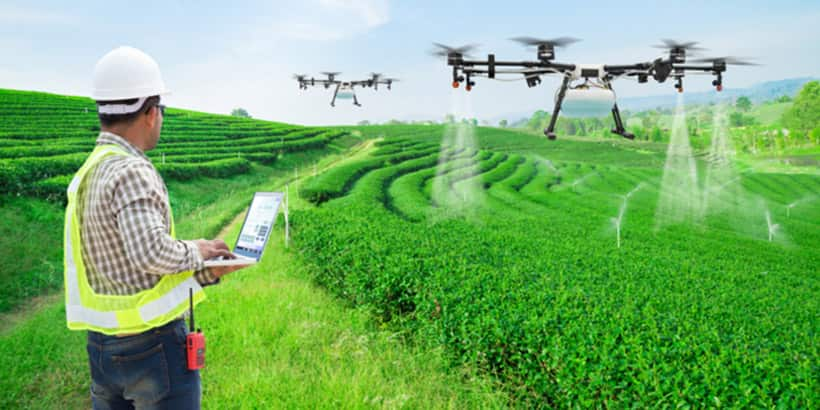 Agricultural Technician in a Nutshell
Agritech careers are field-based that require agricultural technicians to set up experiments and coordinate the operation of farming fields, with the goal to improve crop production, to determine the effects the environment has on crop yield, disease, and growth patterns. While the agricultural technicians can learn on the job, these agronomists may also need knowledge of horticultural and range practices, safety procedures, and greenhouse operations.
The agricultural technicians with experience have some autonomy and may supervise other employees. Another aspect for those who are pursuing a career as agricultural technicians is that they are also required to work with agriculture engineers, agriculture managers, agriculture inspectors and farm managers.
Quick Facts for Agricultural Technician
Industry

Agriculture

Average Salary in India

₹28250

Suitable for

Male, Female

Men, women, and others can choose a career as agricultural technicians. A career as agricultural technicians supports every gender. Both men and women interested in agriculture or farming can choose a career as agricultural technicians. As an agricultural technician, all you are required is to become more knowledgeable, and continue developing your skills as you grow in the industry of agricultural technology. Over time, you will grow more confident irrespective of your gender.

Any special needs

Yes

Everyone, including those with physical disabilities, is appropriate for the career as agricultural technicians. In the field of agricultural technology, the capability of an individual solely depends on the job and the individual itself. An individual who is looking to pursue a career as agricultural technician should remember that it is inherently arduous and sometimes hazardous. Any physical condition which would cause an agricultural technician to be a hazard to himself or to others will create a difficult situation. Hence, depending on the type of work one chooses to do and the type of physical disability one possesses, a plant breeding technician has to be chosen in the agricultural technology industry.
What is the role of Agricultural Technician?
Agricultural technician work responsibilities can vary across the job market and typically include communication. Generally, the agricultural technician job requires knowledge of how to operate greenhouses and improve the health of plants and also, maintain research, field, and chemical application equipment. Plant breeding technicians are often required to be able to operate vehicles or other motorized equipment and should have knowledge of procedures used in farming and land preparation. Agricultural technicians also need to be able to sterilize and clean equipment used in labs for the experiments that they conduct.
Prepare samples
Agricultural technicians are required to receive and prepare laboratory samples for analysis, following proper protocols in order to ensure that they will be stored, prepared, and disposed of efficiently and effectively.
Record and collect data
Agricultural technology also requires them to record data pertaining to experimentation, research, and animal care and collect samples from crops or animals so testing can be performed. In addition to this, a career as agricultural technicians also provide food and water to livestock and laboratory animals and record details of their food consumption.
Operate laboratory
Agricultural technology requires them to operate laboratory equipment such as spectrometers, nitrogen determination apparatus, air samplers, centrifuges, and PH meters in order to perform tests. A career as agricultural technicians also measure or weigh ingredients used in testing or for purposes such as animal feed.
Planting and farming work
Agricultural technicians are often involved in the planting of seeds in specified areas, after which there is count in order to determine what percentage of the seeds have germinated. Planting and farming are often a part of some survey or research work, which can be carried out for various purposes.
Supervision
Using agricultural technology, they are required to supervise pest or weed control operations including locating and identifying pests or weeds, selecting chemicals and application methods, a scheduling application, and training operators.
Examine specimens
Through agricultural technology, they are required to examine animals and specimens in order to determine the presence of diseases or other problems. Along with this, a career as agricultural technicians also perform general nursery duties such as propagating standard varieties of plant materials, collecting and germinating seeds, maintaining cuttings of plants and controlling environmental conditions.
Operate machinery
Agricultural technicians operate farm machinery including tractors, plows, mowers, combines, balers, sprayers, earthmoving equipment, and trucks.
Types of a Agricultural Technician
There are several types of agriculture technicians. The roles and responsibilities of agriculture technicians vary depending on their specialisations and experience. Candidates who want to establish a career as an agriculture technician can opt for any of the job roles mentioned below.
Agriculture Officer: Agricultural officer is the primary person who is liable for spreading all of this expertise, innovation, and technologies to the farmers. Agriculture officers translate and also transfer the scientific facts of agricultural development and also related to farming and agronomy which are discovered by the scientists in the research institutes.
Quality Assurance Officer: To reach regulatory body law, a quality assurance officer is accountable for the policy, approach, and test scientific method. They are responsible for creating, incorporating, and sustaining the quality assurance systems of the entity, and also they guarantee to follow the compliance that is made by the authority with the specific quality standards.
Farm Manager: Farm manager focuses on the production of poultry, dairy, or crops. They introduce optimum output techniques, look after farm administration, and also maintain ventures related to farming. They guarantee the proper functioning of a farm or estate by monitoring activities and strong business strategies.
Research Engineer: Research Engineer performs research work for the production of agricultural machinery and equipment, and also performs duties such as developing and maintaining the materials produced in a research laboratory. They also design prototypes of instruments to increase the production of the items.
Process Manager: The Process Manager is responsible for managing, evaluating, and developing agricultural systems. The process manager has to make sure that agricultural activities are productive and also make modifications whenever required.
Purchase Manager: Purchase managers create product purchasing strategies that are essential to boost productivity and supervise the purchasing team in their day to day routines of sourcing providers and purchasing products, equipment, and facilities. They preserve a database of suppliers, purchase documents, and related information for future references.
Self-Employment: An agricultural technician can also be self-employed and act as an entrepreneur. Agronomists may choose this option because they have both opportunities to grow crops on their own land and can make more profit in this by using new technologies and essential products.
What is the workplace/work environment of Agricultural Technician like?
There are several aspects of an agricultural technician work environment that one should keep in mind before pursuing a career as agricultural technician. A plant breeding technician requires to wear safety attire, such as gloves or masks when handling dangerous materials. He or she is sometimes exposed to loud sounds and distracting noise levels. A career as agronomist often involves being exposed to hazardous conditions. Agricultural technology is a field that involves agricultural technicians working physically near others, such as when sharing an office or workspace. Their nature of work is such that they are often required to work with food inspectors and food scientists as well.
Does Agricultural Technician require travelling?
Likely
Usually, agricultural technicians are required to work from their respective labs or fields itself. However, plant breeding technicians sometimes may be required to travel in order to meet particular work requirements like client meetings, and many more. Also, agricultural technology requires them to perform site inspections in order to conduct research or prepare a plan for certain projects which involves travelling.
Employment Shifts
Full Time, Part Time, Hourly Basis
Agricultural technicians may sometimes work irregular hours to monitor experiments that can't be completed during regular working hours. They may also be required to work in day, evening, or night shifts if working in production. Work from home is least likely to happen in agricultural technician career. A career as a plant breeding technician is more likely to be involved in on-field work.
Employment Nature
Contractual, Permanent
Agricultural technicians are employed on a permanent basis as well as on contract basis. The nature of work for agricultural technicians depends on the task allotted to them, some are recruited by big agricultural firms and industries while some are recruited by private organisations to meet a particular assignment or conduct a research. Agricultural technology is a research based industry that requires employees to work as per requirements of a specific project. There are a variety of roles and responsibilities that are to be accomplished by agricultural technicians.
Work Place
Private Offices Factory, On-Field, Laboratory
Agricultural technicians usually work indoors in labs conducting their research and preparing chemicals for a particular project field. They are usually required to work at least 40 hours per week. These agronomists may sometimes work irregular hours to monitor experiments that can't be completed during regular working hours.
Presence in Geographical Area
Rural, Semi-urban
Agricultural technicians work in laboratories, in offices, and in the field. They spend most of their time studying data and reports in a laboratory or an office and fieldwork includes visits to farms or processing plants. Agricultural technicians recruited by government work on a particular site or field which are usually found in the rural belt. Although, the agricultural and food scientists work in labs that are established in metro cities such as New Delhi, Chennai, and Bengaluru.
Time Pressure
Not Likely
The work pressure for agricultural technicians is considered moderate. A career as agricultural technicians usually works indoors in labs conducting their research and preparing chemicals for a particular project field. They are usually required to work at least 40 hours per week. Agronomists sometimes work irregular hours to monitor experiments that can't be completed during regular working hours.
Overtime Details
A career as agricultural technicians are usually required to work at least 40 hours per week. Sometimes, when the work pressure is more and they are required to accomplish a project in less time, their working hours may extend to 45-50 hours per week. Career as an agricultural technician also requires to work in a day, evening, or night shifts if working in production.
Weekly Hours of Work
Min 45 Hours
Agricultural technicians are required to work full-time. A career as agricultural technicians usually required to work at least 40 hours per week. Sometimes, when the work pressure is more and they are required to accomplish a project in less time, their working hours may extend to 45-50 hours per week. While working on-field agriculture technicians are required to complete tasks in daylight. Work hours can get stretched for plant breeding technicians who are involved in performing research and experiments.
How to become a Agricultural Technician?
Steps to become a Agricultural Technician
What are the skills and qualities required to become a/an Agricultural Technician?
When it comes to how to become agricultural technician, the first thing that they should know about is the skills required to become an agricultural technician. Some of the essential skills we have mentioned below.
Time Management: An agricultural technician should be skilled in managing one's time as well as of others. In agricultural technology, there are times when the work pressure is high and they're required to complete more work in less time, in such cases good time management helps.
Reading Skills: A career as agricultural technicians are required to prepare reports on the basis of research and analysis that they make on different specimens of crops and plants and hence are required to be proficient in understanding written sentences and paragraphs in work-related documents.
Science Skills: Agricultural technology could not be tackled unless one knows the whereabouts of science related to it. As an agricultural technician, one is required to have in-depth knowledge of the science behind agriculture and the technology related to it which is agricultural technology so that proper scientific methods and rules can be applied to solve the problem and emerge to be more efficient.
Listening: While being at work as an agronomist, one should give full attention to what other people are saying, taking time to understand what point is being made, asking questions as appropriate, and not interrupting at inappropriate times.
Equipment Maintenance: Equipment maintenance is one of the most important skills one should learn as an agricultural technician. Performing routine maintenance on equipment and determining whether they are working accurately and deciding when and what kind of maintenance is needed.
Active Learning: Active learning involves understanding the implications of new information for both current and future problem solving and decision making which is an important asset for employees working in agricultural technology.
Supervisory Skills: Agricultural technicians are required to monitor and assess the performance of themselves, other individuals, and organizations to make improvements or take corrective decisions.
Critical Thinking: Management of agricultural technology requires sharp critical thinking skills that involve using logic and reasoning to identify the strengths and weaknesses of alternative solutions, conclusions, or approaches to problems.
Troubleshooting: Agricultural technicians are responsible for determining the causes of operating errors and decide the appropriate course of action.
Speaking: Agricultural technicians are required to communicate effectively while talking to others to convey information effectively and teach and instruct others how to do something.
Decision making: Considering the relative costs and benefits of potential actions, agricultural technicians are required to choose the most appropriate one.
Strategic mindset: Learning strategies are one of the important skills required to become an agronomist which involves learning tasks like conducting tests and inspections of products, services, or processes to evaluate quality or performance, adjusting actions in relation to others' actions. A career as plant breeding technician involves determining the kind of tools and equipment needed to do a job, controlling operations of equipment or systems, selecting and using instructional methods and procedures appropriate for the situation when learning or teaching new things.
Which certifications and internships can be helpful in becoming Agricultural Technician?
We have mentioned below certifications that individuals may opt who want to establish a career as an Agricultural Technician.
Internship Availability
Yes
There are various companies involved in the food sector offer internships in agritech careers and food processing department to students who want to learn the actual work process and gain experience in the field of agricultural technology. Companies such as Intello labs Private Limited, Satyukt Analytics Private Limited, EXcelNow Solutions, Precision Agriculture for Development, and Ample E-Business, and many more. offer internships to agricultural technology students. They also offer full-time agricultural technician jobs to those who complete the internships from these companies itself. These companies offer the best agricultural technician training for graduates in agriculture technology.
The position of an intern exposes the future of Indian agriculture technology sector. The aim of plant breeding internship programmes is to give agricultural technology students an idea of what it's like to work at various firms associated with agriculture technology, while also allowing the firms to evaluate their intellect, work ethic, and cultural fit of the students to determine if they want to hire them for permanent positions after they graduate from the colleges.
Career Path Progression for Agricultural Technician
One area of agriculture that needs an advanced degree within a field of agricultural engineering is agricultural technology. They can also opt for agricultural technician certification courses. Agricultural technology requires the extensive use of machinery, buildings, water lines, and waste management, all of which require expert knowledge and skills to keep the food supply efficient as well as safe. Engineers in the agricultural technology industry include positions of designing equipment and machines.
Bioprocessing Engineer: Bioprocessing technician is a career speciality in biological or chemical engineering. As a Bioprocessing technician, you will focus on designing equipment and developing processing for agriculture, manufacturing food, nutraceutical, feed, chemicals, bioreactors, pharmaceuticals, equipment, and many more. If you have a degree in electrical, industrial or mechanical then this is a career path you might want to choose. A bachelor's degree in biological engineering or a related field is required.
Design Technician: As a design technician, you will design various major components and their subsystems for agriculture equipment and this will include all design specifications. As a design technician, you will collaborate with various departments, such as product management, production and manufacturing, and the sales and marketing departments.
Agriculture Electrical Technician: Your job as an agriculture electrical technician will be to install, service or repair, and create various electrical operations as you may work in various areas of the agricultural technology industry and will use technology specific to the industry. A bachelor's degree in electrical engineering or related fields such as agricultural technology engineering, industrial or mechanical engineering is required to be an agriculture electrical technician.
Food Technician: A food technician designs various components and equipment in the agricultural technology industry by using CAD (Computer-Aided Design) technology. One might choose a career specialisation from agricultural technology developing and designing food-processing plants, or you may decide on a career as a manufacturing operations supervisor. There are many career paths available, especially for a structural technician, such as designing structures for processing and storing crops or structures for housing animals. Depending on the employer, you may only need a high school diploma or five year of experience. Whereas other employers require a bachelor's degree in mechanical engineering or industrial systems engineering.
Geospatial Analytics Scientist: A career as a geospatial analytics scientist requires you to extract GPS data and then assess it. You're also required to integrate and manipulate this data along with various databases in an effort to improve the performance and function of various precision agriculture software platforms. You'll require a master's degree in agricultural technology engineering, geographic information systems, civil engineering, or computer science.
Irrigation Technician: An irrigation technician is responsible for analyzing, planning, designing, and implementing agricultural irrigation systems. This can range from crops to canals or even dams. Depending on your job, you'll be required to have a bachelor's degree in agricultural technology engineering and/or civil engineering. Some positions also require a master's degree while others demand a Ph.D.
Waste Handling Technician: A sanitary and waste handling technician may also be an environmental engineer. Waste management is an important process to any agricultural technology process. As a waste handling technician, you will be responsible for analyzing, planning, designing, and implementing various disposal processes as well as waste collection and recycling. A bachelor's degree in environmental engineering, processing engineering, or other engineering science is required. Environmental compliance experience of two to three years is often required.
Software Technician: Software technicians are also needed as more and more machinery becomes automated. Some of the most discreet design specialities include revision control systems and automated systems. Software architects are required to develop and implement the client-server architecture. They need a bachelor's degree in computer science, software engineering, computer engineering, or related technical fields. Some employers might even require three to five years of experience.
Agricultural Technician Jobs and Salaries
What is the job outlook for Agricultural Technician?
Agricultural technician job outlook looks quite promising, despite the covid pandemic. Career as agricultural technician will have an upward trend in the near future. For a career as agricultural technician, one is required to assist agricultural scientists, agronomists, and food technologists in collecting the required information. The job outlook in this profession is quite good. There is plenty of work opportunities in other countries as well, especially European countries. Several countries have huge tracts of farmland and it is often understaffed, hence, working as an agricultural technician can be a good option. Even the salary that is offered is quite attractive if we compare it to the salaries given in India. Hence, those who are interested in working as agricultural technicians, there is a good scope in India as well as abroad.
In India, with the increase in population, the need for various agricultural products has also increased and according to statistics, more than 50 per cent of the Indian population depends on the agricultural product. The rural banking and credit system has also played a vital role in the growth of the Indian agricultural technology sector.
Students also liked
Frequently Asked Questions for Agricultural Technician
Que. What does an agricultural technologist do?
Ans.
Agricultural technicians conduct experiments and research on farms to improve production in crops or plants. They work with scientists in analyzing and recording data.
Que. Where do agricultural technicians work?
Ans.
Agricultural technicians work in a variety of settings, including laboratories, processing plants, farms and ranches, greenhouses, and offices. A career as agricultural technicians work in processing plants and agricultural settings may face noise from processing and farming machinery, extreme temperatures, and odors from chemicals or animals.
Que. What do agricultural technology engineers study?
Ans.
Agricultural Engineering is the area of engineering concerned with the design, construction and improvement of farming equipment and machinery. Agricultural technology engineers integrate technology with farming. For example, they design new and improved farming equipment that may work more efficiently, or perform new tasks.
Que. What is the job market of agriculture industry?
Ans.
Expect the strongest job market for plant scientists, food scientists, sustainable biomaterials specialists, water resources scientists and engineers, precision agriculture specialists, and farm-animal veterinarians.
You might also be interested in
The question have been saved in answer later, you can access it from your profile anytime.
Access now
Report Question
Select your reason of reporting