Who is a Agricultural Engineer?
The discovery of agriculture was the first big step toward a civilised life ~ Arthur Keith
You must be thinking about who is Agricultural Engineer and what are the Agricultural Engineer career options or the role of Agricultural Engineer, here in this article, you will get all the answers to your questions. Agriculture is usually termed as the science and the art of growing crops and using livestock for various farming purposes. An agricultural engineer is a professional who applies and uses the principles of agriculture and engineering to come up with solutions in the agriculture sector. An agricultural engineer is also known as a biological engineer. He or she plays a vital role in finding solutions to various agricultural problems and also to meet the agricultural demand of the people.
Agricultural engineers design and develop new farming techniques and equipment that help in making farming more efficient in terms of sustainability, safety, and environment-friendly. They increase the efficiency of farming with the help of new and advanced technologies. Agricultural infrastructure such as dams, water reservoirs, warehouses, and other structures are also designed and built by them. In short, agricultural engineers work to improve the efficacy and sustainability of agricultural practices with the help of advanced technologies.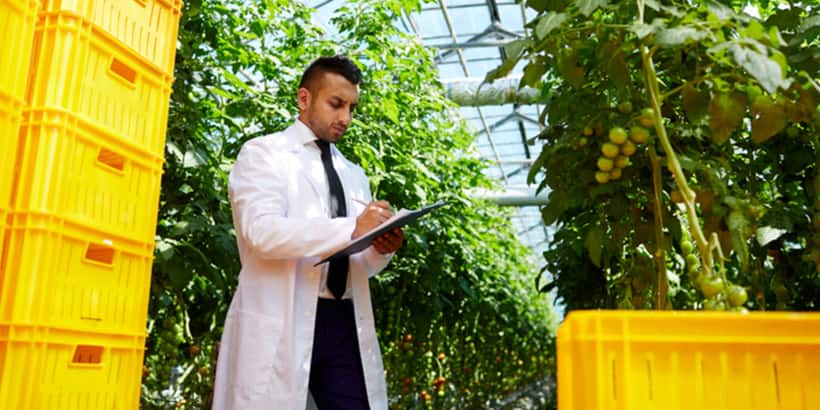 Agricultural Engineer in a Nutshell
Agricultural engineering is a discipline of engineering that combines mechanical, civil, electrical, and chemical engineering principles with agricultural principles. Agricultural engineers are biological engineers involved in agricultural production and processing. Agricultural engineering is the study of designing equipment and developing various eco-friendly methods to improve the productivity of crops with the help of advanced technologies.
Quick Facts for Agricultural Engineer
Industry

Agriculture

Average Salary in India

₹37000

Suitable for

Male, Female

Agricultural engineer is also known as Agri engineering, it is a profession that is suitable for all gender types as the activities and the tasks required to do in this profession can be carried out by anyone. Any individual planning to make a career as agricultural engineer regardless of gender can pursue agricultural engineering.

Any special needs

Yes

Career as agricultural engineer is not suitable for candidates with special needs as it requires the person to travel from one location to the other in order to gather samples and test them in laboratories.
What is the role of Agricultural Engineer?
A career as Agricultural engineer involves a variety of activities related to farming and the agricultural industry in general. These activities range from aquaculture (breeding, raising, and harvesting fish, shellfish, and aquatic plants) to land farming and forestry. When it comes to career as agricultural engineer, his or her activities also include developing biofuels and finding better ways to process food. An Agriculture engineer designs components and agricultural machinery with the help of computer-aided design (CAD) technology. He or she tests agricultural machinery and various types of equipment to ensure that they work properly.
Designing food processing plants and supervising manufacturing activities is also an important part of a career as agricultural engineer. An Agricultural engineer plan and supervise environmental and land restoration projects in agriculture and related industries.
Designing
Agriculture engineers are at the forefront when it comes to designing new agriculture machinery and other equipment. Agriculture engineers also design crop storage facilities, animal farms,crop processing units. They also oversee the construction of such facilities.
Testing
Agriculture engineers also test all types of agriculture machinery in order to ensure that the agricultural operations are carried on without any problems. They ensure that the work done is smooth and efficient. Testing is an important part of an agricultural engineer's job profile. Testing helps to minimise risks and maximise the output, which further results in the desired outcome.
Educational programmes
Agriculture engineers often conduct educational programmes for farmers and provide them with the relevant information that is needed by them so that there is a rise in their agricultural produce, without affecting the environment.
Supervision
Agriculture engineers also act as supervisors in food processing and food manufacturing plants. They ensure the quality is not compromised and that everything runs smoothly. It is also their responsibility to supervise their juniors and ensure that seamless work is carried out.
Planning
Agriculture engineers often come up with the sketches and drawings of food processing plants or food storage facilities. They also sanction budgets for various agricultural projects. Apart from this they also plan out events and surveys that help to gather raw data for further research. As the agricultural industry in India is quite vast, planning forms an essential part of the job of an agricultural engineer.
Types of a Agricultural Engineer
There are several options for those who have completed their studies in agricultural engineering. From being a plant physiologist to a food supervisor or an agronomist, one can take up any career. Some of the popular alternative types of a Agricultural Engineer for biological engineers are mentioned below:
Plant Physiologist: Plant physiologists are a type of botanist who studies various functions of living plants right down to the cellular level. Agriculture scientists study the entire functions that take place in plants, starting from their growth till the time they die, and understand how they produce fruits.
Food Inspector: A food inspector looks after the overall food hygiene and safety. A food supervisor ensures that standards are being met. A food inspector monitors and supervises all the food handlers to make sure that all the food handling tasks are carried out in an efficient manner.
Agricultural Inspector: Agricultural Inspectors are responsible for inspecting farms and other agricultural organisations. They inspect the products and equipment, and sites to ensure that everything is according to government regulations. Most agricultural inspectors are employed by the state and central governments.
Agricultural Specialist: Agricultural specialists are in charge of enforcing the rules and regulations about the export and import of various agricultural items across the border. They study to gain information on the various agricultural products and act as Customers and Border Protection officials.
Agronomist: Agronomists work to find various ways to produce more food and increase soil productivity. They often work as planners and managers and frequently conduct soil testing and land appraisal procedures. Agronomists also work to improve the nutritional value of crops and seeds.
Soil Scientist: Soil scientists study soil resources as they not only contribute to agricultural production but also affect the quality of the environment. Soil scientists are the right professionals to inspect the soil and interpret it. Their readings and interpretation help to come up with solutions that help protect the environment and ensure that human health is not compromised.
Also read: Career as agricultural manager
What is the workplace/work environment of Agricultural Engineer like?
When it comes to a career as agricultural engineer, one spends time at a variety of worksites, both indoors and outdoors. Working conditions for agricultural engineer depends on the kind of activity he or she performs. Some of his or her tasks may be performed in laboratories, offices, or in fields. A biological engineer might need to investigate farm operations, survey land use and conditions or test new equipment.
Does Agricultural Engineer require travelling?
Likely
Agricultural engineers work in a variety of settings that include outdoor and indoor worksites. Travelling is not necessary for every agricultural engineer, as depends on the nature of their work. Biological engineers working in offices do not require to travel as they perform their tasks in the buildings. Whereas agricultural engineers like soil scientists have to inspect the soil so they need to travel from one site to the other.
Employment Shifts
Full Time
The career as agricultural engineer includes mostly working full-time in an organization. There are some companies that hire agricultural engineers on a part-time basis also. Schedules may vary due to weather conditions and other complications. The nature of employment does not require candidates to work from home as agricultural engineers have to be physically present in laboratories to research and analyze the reports.
Employment Nature
Permanent
The nature of employment is on a permanent basis when it comes to a career as agricultural engineer. Most companies hire individuals on a permanent basis as employees get more efficient at biological engineering jobs through familiarity with the processes. It is not necessary that every industry hire agricultural engineers on a permanent basis, they might hire engineers on a contractual basis according to their needs. In short, companies look to hire more agricultural engineers on a permanent basis than on a contractual basis.
Work Place
Private Offices Factory, On-Field, Laboratory
Working conditions for agricultural engineers depend on the kind of activity they perform. Some of their tasks may be performed in laboratories, offices, or at fields.
Presence in Geographical Area
Urban, Rural
The offices and laboratories are mostly situated in urban areas. However, sites are situated mostly in rural or semi-urban areas. The job role of agricultural engineers varies due to the specialization that they opt for. As this profession involves the study related to the agriculture industry the work sites are mostly situated in urban cities.
Time Pressure
Likely
When it comes to a career as agricultural engineer, one must be available to address problems that may come up in manufacturing operations or rural construction projects. Some outdoor projects may require favorable conditions so weather also plays an important role in their work schedules.
Overtime Details
Agricultural engineers sometimes work overtime because of the nature of agricultural projects. During the harvest season, they might also assist the local agricultural body, hence ending up working overtime.
Weekly Hours of Work
Min 45 Hours
In a career as agricultural engineer, one usually works a regular shift of nine to five on weekdays. However, depending on the specialization in the biological engineer career the shift timings may vary. However, depending on the specialization in the career the shift timings may vary. Engineer working in office premises are likely to work on a regular shift. Whereas, engineers working on different sites require travelling, therefore shift timings do not matter in such cases. Time taken in travelling from one site to another adds up to the hour of the shift.
How to become a Agricultural Engineer?
Steps to become a Agricultural Engineer
What are the skills and qualities required to become a/an Agricultural Engineer?
Just like others, if someone is pursuing a career as agricultural engineer, he or she needs to master a number of skills. Some of these skills have been mentioned below.
Analytical Skills: In a career as agricultural engineer, individuals often design systems that are part of a larger agricultural or environmental system, he or she must possess the analytical skills to propose solutions in order to interact well with co-workers, machinery, and equipment, and the environment.
Listening Skills: Biological engineers must have good listening skills to seek out information from clients, workers, and other professionals working on a project. Also, agricultural engineer must be able to communicate the information to people who will be using the systems and solutions they design.
Mathematical Skills: This is one of the most important skills when it comes to a career as agricultural engineer. One's job requires a lot of calculations based on the principles of calculus, trigonometry, and other advanced topics in mathematics for analysis, design, and troubleshooting in their work.
Problem-Solving Skills: Agricultural engineers work on problems affecting many different aspects of agricultural production, from designing safer equipment for food processing to water erosion. These biological engineers must be able to apply general principles of engineering to new circumstances and solve their problems.
Communication Skills: In a career as agricultural engineer, candidates must understand the verbal and written information provided to them. He or she needs to read and understand work-related materials. An agricultural engineer needs to listen carefully to others and ask questions in order to resolve the queries of coworkers. He or she must speak and write clearly so that people can understand the information he or she wants to convey.
Reasoning Skills: When it comes to a career as agricultural engineer, individuals need to analyze ideas and logic to combine information to come to a conclusion that is beneficial for the people. Biological engineers recognize the nature of the problem and judge the cost to be incurred to solve it. He or she needs to identify what must be changed in order to achieve the goal. A career as agriclutural engineer requires thinking of new ideas and following the guidelines to arrange objects to make the ideas real.
Scientific Skills: In a career as agricultural engineer, candidates need to master the mathematical and scientific skills to solve problems. He or she needs to be accurate with the calculations in order to gain the desired solutions to problems that he or she comes across.
Managerial Skills: Candidates need to manage themselves and their coworkers to achieve the desired targets within the given timeframe. In a career as agricultural engineers, they must have the managerial skills to motivate, direct and develop people.
Decision-making Skills: This is one of the vital skills that must be possessed by candidates in a career as agricultural engineer. They need to make the right decisions at the right time to enhance performance which results in the success of the organization. Effective and correct decisions help in the effective and smooth functioning of an organization.
Delegation Skills: This is the act of passing on tasks related to work to employees or subordinates working in an organization. They should assign tasks to employees that suit them in order to maximize the outcome and meet the deadlines. The proper delegation of work helps in getting quick and easy results.
Conceptual Skills: These skills help in understanding complex situations in order to develop creative and successful solutions. A creative mind sees a problem from different angles which helps to get a solution to complex situations. Everyone might have an opinion but not all have the capability to implement the ideas, so the ability to conceptualize the ideas is crucial. Abstract thinking is highly effective in top managerial positions.
Popular Online Engineering Courses and Certifications
Which certifications and internships can be helpful in becoming Agricultural Engineer?
We have mentioned below certifications that individuals may opt for who want to establish a career as an Agricultural Engineer.
Internship Availability
Yes
The agricultural engineering internship is an important step towards finding a job after completing graduation in a career as an agricultural engineer. Internships are great opportunities for students in learning more about themselves and the companies they might work for. Internships are a great way to enhance one's resume, make professional connections, and get recommendation letters to use for future job applications. The internships are offered in different durations ranging from two months to six months depending on the needs of the industry.
Career Path Progression for Agricultural Engineer
A career as agricultural engineer is a vast field of engineering related to farming and the resources available from the environment. A junior agricultural engineer usually works under the supervision of experienced engineers. As he or she gains knowledge and experience, beginning engineers move to more difficult projects with greater independence to develop designs, solve problems, and make decisions. Those who work in the industry may become top managers for his or her company. Some open their own consulting firms.
Junior Agricultural Engineer: Juniors or associates in agricultural engineer are involved in various functions, including farming and agribusiness-associated activities, like every other profession. They not only just assist the seniors but also do some specific work. They use computer-aided technology for designing or developing equipment or other machinery which are used in farming.
Agricultural Inspectors: Agricultural inspectors inspect or monitor the farms as well as other agricultural organizations to understand the details of the business, and productivity and they also give attention to the laws and regulations. They are mainly liable to check if all the products, equipment, and forums are officially legal and comply with government rules and regulations.
Agricultural Engineering Manager: Managers are basically the supervisor of any department, whether it is a corporate firm or a governmental body. Now if we talk about agricultural engineering managers, the very name implies that they supervise subordinate agricultural engineers. They also work with landowners and government agencies and implement many strategies regarding the increase of agribusiness. Management teams of agricultural engineering or the managers finalize and report policies and procedures according to departmental goals.
Students also liked
Agricultural Engineer Jobs and Salaries
Agricultural engineering manager
Monthly Salaries
Average Salary

50000

Junior Level Salary

30000

Senior Level Salary

100000
Job Description
Agricultural engineering managers offer resources and expertise to collaborate with landowners, and government organizations to introduce and sustain a range of management activities. Agricultural engineering managers finalize and review operational policies and procedures according to the goals of the department.
Salary Description
The average pay structure of agricultural engineering managers is rupees six lakhs per annum, the initial pay can be as high as two lakhs per annum. Several organizations offer higher to trained and skilled agricultural engineering managers, who could receive nearly twelve lakhs a year.
Junior Agricultural Engineer
Monthly Salaries
Average Salary

40000

Junior Level Salary

20000

Senior Level Salary

70000
Job Description
Junior agricultural engineers are employed in a number of tasks related to agriculture and agribusiness in general. They design equipment and farming machinery using computer-aided engineering technology. Junior agricultural engineers check farming equipment to guarantee they function properly.
Salary Description
A junior agricultural engineer salary in India might vary based on their expertise, skills, and experience. Junior agricultural engineers' average salary structure is rupees four lakhs per annum, the initial payment may be up to two lakhs per year. Most companies or organizations are paying more for highly qualified and experienced junior agricultural engineers, who could earn nearly eight lakhs a year.
Agriculture Electrical Technician
Monthly Salaries
Average Salary

21000

Junior Level Salary

19000

Senior Level Salary

32000
Job Description
An agriculture electrical technician is a professional responsible for maintaining machinery, meeting maintenance requirements for various systems, and minimizing downtime. He or she is required to support, troubleshoot, improve, and maintain high-speed production and packaging machinery. An agriculture electrical technician job involves ensuring quality standards are met at all times.
Salary Description
The salary of an electrical technician varies depending on his or her skills and experience. An entry-level agriculture technician could earn more than Rs. 200,000 per annum. A senior-level electrical technician could earn more than Rs. 400,000 per annum.
Also read: Agricultural Technician
What is the job outlook for Agricultural Engineer?
The demand for agricultural engineers is more as the Indian economy is heavily dependent on agriculture, there is no dearth of agricultural engineer jobs in India. There is a good scope for agricultural engineering in India and agriculture engineering salary in India is also high as it is the most demanding career. With the increase of technology and scientific inputs in this industry, the requirement for manual laborers has decreased. Both the private and public sectors hire agricultural engineers offering good opportunities to students who become agricultural engineers.
The Indian Government has taken many initiatives to help the farmers which in return helps in the growth of the jobs for agricultural engineers. The growth of the population is one of the major factors that would create employment opportunities in this field. With the increase in population, the demand for food would also increase which would require engineers to use their skills to produce more food (crops) with the help of advanced technologies.
These factors would definitely increase jobs for agricultural engineers in the coming years. So choosing a career as agricultural engineer would definitely help students in the future in getting sustainable employment.
Frequently Asked Questions for Agricultural Engineer
Que. What is meant by agricultural engineering?
Ans.
Agricultural engineering is a branch of engineering which deals with agricultural production. It is an amalgamation of principles and disciplines of mechanical, civil, chemical engineering and food science. From designing the farm machinery to planning the location of the farm. Everything comes under agricultural engineering.
Que. Is Agricultural Engineering a good career?
Ans.
Career as agricultural engineer offers good opportunities, but it is a small occupation, and engineers trained in other fields, such as civil or mechanical engineering, also may compete for these jobs.
Que. Is Maths compulsory for Agricultural Engineering?
Ans.
No, Maths is not a mandatory subject required to pursue agriculture engineering.
Que. What is agricultural engineering salary?
Ans.
The average salary of agriculture engineers is between Rs. 2.5-4.5 lakhs per year.
Que. What do agricultural engineers do?
Ans.
Agricultural engineers design agricultural machinery components and equipment, using computer-aided design (CAD) technology. They also test agricultural machinery and equipment to ensure that they perform properly. They design food-processing plants and supervise other operations in a firm.
Que. What do food inspector do?
Ans.
The Food Inspector is responsible for measuring and analysing the safety and quality of ingredients the company purchases, products made by the company, and the processes and equipment used to convert ingredients into products.
You might also be interested in
Questions related to Agricultural Engineer
Showing 1 out of 1 Questions
The question have been saved in answer later, you can access it from your profile anytime.
Access now
Report Question
Select your reason of reporting