Who is a Agricultural Inspector?
Agriculture was the first occupation of man, and as it embraces the whole earth, it is the foundation of all other industries ~ E.W. Stewart
An agricultural inspector is someone who works to prevent food-borne diseases and provide healthy food to everyone. Anything that we eat does not come directly to us, especially in the cities. The food goes through numerous departments before finally coming to the consumer. The food crops in the field often get infected by pests and insects. To avoid this, the farmers spray pesticides and insecticides on crops. If the pesticides are sprayed more than the adequate quantity then it could turn the crop toxic for human consumption.
Similarly, the meat processing units are required to test the livestock before slaughtering them as the livestock might have some disease. An agricultural inspector does this inspection on a regular basis to ensure that the food processed from the crops of the farm or raw meat of the processing facility is healthy for consumption. Continue reading the article to know complete information on how to become a agricultural inspector.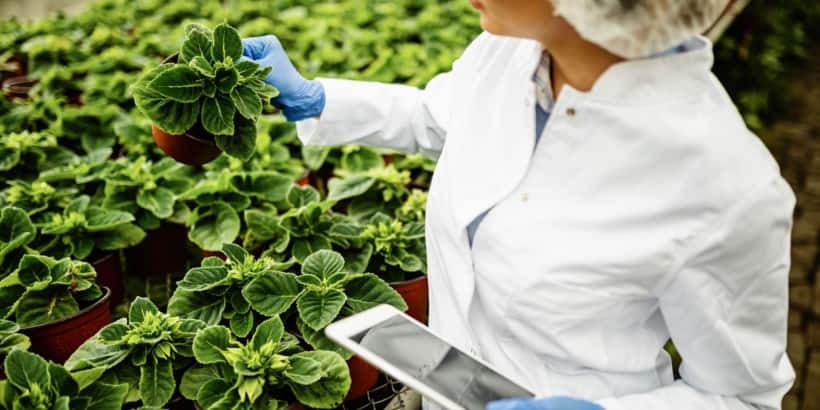 Agricultural Inspector in a Nutshell
Agricultural Inspector job description commonly includes being employed by government agencies such as the Ministry of Food Processing Industries, Ministry of Consumer Affairs, and Food and Public Distribution. An agricultural inspector has to make sure that all the agricultural and food processing entities follow the rules and regulations that have been set by the government and that the product is of the highest quality.
Quick Facts for Agricultural Inspector
Industry

Agriculture

Average Salary in India

₹35000

Suitable for

Male, Female, Others

A career as agricultural inspector is suited for everyone, regardless of gender, provided the individual has an interest in travelling and examining food ingredients. Agriculture Inspector is found to be an individual who enjoys travelling and likes to spend time with themselves. He or she has a natural curiosity and is more likely to be investigative in nature. Men, women, and others can choose a career as agricultural inspector. In India, male and female agriculture inspector enjoys equal benefits because gender is insignificant in this career.

Any special needs

Yes

Those who are interested in pursuing a career as agricultural inspector must remember that it is not suitable for a person with special needs. An agricultural inspector requires to travel to farms and other food processing units to collect samples and sending them to the lab. It is both a desk and a field job. Agricultural inspector requires inspecting food processing operations that demand physical fitness.
What is the role of Agricultural Inspector?
An agricultural inspector examines the food processing operations such as reports of logging, fishing, and farming operations to make sure that the food received by consumers is healthy for consumption. These food inspectors are responsible for the inspection of meat processing units and ensuring it meets safety standards. An individual who is pursuing a career as agricultural inspector may also be required to measure the quality standards of shipment of agriculture and farm products before it crosses the border to be sold in another state or country.
The Agricultural inspectors have to remain in contact with the personnel working on the samples of the agricultural products taken for inspection, draft a report about their findings, and suggest applicable health recommendations to farmers, and other authoritative bodies.
Examining food
Agriculture inspector examines agriculture commodities and related operations such as fish and logging operations to ensure the operations compliance with law and regulations of government's health, safety and quality standards.
Livestock examination
A large number of people in our country consume dairy and other animal products. Hence, it is important to ensure that the livestock from whom we take our dairy and other products are not infected with any kind of disease which can be harmful to human beings. So it is the responsibility of the agricultural inspector to examine the livestock and ensure that they are healthy.
Ensuring cleanliness
Ensuring cleanliness is another important job responsibility of an agricultural inspector. Slaughterhouses or poultry and dairy farms can be a ground for various diseases which can be quite harmful to human beings. Hence, it is important for them to be clean. An agricultural inspector ensures that such places are clean and that conditions are hygienic.
Inspection
A career as agricultural inspectors inspects the transportation and handling procedure to ensure it meets all the regulatory requirements. Inspecting horticultural products and livestock to detect harmful disease, infestation or growth rate. Agriculture inspectors also examine livestock to determine the effectiveness of medication and feeding programmes.
Testing
As an agricultural inspector, it is important for the individual to conduct several tests in order to maintain quality. A career as agricultural inspectors collects samples from livestock, plants, and other products such as the feed given to the animal and sends it to laboratories for testing the purposes. Periodic tests conducted by them also help in the prevention of widespread disease among the animals.
Ensuring quality
In a country like India, where there are crores to feed, quality is often the first victim to the problem of such a large population. As an agricultural inspector, it is his or her duty to regularly inspect food processing plants or food manufacturing factories. Bad quality food or ingredients such as additives and compounds that are used to prepare food products can spell disaster for a nation.
Issuing certificates
Issuing official grading certificates, labelling and sealing graded products as per the regulatory standards.
Legal proceedings
In an event where there is a violation of food laws, an agricultural inspector might be required to take part in the legal proceedings and provide evidence in the form of test reports.
Report writing
Report writing is again an important aspect of an agricultural inspector's job profile. Writing reports of discoveries or findings during tests or recommending and advising farmers about a particular method; it is all done by the agricultural inspector. Sometimes the reports also include the crop growing procedures or safety regulations.
Types of a Agricultural Inspector
There are similar types of a gricultural inspector in the agricultural and food processing industry. We have mentioned below several agricultural inspector career options related to the same field.
Plant and Quality Control Technician: The plant and quality control technician is required to examine and test the samples of raw materials and products to ensure he or she meets all the standards regularised by various government bodies. Expertise in lab skills helps the technicians to bag a good amount of salary. No doubt, the experience is necessary to work in senior positions.
Meat Inspector: As the name suggests, a meat inspector examines meat products such as beef, pork, seafood, poultry, and other items. It is required to ensure that the meat processing follows standard quality assurance regulations. Meat inspectors are also a type of agricultural inspector, examining livestock to ensure that it is not infected with any disease before getting slaughtered.
Animal Health Technician: Animal health technicians work for animals' health and ensure that the animal is fit. In other words, the animal health technician is similar to a nurse to humans. They also work with veterinarians, scientists, and researchers. The Animal health technicians conduct surgeries on prepping animals, administer medications, carry out lab tests, and record medical history.
Agricultural Manager: All aspects of operating farms and other facilities that grow crops are managed by an agricultural manager. Planning, supervising, and occasionally engaging in the process of planting, fertilization, and harvesting are some of their tasks. One of the largest industries and a strong source of jobs throughout the country is the profession of agriculture. In the Indian economy, agriculture also plays a vital role. It supports the efficient production of high-quality foodstuffs in the agricultural food and farming industries.
Agricultural Technician: To help farmers operate their businesses, a career as agricultural technician is the right option. He or she is expected to use their knowledge of agricultural technology to find the most cost-effective way to manage their land. A career as agricultural technician provides farmers with advice and information about their agricultural technology companies, choosing crops based on soil conditions, learning to manage weeds, helping farmers pick the right livestock, performing laboratory tests, and taking field samples.
Agricultural Engineer: A agricultural engineer plays a vital role in seeking solutions to different farming problems and also in meeting people's agricultural demands. In terms of sustainability, protection, and environmental friendliness, agricultural engineers design and develop new farming techniques and equipment that help make farming more effective. With the aid of new and advanced technology, they improve farming production.
Farm Manager: A farm manager reviews existing operations, crops, livestock, staff, and financial records and recommends improvements to them. He or she makes planting and harvesting plans and schedules and ensures that employees' expectations are heard. In order to inspect crops, and animals and even administer soil and water tests, farm managers visit the different divisions.
What is the workplace/work environment of Agricultural Inspector like?
Agricultural inspectors work for long hours, their working hours often extend the regular nine hours of a day. Agricultural inspectors spend much of their time in food-or-meat processing plants. They are required to travel from farms to ports to conduct an inspection of cargo on boats, anchored on the docks. During on-site visits such as inspection of premises of food processing entities, the inspector performs checks on the environment, building, and machinery of the entity.
As the food inspector job involves finding the food processing or meat processing entities violating the rules and regulations, inspectors often have to deal with hostile individuals and unpleasant situations. Senior-level agriculture inspectors are also required to give guidance to farmers about developments in farming techniques.
Word of Caution
One job hazard which comes with being an agriculture inspector is that he or she is more likely to get infected by contagious diseases. As they are constantly involved in the interaction with numerous people and require frequent travelling for office work. Food inspectors also have to be in noisy surroundings while examining the machinery. A career as agricultural inspector involves being exposed to unhygienic conditions such as rotten food ingredients or food-related microorganisms causing diseases, pollution, extreme temperature, and odors.
Does Agricultural Inspector require travelling?
Likely
An agriculture inspector's job involves both types of work on desk and fieldwork as per requirements. An agriculture inspector's work hours are spent in the field visiting farms, food factories and warehouses, ports, and other food processing entities for inspection. His or her career demands travelling to farmlands, and companies such as food processing and meat processing entities. An agricultural inspector is often required to visit the ports, farmlands, and food processing entities to check the sanitary conditions, and food quality before being packed and to ensure that all the standards and safety measures are taken into consideration.
Employment Shifts
Full Time
An agricultural inspector usually works for about five days a week, with a nine-hour shift. He or she most of the time requires to extend official working hours due to work responsibilities. A career as Agricultural Inspector demands travelling and visiting different places for the inspection and examination of processed food imports and exports. Occasionally, it may also require an overnight stay away from the home.
Employment Nature
Permanent
An agricultural inspector career provides permanent job opportunities and comes with full-time work responsibility in government departments. In private firms, it comes with contractual as well as permanent employment. Working from home or hourly basis work is not familiar with this career.
Work Place
On-Field
A career as agricultural inspector is often required one to be on the field most of the time. Agricultural inspectors are either visiting farmlands for inspection or food processing plants for various checks. Hence it is a job where most of the time is spent working in the field.
Presence in Geographical Area
Rural
There are more opportunities in rural areas where agriculture is considered one of the prime occupations. The industrial areas where food processing or meat processing units are set up and can also provide good opportunities for agricultural inspectors and other relevant career options. Food processing units or meat processing units are mostly set up in urban areas, therefore it is concluded that there are growing opportunities for this career in rural as well as urban areas.
Time Pressure
Not Likely
There is hardly any time pressure for agricultural inspectors. Agricultural inspectors are required to work as per their schedule which includes responsibilities and inspections assigned to them. The time pressure is almost negligible in the job except for inspection days when the supervisors cross-verify the work of agricultural inspectors.
Overtime Details
In agricultural inspector jobs, individuals need to work for 9 hours per day. He or she usually works in indoor settings going through the files and documents of various agricultural projects. However, during inspection days he or she might be required to work overtime because of traveling inconveniences.
Weekly Hours of Work
Min 45 Hours
A career as agricultural inspector work hours normally extends 45 hours per week. It comes with both a desk and a field job. It often extends the official working hours or nine hours a day due to long travelling hours and field inspection.
How to become a Agricultural Inspector?
Steps to become a Agricultural Inspector
What are the skills and qualities required to become a/an Agricultural Inspector?
Do you know about the requirements to become an agricultural inspector? If you are planning to opt for a career as agricultural inspector inspection career and do not know how to become a agricultural inspector, then this section is for you. You must possess several skills needed for efficient functioning as a agricultural inspector. Have a look at these primary agricultural inspector skills.
Quality Control: An agricultural inspector is required to conduct tests and inspect the products and processes to evaluate the quality of the food material being processed.
Reading Skills: An agriculture inspector is required to read the documents and reports drafted after lab assessment and the safety measures regularised by government authorities.
Listening: An agricultural inspector must be a good listener to nullify any communication gap between the workers or owner of the food processing entity and himself or herself.
Supervisory skills: An agricultural inspector is required to monitor the food processing activities from packaging to delivering the food to consumers such as adding preservatives to keep the food fresh, packing, transportation, and other activities related to food safety standards.
Critical thinking: An agriculture inspector is required to have the critical thinking ability to determine the weakness and strengths of the solutions to the problem using logic and reasoning.
Which certifications and internships can be helpful in becoming Agricultural Inspector?
We have mentioned below certifications that individuals may opt for who want to establish a career as an Agricultural Inspector.
Internship Availability
Yes
These candidates can find agricultural inspector internships in food processing companies and other related industries. Agricultural inspector jobs may require candidates to visit farms for crop and field scouting. The candidates may also require to perform tasks such as seed delivery and pick-up. He or she may be required to perform and test maturity sampling. The intern assists in planting and harvest operations. He or she may also be required to keep a record of pesticides used in crops. Effective communication skills are required for this role. A career as agricultural inspector has to communication with a number of people.
Career Path Progression for Agricultural Inspector
You may acquire various roles in the food industry with experience. Some of the types of a agricultural inspector or careers related to it are mentioned below with varying job titles and responsibilities.
Assistant Agriculture Inspector (AAI): The assistant agricultural inspector is an important member of the Inspectorate team. The assistant agricultural inspector is assigned prime responsibilities such as providing scientific expertise for the development of the food sector. Assistant agricultural inspector job opportunities are available in the following specializations such as pest risk analysis, entomology, bee health, nematology, and plant pathology (bacteriology).
Sub Inspector: Agriculture sub inspector works under the agriculture inspector. He or she stays in contact with farmers and collects applications for requests for soil conservation and other required documents. Sub agriculture inspector carries surveys and collects data required for the preparation of plans and estimates. He or she prepares a contour plan as required based on the data collected through surveys.
Village Level Extension Worker (VLEW): Village Level Extension Worker is responsible for improving crop productivity and ensuring that every farmland keeps harmony with the environment such as protecting soil, water, and other natural resources. In India, a VLEW is usually in charge of eight areas. These areas consist of 8 to 10 villages A VLEW works with progressive farmers of different socio-economic backgrounds and provides them guidance and training to improve crop production.
Primary Investigator (PI): Primary Investigator is responsible to make sure standard operating procedures are developed for toxic chemicals and other operations. He or she also ensures to assign an expert to oversee safety measures in the laboratory. The person who is responsible for overseeing safety inside the laboratory is known as the Research Safety Officer.
Field Assistant (FTS): The field assistant's job responsibilities include assisting field managers with daily farm operations and maintenance. A field assistant is required to maintain crop and site tools or equipment. He or she is responsible for preparing beds, planting, watering, harvesting, amending the soil, weeding, thinning, and pest as well as disease prevention of crops.
Field Investigator (M&E): Field Investigator conducts a field survey according to the instructions given by senior officials of the department. Based on the data of the report prepared by field investigators various government schemes and programmes are planned, drafted, and executed.
Agricultural Inspector Jobs and Salaries
Village Level Extension Worker
Monthly Salaries
Average Salary

40000

Junior Level Salary

15000

Senior Level Salary

60000
Job Description
Village Level Extension Worker is able to increase crop production and ensures that growing farmland is matched with the environment like soil, water, and other natural resources security. A Village Level Extension Worker works with progressive farmers of various social and economic backgrounds and supports them with encouragement and guidance to increase agricultural production.
Salary Description
The salary of Village Level Extension Worker on average is Rs. 2 lakhs per annum. He or she earns one to two lakhs yearly and gradually earns almost six to seven lakhs at the senior level of his or her career.
Field Investigator
Monthly Salaries
Average Salary

30000

Junior Level Salary

20000

Senior Level Salary

50000
Job Description
Field Investigator implements a field survey as per the methods described by departmental senior officials. Various policies and initiatives are planned, drafted, and executed on the basis of report data collected by field investigators.
Salary Description
On the average field, Investigator receives Rs. 3 to 4 lakhs per year. He or she earns one to two lakhs per year but at the senior level of his or her career, eventually earns nearly five to six lakhs.
What is the job outlook for Agricultural Inspector?
Agricultural inspector jobs have less growth as compared to other professions. There are lesser hirings in government departments. No doubt, there will always be requirements for agriculture inspectors. The jobs are limited in the agricultural industry with projected job growth of two per cent. The growth in population and education may increase the demand for agricultural inspector in the market. The advancement in technology used in processing methods has lowered the potential job growth in the agriculture inspector job market. The development in technology has upgraded the machinery used in food processing and hence decreased the career opportunities of agriculture inspectors.
It is expected that numerous agriculture inspectors would retire in the next few years and hence there will be vacancies in the near future. After gaining several years of experience the agriculture inspector could be promoted to a more senior position. An agricultural inspector can also switch to other fields such as public health or conservation.
Students also liked
Frequently Asked Questions for Agricultural Inspector
Que. What are the careers related to Agriculture Inspector?
Ans.
The related career options are agricultural worker supervisors, compliance officers and inspectors, construction and building inspectors, food scientists, forestry technicians, agriculture engineer, food Inspector, science technicians, transportation inspectors, energy auditors, manufacturing production technicians, precision agriculture technicians, occupational health and safety technicians.
Que. Is it compulsory to have an agriculture-related degree to become an agriculture inspector?
Ans.
No, it is not mandatory to have a degree related to agriculture to become an agriculture inspector. Training is provided to agriculture inspectors when they join the agriculture department. They learn all the skills during the period of their training. Somehow, an agriculture degree or certification helps one to familiarise with most of the things related to the career; such as the use of pesticides, plant diseases and other related issues.
Que. Is travelling accommodation provided by an employer for on-site inspection?
Ans.
Yes, accommodation is provided by the agriculture department if working in the government sector. In the case of private entities, it depends on their policies, most companies provide travel reimbursement or travel accommodations.
Que. Which is the best agriculture-related degree to pursue after 10+2?
Ans.
Students can opt for B.Tech in agriculture to gain knowledge and exposure to agriculture technology. Bachelors of Science or BSc in agriculture science would also be a good option. There are other options such as bachelors of business management or BBA in agriculture management, or bachelors of arts or BA in agriculture.
You might also be interested in
The question have been saved in answer later, you can access it from your profile anytime.
Access now
Report Question
Select your reason of reporting