Who is a Print Technologist?
Free and powerful press can only function with the efforts of everyone in the cycle ~ Anonymous
Do you ever wonder how these printing houses function? Who takes care of several aspects like the functioning of printing machinery or calibrating color control? The answer is a print technologist has to take care of all this. Jobs in the printing industry come with a lot of responsibilities as a small mistake can lead to the generation of a lot of waste.
For instance, for every newspaper that gets printed, a print technologist has to make sure that from the first copy to the last copy being printed all of them should look the same in terms of colour scheme, alignment of text, or arrangement of pages.
If you want to know the science behind print technology and you want to be an engineer who contributes to providing news to people, then you can opt for a career as a print technologist.
A Print specialist or print technologist is an individual from the engineering sector who deals with the printing, design, and development of press operations. A print room worker performs new work on developing improved and more economical methods in printing. In this section, we will discuss how to become a Print Technologist in India and Print Technologist eligibility.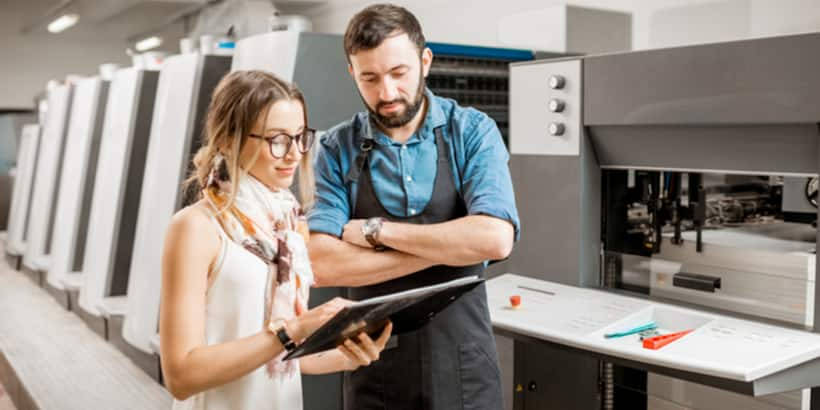 Print Technologist in a Nutshell
A career as a Print Technologist provides opportunities for working in the Print industry. Print communication is one of the strongest media of mass communication which is still very popular. Books, newspapers, and magazines most frequently come to mind when people think of printed items.
Print communication is one of the very fast-growing strong and popular mediums in journalism. Print Media is among the nation's most expanding industries. Today's youth is seen seeking out a career in this sector because it offers exciting options to move forward very easily.
Printing Technology is one of the fields in engineering courses that interacts with the printing, design and construction of printers. Printing technology is basically non-impact and requires mostly computers. To know how to become a print technologist, you are required to read the entire article.
Quick Facts for Print Technologist
Industry

Media

Suitable for

Male, Female, Others

A career as a Print Technologist is not gender-specific both men and women can choose this profession as their career. Although the career as a Print Room Worker is not gender-specific it is currently male-dominated.

Any special needs

Yes

A career as a Print Technologist suits everyone, even those with special needs. Print technologists can be people with body deformities. Print Room Workers should only have the drive to show the world that they can fulfil their dreams in all circumstances.
What is the role of Print Technologist?
Printing Technologists or Print Room workers typically work as prepress technicians or as press operators, some workers may be skilled in publishing, binding, and finishing. Job responsibilities of a print room workers may vary by machine operation and style which may include digital technology, and also conventional methods of printing such as flexography, engraving, letterpress, or lithography.
In addition, the printing technicians must check the volume and details of an order, monitor colour filters, organise papers, and control the machines. Additional roles could also include the clipping, packing, and alignment for publication of printed pages. A print room worker is one who creates three stages of printed material: prepress, publish, and binding.
The Printing Technologists study models, find and address printer equipment problems, and assemble documents. A career as a Print Technologist provides prepress technicians with a peaceful work environment, whereas printing technicians and print binding and finishing technicians operate in chaotic environments.
Handle the printing work
The Print Technologist roles and responsibilities include installing new printers, configuring network printers, and managing and guaranteeing that individual printers, scanners or network printers operate properly. He or she is responsible for regular maintenance and repairs along with new ink cartridges.
The print technologist or print room worker must have been able to copy, fax, create photographs and other copier-related issues with ease. As a specialist, operating in collaboration with IT employees and helping address fundamental network issues.
This is up to him or her how to configure the latest software and redesign the existing one. He or she ought to have a clear idea of the Laser Printer and therefore its materials.
Repair work
The print technologist print room worker or print room worker must ensure that the repair and service operations do not conflict with daily job flows. Print room workers will continue to inspect the faulty parts and repair them periodically. Even the specialist will consider the fact to test if the paper is properly addressed in the printer.
The print technologist would have a better understanding of all printer problems relevant to the hardware and software. To avoid paper delays and maintenance requests, technicians have to guarantee that papers are loaded correctly into all printers.
The print technologist fixes and replaces defective parts in the time of a mechanical problem. Keeping regular track of the ink levels in the printer cartridges helps the print room worker to refill the ink cartridges as required.
Maintenance work
The Print Technologist roles and responsibilities are to carry out routine maintenance tasks at times when the maintenance does not clash with actual production work. In addition to routine maintenance and repair, the print technologist print room worker or print room worker can also be able to figure out how to fix network specification problems for properly functioning network printers.
Print room workers should cooperate with the Department of Information Technology to discuss the updates to their antivirus and system patches to assure privacy.
Inventory management:
For quality problems, the professionals must track the equipment. To refill the inventory, the Printer Technician must request an order for additional parts and supplies. Based on the number of devices, he or she must reserve the parts and equipment.
The technician has to maintain a list of problems and their solutions. The technician should locate and fix all technical difficulties effectively and guarantee maximum functioning performance. The specialist needs to deal with client concerns very fast.
The Printer Technician also needs to support the customer service department to ensure the correct location and service of the new equipment. The specialist will take charge of discussing issues and approaches with the team about equipment.
The technician has to keep track of the technician metrics such as response time, daily calls, and cost of parts per request. The technicians must be able to successfully complete and possess what follows.
Types of a Print Technologist
There are several sub-disciplines of a career as a Print Technologist. We have mentioned below the major types of Print Technologist for aspiring candidates. Candidates can opt for any of the Print Technology jobs mentioned below.
Print Room Worker: In three phases, the print room workers produce print material: pre-press, press, binding, and finishing. They evaluate configurations, adjust printer colour settings, detect and address printer equipment issues, and arrange sheets. They perform a number of activities to help convert text and photographs into complete pages and prepare the pages for printing.
Many prepress workers, recognised as pre-flight technicians, take pictures from designers or clients to test them for clarity. They review work descriptions and models from provided drawings or online documents of clients to guarantee that all files remain appropriate.
Print Room Assistant: Printing assistants and table staff perform various duties in the service of printing presses and bindery machines as well as the manual finishing of printed books and merchandise. They use a range of presses and much other equipment and should be familiar with printing processes and provide printing quality management.
Screen Printer Occupation: In the screen-printer occupation, the candidates are qualified printer technicians who manage the screen printing process. It involves creating screen printing designs, designing the stencils, blending and filling the screen ink, producing the original template, repairing the printing machine, debugging bugs, and drying out finished printed objects.
What is the workplace/work environment of Print Technologist like?
A career as a Print Technologist provides employment opportunities in workshops, research centers, industrial and production centers, and office environments. Depending on their venue, Print Technologists may work in modern comfort or warm, crowded, or dusty areas. Print Technologists will spend time designing plans at the office, planning budgets, and drawing up timetables for projects.
The Print Technologist spend a lot of time overseeing the work of print room staff, computer programmers, technicians, and other engineers. Print Technology career professionals spend time meeting customers, collecting information from their everyday work, and studying equipment. Prepress technicians generally operate in peaceful locations. Press operator's printing and binding staff work in noisy environments.
Does Print Technologist require travelling?
Likely
While some travel is required, it is rare for a career as a Print Technologist to spend the nights away from home. As Print Technologists need to work closely with consumers and other staff within their businesses, they can not work from home as many other employees do. Are you searching for how to become a Print Technologist? You may scroll and read the entire article to clear your doubts.
Employment Shifts
Full Time, Part Time
A career as a Print Technologist or print room worker normally works for forty hours a week during normal working hours. It is very common for Print Technologists to work on public holidays, on weekends and late at night. Even It can take additional hours close to deadlines, and where problems occur, the immediate resolution is required.
Many Print Technology jobs may also provide flexible working hours for those who are unable to work full time. This work does not come under any specific timing for the move. They can need to do overtime to meet the job's needs. Wherever their job demands it, they need to work.
Employment Nature
Permanent
Work Place
Publishing Houses, Government Agencies, Research Services
A career as a Print Technologist employment opportunities in government agencies, publishing houses, and research services. Print technologist career typically involves working with computer systems in an office setting. They can often be expected to visit the field to check the equipment they have installed.
Presence in Geographical Area
Semi-urban, Urban
A Printing Press is generally located in urban and semi-urban locations. Therefore, the Print Technologist works in these kinds of locations only. Rural areas provide fewer print technology jobs as compared to urban areas.
Time Pressure
Likely
Print Technology jobs often involve frequent time pressure to complete tasks. Print Technologists may often be required to work extended hours or 12 to 14 hours to ensure completion of the tasks before deadlines.
Overtime Details
A career as a Print Technologist often requires working extended hours due to work pressure and deadlines. Print Technology jobs involve extended shifts or working hours because of several reasons. The work hour mainly depends on which area the Print Technologists are working on and of course on their dedication to their job.
Weekly Hours of Work
Min 40 Hours
For Print Technologists, they need to work nine hours a day. The change in time or work culture is often highly fast and complex. A tremendous amount of mental and physical effort is required in the work environment.
A Print Room Worker could work during the day or night shifts at manufacturing companies. Employees may work for more than forty hours a week when required and there are many situations under which the job can be extended.
How to become a Print Technologist?
Steps to become a Print Technologist
If you are someone who is interested in the production of print materials and preparing, aligning and configuring machinery, ink, paper and rollers then a career as a Print Technologist is the best option for you. If you are looking for the details on how to become a Print Technologist in India then in this section we have provided the detailed steps for you.
What are the skills and qualities required to become a/an Print Technologist?
How to become a Print Technologist? What does a Print Technologist do? If you want to get answers to all such questions, then you are required to keep reading this article to get each and every piece of information on printing technology careers.
There are several Print Technologist skill sets required in the career of a Print Technologist. We have mentioned below the major skills required in the Print Technology careers.
Communication Skills: Print Technologists should pay full consideration to what other people are saying, take time to consider the points which are being made, start asking questions as required, and not disturb unnecessarily. It is required to have a conversation with others to successfully convey information.
Critical Thinking: Critical thinking skills are crucial in a career as a Print Technologist. It includes analysing the project's strengths and weaknesses or problems and proposing alternative strategies, methods, and hypotheses, all of the critical thinking's core elements. Print Technologists define the strengths and disadvantages of possible solutions, assumptions or responses to problems using logic and reasoning.
Problem-Solving Ability: The engineers are problem solvers, no matter what is their area of expertise. This is particularly true in print technologists, where students are often forced to think logically and apply a specific rule or principle to a question in order to solve it.
This is, of course, easier than it sounds, but there are various techniques that can enhance the approach to problem-solving. Print technologists have to address difficult issues while fixing defective products, repairing components, and producing products.
Creativity: Print Technologist Engineers are not just solvers of problems- they are experts in this area. The strategies they have to implement and execute those ideas, and they need to think beyond the box for this.
This is especially true in the commercial sector, where publishing companies are currently trying to develop new and creative innovations, as well as being a significant characteristic in prospective applicants looking for the best engineering schools.
Organisational Skills: It is essential to be able to coordinate and manage time in the career as a print technologist, as much of the research is supposed to be project-based, depending on the engineering field students are specialised in. Moreover, these skills prove to be valuable not just in the workplace.
Through Print Technology studies, they would also improve, as you will be studying and knowing complex subjects on top of all else that requires a higher education. Being able to manage anything and remain at the top – especially during the exam season – helps you to stand in good stead.
Which certifications and internships can be helpful in becoming Print Technologist?
We have mentioned below certifications that individuals may opt to establish a career as Print Technologists.
Internship Availability
Yes
In order to get a holistic view of the field, it is always advisable to do an internship. It gives a real-world experience as well as helps in enhancing skills. No matter how good the college or university is, it cannot help the student learn the skills that can only be gained by doing the work practically.
The same goes for the print technologist, an individual can grab an internship in any publication house and learn about the work. The internship helps the student grow the technical expertise in the industry along with learning the work culture and working experience.
There are various media houses offering different types of internships for students of all candidates. The work duties of an intern in printing technology include assisting the seniors or executive print technicians in operating the equipment or ensuring the equipment is well-updated. Most of the Print Technology internships are either unpaid or consist of low wages.
The students are required to focus on learning the industry work and gain as much understanding of the technical operations as possible. Internships like these can help them to get a good job in a reputed media organisation after the completion of graduation.
What is the job outlook for Print Technologist?
Printing Technician is generally work as prepress technicians or press operators, some workers may be skilled in binding publications and finishing. Job duties may vary by machine method and type and may include digital or plateless technology as well as conventional methods of printing such as flexography, engraving, letterpress, or lithography. In addition.
It is the duty of the printing technicians to check the quantity and details of an order, monitor colour controls, organise pages, and operate the equipment. Extra responsibilities can also include the cutting, processing, and alignment for publication of printed pages.
There are several work opportunities and career opportunities for aspirants in the career of a Print Technologist. Graduate students from this sector are primarily working in publishing, pre-press jobs, advertising, post-press jobs, sales or marketing, manufacturing and graphics companies. In Print Technology career, professionals can also choose to teach in universities and schools.
Printing Technology job description varies depending on the industry he or she works in because if they work in the fashion industry they may have to produce fashion colouring and pick paints and inks for printers in addition to refining and creating new inks and colouring.
The Print Technologist is active in all phases of the development process in the auto industry, from construction to testing and marketing, offering technical guidance at different levels of construction, dying, marketing, and manufacturing personnel. Paint Technologist is responsible for holding meetings with manufacturing factory suppliers, clients, distributors, and managers while conducting their special duties.
They are interested in verifying the suitability of various paint products and in performance testing under different conditions. Throughout the last century, the ever-growing auto, textile, painting, and design sectors in particular and several other related industries, in general, have increased the market for many Paint Technologists.
Frequently Asked Questions for Print Technologist
Que. Who is a printing technologist?
Ans.
Printing technologists or print room workers are usually employed as prepress technicians or as press operators; some workers may be specialised in publishing, binding and finishing.
Que. What does a printer do as a job?
Ans.
Printers are workers who use their imaginative and practical skills to produce a variety of items including food labels, newspapers, books, and CD labels. Some print room workers can specialise in a given field, such as posters or packaging of frozen food. Printers make regular use of several different devices.
Que. What is the scope of printing technology?
Ans.
Printing Technology is one of the fields in engineering courses that deal with printing, design and creation of presses. Printing technology uses only computers. Printing technology blends various skills such as science, technology, and art.
Que. Describe the print room assistant job description?
Ans.
Printing assistants and table staff perform a variety of duties in the service of printing presses and bindery equipment and the manual finishing of printed books and products.
They use a number of printing presses and other equipment and should be familiar with printer operations and provide printing quality assurance.
Que. What are some of the reprographics technician jobs?
Ans.
Some of the reprographics technician jobs are being responsible for the full or partial process of reproduction of graphical documents through mechanical-driven or digital means, such as photography, scanning or digital printing.
Que. What is a digital print technologist or print room worker?
Ans.
A digital print technologist or print room worker in general, is responsible for reviewing the quantity and specifics of an order, calibrating colour controls, arranging pages and operating the equipment.
Que. What are the print technologist colleges in India?
Ans.
There are numerous colleges that provide print technology courses in India. The top print technology colleges are Manipal Institute of Technology, Manipal, Jadavpur University, Kolkata, Indira Gandhi National Open University, New Delhi, College of Engineering, Guindy, Guru Gobind Singh Indraprastha University, Delhi, Guru Jambheshwar University of Science and Technology, Hisar and RC Technical Institute, Ahmedabad.
Que. What is printing technology qualification?
Ans.
The printing technology qualification is a minimum graduation with BE/BTech in Printing Technology from a recognised university.
Que. What is the salary of Diploma in printing technology in India?
Ans.
The Printing Technician salary in India with less than 1 year of experience to 13 years ranges from Rs 0.2 Lakhs to Rs 6.5 Lakhs with an average annual salary of Rs 3.1 Lakhs according to the AmbitionBox.
You might also be interested in
The question have been saved in answer later, you can access it from your profile anytime.
Access now
Report Question
Select your reason of reporting