Who is a Chemist?
For many centuries chemists labored to change lead into precious gold, and eventually found that precious uranium turned to lead without any human effort at all ~ Isaac Asimov
A chemist is a medical professional who utilises his knowledge of various chemistry principles to improve the living standards of humans. He or she is involved in the development of products such as drugs, cosmetics and synthetic fibres. A chemist researches and designs processes that include oil refining, petrochemical processes that reduce the pollution and use of energy. He or she may specialise in various areas of chemistry such as analytical, physical and theoretical, macromolecular, medical, organic, medical and material chemistry.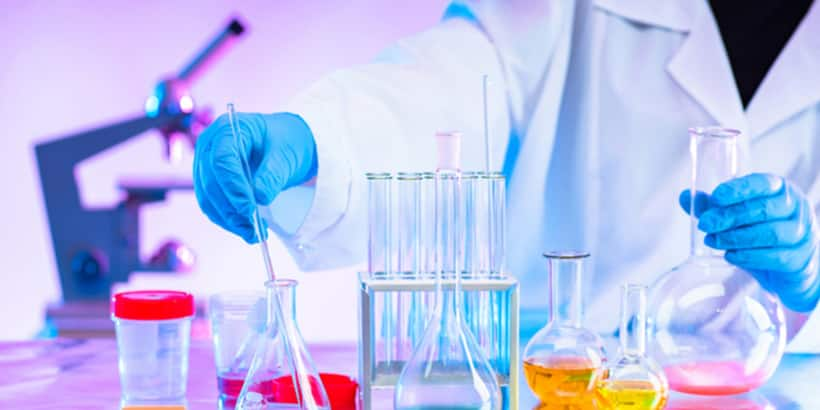 Chemist in a Nutshell
A chemist is a research professional who studies and analyses properties, physical and chemical structure of various molecules and compounds. He or she utilises his or her knowledge and develops new products or compounds by modifying the existing properties and chemical structure of various molecular compounds. A chemist implements the principles of physics, chemistry, biology and mathematics in his or her experiments to develop new products or improve existing ones.
Quick Facts for Chemist
Industry

Healthcare

Suitable for

Male, Female

The career as a chemist is suitable for everyone regardless of their gender. Candidates should have an extreme passion for chemistry. They should be curious about experimenting with chemicals to develop useful products that improve the living standards of humans.

Any special needs

No

A candidate's special needs may cause hindrance in his or her career growth. The career as a chemist is full of challenges. He or she has to research and experiment on various chemicals. It may also involve harmful chemicals that may turn hazardous to one's health. It is compulsory to follow the safety guidelines while performing research and experiment in a laboratory.
Table of Contents for Chemist
What is the role of Chemist?
A chemist is a professional who possesses a vast knowledge of chemistry and various chemicals. He or she develops new products and tests new methods. A chemist is responsible for providing instructions for chemical testing and procedure methods. These instructions include mixing times, operating temperatures, ingredients, preparation of compounds, reagents, and solutions required in laboratory procedures. A chemist analyses various substances and compounds to find its composition. He or she assures chemical safety by testing substances. A chemist provides his or her findings to stakeholders, engineers, scientists and their colleagues. So how to become a chemist and what does it take to become one?
Analysis
A chemist is responsible for performing research projects. He or she develops new products and tests new methods. A chemist is responsible for conducting the study on various chemical compounds to develop new and effective processes and products.
Documentation
A chemist is responsible for documenting the various research processes and procedures with their accurate findings. He or she is responsible for measuring accurate time and reaction of various chemicals. A chemist attentively documents mixing times, operating temperatures, and other ingredients. He or she writes technical reports to present their findings to scientists, engineers and their colleagues.
Experimenting
A chemist is responsible for preparing compounds, solutions and reagents used in the laboratory for conducting research. He or she analyses various substances to find their composition. A chemist is responsible for testing various substances and materials for chemical safety.
Give instructions
A chemist provides instructions to patients for safe use of drugs. He or she utilises his knowledge and identifies the error made by physicians in prescribing the medicines and provides the appropriate drug. A chemist also communicates with physicians to understand the treatment of patients. He or she provides instruction for the intake of the appropriate dosage of medicines. He or she provides instructions for experimentation and safe handling of chemicals.
Types of a Chemist
Forensic chemist: A forensic chemist is a research professional responsible for analysing non-biological trace evidence found at crime scenes. He or she identifies unfamiliar materials and matches samples to the familiar or known substances.
Organic chemist: An organic chemist is a research professional involved in the study and analysis of properties, structure and reactions of molecules that contain carbon. He or she is responsible for designing and developing new organic substances with unique properties.
Physical chemist: A physical chemist is a research professional involved in the study of fundamental characteristics of how chemical reactions occur. He or she conducts a study to analyse how a matter interacts on a molecular and atomic level. Physical chemist provides new theories that may include how complex structures are formed.
Medicinal chemist: A medicinal chemist is a research professional who is responsible for developing chemical compounds or pharmaceutical drugs to provide treatment to various diseases. He or she provides support in developing improved manufacturing processes to produce drugs on a large scale.
Biochemist: Biochemists study the behaviour of living things at a molecular level to understand the processes that occur. Individuals who have opted for career as biochemists study how pharmaceutical drugs and food affect an organism's biology. Biochemist education requirements include the study of various applications in medicine, agriculture, and the environment to improve our quality of life.
What is the workplace/work environment of Chemist like?
Chemists work in pharmaceutical manufacturing companies, testing laboratories, offices, chemical manufacturing companies and academic institutions such as colleges and universities. They work in areas related to research and development in physical, engineering and life sciences. Chemists provide their services to both government and private organisations. They are employed in research laboratories run by the federal government, state government and local government also.
Does Chemist require travelling?
Likely
A career as a chemist requires them working in chemical manufacturing companies may occasionally require to travel nationally and internationally to attend conferences and for research purposes.
Employment Shifts
Full Time
A career as a chemist requires working full time. Part-time, hourly basis, on-call or work from home is not provided in this profession. A chemist's career requires a firm commitment to work responsibilities. A little mismanagement could turn hazardous. He or she has to work with various chemicals and attentively monitor the timing of processes. That is why the profession suits full-time committed candidates.
Employment Nature
Contractual, Permanent
A career as a chemist requires providing their services on both types of employment contractual and permanent. The duration of the contractual term entirely depends on the requirements of the organisation. The contractual term's duration might get extended depending on the work performance of a candidate.
Presence in Geographical Area
Semi-urban, Urban
A career as a chemist has good employment opportunities in urban and semi-urban areas. There are negligible opportunities for chemists in rural areas. Mumbai, New Delhi, Gurugram and Kolkata provide good opportunities for chemists. The head offices of most of the chemical companies are located in these cities.
Weekly Hours of Work
Min 45 Hours
A career as a chemist requires working 9 hours a day or 45 hours a week. Sometimes, they may require to perform overtime to ensure completion of a project before its deadline.
What are the skills and qualities required to become a/an Chemist?
Problem Solving Ability: A chemist requires to identify the problem and provide the best possible solution to resolve the problem. He or she evaluates the effectiveness of each solution before applying it. A chemist provides the most effective solution to the problem.
Communication skills: A chemist must be able to communicate effectively. He or she should be able to clearly write the procedure or method for documentation. A chemist must be able to convey his or her ideas to other team members through verbal and written communication. He or she should be able to understand what is another team member is saying or trying to convey ideas.
Time Management: A chemist has to manage time between various experiments and ensure successful completion of a project before its deadline. He or she has to attentively monitor procedures and record time. A little mismanagement of time would give less accurate results or sometimes ineffective results that could not be considered.
Organising skills: A chemist has to analyse numerous data to predict the procedures, methods and results. He or she must possess strong organisational skills. A chemist has to keep track of all the data and accurately document the procedures and its effective results.
Also read: Career as biochemist
Which certifications and internships can be helpful in becoming Chemist?
Internship Availability
Yes
In order to have a better understanding of a career as a chemist, it is always important to go for an internship. No matter how much practical learning experience your college or university provides, you will get real-world experience by working with a company or an organisation. An internship gives you insights of the industry and answers several questions in relevance to how to become a chemist. When it comes to a career as chemist, internships are very important since they provide an individual with practical knowledge about the field. After the completion of the academic programme or while undergoing an academic programme in chemistry, students are required to opt for internships. Internships are beneficial for learning skills and getting industry insights. It is easy to learn about the functioning of industry through internships. Chemistry interns are involved in performing lab research, testing, developing formulas and products. Interns are required to perform documentation of procedures, interpretation of data and report their findings.
What is the job outlook for Chemist?
A career as a chemist is expected to grow six per cent in the next few years. There will be an increase in demand for chemists for developing medical nanotechnology. Candidates having experience of working outside the laboratory as well have a better chance of getting a job. Employers prefer to hire those candidates who have prior working experience. Internships play an important role to get placements in reputed organisations. There is a huge demand for chemists in India. Covid-19 has disastrously affected the Indian economy. It has made people realise the importance of chemists and other related professionals. As chemists are research professionals who conduct a study on various chemicals and develop new procedures and products for improving the living standards of human beings. The future of chemistry jobs in the Industry is bright. There is not any such competition at entry-level job roles. But for senior roles, there exist strong competition among candidates. Employers prefer to hire those candidates who possess prior work experience. Candidates who have done internships previously have more chances of getting a job compared to fresh graduates candidates with no industry experience.
Frequently Asked Questions for Chemist
Que. What is the average fee of B.Sc. (chemistry)?
Ans.
The fee of the academic programme varies from institution to institution. The private colleges charge a higher fee as compared to government colleges. Government colleges are more economical. The average of the academic programme B.Sc. (chemistry) is Rs. 20,000 to Rs. 200,000 per annum.
Que. What is the average starting salary offered to graduates in chemistry?
Ans.
The salary varies depending on skills and knowledge of a candidate. The size of the organisation and area also affects the salary bars. The job position also has a huge impact on salary. The average salary offered to graduated candidates in chemistry is Rs. 400,000 to Rs. 700,000 per annum.
Que. What are jobs for recent chemistry graduates?
Ans.
There are numerous jobs for recent chemistry graduates at entry-level positions in chemical manufacturing companies, pharmaceutical companies, food processing companies, and research centres. The roles may vary depending on the skills of the candidate. Employers seek those candidates having prior work experience in the industry. Candidates who have done internships earlier are preferred. Internships play a crucial role in bagging a full-time job role. The numerous positions offered to candidates are pharma assistant, chemists, cytologists, technical writers, and clinical research associate.
Que. What are the various other specialisations in chemistry?
Ans.
Chemistry is a vast subject with numerous branches. The primary braches to study are analytical chemistry, organic chemistry, inorganic chemistry, physical chemistry, biochemistry. One could study other branches too such as environmental chemistry, industrial chemistry, polymer chemistry or various other branches of chemistry.
Que. What are the top colleges to study in order to become a chemist in India?
Ans.
You might also be interested in
The question have been saved in answer later, you can access it from your profile anytime.
Access now
Report Question
Select your reason of reporting