How to Become a Management Consultant - Jobs, Skills, Salary
A Management Consultant is a professional who analyses the functioning of an organisation and tries to maximize its efficiency in various areas. He or she solves problems concerning the major areas such as business strategy, marketing, supply chain management, finance, human resources and others. The role of Management Consultant comes with the responsibility of driving performance and profit by suggesting new practices and alternative paths.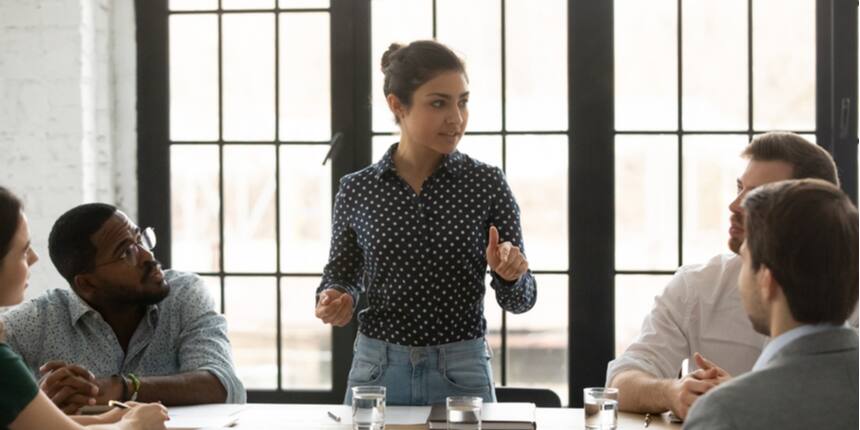 A Management Consultant analyses the company figures, prepares presentations and business proposes as well as interviews the employees. A Management Consultant oversees how recommendations are being implemented and presents the results to customers. In this article, we will discuss how to become a management consultant.
What does a Management Consultant do?
A Management Consultant is a professional responsible for resolving the organisational issues. He or she creates value and improves the overall business performance. The job responsibilities of a Management Consultant includes maximising the organisation's efficiency and increasing profitability. He or she solves numerous problems concerning strategy, expansion, marketing and supply chain management. The everyday activities of Management Consultant includes analysing the company figures, preparing business presentations and checking results for clients and so on.
Management Consultant Qualifications
Are you searching for how to become a Management Consultant? A bachelor's degree in business administration, marketing, finance, human resource development or related field is all you need to give a start to your career and follow the path to become a Management Consultant.
How does an MBA help in headstarting or progressing in a Management Consultant career?
An MBA definitely helps in accelerating the career trajectory in order to become a successful management consultant. An MBA helps in requisitioning the impetus in professional development. It provides skills to connect with the right people in the right field. A Management Consultant career gives an opportunity to highlight the specialisations to potential employers. MBA provides skills in communicating better and presenting the solutions effectively.
Also Read: Career as Business Analyst
Management Consultant Job Market for Management Consultant
A Management Consultant is a full-time employee. He or she may also be self-employed or contractual consultant. Opportunities can be found in big consulting firms. Several may choose to work with boutique firms that specialise in dealing with specific industries. Consultancy is considered one of the major popular professions. As per Consultancy.in, on an average one student out of 10 students choose a career in management consulting.
Also Read: Career as Manager
Top Management Consultant Employers
Some of the major Management Consultant Employers in this industry are:
| | |
| --- | --- |
| McKinsey | PwC |
| Bain & CO. | EY |
| Boston Consulting Group | Accenture |
| Deloitte | Capgemini |
| KPMG | Cognizant |
Benefits of Being Management Consultant
There are numerous organisations that offer perks such as company cars, gym memberships, sabbaticals, travel opportunities and other to their top consultants. The average Management Consultant salary in India is Rs. 800,000 per annum, according to Indeed.com. The salary figure may vary depending on candidates' experience. Companies also offer bonuses, profit-sharing and commissions. It may vary depending on the nature of the job.
Also Read: Career as Risk Management Analyst
Management Consultant Salary
The average salary of a Management Consultant in India is Rs. 1193960 per annum. An entry-level Management Consultant average salary is Rs. 682888 per annum. A mid-career average Management Consultant salary in India is Rs. 1408671 per annum. The salary of a Senior Management Consultant in India is Rs. 2009411 per annum.
Average Salary of Management Consultant
| | |
| --- | --- |
| Experience | Average Salary (per annum) |
| 0 -1 year | Rs. 682,888 |
| 1 - 4 years | Rs. 927283 |
| 5 - 9 years | Rs. 1408671 |
| 10 - 19 years | Rs. 2009411 |
Also Read: Career as QA Manager
Management Consultant Career Path
Step 1: Earn your bachelor
Are you searching for how to get into management consulting? Young aspirants usually search how do I become a Management Consultant. A minimum of bachelor's degree is required to pursue a career as Management Consultant. Having a major in marketing, finance, human resource development and others. You may opt to specialise in a specific sector such as education, healthcare, agriculture or e-commerce. There is no mandatory requirement for a specific degree in academics to enter the world of management consulting. Several employers prefer candidates with an MBA degree. An MBA in Business Analytics may land you a job in your dream company.
Step 2: Work Experience
Employers prefer a minimum work experience of two to three years. A prior work experience in business or project management firms help you to acquire the role. Expertise in consulting also helps you to get the role. How to get into consulting with no experience, the answer to this question is opt for internships first. Apply for management consulting internships through cold emailing to recruiters or utilise the recruitment platforms such as Indeed, Naukri.com, LinkedIn and others.
Step 3: Get Certified
Management Consultant Certification is not mandatory. It can give you an edge in the recruitment process. A Management Consultant Certification serves as a testimonial of training and experience as well as it adds to the practical knowledge about the field. Certification also serves as a great way to show off specialisation to potential employers and distinguish yourself. There are various types of certification available now-a-days from various levels concerning entry level to high-level managers.
Step 4: Crack the Interview
If you are applying for the management consulting jobs, then you must know that you have to go through the long multi-stage interview processes. This exercise is focused on analysing the specific problem as well as other aspects of candidates' personality in a professional environment. It includes communication, problem solving ability and other things. Employers usually test candidates' management abilities, analytical and critical thinking skills through case studies.
Step 5: Learning
A Management Consultant career involves networking and connecting with other consultants to keep learning. He or she must continue professional development in management consulting services. Learning involves utilising Corporate Presentations in the formal events brings an opportunity to showcase the skills to potential clients.
In order to become a Successful Management you have to reach various check posts such as acquiring a relevant bachelor or master's degree or MBA degree, then heading towards acquiring the relevant work experience and networking in the field. The above mentioned steps will definitely help you to headstart your career.