Who is a Music Director?
Musicians want to be the loud voice for so many quiet hearts ~ Billy Joel
Music directors conduct orchestras, choirs, as well as play musical instruments during live performances. They do musical arrangements and compositions, and individuals study orchestral music to make preparations for recording sessions. They are often accountable for several administrative details of guiding the musical groups. Music Directors work with a range of different musical artists, which include school bands, church choirs, youth musicians and performance companies, and could also work on radio or television shows.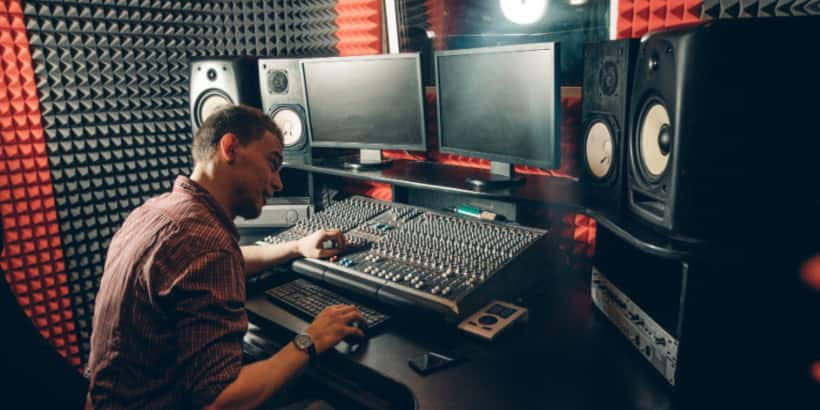 Music Director in a Nutshell
Music directors work closely with several members of the show's production team, music directors manage all aspects of contemporary music or opera production, along with the casting of singers, the rehearsal of singers and orchestra members, and the conduct of an orchestra performance. To be a music director, you need to have a creative flair and willing to work with a wide range of people in various departments.
Quick Facts for Music Director
Industry

Entertainment, Media

Suitable for

Male, Female

Individuals can take up a career as Music Directors, it is not gender-specific. Males, women, and others can choose a career as Music Directors. In India, a male and female Music Director enjoys equal benefits because gender is insignificant in this career.

Any special needs

Yes

Everyone, including those with physical disabilities, is appropriate for individuals who opt for a career as Music Directors. The career as Music Directors is well suited to everyone, even those with special needs. They should have the desire to show the world that in all conditions, they can accomplish their goals.
What is the role of Music Director?
Music directors work in a particular style of music, such as classical and jazz. They may also write for musicals, operas or many other types of theatre productions. Some music directors write scores for television shows and movies; others write jingles for commercials. Some of them concentrate on creating music for contemporary music listeners. They ensure that the band performs with single coherent audio, maintaining the melody, tempo, rhythm and volume. They often make suggestions on sound and style to singers and other musicians.
Select Music
Music Directors will choose and plan the specific music that the group or show will perform. They coordinate with the church, school, or creative team leaders to choose the appropriate music and set the right sound for any production or performance. They often focus on making full use of the talents and abilities of all members of the team in order to show the best of their abilities.
Rehearse and Train
Music Directors work with their musical groups to develop their knowledge and prepare for performance. They could take classes to students and conduct group training sessions.
Plan Performance Schedule
The Music Director coordinates and schedules all performances of their musical group. Develop a timetable in participation with the organisation for which they work, and organise appropriate connections to prepare and schedule performance. Music Director for a television network or a radio show, individuals arrange music interview sessions and set up musical concerts.
Lead Performances
Music directors perform live and record music for films and other productions. These performances may also be accompanied by an instrument of their own. Music Directors are almost always the public face of a music group and are acknowledged for the accomplishments of the group.
Types of a Music Director
Music Composer: Music composers develop creative pieces of music for playback singers, movies, advertisements and music videos. Some job duties of a music composer are to collaborate with lyricists, creating new harmonies for several compositions, creating melodic productions, or teaching kids. The key skills and experience for this job are musicality, creativity, understanding of compositional rules and overall business skills that will allow composers to collaborate well with the other musicians.
Musician: Musicians create and perform music and function properly either individually or as employees of orchestras, choirs, bands, opera companies and theatres. Conventional Musician tasks are rehearsing, attending auditions, performing concerts, taking part in-studio sessions, extending the variety of music, and publicising their soundtrack. Those who seek to become musicians should be able to show their creative ability, musical talent, ability to perform in front of the audience, physical fitness in case they go out on tour often, and excellent communication skills.
What is the workplace/work environment of Music Director like?
Individuals who opt for a Career as Music Directors are expected to work in the studio most of the time. Music directors working for large-scale media productions sometimes work in big movies or projects. However, sometimes their job requires them to visit outdoor settings and stay there for as long as the shoot requires them to do so. Music Director job description includes working under safe conditions such as studios, but late-night shifts are not new to the industry. Depending on the project and the timeframe, Music Directors are sometimes required to visit different parts of the world.
Does Music Director require travelling?
Not Likely
Individuals who opt for a Career as a Music Director work in their studios, but sometimes they have to work across different locations, both nationally and globally. Travelling expenditures are handled by the production house for which they work, including fair travel, accommodation allowances, foods and beverages.
Employment Shifts
Full Time, Part Time
A career as music directors is a full-time job. Working hours are not fixed and there is no specific starting and closing time for a career as a director. It all depends on the requirements of the singer and the other musicians.
Employment Nature
Contractual, Permanent
Individuals who opt for a career as a music director are usually required to work on a contractual basis. Professionals are hired for a specific project and are required to work until all project requirements have been met.
Work Place
Studio
Individuals who opt for a Career as Music Directors are expected to work in the studio most of the time. In musical careers, professionals working for large-scale media productions sometimes work in large-scale film/project sets.
Presence in Geographical Area
Semi-urban, Urban
Almost every media/ production house is based in Mumbai, making it a hub for film directors. As a Music Director, you are expected to work in Mumbai for at least one project. Except for Mumbai, you can also find jobs in other states too. Kolkata, Delhi, Karnataka are some of the major states where you can find jobs as they really have some good numbers of talented musicians.
Time Pressure
Likely
The time pressure of the Music Directors is quite high. Individuals who choose a career as a music director are required to perform long hours in a limited period of time. Depending on the project and the deadlines, individuals who opt for a Career as Music Directors are sometimes required to work continuously for months and to visit other countries as well. Working hours are not fixed and there is no specific time to start and end. Such aspects increase the pressure of time.
Overtime Details
Individuals who opt for a Career as a Music Director are usually required to work 12-14 hours a day. The working hours may be extended depending on the requirements of the project. There are no specific hours of work. Sometimes, because of the demands of other musicians, their work starts at night. Therefore, working hours vary from project to project.
Weekly Hours of Work
Min 40 Hours
Individuals who opt for a Career as a Music Director are required to work under certain shifts depending on the schedule of the singers and other musicians. Quite often, they work all day long for continuous days or months until the shooting is over. Most creative decisions are made with the advice of singers and film directors as well.
How to become a Music Director?
Steps to become a Music Director
What are the skills and qualities required to become a/an Music Director?
When it comes to how to become a music director, the first thing that they should know about is the skills required to become a music director. Some of the essential skills we have mentioned below.
Creativity: Creativity allows us to see things differently, and also to manage uncertainty in a positive manner. Studies suggest that creative people truly sustain in crucial times because they can modify their imaginations to allow the unexpected to develop. Music Directors should always have creative abilities and innovative concepts in terms of developing a new and effective genre of music.
Interpersonal Skills: Interpersonal skills are a combination of five distinct sets of skill sets. All of these are clear communication; legitimate questions; acknowledgement of what the other person is saying and also what he seems to be doing; unbiased analysis; and effective reaction. Such skills are especially important in the career of a music director because they would not be capable of expressing themselves adequately without all of these skills.
Persistence: Persistence shows and improves confidence and understanding in the learning of new things. Without persistence, the desire to improve and to grow as an individual would be significantly limited. Individuals who choose a career as music directors must dedicate themselves to years of intense practice. After the performance, individuals must be ready to accept the refusal and keep on making progress on potential opportunities. Music directors must research and develop new methods.
Popular Online Arts And Crafts Courses and Certifications
Which certifications and internships can be helpful in becoming Music Director?
We have mentioned below various certifications that music directors can opt to upgrade their skills.
Internship Availability
Yes
Internships are a great way to learn and develop technical expertise in the industry and to have a comprehensive understanding of all the factors responsible for music production. Music director work is a creative and artistic work, so there are not a lot of internship opportunities for students looking to become musicians. Interns assist the music directors and other musicians in composing songs. These interns are mainly some musicians, those who all play certain instruments. Interns learn the ropes of a music company through technical responsibilities and project support.
What is the job outlook for Music Director?
It is indeed a perfect combination of technology and art, as you have to be excellent at technical details such as understanding the different sampling frequency, bit depth or ability to understand the core software, like Logic Pro, FL Studio, Pro Tools 10.x. Individuals can start helping music composers to make arrangements. The employment of music directors and composers is expected to increase by 2 per cent from 2019 to 2029, which is slower than some other occupations. The number of participants in musical performances is expected to remain stable.
Student Also Liked:
Frequently Asked Questions for Music Director
Que. Who is the famous music director of the twenty-first century?
Ans.
Some famous music directors of the twentieth century are A.R. Rahman, Shankar–Ehsaan–Loy, Adnan Swami, Salim-Suleman, Pritam Chakraborty, Vishal-Shekhar.
Que. Who is the famous singer in Bollywood?
Ans.
Recognized as the Nightingale of India, Lata Mangeshkar is among the most notable and widely regarded Indian film singers. She has received multiple awards, which include four-film fare awards for playback singing and two special film fare awards.
Que. Who is the father of music?
Ans.
Bach, born on March 21, 1685, and considered to be the father of classical music, produced more than 1,100 works, along with some 300 sacred cantatas. His performance is unmatched and contains every kind of genre of music outside the opera.
Que. What qualifications do you need to be a musical director?
Ans.
College education in music or music theatre is suggested for this professional life. Composing, orchestrating and performing courses would have been advantageous and also training in music, voice and acting. The music director must also be able to see the music, write the music, and they have been expected to play the piano.
You might also be interested in
Questions related to Music Director
Showing 2 out of 2 Questions
137 Views
I want to become a music director so which degree should I choose
Dear Parthiv,
As you might be already knowing that music field is something which is not much degree dependant, it is more skilled based. Even if you do not have any degree in music field but you are creating great music then, no one will look for your degrees.
But there are some bachelor degrees which you can pursue to be a certified music director and obviously it will add charm in your music career.
Below I am mentioning some best bachelor degrees in music field that you can that a music director aspirant can pursue.
Bachelor of Arts in Music
Bachelor of Music Education
Bachelor of Science in Music
Bachelor of Arts in music
Bachelor of Fine arts
i hope this information helps you.
To know more about this field, you can go through the link below.
https://www.careers360.com/careers/music-director
All the very best!!
103 Views
What type of education & qualification should I have to become a Music Producer/ music director...
Hello,
Here's the steps
1. First of All learn the basics and concepts of Music
2.  Apply for a Bachelor's Programme
3. Complete your Music course
You can go for Bachelor degree, Master's degree and PhD degree in Music.
Course name- Bachelor's of Music Admission
Duration- 3 years
Fees- 15000 to 100000 depending upon the college per annum
Here's the colleges for this course
1. Miranda Housing College
2. Hindu College
3. Ramjas College
4. Christ University
5. Indraprastha College for women
Good Luck.
The question have been saved in answer later, you can access it from your profile anytime.
Access now
Report Question
Select your reason of reporting