Who is a Psychiatrist?
Psychiatry is the art of teaching people how to stand on their own feet while reclining on couches ~ Anonymous
Considering the circumstances, the present generation goes through, we are in constant need of mental support more than our emotional well being. We want to be there for each other primarily as a listener. If you are a psychology or a medical student, you do enjoy learning about things that help you to introspect yourself, while understanding others at the same time. It has also been noticed that psychiatry is one such specialty which would help you to think about yourself and life in general. If you have a desire in knowing how your mind and heart often battle with some voices, and how people around you behave especially when their mental health is at a toss, you may make a career as a psychiatrist. A psychiatrist is also known as a medical doctor who specialises in mental health which also includes substance use disorders. Once you are a psychiatrist you are qualified to assess the mental and physical aspects of psychological problems. A psychiatrist may work in either a hospital setting or they can also work in their personalised clinic.
A psychiatrist is a doctor who spends significant time in psychiatry, the part of medication committed to the determination, counteraction, study, and treatment of a mental disorder. Psychiatrists are medical doctors, unlike psychologists, and must assess patients to decide if their symptoms are the consequence of physical sickness, a mix of physical and mental illness, or is it only mental. A specialist generally fills in as the clinical pioneer of the multi-disciplinary group, which may involve psychologists, social workers, occupational therapists, and nursing staff.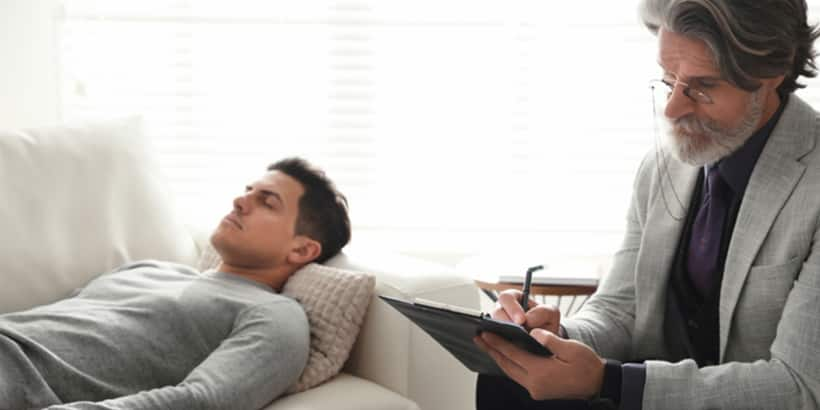 Psychiatrist in a Nutshell
As a psychiatrist, you can work in nursing homes, hospitals, health centers, polyclinics, medical colleges, and research institutions. Psychiatrists can also work with social workers and occupational therapists for the rehabilitation of their patients, helping them to resume their normal activities. Therapists recommend medication, and may likewise utilize psychotherapy.Psychiatrists have wide preparation in a bio-psycho-social way to assess as well as manage mental illness. As a component of the clinical evaluation process, psychiatrists may utilize a psychological status assessment; a physical assessment; brain imaging, for example, a computerised tomography (CT), magnetic resonance imaging (MRI), or positron emission tomography (PET) scan, and blood testing.
Quick Facts for Psychiatrist
Industry

Healthcare

Average Salary in India

₹499000

Suitable for

Male, Female

An individual from any gender type can become a psychiatrist. This profession is suitable for all gender types. Being a psychiatrist is one of the most sought after professions where the gender of the individual is insignificant.

Any special needs

Yes

When it comes to the job it is better to be physically fit for a better and efficient way of working. However, there is no hard and fast rule that it is compulsory to be physically fit. As long as the disability doesn't come in the way of one's work they are good to go for this field. One needs to be mentally strong in order to be in this job.
Table of Contents for Psychiatrist
What is the role of Psychiatrist?
Psychiatrists assess all of your mental and physical symptoms. Psychiatrists provide psychological treatment, prescribe medications, and do procedures such as electroconvulsive therapy. As part of their work, a psychiatrist can: provide urgent care for a sudden mental illness.
Evaluate
A psychiatrist must have the ability to analyze as well as evaluate patient's data and test in order to diagnose the nature and extent of mental disorder. Having the capability to evaluate is important in the profession of a psychiatrist as he or she is required to make several judgments with respect to the patient's treatment.
Psychotherapeutic treatments
A psychiatrist uses psychotherapeutic treatments in order to prescribe, direct, as well as administer treatments or medications to treat mental, emotional, and/or behavioral disorders. This treatment is important in order to take the patient in confidence so that the psychiatrist can take measures to heal the patient.
Collaboration
There are several cases that a psychiatrist deals with and many or a few of them may require him or her to collaborate with other physicians, psychologists, social workers, psychiatric nurses, or other professionals in order to discuss the current treatment plans and progress of the patient. He or she may take suggestions from their end in order to help the patient recover sooner.
Gather patient information
The job of a psychiatrist is dealing with mental problems that are not visible from eyes; he or she cannot put a bandage on a wound to heal it. A psychiatrist needs to gather and maintain patient information and records, including social and medical history obtained from patients, relatives, and other professionals for the patient's speedy recovery.
Design treatment plans
A psychiatrist deals with mental issues of a patient. Every mind works differently, therefore, a psychiatrist must design individualized care plans, using a variety of treatment methods for the speedy recovery of the patient.
Examining
In order to treat a patient, a psychiatrist needs to conduct several examinations so that he or she can diagnose the actual problem that the patient is dealing with. And according to the result of the examination, several treatment methods are used for the patient's recovery.
Advisory
Not everyone understands the level or the degree of the problem a psychiatric patient is going through simply because the wounds are not visible. Therefore, a psychiatrist advises and informs guardians, relatives, and significant others of patients' conditions and treatment and they also make them understand how to take sensitive care of the patient.
Review
For better results a psychiatrist, reviews and evaluates treatment procedures and outcomes of other psychiatrists and medical professionals that have been conducted on the patient in order to have a better understanding of his or her problems.
Research work
A psychiatrist does a lot of research work as not every aspect of mental illness has been covered so far. Therefore a psychiatrist conducts research, and publishes findings to increase understanding of mental, emotional, and behavioral states and disorders.
Types of a Psychiatrist
Geriatric psychiatry: A geriatric psychiatrist is also known as geropsychiatry. They are psychiatrists of old age. They conduct tests and take measures in order to treat the mental illness of people due to old age. According to research a geriatric psychiatrist is comparatively in more demand in a developing nation that any other nation.
Psychosomatic medicine: It is a treatment process in which the mind and the body of the patient is cured. The mental illness not just affects the patient's mental emotion but it also affects his or her physical structure. It aims at finding relations between the patient's social, psychological, as well as behavioral factors.
Addiction psychiatry: It is a specialization branch of psychiatry wherein a patient who is dealing with any sort of addiction which may be more than one in number is evaluated, diagnosed, and then treated. The addiction can be of something that seems as harmless as food and as harmful as illegal drugs.
Forensic psychiatry: A forensic psychiatrist specialises in this branch of psychology in order to deal with criminology. A forensic psychiatrist interfaces between the field of law as well as medicine. Their job is to diagnose and treat criminals who are in prison.
Clinical neurophysiology: A clinical neurophysiologist uses a computer, electrical, magnetism, and electronic methods for researching and recording the capacity of the cerebrum, the spinal cord, spinal roots, the peripheral nerves, and muscle to analyze the disorders of the nervous or the sensory system. Clinical neurophysiologists treat several conditions, for example, epilepsy.
Child and adolescent psychiatry: A child psychiatrist is a specialist who evaluates, diagnoses as well as carry out treatments in order to help them cope up with the mental illness. They deal with a number of problems like anxiety, depression, eating disorders, and several other problems.
What is the workplace/work environment of Psychiatrist like?
Psychiatrists work in a variety of settings, including private practices, clinics, general and psychiatric hospitals, university medical centers, community agencies, courts and prisons, nursing homes, industry, government, military settings, rehabilitation programs, emergency rooms, hospice programs, and many others.
Does Psychiatrist require travelling?
Likely
The job of a psychiatrist doesn't require travelling. Unless he/she wants to go and attend a patient which requires travelling. Otherwise conventionally this job doesn't require travelling.
Employment Shifts
Full Time, On Call, Work From Home
The job of a psychiatrist is generally a 9-5 one. But, they also work in shifts or during weekends. It depends if the psychiatrist is a solo practitioner he/she can work according to the client requirement. Otherwise, it depends on the hospital or institution they are working for.
Employment Nature
Permanent
The nature of the employment of a psychiatrist is permanent. They are hired by hospitals on a permanent basis mostly.
Presence in Geographical Area
Semi-urban, Urban
In India psychiatrists are concentrated mainly in urban settings. There are very few in semi-urban settings and there's almost no presence of a psychiatrist in a rural setting.
Time Pressure
Likely
Time pressure is moderate in the case of psychiatrists. They work on weekends as well as in the evening hours. A lot of psychiatrists also do part-time work. Most psychiatrists operate approximately forty-five hours a week while psychiatrists who are self-employed work more than this in per week. So the time pressure for psychiatrists is more when working independently.
Overtime Details
Psychiatrists work about eight to nine hours per day and up to twelve hours when required. While several psychiatrists work independently, some individuals work for reputed companies or medical institutions as part of a team.
Weekly Hours of Work
The average psychiatrist spends more than 48 hours each week at work. Professional activities include administration, teaching, consultation and research. Most psychiatrists spend over 60% of their time with patients.
How to become a Psychiatrist?
What are the skills and qualities required to become a/an Psychiatrist?
Sensitivity: Psychiatrists must be able to judge how another is responding and why the patient is responding as such. Particularly when managing patients, a psychiatrist should utilize his/her own understanding and perception to decide potential dangers and advantages. For instance, choosing whether a patient may get perilous to himself or others. Psychiatrists likewise should be sensitive to issues, perceiving that a problem exists regardless of whether no prompt solution is clear. The capacity to recognize truth from lies is an advantage, just like the capacity to perceive when another is overlooking information or introducing it in a not so straightforward way.
Reasoning: As a psychiatrist additionally one needs to have both inductive and deductive thinking aptitudes in order to be successful in his/her career. Deductive thinking includes applying well-established realities and general standards to an issue to locate an intelligent answer. Whereas inductive thinking, on the other hand, includes joining grouped bits of information to arrive at a solution. At the point when a psychiatrist takes an account of occasions that seem to have no connection to one another and consolidates them to discover a pattern, then it is applying inductive thinking.
Communication skills: A psychiatrist additionally should be a good listener. They must be able to concentrate on the words, tone, and non-verbal communication utilized by others to pass on a thought or feeling. At the point when it is the ideal opportunity for the psychiatrist to talk, they should have the option to do as such so that the patient can't in any way, misunderstand what you are stating. A psychiatrist should likewise have the option to comprehend written notes, reports, or records with the goal that others can comprehend what he/she is trying to pass on.
Compassion: A psychiatrist is a matter of first importance healers. Therefore, they need to be compassionate towards other people. They should be understanding about the issues, difficulties, and requirements of others to be best. In clinical practice, a psychiatrist may hear explanations that stun, outrage, or repulse them personally. But, they should keep up their self-restraint and discretion, remain quiet about their feelings, and should entirely focus on helping the patient.
Stress tolerance: Working as a psychiatrist can at times be stressful. Sometimes the stresses are brief but intense, such as a patient who unexpectedly becomes extremely agitated. At other times, the stresses are of a longer duration. For example, one might have to persist for many months or even years to achieve a breakthrough with a particular patient. All physicians, including psychiatrists, experience some failures; not all patients can be helped, and not all patients will remain happy with the same physician indefinitely.
Which certifications and internships can be helpful in becoming Psychiatrist?
Internship Availability
After an individual has completed his/her MBBS it is compulsory to complete one-year of the internship. Otherwise, the degree won't be granted by the university. It is important to do a long internship in this field so as to gain practical knowledge. An internship provides the candidate with hand-on experience. No matter how much practical experience or exposure a college gives the individual the amount of learning that is gained by working practically in the field of expertise helps in gaining a lot of experience. It is up to the student where he/she wants to intern. They can practice under some specialist who is a solo practitioner. They could also do the internship in a hospital or in a small clinic kind of set up.
Career Path Progression for Psychiatrist
Child Adolescent Psychiatrist: The child and adolescent psychiatrist is a physician who specializes in the diagnosis and the treatment of disorders of thinking, feeling, and/or behavior affecting children, adolescents, and their families.
Forensic Psychiatrist: Forensic psychiatrists work closely with the legal system to determine the competency of defendants to stand trial, give expert witness testimony in court, help make recommendations for defense tactics and sentencing, help solve crimes, and treat mental illness in criminals
Clinical Psychiatrist: Clinical psychiatrists evaluate, diagnose, and treat patients with mental disorders. They may work in offices, hospitals, or mental health clinics. Clinical psychiatrists may prescribe medication or suggest therapy according to their patents' needs.
Prison Psychiatrist: Also known as Correctional psychiatry is a challenging subspecialty that has evolved from the need to provide treatment to the large number of offenders with mental illness that are behind bars. Professionals working in jails and prisons must fully understand the unique nature of this environment and the population treated.
Behavioral specialist: A behavior specialist is a type of psychological counselor who helps those with disabilities or problems that impair learning or social functions. Behavior analysts can find employment in diverse workplaces, including schools, clinics, or government institutions.
Neuropsychologist: Neuropsychologists evaluate and treat people with various types of nervous system disorders. They work closely with doctors, including neurologists. Illnesses, injuries, and diseases of the brain and nervous system can affect the way a person feels, thinks, and behaves.
Psychiatrist Jobs and Salaries
Forensic psychiatrist
Monthly Salaries
Average Salary

930000

Starting Salary

40000

Junior Level Salary

80000

Senior Level Salary

120000
Job Description
Forensic psychiatrists work closely with the legal system to determine the competency of defendants to stand trial, give expert witness testimony in court, help make recommendations for defense tactics and sentencing, help solve crimes, and treat mental illness in criminals.
Salary Description
The average salary for a forensic psychiatrist is 75,000 INR per month which includes tips, bonuses, and overtime pay. The entry-level salary of a forensic psychiatrist is 50,000 INR per month. The top-level salary of a forensic psychiatrist is 1 lakh INR per month.
Clinical psychiatrist
Monthly Salaries
Average Salary

68000

Starting Salary

40000

Junior Level Salary

70000

Senior Level Salary

100000
Job Description
Clinical psychiatrists evaluate, diagnose and treat patients with mental disorders. They may work in offices, hospitals or mental health clinics. Clinical psychiatrists may prescribe medication or suggest therapy according to their parents' needs.
Salary Description
The average salary for a clinical psychiatrist is 75,000 INR per month which includes tips, bonuses, and overtime pay. The entry-level salary of a clinical psychiatrist is 50,000 INR per month. The top-level salary of a clinical psychiatrist is 1.1 lakh INR per month.
What is the job outlook for Psychiatrist?
With faster-than-average growth projected for the field, those with a psychiatry degree can expect employment opportunities. In the field of psychiatry, there is immense growth at this point in time. The market is growing every day. Instead of joining as an assistant psychiatrist in a government or a private hospital, one also has the option to find some lucrative jobs in corporate hospitals. They not only pay them comparatively more but also provide a better job growth opportunity. Psychiatry is a noble field, and I personally feel psychiatrists are not given their due in our country, while you will find them much higher in the professional rung abroad, but the scenario is changing now. From the past five years the job opportunity, pay scale as well as growth in the career have all been witnessed. This is expected to grow in the future as well.
An entry-level Psychiatrist with less than 1-year experience can expect to earn an average total compensation (includes tips, bonus, and overtime pay) of ₹800,000 based on 13 salaries. An early career Psychiatrist with one to four years of experience earns an average total compensation of Rs. 9,00,000. A mid-level psychiatrist with five to nine years of experience earns an average total compensation of Rs. 8,80,000. An experienced psychiatrist with 10-19 years of experience earns an average total compensation of Rs1,400,000. In their late-career (20 years and higher), employees earn an average total compensation of Rs. 1,500,000. Employees with Psychiatrists in their job title in Mumbai, Maharashtra earn an average of 32.5 per cent more than the national average. These job titles also find higher than average salaries in New Delhi, Delhi (27.5 per cent more) and Pune, Maharashtra (1.9 per cent more). The lowest salaries can be found in Hyderabad, Andhra Pradesh (43.9 percent less), Ahmedabad, Gujarat (38.8 percent less) and Chennai, Tamil Nadu (17.0 per cent less)
Frequently Asked Questions for Psychiatrist
Que. What is the difference between a psychiatrist and a psychologist?
Ans.
Because psychiatrists are trained medical doctors, they can prescribe medications, and they spend much of their time with patients on medication management as a course of treatment. Psychologists focus extensively on psychotherapy and treating emotional and mental suffering in patients with behavioral intervention.
Que. What is a psychiatry degree called?
Ans.
MD/Psychiatrist: A psychiatrist is a medical doctor who has specialized in mental health, much like a cardiologist is a medical doctor who specializes in the heart. Psychiatrists used to do "talk therapy" and prescribe medication regularly.
Que. Is there a high demand for a psychiatrist?
Ans.
Demand for psychiatrists has risen sharply in recent years and currently stands at an all-time high, according to an annual report tracking physician recruiting trends. Approximately 40 % of psychiatrists are likely to retire over the next five years, Singleton said, with few available to take their place.
Que. Do psychiatrists work on weekends?
Ans.
Generally have a set schedule each week. Work 40 hours a week. May work on-call, which means they are available to work on short notice to handle emergencies. May work nights or weekends at hospitals and in-patient clinics.
You might also be interested in
Questions related to Psychiatrist
Showing 3 out of 3 Questions
3 Views
process of a psychiatrist full process after tenth and also subject after 10th class
Abhishek, Psychiatry is a Specialisation after MBBS. NEET is the entrance examination for admission to MBBS,BDS, Ayush and Veterinary courses across India. So to be eligible for NEET, you should have completed your 12th, passed in all subjects and secure a minimum aggregate of 50% in Physics, Chemistry and Biology. It is 50% for General Category, 45% for PWD and 40% for OBC,SC,ST. Now if you belong to OBC Category, the Category you belong to should be also listed in the Central OBC list. Or else you will be considered as General Category and so you have to secure a minimum aggregate of 50% in Physics, Chemistry and Biology. This 50% is inclusive of the Theory and Practical marks scored in Physics, Chemistry and Biology collectively. You needn't score 50% in Physics, 50% in Chemistry and 50% in Biology separately. You need an aggregate of 50% or 40% depending on your Category as an aggregate in Physics, Chemistry and Biology. And along with Physics, Chemistry and Biology, you should also have studied English as one of the core subjects in your 12th. Once you appear for NEET and secure a seat in MBBS, you study MBBS for 50 months and then after 1 year of mandatory rotational internship, you are a qualified MBBS Professional. Post this, you have to appear for NEXT which will be the mode of admission to MD in Psychiatry after MBBS. Right now it is NEET PG but it will be replaced by NEXT.
42 Views
I want to became a psychiatrist so which courses should I pusrsue further give me the complete details
To become a psychiatrist, the qualifications you need to have and subsequently the courses you need to pursue are:
Bachelors in Medicine and Surgery i.e MBBS
MD in psychiatry or Diploma in psychological medicine (DPM) or DNB Psychiatry
Firstly you need to appear for NEET UG to get an MBBS seat and complete the 5 and half year course, and then pursue further courses. After attaining all the degrees, you will get a lisence to practice in all the states of India.
I hope this helps you!
The question have been saved in answer later, you can access it from your profile anytime.
Access now
Report Question
Select your reason of reporting