Who is a Clinical Psychologist?
When we are no longer able to change a situation, we are challenged to change ourselves ~ Viktor E Frankl
Human psychology is a vast topic to understand. Clinical psychologists have undergone research of various kinds in order to understand how human psychology functions. According to research every third person in India is partly or completely left at the mercy of some of the other mental illnesses. It can be anxiety, eating disorder, depression, drug abuse, or learning disabilities. It is a clinical psychologist who helps in curing these people. A clinical psychologist not only diagnoses but also treats various kinds of emotional, mental, or behavioral disorders.
Clinical psychology is the psychological specialty which provides individuals and as well as families with regular and comprehensive mental and behavioural health treatment; collaboration with organisations and communities; education and guidance; and research-based practice. This is a wide-ranging specialisation, that is generally inclusive of psychopathology and distinguished by the application of expertise and skills from a wide variety of fields inside and outside proper psychology. Clinical psychology covers all genders, various cultural backgrounds, and various systems.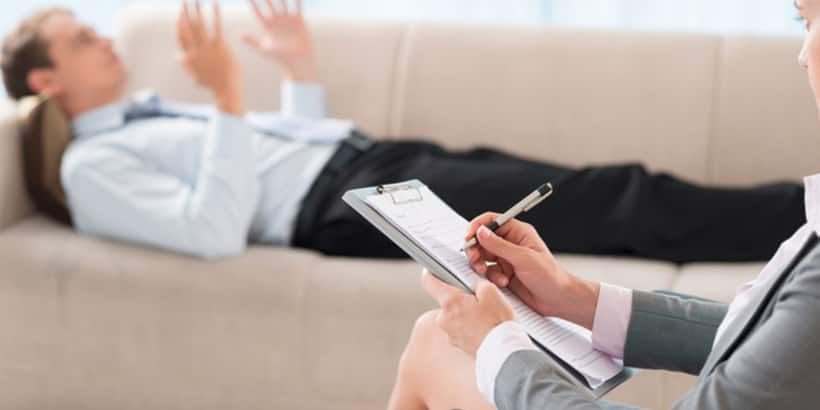 Clinical Psychologist in a Nutshell
The psychology research is enlightening, explaining everyone how and why we are behaving as we do. It can be extremely satisfying to use the knowledge to help individuals make their lives better. Clinical psychology is a wide psychological field concentrating on the care and treatment of mental, emotional, and behavioural conditions. Among the most common conditions which could be addressed are difficulties in learning, drug addiction, anxiety, depression, and eating disorders.
Quick Facts for Clinical Psychologist
Industry

Healthcare

Average Salary in India

₹35666.67

Suitable for

Male, Female, Others

A clinical psychologist's profession is gender-neutral, people from any gender group can pursue the profession. As long as the person is good in his or her job, gender does not matter.

Any special needs

Yes

Yes, being a clinical psychologist is suitable for individuals with special needs, as long as the special need does not affect the way the person goes on doing his or her job.
What is the role of Clinical Psychologist?
Clinical psychologists work with clients to recognize their physical, mental and behavioural problems. The psychologist can identify any current or possible conditions through findings, interviews, and examinations. Instead, they devise a recovery plan together with the client as per the needs of the client. Psychologists regularly track the progress of the client to ensure that the course of action suits their needs and to change it if appropriate. Ambition and desire are the two most important things to succeed. Professional-changers currently working in areas such as education, social work, and clinical care may consider the skills and interpersonal strengths connected with those required for a psychological job.
Work on mental health
Clinical psychologists operate in a wide variety of roles, depending primarily on the group of patients they are treating, whether they are veterans, disabled people, or adolescents. A day-to-day practice, like neuropsychology, is often inspired by the field they can choose to excel in. They could further practice by working exclusively with or depending on the environment in which they work with children and adults with ADHD or Asperger's syndrome.
Overcome intellectual disability
Clinical Psychologists should work with children to support and enhance their intellectual disabilities in a school environment. They can encourage culturally diverse and socially marginalized communities. Whenever the elderly population of the nation tends to rise, they work with them.
Educate
Institutions sometimes hire clinical psychologists as research professors, teachers, and clinical instructors to encourage students of psychology to recognize the clinical practice. Clinical Psychologists help in spreading awareness and also help students in personal growth.
Types of a Clinical Psychologist
Behavioural health psychologist: Behavioural health psychologists usually work in person and group environments with clients to help them manage behavioural problems such as depression. The responsibility is not only to educate the clients but also to help them recognise causes, develop coping skills, and ultimately encourage them to work in a healthy way. They will work as a mental health professional and have other career openings with having a master's degree.
Counselling psychologists: Generally, in a counselling work environment, they would meet clients, and discuss issues in a very personal and non-threatening way. Counselling psychologists might listen first and then develop skills. Clinical psychologists work with clients to enhance their well-being by resolving physical, emotional, and mental problems that have adversely affected their lives.
Medical psychologist: Medical psychologists deal with patients whose conduct has a detrimental effect on their physiological functioning. In a clinical psychology setting, patients will be discussing issues such as preventing disease and safe health and lifestyle. If a patient talks about continuous migraines, then you would make an effort to understand the activities which could make headaches. When headaches come from drinking a lot of morning coffee to wake up from or not having sufficient sleep that night before, then the medical psychologist would be working with the client to improve healthier sleeping patterns.
Neuropsychologist: Students who are willing to enter the field of neuropsychology need an advanced qualification in clinical psychology. The research focuses on attitudes and brain functions. The key tasks would be to assess the severity of brain injury or brain damage by measuring the cognitive capacity of a patient. Patients with impaired brain function/activity and cognitive disabilities should be assessed, examined, tested, diagnosed, and treated using a range of clinical tests, tools, and techniques.
Geropsychologist: Geropsychology is a specialization of psychology that aims to address older adults' issues. Mental health problems, anxiety and aging, stress, and age-related illnesses also expand for geropsychologist to provide psychological counselling for older individuals. Geropsychologist helps older people to lead healthy lives even into their older years by delivering psychotherapy and approaches to address a range of disabilities, aging problems, and difficulties.
Child Psychologist: Clinical psychologists for children concentrate on diagnosing and treating mental illness ranging from addiction to anxiety. Such practitioners work in a clinical environment, typically in private practice, and sometimes in a hospital, and therefore are qualified to offer techniques to deal with difficult disabilities. They evaluate individuals and carry out tests, and also provide cognitive behavioural therapy for the patient. If drug abuse is suspected, a child therapist may develop a course of treatment or action; if a child suffers from any kind of fear, a diagnosis and treatment strategy may be initiated by the psychologist.
What is the workplace/work environment of Clinical Psychologist like?
Clinical psychologists generally operate in clinical settings, classrooms, research centres, universities. Clinical psychologists can operate in contemporary comfortable environments, depending on their location. Clinical psychologists may spend time working with individuals to understand physical, emotional and behavioural issues in their lives. They might also spend some time visiting patients, acquiring information from their everyday activities. Clinical psychologists usually operate in healthy settings.
Does Clinical Psychologist require travelling?
Likely
Many Clinical Psychologists travel both domestically and internationally frequently to provide people with counselling services to consider physical, mental, and behavioural problems in their lives.
Employment Shifts
Full Time, Part Time, Hourly Basis
In general, clinical psychologists work extremely hard. Clinical psychologists should also be in good physical condition, and be able to interact with several other clinical psychologists and society. They ought to be responsible adults who can carry out diligent, comprehensive, and critical investigations. Clinical psychologists operate in a professional, healthy atmosphere. They work on weekends as well as in evening hours. A lot of clinical psychologists also do part-time work. Most clinical psychologists operate approximately forty hours a week while clinical psychologists who are self-employed work more than this in per week.
Employment Nature
Contractual, Permanent
Psychologists regularly evaluate the patient's improvement to guarantee that perhaps the solution to the problem is personalized to their conditions and can be used if necessary in emergency departments, substance abuse treatment centres and long-term care facilities. For most cases, they spend a majority of the workday at their feet. Many clinical psychologists work full time, although there are a large number of clinical psychologists who have worked as part-time staff. Because many clinical psychologists are always available, they often work in shifts at night and on Sundays.
Work Place
Home Office
Clinical psychologists usually work in a hospital, where they look after the patients' mental needs. In some cases, clinical psychologists also have their own setup or a clinic where they practice their trade. Some clinical psychologists are also available over the phone or might pay a visit to the patient's residence.
Presence in Geographical Area
Rural, Semi-urban, Urban
Across rural areas there are fewer opportunities for the clinical psychologists. Most of the employment opportunities of the clinical psychologists are in urban areas, they will find jobs in several big corporations that are in metropolitan cities. But it is also a growing field nowadays in semi-urban areas.
Time Pressure
Likely
They work on weekends as well as in the evening hours. A lot of clinical psychologists also do part-time work. Most clinical psychologists operate approximately forty-five hours a week while clinical psychologists who are self-employed work more than this per week. So the time pressure for clinical psychologists is more when working independently.
Overtime Details
Clinical psychologists work about eight to nine hours per day and up to twelve hours when required. While several clinical psychologists work independently, some individuals work for reputed companies or medical institutions as part of a team.
Weekly Hours of Work
Min 45 Hours
Most clinical psychologists operate approximately forty five hours a week while clinical psychologists who are self-employed work more than this in per week.
How to become a Clinical Psychologist?
What are the skills and qualities required to become a/an Clinical Psychologist?
Problem-solving ability: In psychology, things do not always work as expected, just as they do in any profession. Problems continue growing up and they are required to be solved. Successful psychologists require innovative methods, and they need to be able to apply them quickly. In fact, excellently-written research plans do allow specific issues that may interrupt work. Often unexpected circumstances occur, and to save the job they need to come together and make an adjustment. They need a collection of strategies prepared to ensure the research is going ahead.
Communication skills: Communication is undoubtedly vital to any profession, but when researching human behaviour it is particularly necessary. Clinical psychologists need to be able to interact with clients and support them, while research psychologists have and are able to interpret conclusions accurately and clearly represent their findings.
Work ethics: Psychologists have an immense responsibility, as in any profession that works about the people. They have the power to improve the lives of people and are also at their most emotional with strangers. It's important to have a clear ethical code to ensure the patients are healthy and well-being. It's important as a researcher, to build hypotheses on a solid ethical foundation to get objective, practical results despite offending anybody.
Analytical skills: Clinical psychologists perceive the knowledge they gather from observations, tests, and reports of their clients; such knowledge is assessed against guidelines that allow them to recognize and diagnose problems. They would need to be informed regarding treatments and experienced in designing appropriate care approaches dependent on the need. Clinical psychologists have to show good analytical abilities to be effective at this. They could fix problems, apply logic, analyze alternatives, make informed decisions, and execute solutions.
Research skills: Analysis should play a vital part, no matter what the position in psychology is. If the psychologists are doing their own tests and want to see whether they've been done before or are attempting to support a patient by knowing what other psychologists have witnessed, it's important to know how and where they need to find the details. There are thousands of academic journals out there, with empirical knowledge originating from decades back. It is important to find the information they want and to be able to analyze it effectively.
Numerical ability: Though it does not sound obvious, psychologists need to have measurements in their lab. Scientists, particularly those who are working with quantitative data, are working through huge volumes of data that need to be analyzed. A successful psychologist knows how certain statistics can be interpreted by using quantitative measures and equations. Except for these skills, researchers will not begin to grasp what they are finding and how it is applicable to the broader human community and clinical psychologists would not be able to interpret the evidence as well as how to implement everything to the work.
Science skills: While identifying and curing illnesses, clinical psychologists use rigorous research and techniques which are scientifically proven. Even if they do not need to memorize every concept or analysis, they should be familiar with general concepts and recognize how to research and its results can be presented. Clinical psychologists should be excellent at using scientific thinking and logic to analyze information and interpret it logically while problem-solving.
Which certifications and internships can be helpful in becoming Clinical Psychologist?
Internship Availability
Yes
Internships are a perfect way to start a career in the industry. This gives the appropriate orientation in the industry to the students. Internships help students to get prepared for the responsibility that comes with the profession.Through the use of online recruitment portals one can find several internship opportunities. By internships the individuals get hands-on experience. Practically, students learn the skills necessary for clinical psychology such as expertise in research, analytical skills, communication, work ethics and other capabilities.
Career Path Progression for Clinical Psychologist
As far as the progression is concerned, there is no change in the job title as such. The title clinical psychologist will remain the same, however, with experience one will grow in the progression.
Clinical Psychologist Jobs and Salaries
Geropsychologist
Monthly Salaries
Average Salary

40000

Junior Level Salary

30000

Senior Level Salary

70000
Job Description
Geropsychology is aimed at solving the difficulties of elderly people. Challenges of mental health, depression and aging, stress and age-related illnesses even develop for neuropsychologists to include psychological therapy to older people. By providing psychotherapy and solutions to resolve a range of disabilities, aging issues and challenges, Geropsychologist support senior citizens to live a healthier lifestyle and their retirement years.
Salary Description
The salary of the geropsychologists is also decent. At the beginning of their career, geropsychology receive approximately up to five lakhs, and eight to nine lakhs at the senior stage of their career.
Senior clinical psychologist
Monthly Salaries
Average Salary

35000

Junior Level Salary

22000

Senior Level Salary

85000
Job Description
Senior clinical psychologists carry out patient evaluations and treatment in order to diagnose and treat psychological issues that might have risen because of the mental state of the patient or the environment and the situations he/she has been facing.
Salary Description
For an entry-level senior psychologist, the total compensation is somewhere around 22,000 INR per month which includes bonus, tips, and overtime pay. The mid-level salary for a senior clinical psychologist 35,000 INR per month. After gaining industry experience and medical skills, candidates can expect a monthly pay upto 85,000 INR.
Junior clinical psychologist
Monthly Salaries
Average Salary

32000

Junior Level Salary

18000

Senior Level Salary

70000
Job Description
Clinical psychologists work with clients to recognize their physical, mental, and behavioural problems. The psychologist can identify any current or possible conditions through findings, interviews, and examinations. Instead, they devise a recovery plan together with the client as per the needs of the client. Psychologists regularly track the progress of the client to ensure that the course of action suits their needs and to change it if appropriate.
Salary Description
The average total compensation of a junior clinical psychologist is somewhere between 30,000 INR to 35,000 INR per month, which includes bonuses, tips, and overtime pay. The entry-level salary for a junior clinical psychologist is around 18,000 INR to 20,000 INR per month. However, after gaining industry experience and job skills, a candidate can expect a top-level salary up to 70,000 INR per month.
What is the job outlook for Clinical Psychologist?
In this area, practitioners are called clinical psychologists. Clinical psychologists are working with professional organizations, and are not doctors. Psychotherapy, psychiatric assessment, and diagnosis of mental illness are conducted by clinical psychologists. In general, psychologists are specialized in four main theoretical orientations: psychodynamic, humanistic, cognitive-behavioral (CBT) structures, and family therapy. These subjects provide a comprehensive array of employment opportunities. Clinical psychologists also work in hospitals, research schools, clinics, and centers of rehabilitation. They can, therefore, set up separate consulting companies.
Psychology in nursing is significant because even as a healthcare provider, on the one hand, nurses have to deal with sick and severely disabled people and on the other hand they have often communicated with the injured people's families. Because for the most part, a nurse needs to communicate with people from all backgrounds of society. More than anything else, a nurse needs to take care of people who have suffered from illnesses and this includes knowledge of psychology to understand people's various behaviours and emotions. Nursing psychology allows trained nurses to better understand patients.
Within psychology, the employment prospects can vary for different specialization fields. For those with advanced degrees in specialized specialization fields including counselling and clinical psychology, career openings are perhaps the most numerous. The requirement for clinical and behavioural psychologists is projected to increase as individuals are becoming more conscious of the need for as well as the value of psychological services. Such practitioners may have been required to provide care to the elderly population in a range of environments to treat psychological and emotional problems, as well as to assist veterans and those who have suffered traumatic experiences.
School psychology is often identified as a field that will see rapid development in the years to come as an understanding of the children's mental health needs grows. When concerns like behavioural problems, developmental disabilities, harassment, and learning disabilities become even more common, the need for professional psychologists in the school will increase. Since psychological and emotional challenges would have such a strong impact on interpersonal, school psychologists offer a vital service because they help young people dealing with educational, cultural, physiological, and mental issues.
Frequently Asked Questions for Clinical Psychologist
Que. What does a clinical psychologist do?
Ans.
Clinical psychologists work with clients to recognize issues with their lives that could be physical, mental and behavioural. The psychologist can diagnose any current or possible disorders through observation, assessments, and tests.
Que. How competitive is clinical psychology?
Ans.
Clinical psychology as a discipline in the field of psychology is very competitive as it is an integrated degree programme. Clinical psychologists can perform research, become instructors, and practice individually as counsellors, and therefore they can and sometimes do perform as supervisors of programmes.
Que. Is a psychologist a therapist?
Ans.
A psychologist also works hand in hand with a psychiatrist, who is a medical practitioner and therefore can prescribe medicine if the medicine is considered to be appropriate for stabilization of a patient. The aim of a therapist is to help individuals decide what is good and understand their emotions for solving problems.
Que. What can clinical psychologists specialize in?
Ans.
Clinical psychology is a broad psychological field concentrating on the diagnosis and treatment of psychological, behavioural, and mental disorders. Some of the most common conditions that may have been identified involve difficulties in reading, drug abuse, schizophrenia, insomnia, and anxiety disorders.
You might also be interested in
Questions related to Clinical Psychologist
Showing 1 out of 1 Questions
4 Views
how to became a clinical psychologist in GOVERNMENT hospitals of Tamil Nadu .please explain it in step by step
hi,
see clinical psychologist position is fills by recruitment test and follows by interview in most of the medical and hospital, however time to time recruitment process might differ, but you must have the eligible qualifications along with relevant experience, after 12th study you need to take bachelors in psychology , after that you need to study masters in clinical psychology. some of the top university has internship opportunity for students who are in masters course, however since government hospitals has limited number of vacancy comes , you need to check regularly for the recruitment notices.
The question have been saved in answer later, you can access it from your profile anytime.
Access now
Report Question
Select your reason of reporting