Who is a Dietitian?
Take care of your body, it's the only place you have to live ~ Jim Rohn
In career as dietitian, individuals are a key part of any healthcare system and are the only nutrition professionals to be statutorily regulated. A registered dietitian translates information about nutrition into practical advice to help people make healthy decisions about food. Dietitians are the medical practitioners and consultants who manage nutritional deficiencies. They supervise the patients by addressing their dietary requirements, preparing menus, and educating patients and their families about the importance of adequate nutrients. Not only that one needs to maintain a healthy diet in order to gain as well as lose weight, but a dietitian will also do that for you while keeping your budget in mind. In a career as a dietitian, one is required to assess, diagnose, and treat diet-related problems and aim to raise awareness of the link between food and health to prevent future problems. Students can pursue Food Processing to opt for a dietitian career path. Here, in this section, we will discuss the details of dietitian career path, such as dietitians and nutritionists courses, dietitian jobs, how to become a dietitian, dietitian salary, course for dietitians.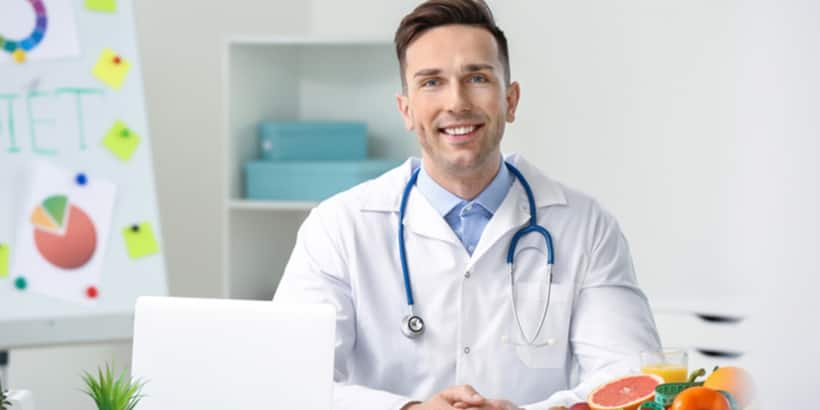 Dietitian in a Nutshell
The career as registered dietitian involves working in a group and on an individual basis with people of all age groups. Individuals who opt for a career as a dietitian work for people who are ill as well as people who are well. Their responsibilities include providing health advice and promoting healthy eating, advising about special diets, educating health professionals and the public about nutrition, establishing and addressing health needs, helping to facilitate dietary changes, and supporting the work of other healthcare professionals. Individuals in the dietitian career path need to possess a good, mature, confident, and caring manner. The ability to interact with a wide range of backgrounds, together with interpersonal communication skills are essential.
Quick Facts for Dietitian
Industry

Healthcare

Average Salary in India

₹25000

Suitable for

Male, Female, Others

In the early years, female dietitians have conquered in the field of dietetics. Unfortunately, these misperceptions possibly have discouraged more men from entering into the field, but all of that may be changing. Since the career as dietitian has evolved, the push toward encouraging more men to join the ranks has increased. Those men who have paved the way have shown that there are great opportunities for success. Men in dietetics are doing exciting things, and they're encouraging more men to consider entering the field.

Any special needs

Yes

It is a well-established fact that people with disabilities are at risk of nutritional problems and therefore it is very important that there is access to dietetic knowledge for this group. Therefore, an individual wishing to make a career as dietitian can do so even if heor she is differently-abled.
Table of Contents for Dietitian
What is the role of Dietitian?
Individuals in the dietitian career path are qualified experts who specialize in the science of nutrition. In the career as a dietitian, individuals' duties include assessing, developing, implementing, and evaluating nutrition plans in order to improve people's diet and eating habits, thus, ensuring a positive impact on their overall health and quality of life. Individuals in the dietitian jobs are to empower their patients, clients, and communities to embrace food, understand, and enjoy it. The advice and information they provide are tailored to their clients' and patients' personal needs and challenges, including taste and accessibility. In a career as a dietitian, individuals can work in a range of areas including in acute and community health sectors, as health educators, in private practice (freelance), in food service and industry, in sport, research, in media, and in public health.
Assess health concerns
A dietitian's job responsibility includes assessing patients' and clients' health needs and diet. They diagnose which dietary problem the patient is going through and takes steps in order to treat them accordingly. It is the first step that a dietician takes in the treatment process and assessing the problem correctly is important for providing the right and effective treatment measures.
Provide counselling
A dietitian also provides counselling sessions for his or her patients. The counselling of patients is done mainly on nutrition issues and advice is given to develop healthy eating habits. Many hospitals provide group counselling sessions with expert dieticians to make people aware and cope up with diet problems.
Prepare a meal plan
A dietitian is a licensed professional who develops meal plans for people with different requirements if they want to lose or gain weight a dietitian plans out a healthy way to achieve the goal taking both the budget and the clients' preferences into account.
Evaluation
After assessing the problem, providing counselling as well as making a meal plan the job of a dietitian is not over. He or she must evaluate the results of the meal plans made. If the desired results are not obtained, the dietitian changes the meal plan according to the need of the patient to achieve the desired goal.
Promote nutrition
The job of a dietitian primarily aims at promoting better nutrition to people. They speak with groups of people about the importance of proper diet, nutrition, and the relationship between good eating habits and preventing specific diseases in a person's life by simply taking care of one's diet.
Types of a Dietitian
When it comes to a dietitian career path, there are several kinds of career opportunities available. Some dietitian jobs in this particular field are mentioned below:
Clinical dietitian: The clinical dietitian is not only found in hospitals but also in nursing care. The clinical dietitian works along with the health professionals in coordinating several medical findings and nutritional care of the patient. Every hospital has a clinical dietitian if not any specialized field's dietitian.
Community dietitian: A community dietitian works with organisations like the World Health Organisation, public health groups, daycare centres, resorts, and health clubs in coming up with effective nutritional plans for the people. With people giving more importance to their diet and what they eat, community dietitians are in huge demand.
Gerontological dietitian: The job of a gerontological dietitian is to work on planning out healthy diet charts for elderly people. They specialize in the field of nutrition for the elderly. They are required in hospitals as well as government agencies have started hiring gerontological dietitians.
Pediatric dietitian: A pediatric dietitian is also known as a pediatric nutritionist. His or her job involves giving health advice to children who are below 18 years old. For the proper development of kids' minds and bodies, a paediatrician takes care of their diet. Nowadays, several schools have started hiring a paediatrician in order to take care of a child's lunch menu.
Foodservice: Many big companies, organisations or schools hire a food service dietitian. The job of a food service dietitian is to take part in planning the food for a large number of people by keeping in mind that the nutritional requirements are matched in the diet plan made.
Research dietitian: A research dietitian is involved in research work that is related to diets, food, and nutrition. These researches are generally performed in hospitals and health centres for providing better nutritional plans for the patients. Different body types need different diet plans and such research are done by a research dietitian.
Also read - Career as a food scientist
What is the workplace/work environment of Dietitian like?
In career as dietitian, individuals work in many settings including cafeterias, clinics, nursing homes, hospitals and for state and local government.
Does Dietitian require travelling?
Likely
Individuals in dietitian career path may have to travel in some cases. A registered dietitian is someone who temporarily relocated for work. These assignments can last anywhere from weeks to months and some even convert to a salaried position to the clients site.
Employment Shifts
Full Time, Part Time
In the career as a dietitian, individuals work a 40-hour workweek, though some work weekends
Work Place
In career as dietitian, individuals work full time. A registered dietitian may work evenings and weekends to meet their clients who are unavailable at other times.
Presence in Geographical Area
Rural, Urban
The urban population which falls under good economic condition does not take proper healthy food despite no economic hindrances while on the other hand people in rural areas can't afford even three meals a day. In the career as dietitian, individuals work in both urban and rural areas.
Time Pressure
Not Likely
There is hardly any time pressure in the career as dietitian. Most often, registered dietitians work on scheduled timing and have weekends off. The work pressure is limited which leads to a stressless work environment. Hence, the time pressure is almost negligible in the profession.
Overtime Details
Individuals in dietitian career path are required to work full time five days a week and weekends are generally off. However, occasionally they might be required to schedule a meeting in the evening or weekend when their client is unavailable during regular business hours.
Weekly Hours of Work
Min 45 Hours
Individuals in dietitian career path work around 45 hours a week. Sometimes these work hours can increase if there is a rush of clients.
How to become a Dietitian?
What are the skills and qualities required to become a/an Dietitian?
In order to get a high-salary dietitian job, one must possess some skills. These skills are important for an individual to make a bright career as a dietitian. Here, in the below steps, we have discussed how to become a dietitian.
Scientific curiosity: Curiosity in scientific knowledge is a reason to seek and utilise statistical knowledge just for the enjoyment of using it. Individuals in the clinical dietitian career path are concerned about science do so because they are interested to see what science has been doing to solve cases. Curiosity is necessary to excel in every work and to do it better, same applies to the career as a dietitian since they are asking questions, studying from others, and trying to figure out ways to do better. An interest in and knowledge of the scientific aspects of food
Communication skills: Effective communication skills provide patients with emotional support as nutrition education is an important part of medical meal planning in the career as a dietitian. Higher levels of communication skills are the most important quality a dietitian should possess, as they treat a patient to effect diet recommendations. Communication skills can be defined as the process by which knowledge of nutrition is translated into a change in diet. Strong verbal and written communication skills
Interpersonal management: Excellent interpersonal skills to develop relationships with patients/careers. Interpersonal management enables employees to create and manage effective working relationships with each other and with their consumers, significantly increasing team productivity and management. Interpersonal contact can serve a great many beneficial purposes in the career as a dietitian. This helps us to affect other people's behaviours, perceptions and views. It allows for more productive, more efficient collaboration and therefore can encourage us to create or sustain social relationships.
Teamwork: Teamwork encourages an environment that processes activity and communication. Such close-knit connections complement and inspire workers and align them to work harder, collaborate, and support each other in their careers as dietitians. Teamwork skills are needed to accomplish the work together in a multidisciplinary healthcare team.
Time management: Time management is simply a facility to coordinate and schedule the time spent on social activities. Effective time management skills result in positive performance and effectiveness in the career as a clinical dietitian. It is a core component of project management, which a variety of tools and techniques like preparation, and establishing objectives for excellent outcomes. Time management skills are extremely important as there is a possibility that there are a lot of clients to look after and address their needs.
Computer skills: Inspiring the workers to become good with computers, as an employer can boost productivity but also avoid potential issues that can require significant and substantial amounts of wealth in the dietitian career path. Multiple businesses have begun to rely on computerized technology to just get the task accomplished. Computer skills are important as these days most appointments are done online and the reports or meal plans can be sent online. Hence having good computer skills is important.
Which certifications and internships can be helpful in becoming Dietitian?
Here, we have mentioned some of the dietitians and nutritionists courses to pursue a career as a dietitian.
Internship Availability
Yes
Internship is a learning process in the career as dietitian which trains the students in a professional manner and helps them to learn more about the job. Such as assessment of patient's nutritional status, development, intervention and evaluation of nutritional intervention, tasting the food from kitchen and giving feedback, diet counselling during hospitalization and on discharge based on patient's condition.To give a nutritional career a new wing, internship is the most important aspect. It helps the students practical exposure apart from having theoretical knowledge.
Career Path Progression for Dietitian
In the career as registered dietitian, one has access to several opportunities. Some of the jobs in dietitian career path are mentioned below:
Senior dietitian: Senior dietitian reviews physicians diagnoses and designs and implements therapeutic nutritional care plans for patients utilizing general dietetic standards, regulations, educates and provides guidance to staff, patients, and families regarding diet and food plans. The senior dietitian is responsible for the organisation, provision and evaluation of the Nutrition and Dietetic Service to patients in Our Lady's Hospice & Care Services. They are required to develop, implement and monitor a plan of care, based on an assessment of the patients' nutritional needs and provide follow-up nutritional assessments, up to date care plans and patient review as required. They also liaise with the medical/nursing teams, allied health professionals and other members of hospital staff in planning the nutritional care of patients.
Food developer: A Food Developer uses his/her in-depth understanding of food ingredients, cooking methods, product development, packaging design, food safety, marketing and the food and beverage industry to develop or re-work fine dining restaurant entrees, desserts, snacks, frozen foods, beverages and fast foods. The roles and responsibilities of a food developer include managing the end to end process of poultry product development, developing new product samples, modifying existing products, optimizing products and processes, and developing new product specifications.
Nutritionists: Nutritionists are experts in the field of food and nutrition and help others achieve their health goals. The roles and responsibilities of a nutritionist include conducting a comprehensive nutritional assessment, education, and management to patients/clients referred by physicians and/or multidisciplinary care team (in-home, in primary care practice or telephonically), providing instruction to clients in the use of modified diets as it relates to health promotion and chronic conditions, coordinate, implement, and evaluate nutritional education using national standards and guidelines.
Dietitian: A dietitian is an expert in dietetics; that is, human nutrition and the regulation of diet. A dietitian alters their patient's nutrition based upon their medical condition and individual needs. The roles and responsibilities of a dietitian include developing and delivering educational programs and appropriate teaching tools for various ethnic and cultural groups to support understanding of nutrition, providing patient and community-based education and counselling to patients and families, individual or group, in accordance with established educational plans, preparing nutrition-related presentations and present them to various audiences, maintaining timely and complete documentation and billing of all care management encounters.
Food technologist: A food technologist, otherwise known as a food scientist, is someone who works in the food processing industry and works to help develop healthy, safe, and convenient food products. The food technologists are required to develop new consumer-preferred products and flavours that are reproducible at a commercial scale (quality and cost requirements, raw materials supply, adhering to regulatory guidelines, etc.), work with the marketing team to ensure a continual flow of new products are in the future pipeline consistent with the company strategic direction. They work as part of a team to design & create a new Innovation Center in Raleigh NC to support future corporate growth strategy and build strong links across the organization (Marketing, Finance, Operations, Sales, Procurement).
Dietitian Jobs and Salaries
Nutritionist
Monthly Salaries
Average Salary

25000

Junior Level Salary

12000

Senior Level Salary

70000
Job Description
Nutritionists offer additional food and nutritional information, and they can work in a variety of areas, including public health, the private sector, and education and research.In contrast to dietitians who mainly work with ill people or whose health is damaged by food allergies, malnutrition or obesity, nutritionists work often with healthy individuals.
What is the job outlook for Dietitian?
Individuals in dietitian career path have a wide range of positions such as clinical dietetics work in hospitals, nursing care facilities, and other health care facilities, research dietitians work on health service research. According to reports, the employment of dietitians is expected to increase as compared to other occupations. A growing interest in food and health will help boost the demand for dietetics and nutrition. According to the BLS (Bureau of Labour Statistics), jobs for dietitians and nutritionists are expected to increase 15 per cent through 2026, while the national average for all occupations rests at seven per cent. A few factors are contributing to the demand for dietitians. In recent years, more people have become interested in health, wellness and the role of food in their daily lives and wellbeing, hence there is a rise in demand for dietitians
When it comes to the dietitian career path, opportunities are growing but at the same time, the market is over floating with amateurs and healthy lifestyle coaches presenting themselves as professionals. Around 100 education institutions in India offer a recognized dietetics education programme leading to professional qualification.
Frequently Asked Questions for Dietitian
Que. Is becoming a dietitian difficult?
Ans.
They need excellent writing, reading, critical thinking and speaking skills. To become a (LD) licensed dietitian, one must earn a bachelor's degree in dietetics, food and nutrition or a related area, complete a six to 12 month internship and pass a written examination in order to get a license to practice.
Que. Do dietitians go to medical school?
Ans.
Some nutritionists decide to continue their education by completing a master's degree programme in nutrition. Although advanced degrees are normally not required to work as a nutritionist, they can prepare students to work as educators and researchers in the nutrition field of medical nutrition therapy.
Que. Is dietitian a good career?
Ans.
If earning money is important, then the career as dietitian is not the best option, not that they can't earn a good salary, but they just don't earn a lot (unless you are a senior dietitian or works in sales or food service). If you value down time and convenience to find jobs, dietitians are a pretty good career.
Que. Why are dietitians important?
Ans.
Dietitians can help you lose weight, manage food allergies, treat diet-related chronic diseases, aid with malnutrition or insufficient intake, educate you on reading and understanding food labels, or simply answer questions about food and diet. Dietitians want to help you change your lifestyle to improve your health.
Que. How to become a dietitian in India?
Ans.
Candidates should have passed 10+2 with a science stream. Pursue B.Sc/B.A Nutrition or B.Sc Food Technology. After that, pursue a PG Diploma in Nutrition or an M.Sc in Food and Nutrition. Do an Internship for 6 months and clear the Registered Dietitian entrance exam.
Que. Who is the best dietitian in India?
Ans.
Some of the best dietitian in India are Raksha Changappa, Isha Khosla, Rujata Diwekar, Shikha Sharma, Anjali Mukharjee, Tanya Zuckerbrot and many others.
You might also be interested in
Questions related to Dietitian
Showing 12 out of 12 Questions
The question have been saved in answer later, you can access it from your profile anytime.
Access now
Report Question
Select your reason of reporting