Who is a Loco Pilot?
Driving the train doesn't set its course. The real job is laying the track ~ Ed Catmull
Going on a trip with family members and friends seems to have a different sense, especially when travelling by trains. Many of us would have the train experience which will stay fragrant in our thoughts. The responsibility of a loco pilot is equivalent to the role of a pilot in an airline. There is indeed a variation. These loco pilots are absolutely responsible for carrying people and products to distinct destinations.
On average, a normal train carries more than 10000 commuters, plus different commodities. Responsibility for commuting more than 10000 people relies on the capable shoulder of the Loco Pilot who needs to perform unfailing duties and responsibilities and helps connect with places on a regular basis. Here, in this article, we will discuss what is loco pilot, loco pilot qualification, Indian railway loco pilot salary, how to become a loco pilot.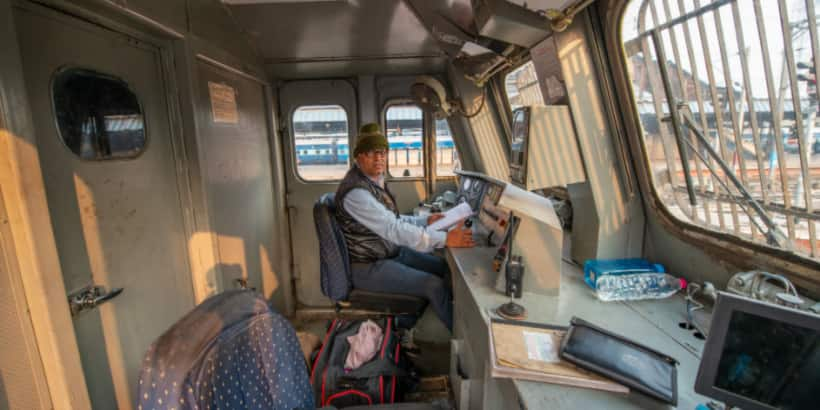 Loco Pilot in a Nutshell
Loco Pilot's position is common to the Indian Railways under the Ministry of Railways in the country. A Loco Pilot is the individual needed to drive the trains and provide effective monitoring of the trains during transit. This is a senior position in the Indian Railways, and no applicant is employed directly as a Loco Pilot. The Indian Railways undertake entrance tests to recruit the Assistance Loco Pilots, who could then be promoted to the Loco Pilots Post or to other management positions.
Quick Facts for Loco Pilot
Industry

Railway

Average Salary in India

₹40000

Suitable for

Male, Female

Individuals can take up a career as Loco Pilots, it is not gender-specific. Men, women, and others can choose a career as Loco Pilots. In India, individuals from both genders enjoy equal benefits because gender is insignificant in this career.

Any special needs

No

People with special needs should not choose a career as Loco Pilots. The career as Loco Pilots is not suited to everyone, specifically those with physical disabilities. It is not suitable for candidates with special needs. Physical strength is important or to qualify medical tests.
What is the role of Loco Pilot?
The duties of the Loco Pilot Assistant include helping the Loco Pilot to run the train smoothly. Loco pilot work includes performing a number of important operations, like maintaining the appropriate ability to function of the locomotive engine, carrying out repair and maintenance tasks in the train, inspecting signal changes, interacting with other railway authorities. It is quite essential for the Loco Pilot to perform his/her duties sensibly, as the safety of thousands of commuters depends on it.
A loco pilot job includes operating on a specific train underneath the supervision of the Train Manager, including a train route, restricted train speed, estimation of an error of signalling, adequate brake power, safety. The train at the rear end does have the train manager, the head of the running train.
Prepare reports
Reports provide information that has been collected as a result of the various evaluation. Reports also could cover a wide range of topics, but usually, focus on the communication of data to a relevant viewer with a particular goal. Several other reports are structured to find solutions. Generally, they evaluate the problem and suggest certain actions or alternatives.
Monitoring
Monitoring would be the use of different employment detection methods to gather information on the behaviour of staff members. Loco pilots monitor other workers in order to increase efficiency and protect resources efficiently. Monitoring is the routine observation and documentation of events in an activity or project. The on-board monitoring system, which is identified as a demonstration system, includes an integrated variety of tools and electric motors for regulating and monitoring the mechanical components of commuter and passenger trains.
Piloting the Train
Loco Pilots are responsible for driving the engine, as well as the mechanical operation of the train, train speed, and all other operations. Their main rob responsibility is to drive the train. Loco Pilots follow a particular track to avoid the derailment of the engine.
Maintenance work
Maintenance of machinery is indeed an important prerequisite and a required task. The term 'maintenance' involves numerous duties, such as inspection, evaluating, analysis, replacement and adjustment, and is conducted in all jobs and industries. Maintenance work involves, in part or in whole, improvements at fixed times, changes in oil, lubrication, small alterations. In addition, employees also could monitor the degradation of the machines and equipment, since they can remove and replace equipment on a regular basis whenever it ends up likely to cause mechanical malfunction.
Types of a Loco Pilot
Locomotive Engineer: Locomotive engineers operate large rail services on the proposed route, which will transport passengers and freight to different locations. For each trip, locomotive engineers must be familiar with the freight, schedule and route to ensure that the train operates smoothly and on time. Even sometimes, this profession requires work on weekends and nights. Numerous locomotive engineers often continue operating for more than forty hours. Individuals monitor sensors and metres in brake lines and primary underground aquifers that mostly measure speed, amperage, voltage regulation, and air temperature.
Yardmaster: Railroad operators or yardmasters are responsible for coordinating train activities on behalf of their organisation. They are responsible for facilitating the delivery and unloading of different items. Some of their primary duties include completing rail switching tasks on-time. Yardmasters ensure that all freight and rail cars reach their intended destinations in a timely manner. They should be conscious of any train or rail difficulties and, if necessary, plan alternative routes.
Mechanical Engineer: A career as a mechanical engineer is a technical professional. He or she must therefore be responsible for the management of manufacturing products and other technical staff. The mechanical engineer shall research, design and develop equipment, devices and other materials of a machine. A mechanical engineer is involved in all stages of the development process. He or she researches about the product, designs and develops it. The manufacturer of the products is supervised by a mechanical engineer. He or she is responsible for the installation and maintenance of manufacturing or machinery systems.
What is the workplace/work environment of Loco Pilot like?
Loco Pilots operate engines, passenger trains and commuter trains. Loco Pilots illustrate railway instructions, guidelines and rules and regulations governing the operation of locomotives. Detectors and metres in the brake pads and primary underground aquifers are supervised mainly for pace, circuit, power output and temperature analysis.
Does Loco Pilot require travelling?
Likely
Loco Pilots run a large number of commuter and passenger trains along a proposed route that moves people and products to different locations. For each journey, the freight, timetable and path must be regarded in order to make sure that the train needs to travel safely and on time. The Loco Pilot job accurately defines how much they need to travel. They even have to participate in workshops and conferences to get a better understanding of the processes.
Employment Shifts
Full Time
Many Loco Pilots work at least 40 hours a week, with increasingly busy schedules that usually use two shift patterns every day. Although there are no certain shifts in this profession. Loco Pilots sometimes have to work overtime for long distances and time. It is clear that the Loco Pilots work long hours, but also that they need to really work extra hours when required.
Employment Nature
Permanent
The employment nature of Loco Pilots is not part-time, but permanent by nature. They are often hired for a specific loco pilot job or apprenticeship. At the time of the internships, the Loco Pilots also have several duties and work very closely with the workers of many units.
Work Place
jobsite
Loco Pilots work forty hours a week. Since trains run 24 hours a day, however, their shifts involve evenings, nights, weekends, and holidays too. These professionals generally work while travelling by train, not in any particular office environment.
Presence in Geographical Area
Rural, Semi-urban, Urban
Generally, this profession does not have a geographical limitation. Loco Pilots can find loco pilot job opportunities anywhere around the country. There is no particular place or area upon which the loco pilot job can be based. This loco pilot job is primarily transferable, so they need to go wherever they have to go. They might go to rural places as well as to the big cities.
Time Pressure
Likely
In a given time-span, Loco Pilots need to perform tasks. It takes a lot of time and mental strength to do this loco pilot job because we know that nothing productive can be achieved without hard work and effort.
Overtime Details
Loco Pilots sometimes have to work overtime for long distances and time. They would only have to operate for a certain amount of time, but emergency situations require extra hours of work.
Weekly Hours of Work
Min 45 Hours
The shift is mainly in 12-24 hours, but a typical trip could still be 36-46 hours. Many loco pilots work at least 40 hours a week, with increasingly busy schedules that usually use two patterns of shift each day.
How to become a Loco Pilot?
Steps to become a Loco Pilot
What are the skills and qualities required to become a/an Loco Pilot?
To become a loco pilot, individuals must have some loco pilot skills. Here, in this article, we will discuss how to become a loco pilot.
Technical skills: Technical skills are important for a wide range of activities. This will assist to perform more effectively, enhance morale. Loco Pilots with this technique and skill in a critical and enjoyable position often get better at multitasking. Technical skills are required to perform various functions. They are practical and often relate to mechanical, mathematical or scientific tasks in information systems. Some instances often include language programming knowledge, mechanical systems, or methodologies.
Physical strength: Physical activity can improve muscle strength and endurance. Exercise carries oxygen from the lungs to your muscles, allowing blood circulation more effectively. And then, when you focus on improving your heart and lung wellness, you have a lot more energy to do your daily activities. Loco Pilots have to work in a stretch for a prolonged period of time and sometimes migrate heavy machinery so that, for such purposes, candidates need to be fit and healthy.
Critical thinking: Critical thinking is important as it implies that one would have to figure out the solution to the problem and ultimately saves a lot of time, financial resources and anxiousness. Critical thinking is essential for Loco Pilots as it encourages individuals and organisations to evaluate problems more effectively and to acknowledge alternative approaches which are not completely evident initially. Critical thinking provides an opportunity to fix problems in the workplace.
Which certifications and internships can be helpful in becoming Loco Pilot?
Internship Availability
Yes
Career Path Progression for Loco Pilot
Assistant Loco Pilot: Assistant Loco Pilot helps the train operator in running processes. Serving as an assistant loco pilot is necessary to maintain long shifts of concentration and must be able to react quickly. Assistant Loco Pilot assists the Loco Pilot. The role of the Loco Pilot Assistant is to perform various tasks related to the transmission of signals, to ensure the proper functioning of the loco, and to assist seniors with repair work where necessary.
Senior Assistant Loco Pilot: The Senior Assistant Loco Pilot assists the Loco Driver in fine-tuning the locomotive. Help in minor repair of the locomotive. Senior Loco Pilot Assistant recognises and identifies bumper track defects. They work for the maintenance, safety, productivity and quality of the locomotive. It is necessary to work as a Senior Assistant Loco Pilot to maintain attention for long hours and to be able to respond quickly.
Loco Supervisor: The primary responsibility of the Loco supervisor is to know the job of the loco pilot in every way. This means that Loco Supervisors with high driving skills must have a great deal of experience with technical and safety factors. The Loco Supervisor gives special attention to the safety procedures and attempts to remove the deficiency by means of methodological approaches through consultation.
Loco Pilot Jobs and Salaries
Assistant Loco Pilot
Monthly Salaries
Average Salary

30000

Junior Level Salary

20000

Senior Level Salary

50000
Job Description
The assistant loco pilot serves the responsibilities of calling out the signal, perfect-tuning loco, performing the loco's routine maintenance. Assistant Loco Pilot carries out various duties related to sending information, maintaining proper operation of the loco, and assisting seniors with basic maintenance if needed when working.
Salary Description
Basic compensation of Assistant Loco Pilot is focussed on skills and experience. The entry-level salary could be as high as three lakhs per year, and it could eventually be more than six lakhs per year at the senior level, depending on the experience.
Senior Assistant Loco Pilot
Monthly Salaries
Average Salary

50000

Junior Level Salary

40000

Senior Level Salary

70000
Job Description
Senior Assistant Loco Pilot is responsible for performing various tasks related to the sending of signals, ensuring proper operation of the loco, and assisting seniors with minor repairs if necessary while in operation.
Salary Description
Salaries in this career largely depend on the individual. An average salary for a senior assistant loco pilot is up to Rs. forty lakhs per year. At the beginning of their career, they receive more than Rs. five lakhs a year which increases to even more than Rs. eight lakhs a year in senior positions.
What is the job outlook for Loco Pilot?
The total employment of railway professionals is projected to decline by three per cent between 2016 and 2026. Decreasing demand for the transport of goods and services, like renewable energy sources, could lead to a reduction in the number of railway employment. However, a number of elements of transporting commodities can increase the demand for certain railway job opportunities.
The requirements for passenger rail services, such as transporting people and metropolitan transit systems, are mainly improved by increased volumes. Indian railway loco pilot salary depends on various factors, such as loco pilot qualification, skills, eligibility, experience. In urban rail networks, a number of possibilities may well emerge due to significant developments in transport infrastructure, in addition to the current population growth and rising commuting rates in many western countries.
Frequently Asked Questions for Loco Pilot
Que. What is the loco pilot salary?
Ans.
Standard Indian Railway Loco Pilot compensation package is Rs. 55,500. Loco Pilot salaries at Indian Railways can range from Rs. 20,000 to 85,000.
Que. Which ITI trade is required for the loco pilot?
Ans.
Students should have accomplished an internship or ITI or a Diploma in Mechanical/Electrical/Electronics/Automobile Engineering from any institution which is recognised by AICTE. In order to become an Assistant Loco Pilot, the age of the applicant should range from 18 years to 28 years.
Que. Is Loco pilot a good job?
Ans.
Being a Loco Pilot in the Indian Railways seems to be a very fascinating choice of career because it is a government job. The post ranks high in terms of working conditions and gets good pay and extra perks. However, it is perceived as a difficult job and requires a lot of endurance, great agility and an observant mind.
Que. Can commerce students become loco pilots?
Ans.
With Commerce Stream, you would not be able to qualify for the Loco Pilot Aptitude test. You must have at least a 12th degree with a PCM or an engineering degree to meet the criteria for it. The selection is based on the performance of the written test and the fitness and strength test.
You might also be interested in
The question have been saved in answer later, you can access it from your profile anytime.
Access now
Report Question
Select your reason of reporting