Who is a Locomotive Engineer?
The railroad originally was as completely dissociated from steam propulsion as was the ship ~ John Moody
A large number of people in India are employed by the Indian railway. It is considered as one of the most secure job in the country. Individuals who opt for a career as locomotive engineers are also called as railroad engineers. In India, a locomotive engineer starts his or her career as an assistant initially and steadily becomes a freight or passenger train driver. Freight or passenger trains are controlled by locomotive engineers. Individuals who opt for a career as a locomotive engineer should, therefore, examine the locomotive thoroughly during and before the operation, and also review the train's speed, air pressure, battery and other complex mechanics while travelling. If you want to know about what does the locomotive do or what is a locomotive or how to become a train engineer, then stay tund with us as we will be providing you with all the answers.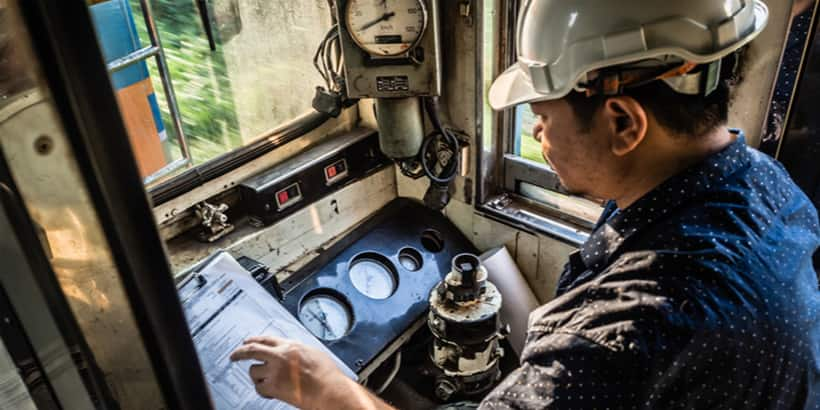 Locomotive Engineer in a Nutshell
Individuals who opt for a career as Locomotive Engineers must be aware of the products that the train transports, since various types of merchandise demand various travelling styles, depending on rail conditions. Locomotive Engineer jobs are to drive cargo or passenger trains among various locations. Individuals who opt for a career as a locomotive engineer continue driving long-distance train services and passenger trains but not subway trains. Many locomotive engineers operate diesel-electric engines.
Are you searching for how to become locomotive engineer? Scroll and read the article.
Quick Facts for Locomotive Engineer
Industry

Technology

Average Salary in India

₹35000

Suitable for

Male, Female, Others

Individuals can take up a career as locomotive engineers, it is not gender-specific. Men, women, and others can choose a career as locomotive engineers. This work is not gender-specific because we can certainly say that without any hesitation people can take up this career very easily. There was a time when we used to have different professions which can be done by female or male but now the table has been turned. There are no such professions left which can not be done by a woman. This profession was particularly done by men but now male and female both are eligible for this job. So we can undoubtedly say at the moment that male and also female could opt for this profession.

Any special needs

No

People with special needs should not choose a career as locomotive engineers. The career as locomotive engineers is not suited to everyone, specifically those with physical disabilities. People with special needs indicate those people who are physically or mentally impaired and this profession is a bit difficult for those who are differently-abled. Locomotive engineers are responsible for many people and products, so a single mistake can lead to disastrous results.
What is the role of Locomotive Engineer?
Individuals who opt for a career as Locomotive Engineers operate large train services on a proposed route that transport passengers and freight to different locations. For each trip, locomotive engineers must be familiar with the cargo, schedule and route to ensure that the train operates smoothly and on time. Locomotive engineers supervise sensors and meters in brake lines and primary underground aquifers that mostly evaluate speed, amperage, voltage regulation, and air temperature. Locomotive engineers examine locomotives during each run to check adequate fuel, sand, water and other supplies, and to check for mechanics issues. Railroad Engineers receive initial signals from the transmission lines and then moves controls like switches and air brakes to drive electric, diesel, steam or petrol-turbine-electric locomotives. They check definitions to call out railway signals to assistants.
Also Read: Career as Car Designer
Inspection
Inspections at the workplace help to avoid accidents, injuries. Inspections help to determine and track potential dangers for appropriate action through a critical analysis of the working environment. Safety and health agencies can assist in planning, conducting, monitoring and evaluation safety checks. A railway organization shall ensure that licensed locomotive engineers are authorized to carry out locomotive safety inspections following all of the rules. Individuals who opt for a career as locomotive engineers should develop that the recommended inspection was accomplished prior to boarding.
Monitoring
Monitoring would be the use of various workplace detection systems to collect information concerning staff members' actions and places of interest. Companies monitor workers to boost efficiency and safeguard organizational resources. Monitoring is the routine observation and documenting of events in an activity or project. The on-board monitoring and control system, recognized as the demonstration system, includes an integrated range of tools and electric motors for monitoring and regulating mechanical parts on commuter and passenger trains.
Troubleshooting
Troubleshooting is beneficial for both employees and institutions as it allows everyone to exercise control over their surroundings. Individual and commercial environments are full of information, exercises, interrelationships and procedures that are damaged or not functioning the way they are required to function. Rail traffic is expected to grow and the old tracks could never support the increased load, so regular accidents occur there. These issues are solved by locomotive engineers.
Maintenance work
Daily equipment maintenance is both an essential and required task. The word 'maintenance' includes many tasks, including inspection, testing, calculating, replacement and modification, and is performed in all industries and workplaces. Maintenance work entails partially or completely improvements at fixed times, changes in oil, lubrication, slight modifications. Furthermore, employees could even track the degradation of machinery, because then individuals who opt for a career as a locomotive engineer can replace the damaged equipment regularly so when they end up causing mechanical failure. Railways are composed of complex mechanical and electrical structures and various moving parts are in it. To keep the rail service safe, the machinery must always be managed to keep in good condition and this requires regular maintenance.
Prepare reports
Reports convey information that was collected as a result of data and problem information and evaluation. Reports could even cover a broad variety of topics but generally rely on conveying information to a specific viewer with a defined objective. In many workplaces, reports are a commonly performed type of written information exchange along with emails, memos and documents. Several other reports are structured to finding solutions. Typically individuals who opt for a career as locomotive engineers analyze a situation and recommend some actions or solutions.
Types of a Locomotive Engineer
There are types of locomotive engineers careers. We have provided below description of several types of locomotive engineer careers.
Freight Brake Operator: Freight brake operators pair or detach rolling stock to make up and break up railway lines. These types of railroad engineers also show the signal by hand or by flagging engineers. By categorizing, estimating, recognizing differences or similarities and detecting changes in circumstances or events, they identify the information. They typically perform physical activities that involve significant use of your legs and arms and consider moving their entire body, like walking, lifting, balancing, stooping, climbing, and material handling.
Locomotive Firers: Often locomotive firers are part of a train crew, and usually control tracks and train equipment. They are looking for equipment, stumbling blocks on the tracks and other material for safety issues. Few trains use firers since locomotive engineers or drivers have automated their work. The operation of a passenger or freight train is supported by a locomotive firer, often known as an assistant engineer. A locomotive firer's primary duty is to evaluate the motor oil, pressure, and temperature gauges.
Railyard Engineer: Railway yard engineers work inside railway station train engines. To keep trains coordinated and on time they switch locomotives across tracks. Many operate locomotives that are named 'dinkeys'. These types of locomotive engineers often conducts routine maintenance and repair work on locomotives and train cars, support in fixing railroad tracks and establish reports on train car quality and train car maintenance status. They also deliver and exchange switching information with drivers and other employees.
Yardmasters: Yardmasters do similar work, even though they do not travel on trains. These types of railroad engineers supervise and coordinate workers' activities in the rail yard. They inform yard engineers where and how to move cars or load freight to align the planned specification. Prior to actually leaving the yard, yardmasters guarantee trains are carrying the appropriate materials.
Mechanical Engineer: A mechanical engineer is a technical professional. These types of railroad engineers are responsible for supervision of manufacturing processes and other technical staff. A mechanical engineer researches, designs and develops equipment, devices and other components of a machine. He or she works with other engineers for successful completion of the project. A mechanical engineer is required to travel to manufacturing site or customers' offices to test the device and improve its efficiency.
What is the workplace/work environment of Locomotive Engineer like?
Individuals who opt for a career as Locomotive Engineers run engines, commuter trains, and freight trains. They also work in offices too. Locomotive Engineer job includes describing train instructions, indications, and rules and regulations controlling locomotive operations. He or she is required to monitor detectors and meters in brake lines and main underground aquifers primarily evaluating pace, capacitor, voltage and temperature.
Does Locomotive Engineer require travelling?
Likely
Individuals who opt for a career as a Locomotive Engineer run broad commuter and passenger trains along a planned route that moves people and crew to multiple places. For each journey, the freight, schedule and direction should be recognizable to assure the train is going safely and on time. Locomotive Engineers jobs comes with extensive travel requirements. They may require to join meetings and seminars to better understand the job.
Employment Shifts
Full Time
Individuals who opt for a career as Locomotive Engineers work full time. There are no options for part-time, hourly basis on call or work from home due to the nature of the job and the equipment they have to handle.
Employment Nature
Permanent
The employment nature of Locomotive Engineers is not part-time, it is permanent by nature. Individuals who opt for a career as a Locomotive Engineer are often hired for some specific work or apprentices. The engineers also have several duties at the time of internships and work very closely with the engineers.
To know how to become locomotive engineer, scroll and read the article.
Work Place
On-Field
Locomotive Engineers work in field with other engineers. They are often required to visit manufacturing sites or customers' offices. Individuals who opt for a career as a locomotive engineer requires travel to manufacturing sites and customers' offices to test manufacturing machinery or other components.
Presence in Geographical Area
Rural, Semi-urban, Urban
Generally, there is no geographical limitation for this profession. Locomotive engineers can find employment opportunities anywhere in this country. There is no specific area or location on which this job can be based. This job is mainly transferable so they need to go wherever the job requires them to go. They might go to rural places as well as to the big cities. But generally, the Divisional Railway Manager Offices are in cities, and they need to visit these places occasionally.
Time Pressure
Likely
Time pressure is an important factor in a Locomotive Engineer's professional life. The daily routine as a locomotive engineer can vary greatly, depending on the work situation. Individuals who opt for a career as locomotive engineers get immediate signals from the transmission lines and then continue to move controls including switching devices and air brakes for various types of locomotives to operate. Individuals who opt for a career as a locomotive engineer would only have to operate for a certain amount of time but emergencies require extra hours of labour.
Overtime Details
Working overtime is not new in the profession. Due to various factors, Locomotive Engineers are required to stay for long hours at work. Generally, locomotive engineers work forty hours a week. Since trains run 24 hours a day, however, their shifts involve evenings, nights, weekends, and holidays too. The shift is mainly in 12-24 hours, but a typical trip could still be 36-46 hours.
Weekly Hours of Work
Min 40 Hours
Individuals who opt for a career as Locomotive Engineers work at least 40 hours a week, with increasingly busy schedules that usually use two patterns of shift each day. Though in this profession there are no certain shifts. Locomotive Engineers sometimes need to work overtime when they're going for long distances and time. It is clear that the Engineers work full time, and also that they need to really work overtime when necessary.
How to become a Locomotive Engineer?
What are the skills and qualities required to become a/an Locomotive Engineer?
When it comes to how to become a locomotive engineer, the first thing that they should know about are the skills required to become a locomotive engineer. Some of the essential skills we have mentioned below.
Attention to Safety: Responded to the case of an emergency like breakdowns by maintaining health and safety protocols and regulations applicable. A safety method is a step-by-step procedure about how a working operation should really be worked out. The safety method is a manual that is built up in the company by individuals. Individuals who opt for a career as locomotive engineers follow this guide when they conduct a particular activity.
Computer Skills: Computer skills are so essential for everybody in the place of work, starting from manager to an intern. Business organizations depend primarily on computer-controlled technology to complete huge quantities of tasks efficiently. The electromechanical processes in an electric locomotive with an optimized traction drive, performed using the electric locomotive 's developed computer programme as a regulated electro-mechanical framework. Simulations are conducted for the beginning of the locomotive and its motion in segments with decreased conditions of cooperation in the communication.
Critical Thinking: Critical thinking is essential as it means that one has to find the right solution to a challenge, and it will eventually save time, money and anxiety. Critical thinking is essential because it allows railroad engineers and organizations to analyze issues more effectively and to recognize potential solutions which at first are not entirely apparent. And what is more, critical thinking allows fixing conflicts in the workplace.
Organising Skills: Organizational skills are those related to establishing order and discipline, improving performance, and assigning responsibilities that would need to be accomplished instantly, as compared to something that can be delayed, assigned to some other individual, or removed completely. Establishing fundamental organizational professional skills removes needless inefficiency and helps individuals to execute vital job responsibilities efficiently.
Technical Skills: Technical skills are responsible for a variety of purposes. This will help railroad engineers perform more efficiently, improve your morale and make you a much more attractive candidate for workplaces. Employees with such skill and technique in a critical and interesting position often get better at multitasking. Technical skills are the required skills and knowledge to perform various functions. They are practical, and often relate to mechanical, mathematical, or scientific assignments in information systems.
Physical Strength: Exercise can improve muscular strength and enhance endurance. Exercise supplies your muscles with oxygen and nutrients, which makes the blood circulation function more efficiently. And then when you improve your heart and lung wellness, you have far more energy to handle the daily activities. Individuals who opt for a career as locomotive engineers need to work for long periods of time in a stretch and they sometimes move heavy equipment so for these reasons candidates need to be physically active and fit.
Popular Online Engineering Courses and Certifications
Are you searching for how to become locomotive engineer? Then, you are on the right page.
Which certifications and internships can be helpful in becoming Locomotive Engineer?
Internship Availability
Yes
An apprenticeship enables you to obtain firsthand experience to real-world employment. Thus it helps railroad engineers to improve the use of skills, expertise, and concepts they gained mostly during the programme. An exercise that allows locomotive engineers to have the chance to visit different basic specialised services. In order to ensure the full implementation of all daily routines and making preparations for the next day, apprentices should, therefore, focus on working attentively with the managers throughout their duties and obligations.
Career Path Progression for Locomotive Engineer
While you climb up the ladder of progression in the career, you'll opt various job roles with varying roles and responsibilities in a locomotive engineer career. We have provided below list of locomotive engineer career depending upon the progression.
Assistant Loco Pilot: Assistant Loco Pilot assists in running processes with the train operator. Serving as an assistant loco pilot is necessary to sustain long shifts of concentration and need to be able to react quickly. The role of the assistant loco pilot is to fulfil various duties related to the transmission of signals, ensuring appropriate functioning of the loco, and supporting seniors with repair work if necessary while operating.
Loco Pilot: Under the direction of the train manager, these types of locomotive engineers work on a specific train, such as train route, restricted train pace, signalling problem identification, adequate brake power, protection. The train at the backside which has a crew of a train manager, who is the face of the running train. The Indian railway loco-pilot does not even have an air-conditioned room or electronic control unit and should be alert, maintain an eye on the situation ahead and check out indications and cautions.
Loco Supervisor: Loco supervisor's prime responsibility is to be a qualified loco pilot in every way. This implies drivers having great driving abilities ought to have great experience in technical and safety factors. These types of railroad engineers reads loco pilot's deficiency is one place that requires special attention and attempts to remove the same by using methodological approaches by consultation.
Also Read: Career as Flight Engineer
Locomotive Engineer Jobs and Salaries
Assistant Loco Pilot
Monthly Salaries
Average Salary

30000

Junior Level Salary

20000

Senior Level Salary

50000
Job Description
The assistant loco pilot serves the responsibilities of calling out the signal, perfect-tuning loco, performing the loco's routine maintenance. Assistant Loco Pilot carries out various duties related to sending information, maintaining proper operation of the loco, and assisting seniors with basic maintenance if needed when working.
Salary Description
Basic compensation of Assistant Loco Pilot is focussed on skills and experience. The entry-level salary could be as high as three lakhs per year, and it could eventually be more than six lakhs per year at the senior level, depending on the experience.
Loco Pilot
Monthly Salaries
Average Salary

35000

Junior Level Salary

30000

Senior Level Salary

60000
Job Description
Under the guidance of the train manager, a loco pilot works on a particular train, such as rail line, limited train speed, signalling error forecasting, adequate brake power, safe operation.
Salary Description
The loco pilot's salary is also decent and it is slightly higher than the assistant loco pilot's income. Loco pilots receive about four lakhs beginning of their career and more than seven lakhs at the senior stage of their profession.
Loco Supervisor
Monthly Salaries
Average Salary

40000

Junior Level Salary

35000

Senior Level Salary

70000
Job Description
Locomotive supervisors will also strengthen social interaction with loco pilots to build good relationships in knowing their daily issues. The loco supervisor seeks to fix the drivers' domestic and institutional issues so that they can then focus on driving. The loco supervisors often inform the understanding of the loco pilots based on the various technological and safety factors.
Salary Description
Salaries in this industry are dependent on the skills and experience in this field. The entry-level pay could be as high as five lakhs a year, and could gradually cross eight lakhs a year.
What is the job outlook for Locomotive Engineer?
The total employment of railway personnel between 2016 to 2026 is expected to decrease by three per cent. Significantly reducing demand for the transport of commodities, like coal and natural gas, may result in some railways decreasing jobs to become more profitable. However, the transportation of commodities by numerous modes can raise demand for certain railway jobs. Requirements for passenger rail services, such as intercity passenger transport, and metropolitan transit systems are primarily enhanced by increased amounts of transportation, whether due to higher population, higher commercial enterprise or more tourist industry this industry or sector is rising gradually. In urban rail networks, a few possibilities may very well emerge due to substantial developments in railway engineering in addition to current population growth and rising rates of commuting in many western countries.
Student Also Liked:
Frequently Asked Questions for Locomotive Engineer
Que. What's the difference between a conductor and an engineer?
Ans.
An engineer and a conductor regardless of the type of train; the former is responsible for running the locomotive whereas the latter performs a supervisory role over its complete system. The conductor must pass on details to members of the crew to assure the locomotive is working properly.
Que. Do train drivers drive the train?
Ans.
Train drivers are liable for both freight and passenger transports. A train driver will be accountable for railways that could function on national or international railway networks, and could also spend more time navigating engines in sheds or yards.
Que. Do you have to go to college to be a train engineer?
Ans.
Candidates can also enrol for formal education through such a vocational organization or community college that provides the degree or credential of an associate in railroad operational activities. Training programmes would cover areas like hydraulic brakes, welding, and fixing engines.
Que. Why do train engineers sit on the right?
Ans.
Most double-track railways are operated on the right-hand side of the track, and also most train signals should have been on the top right. That was also the specification with respect to signal location in the straight carriageway. Engineers sit on the right side, therefore, makes it easier for them in seeing the signals.
Que. How many hours a week do train conductors work?
Ans.
Railroad drivers are the operators of passengers and cargo train crews. They collaborate with workforce tasks to guarantee reliability and effectiveness. Generally, they work more than 40 hours a week. Since trains run 24 hours per day, however, their shifts include evenings, nights, weekends and holidays.
Que. What is the role of Electrical power engineer?
Ans.
Electrical power engineers are the professionals who carry out regular research along with maintaining systems of existing electrical power plants. It is the responsibility of electrical power engineers to enforce procedures for the safe functioning of an electrical power plant and to dispose of electrical waste. They develop methods, instruments, and systems to harness the power of electrical energy and radiation.
You might also be interested in
Questions related to Locomotive Engineer
Showing 1 out of 1 Questions
32 Views
how many CTFs are in WAG-7 locomotive
Hello candidate,
As per your question,
WAG-7 is one of the most successful locomotives of Indian railways currently serving both freight and passenger trains for over than 28 years.
The name WAG -7, Broad gauge(W), Alternate current (A),Goods traffic (G) engine, 7th generation (7).
The number of CTFs were three in WAG -7(According to me).
Hope this will help you,
Thank you.
The question have been saved in answer later, you can access it from your profile anytime.
Access now
Report Question
Select your reason of reporting