Who is a Sales Engineer?
It does not matter how good a presenter you are, if you can't address the fundamental features of the product you are demonstrating you cannot increase your sales ~ Jay Kiros
If you wish to make a career in the field of engineering but don't want to be a part of a mainstream engineering field or you wish to be someone who is connected to both sales as well as the engineering sector? If the answer to these questions is 'Yes' then you can opt for a career as a sales engineer. A Sales Engineer is an individual who is responsible for selling complex scientific and technological products as well as services to different businesses. A Sales Engineer should have in-depth knowledge of the products' parts, functions and application. He or she must understand the scientific processes that make these products work.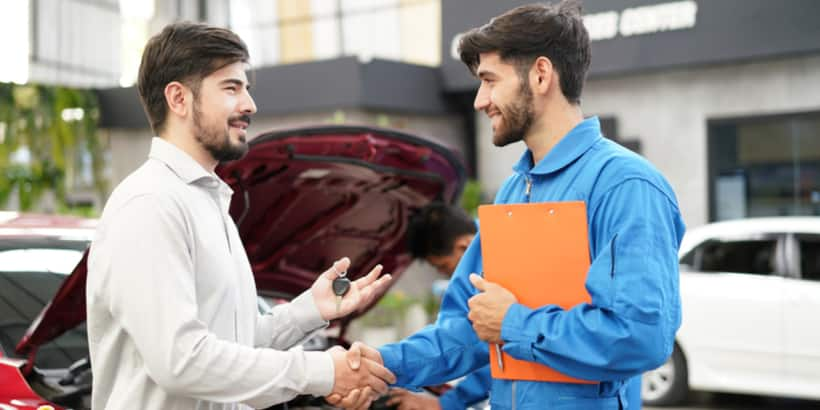 Sales Engineer in a Nutshell
The career as a Sales Engineer involves understanding the usage of complex technological products. He or she works for the companies which sell such products or services to potential customers. A Sales Engineer is given targets that are required to be achieved on a monthly basis. The career of a Sales Engineer involves a lot of travelling as well. Therefore if you are an individual who is looking for a technical job but do not want to sit in an office and lead a monotonous life then being a sales engineer is the right career choice for you. If you want to know more about the field then continue reading this article.
Quick Facts for Sales Engineer
Industry

Technology

Average Salary in India

₹42500

Suitable for

Male, Female, Others

In order to become a sales engineer, an individual from any section or gender can do so. It does not matter which gender he or she belongs to when it comes to taking up a career as sales engineer. Being in the field of sales engineering in India is one of the most booming sectors where an individual's gender is insignificant. Although gender is insignificant in sales engineer jobs but it is heavily dominated by men according to the current statistics.

Any special needs

Yes

When it comes to doing sales engineer jobs, it demands physical fitness for discharging duties efficiently. Differently-abled people can be a part of this job as long as it does not affect work efficiency.
What is the role of Sales Engineer?
A Sales Engineer job responsibilities may vary depending on the workplace. A Sales Engineer job demands specialising in technologically and scientifically advanced products. He or she uses technical skills to explain the benefits of the products or services to potential customers and to show how different products or services are better than the ones of the competitors'. Several Sales Engineers work for companies that design and build technical products. Others work for independent sales firms. In addition to giving technical presentations, sales engineers are increasingly doing other tasks related to sales, such as market research. They may also ask for technical requirements from customers and modify and adjust products to meet customers' specific needs. Some sales engineers work with research and development (R&D) departments to help identify and develop new products.
Team Formation
In order to achieve the monthly sales target, it is essential for a sales engineer to team up with other individuals working in sales. This helps him or her to identify the needs of the customers and one can approach the potential customers with a convincing pitch.
Presentation
One of the major requirements for a sales engineer is to give a presentation to his or her potential customers. In the presentation a sales engineer demonstrates the application of a technical commodity and once that is done he or she presents the quotes for the same.
Resolving Issues
There are many occasions where once a product is sold to the customer, he or she may contact the sales engineer with some usage-based issues. It is the job of a sales engineer to resolve all such related issues as well as make sure that the customer has completely understood the application of the product to avoid such issues to arise in the future.
Customer Inputs
These days several sales engineers are getting into the field of marketing as they are the ones who are aware of customer's needs. Therefore, a sales engineer must speak with his or her customers in order to take suggestions on the products so that the company can work towards achieving 100 per cent customer satisfaction.
Types of a Sales Engineer
How to become a Sales Engineer? What are the education requirements of Sales Engineer? Do you have all such questions in your mind? No need to worry, we have answers to all your questions. Keep scrolling down and read the entire article. There are numerous types of Sales Engineer job. We have mentioned below a few as an alternative career option in case you wish to make a similar career choice for a career as a Sales Engineer.
Telecommunications Engineer: A Sales Engineer who specifically works in the field of telecommunication or has a specialisation in those kinds of products is called a Telecommunication Engineer. A Telecommunications Engineer is the one who assists the companies which require products in this field. He or she demonstrates the usage and makes the sales accordingly.
Computer Sales Engineer: A Sales Engineer who sells computers or similar kinds of products to companies, schools or colleges is referred to as a computer Sales Engineer. These days every organisation's staff works on computer systems therefore it is a huge market to be tapped. Therefore, a computer sales engineer works on behalf of computer companies like Dell, HP, Lenovo and several similar companies in order to pitch to their potential customers.
Sales Representative: A Sales Engineer who works in the sales department as a representative on a full-time basis is the one who is referred to as a sales representative. It is an ideal job for the people who like the sales field and want to work in order to acquire more and more customers in order to help the company reach its sales target.
Also read : Career as a sales manager
What is the workplace/work environment of Sales Engineer like?
A career as a Sales Engineer involves spending most of their time in the field itself. As a result, working hours are often not fixed due to frequent demonstrations for potential customers. A Sales Engineer has to travel quite often. This is a definite benefit for those who do not like the typical and monotonous work environment.
Does Sales Engineer require travelling?
Likely
A Sales Engineer job does require travelling. He or she has to visit the customer's place in order to give a demo as well as one may have to go to different cities for the same.
Employment Shifts
Full Time
Are you searching for Sales Engineer job description and sales engineer salary? Then, keep scrolling and read the entire article a career as a Sales Engineer.
The employment shift of a Sales Engineer is full-time in nature. The duration cannot be fixed as a lot depends on the sales target as well as the travel plans. The job of a Sales Engineer can stretch for several hours as it all depends on the number of sales pitch and duration in one day. Many times due to customer interaction the duration of a sales pitch exceeds the expected time.
Employment Nature
Permanent
The nature of the employment of a Sales Engineer is permanent in nature. A company or organisation hires a Sales Engineer on a permanent basis and he or she has to achieve the monthly target for the company.
Work Place
Offices
Sales engineers jobs require working in an office set-up environment.
Presence in Geographical Area
Semi-urban, Urban
A Sales Engineer works in urban or semi-urban locations as technology-based equipment which are complex to use have a scope of being sold in such areas only.
Time Pressure
Likely
Time Pressure is quite active for Sales Engineers. Apart from performing their own research and work, they are also required to supervise and verify the work done by their team members. Hence, sales engineers work under a lot of time pressure.
Overtime Details
The allotted working hours for sales engineers is nine hours per day typically. But because of the responsibilities assigned to Sales Engineers, they work overtime for half the time in a month.
Weekly Hours of Work
Min 45 Hours
Individuals who opt for a career as Sales Engineers work in office settings. They work from early mornings to late evenings. They typically work from 8:00 am to 5:00 pm. Individuals who opt for a career as Sales Engineers work for 45 hours a week. Sometimes work hours may get extended due to work pressure and deadlines.
How to become a Sales Engineer?
What are the skills and qualities required to become a/an Sales Engineer?
If you are looking for how to become Sales Engineer, then you must know what skills will enhance the sales engineer CV. We have mentioned below several sales engineer skills that are required in the career to perform efficiently.
Leadership: A Sales Engineer should have the ability to work with a group of people as a team. Not only that he or she should be able to lead the team as well. A Sales Engineer may have a technician or a junior sales engineer under him or her. It is important that he or she is able to communicate well and work towards attaining a similar goal.
Decision making skills: It is essential that a Sales Engineer is decisive in nature. There are several instances where a sales engineer is supposed to make decisions with a potential customer in terms of pricing. He or she needs to be calculative as well as decisive about the decisions made. A Sales Engineer needs to calculate the risks in taking those decisions. It is a field where no risks can be taken otherwise the company can incur losses therefore everything needs to be done with precision.
Attention to Detail: A Sales Engineer is expected to have extremely high attention to detail. It is important in his or her job position that he or she does not miss out on anything while demonstrating a product. Each and every part of each and every machinery is supposed to be demonstrated well so that the customer understands the benefits of the product.
Communication Skills: A Sales Engineer must have a good command over his or her language. It is important for his or her job position to be able to explain the message to the recipient clearly and precisely. Being able to communicate well eliminates the probability of errors being caused due to any sort of miscommunication. It is essential to be a good listener in order to communicate well.
Popular Online Engineering Courses and Certifications
Which certifications and internships can be helpful in becoming Sales Engineer?
We have mentioned below several certification courses offered in the field of sales and marketing. Individuals can opt for any of these courses to upgrade their skills.
Internship Availability
Yes
Internships are considered as the best possible way for gaining experience in an individual's career choice. They provide the candidate with real-world experience. Internships provide an aspiring candidate the opportunity to apply the theoretical knowledge he or she gained during their time in college, to bring them in practical use.
Not only that, but internships also enable the candidate to make connections in the field for future use. If he or she performs well during the internship several companies or organisations could also hire the candidate on a full-time basis. A Sales Engineer needs to have an idea about the sales field in order to take it up as a full-time career. The candidate can get an internship either through an online medium or he or she could also contact the sales company of choice directly.
Career Path Progression for Sales Engineer
Senior Sales Engineer: A Senior Sales Engineer is the one who has previously worked as a sales engineer. He or she will get a chance to climb up the ladder and move to a higher rank which will involve taking up greater responsibilities. A sales engineer reaches the position of a Senior Sales Engineer after gaining an experience of two-three years. As a senior sales engineer one also has a team of juniors working under him or her.
Sales Management: A sales Engineer can also make a transition to the management level. Several sales engineers are sifting in the field of management and that will require a focus on communication, leadership, communication and customer engagement. This role will be a combination of technical background as well as an individual's business acumen.
Entrepreneurship: A Sales Engineer also has the choice of becoming his or her own boss by joining the field of business. A start up career may seem promising as a Sales Engineer can use his or her experience and expertise to create solutions and work on building client portfolios.
Sales Engineer Jobs and Salaries
Senior Sales Engineer
Monthly Salaries
Average Salary

40000

Junior Level Salary

38000

Senior Level Salary

50000
Job Description
A senior sales engineer is an individual who has a team of sales engineers who work under him or her. They all work as a team aiming at achieving the same goal or target. A senior sales manager decides the monthly sales target and the team works behind achieving the same.
Salary Description
The salary of a senior sales engineer majorly depends on which sector he or she is working for. Also, experience plays a major role. The higher the experience, the greater is the salary.
Entrepreneurship
Monthly Salaries
Average Salary

45000

Junior Level Salary

39000

Senior Level Salary

55000
Job Description
A sales engineer can also turn into an entrepreneur. The job of a sales engineer enables him or her to interact with the customers directly therefore, one can have a business of his or her own based on the customer's needs.
Salary Description
An entrepreneur does not have a fixed salary. It entirely depends on how the sales for his or her product or service is increasing or decreasing. More the sales, more is an individual's earnings.
What is the job outlook for Sales Engineer?
Candidates who wish to become Sales Engineers experience quite a significant job growth. Job growth in the telecommunication sector is quite slow but there is a lot more job security than in any other sector. During this time of Covid-19, a lot of sales engineers have gone-down in other sectors, the ones working in the telecommunication sector have managed to secure their jobs. On the other hand, the sectors other than the telecommunication sector provide comparatively faster job growth to the sales engineers.
Several new sales engineer jobs have been introduced in the past decade. Technology keeps on evolving with every passing day. In order to increase sales of complex technology, it is essential for potential buyers to know about the applications of such products as well. Therefore, the companies involved in the manufacturing and sales of these products hire sales engineers. The job vacancies for sales engineers have grown by 8.5 per cent which is much higher than the average of any other engineering-based jobs.
Student Also Liked:
Frequently Asked Questions for Sales Engineer
Que. Is Sales Engineering a good career?
Ans.
Sales engineers make tons of money. A successful sales engineer has some great career options if they are willing to change their role. Some of the sales engineers can be great product managers. They can also get good-paying jobs in big consulting organisations.
Que. Are sales engineers real engineers?
Ans.
A sales engineer is generally an individual who has an engineering degree. Therefore yes, a sales engineer is a real engineer.
Que. Why are sales engineers paid so much?
Ans.
The sales engineers are paid a large commission, because they bring in the business and the revenue for the company. The commission is their main incentive. One may experience a salary cut if he or she does not achieve the target therefore, a sales engineer has the drive to gather more and more sales.
You might also be interested in
The question have been saved in answer later, you can access it from your profile anytime.
Access now
Report Question
Select your reason of reporting