Who is a Architect?
Architecture is the learned game, correct and magnificent, of forms assembled in the light ~ Le Corbusier
In a career as an architect, individuals plan, design, and oversee the construction of buildings. Architects design buildings and also help in supervising the construction. If you are smart, hardworking, and creative enough to plan and execute buildings of your choice, then pursuing a career as an architect is a good option. Individuals in the architecture career path provide services in connection with the design of buildings and the space within the site surrounding the buildings that have human occupancy or use as their principal purpose.
Individuals who opt for a career as an architect focus on how to make living easy and comfortable for people ranging from lower-middle-class to upper-class and offer them housing and shelter with luxury and style. Students can pursue various degrees in architecture education such as B.Plan (Bachelor of Planning) Course, M.Plan (Master of Planning) Course. Here, in this article, we will discuss the details of an architect career in India, such as how to become an architect, architecture career salary in India, career in architecture in India, and is architecture a good career in India.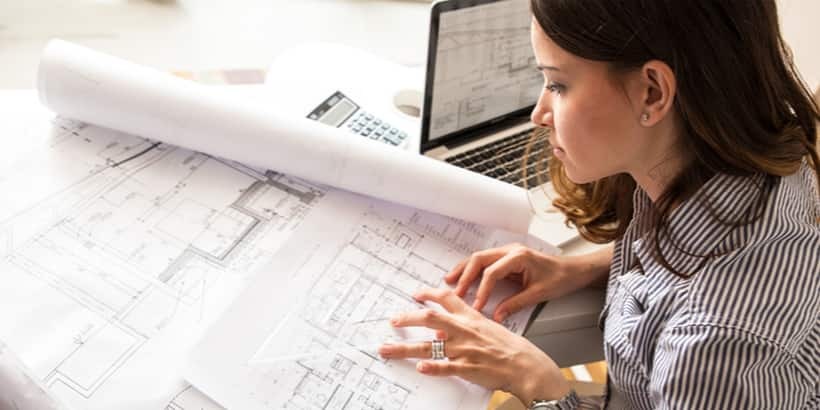 Architect in a Nutshell
Individuals in the architecture career are the building designers who plan the whole construction keeping the safety and requirements of the people. Individuals in architect career in India provides professional services for new constructions, alterations, renovations and several other activities. Individuals in architect careers in India visit site locations to visualize their projects and prepare scaled drawings to submit to a client or employer as a design. Individuals in architecture careers also estimate build costs, materials needed, and the projected time frame to complete a build.
Quick Facts for Architect
Industry

Construction

Average Salary in India

₹30000

Suitable for

Male, Female

An individual from any section or gender can pursue career as architect. Being an architect is one of the most desired professions where an individual's gender is insignificant. Women in architecture have been documented for many centuries, as professional (or amateur) practitioners, educators and clients. In recent years, the participation of women architects have begun to achieve wider recognition since the turn of the millennium.

Any special needs

Yes

When it comes to pursuing career as architect it is better to be physically fit for a better and efficient way of working. However, there is no hard and fast rule that it is compulsory to be physically fit in order to become an architect. As long as the disability doesn't come in the way of one's work they are good to go for a career as architect.
Table of Contents for Architect
What is the role of Architect?
The job of an architect is to create architectural design structures such as office buildings, businesses, stadiums, schools, malls, and homes. Individuals in architect career in India are responsible for drawing up detailed plans for a structure and developing final construction plans to include electrical and heating, ventilation and air conditioning systems. A building planner may also provide designs for landscape requirements, plumbing and communication systems.
Individuals in the architecture career path help their client receive fair construction bids and get quality contractors. Individuals in architecture careers use tools such as building information modelling or computer-aided design and drafting. Hand-drawing skills are used mostly during the early design stages of a project.
Customer service and retention
Individuals in the architecture career path work closely with their clients. Before drafting plans, they meet with their clients several times to learn their clients' objectives, budgets, and any specific requirements for their projects. architects also work with other related professionals, such as engineers, urban planners, landscape architects, construction representatives, and interior designers.
Design, Plan and Develop
Designing, planning and developing are integral tasks in an architect's daily routine. architects may be required to provide predesign figures such as an environmental impact or feasibility study, cost analysis and land-use study. Final construction plans are created by architects and used by builders as a step-by-step guide on how the look and details of the building will play out, including plumbing, communication and heating, electrical, ventilation and structural systems.
Working with constraints
Architecture jobs involve working around constraining factors for example town planning legislation, environmental impact and project budget. There are several laws that are imposed when it comes to building something and those laws are to be followed by an architect while he or she plans out the construction design. The biggest constraint for architectures is the project budget somehow whatever is provided seems less and they need to give the best output from the minimum input.
Working with other professionals
Architecture jobs require an architect to work closely with a team of other professionals such as building service engineers, construction managers, quantity surveyors, and architectural technologists.
Research
Architects must follow building codes, fire regulations, zoning laws, and city ordinances when creating their plans. For public buildings, architects must be aware of disabled access laws. Since these laws change regularly, architects need to stay up-to-date on policy, zoning, and regulation changes. Architects must be in on the latest energy-efficient products, building styles and must research the area they are building to ensure their design matches current building structures.
Application of technology
Today's architecture jobs require an architect to use a lot of technology. Individuals in the architecture career must be trained and familiar with computer-aided drafting systems, building modeling, and other relevant technologies. Architects must conceptualize and experiment with different construction approaches through software and must also be familiar with basic office software, such as word processing, spreadsheets, and accounting.
Types of a Architect
There are several types of building designers who plan the construction of various types of projects such as residential, corporate and public places. We have described below various types of architect career options.
Architectural Manager: An architectural and engineering manager is required to be at the site of construction. He or she plans, directs, as well as coordinates activities in architectural and engineering companies. An architectural manager takes care of building activities. He or she makes sure that the construction is going on according to the plan and they take care of several quality standards as well.
Construction and Building Inspector: A construction and building inspector ensures that construction meets several local as well as national building codes and ordinances, zoning regulations, and contract specifications. A construction and building inspector uses various tools like metering devices or a survey instrument in order to conduct the inspection on the construction site.
Construction Manager: A construction site is supervised by a construction manager. The job of a construction manager is to supervise the work done by the contractors as well as the labourers on the construction site. Not only that but their job function involves planning, coordinating, budgeting, and supervising construction projects from start to finish.
Drafter: A drafter uses software to convert the designs of engineers and architects into technical drawings. Most workers specialise in architectural, civil, electrical, or mechanical drafting and use technical drawings to help design everything from microchips to skyscrapers.
Landscape Architect: The landscape architect job includes designing places to make it look attractive. He or she plans and designs places such as parks and outdoor spaces of campuses, recreational facilities, businesses, private homes, and other open areas. A landscape architect plans civil infrastructures like roads or walkways. He or she focuses on including trees and greenery in their designs.
What is the workplace/work environment of Architect like?
Individuals in architect career in India spend much of their time in offices, where they meet with clients, develop reports and drawings, and work with other architects and engineers. These builders visit construction sites to ensure clients' objectives are met and to review the progress of projects. Some independently working architects work from home offices.
Does Architect require travelling?
Likely
An architecture job demands him or her to spend work hours in an office environment but it does involve travelling at times. A building designer's career requires site visits in order to see the area where he or she has to plan construction or design the building. An architecture career also involves him doing site visits during the time of construction of the building to ensure specific design requirements are met as planned.
Employment Shifts
Full Time
Individuals in architect career in India work full time and many work additional hours, especially when facing deadlines. Self-employed architects may have more flexible work schedules. For example, if an individual just entered the industry with one of the architecture jobs then it is likely that he or she would be working under a firm. In that case, the architect is supposed to work on a full-time basis and even work for extra hours depending on the requirement of the project. Individuals in architecture careers require completing projects within the given deadlines.
Employment Nature
Permanent, Contractual
The nature of the employment of an architect can be both contractual as well as permanent in nature. For example, if an architect is working for a government office then he or she works on a permanent basis. Their projects keep on changing as and when an architect and his team complete one. On the other hand, if an architect is working for himself then he is generally hired on a contractual basis. A private firm can hire the architect in order to build their new office for instance and as soon the work is done their job with the firm ends as well.
Work Place
On-Field, Home Office, Office
Individuals in architect career in India work at multiple locations and in different work environment settings. If they are independent, then they work from their home office, during the construction phase they work on-field or on the site of the construction. If they are working in an architectural firm, then they work in an office environment.
Presence in Geographical Area
Rural, Semi-urban, Urban
Individuals in architecture careers generally work in all kinds of geographical areas urban, semi-urban as well as rural. Urban areas provide better opportunities to building planners as people are more concerned with the designs and safety aspects of their residential places, offices, and other spaces.
Time Pressure
Likely
Individuals in architecture careers are required to work full-time. However, one who is positioned for a senior post might feel some time pressure because of his or her duties. Apart from this, a builder has to ensure the timely completion of the construction project. When they are working in the field, experiencing raw weather conditions and surviving external factors can result in a little time pressure.
Overtime Details
Although architects spend most of their time in the office, they are required to travel to their job sites and travelling sometimes causes them to work for long hours under stressful conditions. Building designers work hours are usually extended, and sometimes it may stretch up to 50 hours a week.
Weekly Hours of Work
Min 40 Hours
An architect working for a government or a private organisation works for a minimum of 40 hours a week. It may extend in order to meet deadlines. But, if an architect works for himself and is his own boss in that case his working hours are flexible in nature. It is up to the architect as and when he wants to work for the project in hand.
How to become a Architect?
Steps to become a Architect
What are the skills and qualities required to become a/an Architect?
If you are planning to opt for an architecture career then you must know the requirements to become a professional architect. We have listed below the architectural skill set that may help you establish a successful career in architecture in India. Here, we have discussed how to become an Architect in India.
Analytical Skills: Employees who have such abilities can fix complex issues that the company is facing and boost overall productivity and success. Analytical skills are valuable as they help in identifying solutions to problems and taking further steps. Architects need to consider the nature of the projects and the context they were produced within. Individuals in the architecture career in India need to understand the locations of mechanical systems and how those systems affect construction operations.
Communication Skills: Effective communication will give rise to an increase and improved possibilities. Effective communication helps everyone to establish confidence, which generally leads them to allow them more possibilities like presenting the employees in front of customers or participating in conferences. Architects exchange their ideas with clients, other architects, and staff who help create sketches, both in oral presentations and in writing. Many offer presentations describing their designs, too.
Creativity: Architecture education can be considered as a study of design that really gets the creative ability to its beginnings. While empowering and enriching creative thinking throughout all areas is indeed very important, it is significant in the field of architectural education. Individuals in architect career in India design the overall appearance of homes, structures, and other structures. The final product needs, therefore, to be attractive and practical.
Organisational Skills: Organisational competencies can help maintain facts straight. Individuals in architecture careers make it easy to handle the load of tasks assigned to an architect. Organising oneself can however significantly decrease the mess on the desk because then one can be more efficient in your working space. The projects and assignments are also supervised by architects. Individuals in the architecture career in India must maintain copies associated with the project details, such as total cost, equipment used, and development.
Technical Skills: Technical abilities are the qualities and expertise required to perform particular tasks. They are realistic and mostly apply mechanical, and mathematical skills, or observation and experiments to architectural projects. Some case studies usually involve the use of CAD software, industrial devices, or techniques. Building designers use computer-aided design and drawing technologies as part of advanced building knowledge processing to construct designs.
Visualization Skills: Visualisation relates to the process in the architectural field of describing a conceptual structure in such a way that can clearly be understood. It can be the bridge between the client and the architect. Visualisation generally happens before the construction process takes place. Individuals in the architecture career in India need to be able to see how one structure's parts relate to another. Individuals in architect career in India should also be able to better understand how once accomplished, the overall design will look.
Popular Online Engineering Courses and Certifications
Which certifications and internships can be helpful in becoming Architect?
We have mentioned below various certification courses that aspiring individuals can opt for establishing a career as an architect.
Internship Availability
Yes
Before an individual enters a profession of architect, it is always a good decision to do an architectural internship. An internship will help an architect in several ways such as practical knowledge of work, improvement in skills as well as in giving a head start. Internships are also beneficial for making contacts, which can later help in getting jobs. One can find architecture internship vacancies through recruitment websites such as indeed.com, Glassdoor, and other online-based recruitment platforms. There is a great learning curve and interns can pick up the tricks of the trade during internships.
Also read - Career as urban planner
Career Path Progression for Architect
You may start your career as a trainee in the construction planning industry and opt for senior managerial roles after acquiring relevant working experience. Adding up multiple projects in your CV enhances it and opens up more promising opportunities for building a designer career.
Architecture Designer: An architectural designer is an artist who works with the client to design both the exterior and interior of buildings. architectural designers design commercial and industrial buildings, as well as buildings intended for private use.
Architecture Engineer: An architectural engineer specialises in architectural engineering. It applies science and technology to the real world by designing buildings that enhance the standard of living and improve the quality of life. An architectural engineer combines building systems such as structural, electrical, mechanical, lighting, acoustics and fire protection - into an integrated whole.
Interior Designer: Interior Designer make interior spaces functional, safe, and beautiful by determining space requirements and selecting decorative items, such as colours, lighting, and materials. They read blueprints and must be aware of building codes and inspection regulations.
Architecture Draftsman: architectural draftsmen are responsible for creating architectural construction documents and drawings for their projects. They develop construction-related files that effectively encompass aspects of the design process. They also conduct inspections that are required for quality assurance.
Architectural Assistant: An architectural assistant works with professional architects or in the fields of construction, facilities management, and other related areas. He or she creates layouts, sections, drawings, and other materials that are necessary for every step of the architectural process.
Building Contractor: Building contractors are responsible for overseeing the construction of both new and old buildings and structures. A contractor helps to organize and manage all aspects of a building site.
Architect Jobs and Salaries
Interior Designer
Monthly Salaries
Average Salary

30000

Junior Level Salary

25000

Senior Level Salary

50000
Job Description
Interior designers are professionals who make interior spaces functional, safe, beautiful, and highly optimized. The main roles and responsibilities of an interior designer includes determining the client's goal and requirements of the project, sketching the preliminary design, including electrical layouts, specifying materials, and furniture, such as lighting, wall finishes, flooring, and plumbing fixtures.
Salary Description
The average monthly payscale for the position of interior designer is 25,000 INR per month which includes bonus tips, overtime payment, and tips. In the start of their career, interior designers earn 22,000 to 25,000 INR per month. As they gain experience for 4-5 years, interior designers earn somewhere between 45,000 INR per month. As they reach the top of their career, they easily earn somewhere between 90,000 to 1.2 lakh INR per month.
What is the job outlook for Architect?
Individuals in architecture careers work with construction companies wherein they are asked to serve as a designer. Initially, an architect is expected to understand the specific requirements of clients and strike the right balance between aesthetics and practicality. Not only that, but an architect with skills can also help clients with his ideas in terms of balancing the requirements of appearance, financial budget and time frame. There are enormous opportunities for architecture jobs in India.
Most architecture jobs come up in government organisations such as Public Works Department, National Building Organisation, Town and Country Planning Organization, Public Sector Undertakings, Housing and Urban Development Corporation, National Building Construction Corporation Ltd. Demand for a career in architecture in India with a knowledge of "green design," also called sustainable design, is expected to continue. Architects should be needed to design buildings and structures that efficiently use resources, such as energy and water conservation; reduce waste and pollution; and apply environmentally friendly design, specifications, and materials.
Student Also Liked:
Frequently Asked Questions for Architect
Que. Is architecture a good career?
Ans.
Yes, it is a good course and an ample number of career opportunities available for architect graduates. architects are the real creators of amazing buildings and structures. architects design structures and give physical face-lift as well as provide functional utility, safety and economy.
Que. Can I be an architect if I can not draw?
Ans.
You do not need to be able to draw well to be a successful architect. It is a handy skill to have - to be able to sketch an idea for a client. But, if you are not a true artist, do not worry. You will be plenty successful if you are detail oriented, good at problems solving and research, and work hard.
Que. What is a CAD drawing?
Ans.
CAD (computer-aided design) software is used by architects, engineers, drafters, artists, and others to create precision drawings or technical illustrations. CAD software can be used to create two-dimensional (2-D) drawings or three-dimensional (3-D) models.
Que. Why is CAD better than drawing by hand?
Ans.
The CAD Drafting has many advantages over manual drafting because of the tools and automation the software offers. Manual drawings are necessarily created on paper, but the CAD drawings are environmentally friendly and can be stored and used electronically without using paper.
Que. What is the salary of an architect in India?
Ans.
The architecture career salary in India varies as per his or her skills and experience. The average salary of an architect in India ranges between Rs. 3,00,000 to Rs. 5,00,000.
You might also be interested in
The question have been saved in answer later, you can access it from your profile anytime.
Access now
Report Question
Select your reason of reporting