Who is a Electrical Engineer?
If your hate could be turned into electricity, it would light up the whole world ~ Nikola Tesla
No matter how simple are the machines that we use, an engineer has worked behind creating it. All the electronic appliances, be it something as small as an electric brush or as big as automobile's parts, an electrical engineer works behind planning, manufacturing as well as designing them. If you are one of those who has an interest in the field of electrical engineering or from your early age you have always been curious in order to understand the science behind your ceiling fan or your refrigerator then going for electrical engineering as a career choice can be the answer to all your curious questions.
An electrical engineer designs and constructs innovative electrical systems, tests equipment and discovers solutions to electrical problems and devices. In general, electrical engineers deal with large-scale electrical systems such as motor control and power transmission. Throughout their careers, they work on a number of innovations, including the design of household appliances, electrical power stations, building and satellite communications cables, and lighting. Being an electrical engineer requires rigorous analysis and the development of training in electrical engineering.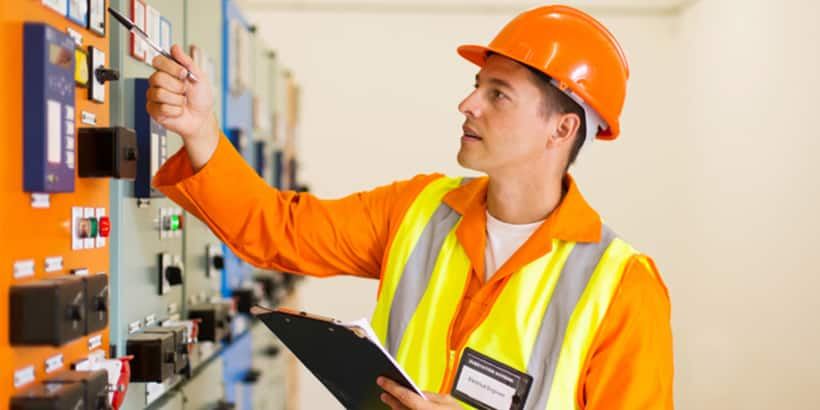 Electrical Engineer in a Nutshell
Electrical engineering is a career-oriented curriculum that uses technology, science, mathematics, and major issue-solving skills to develop the design and manage the products and services that uphold the current society. Electrical engineering is behind the control and telecommunications, automation, signal processing, analogue as well as digital electronics or delivery and power generation and more other significant areas of professionalism. It is also important for new and evolving fields such as robotics, nanotechnology and renewable energy.
Quick Facts for Electrical Engineer
Industry

Technology

Average Salary in India

₹40000

Suitable for

Male, Female, Others

Electrical Engineer's career is not gender- specific. Female, male and others anybody can opt for this profession.

Any special needs

Yes

If the disability is not impeding the efficiency of the task then Electrical Engineer could be an apt career choice for people with special needs as it does not involve any physical activities that require strength or stamina. In most of the scenarios, Electrical Engineering mostly consists of sitting or desk jobs.
What is the role of Electrical Engineer?
An electrical engineer is somebody who constructs innovative electrical devices and implements them, solves problems and tests equipment. They study and apply the physics and mathematics of electricity, electromagnetism, and electronics for gathering data and transmitting energy on both large and small scale structures. They work with electronic gadgets of all sizes, from the smallest pocket instruments to massive supercomputers. Electrical Engineer designs and integrates complicated electrical, industrial, and domestic structures. They perform a wide variety of technological activities by running computer-assisted software and equipment layout and engineering.
Designing
Electrical engineers are responsible for developing new electrical systems for different applications. They use the help of a computer program to draw up ideas and plans. They also develop system specifications and layouts. In short, the design, operate, install, domestic electrical devices, structures, components, equipment products, and systems.
Technical activities
Running through computer-assisted applications, device construction, and development, electrical engineers perform a large number of technical activities such as electric motors, radar and navigation systems, communications systems, or power generation equipment.
Identify potential engineering products
To discuss existing or potential engineering products or projects, they confer on consumers, engineers, and others.
Ensuring quality
They make sure that the construction and operations meet standards and consumer expectations by preparing specifications of electrical systems, technical drawings or topographical maps.
Develop specifications
They develop requirements or specifications for building, production, or installation by conducting a broad range of thorough calculations. They also oversee the manufacture of this equipment, systems, and devices.
Regulation
Ensure regulation by controlling or arranging production, manufacturing, construction, repair, reporting, assisting, or monitoring activities with standards, codes, or customer requirements.
Collect data
Electrical Engineers jot down documentation and collect data on current and future projects and experiments in electrical engineering. Electrical Engineer prepare product report by analyzing the data, summarizing, and collecting information on future trends.
Types of a Electrical Engineer
Electrical design engineer: The primary responsibility of an electrical design engineer is to develop electrical systems specifications for a number of electrical appliances or machinery. This is done through the use of various computer programs or software. apart from this they also test electrical circuitry in order to make sure that everything is in working condition and if need be, they make a few adjustments as well.
Instrumentation engineer: They deal with the configuration of the pressure, temperature, and flow measurement instruments. Their primary responsibility is to work on the design requirements and packages for specific instruments. They often do the installation work as well. Their main agenda is to improve productivity and safety factors. They are also responsible for testing and maintenance of the various electrical systems.
Telecommunications engineer: As the name suggests, a telecommunication engineer's main job responsibility is to design, and do the installation of various communication equipment such as optical cable wiring, telephone lines, electrical switching systems or reworking on the IP network and other systems. Sometimes they also supervise the installation process of these things. In simple terms a telecommunication engineer looks after the information transmission through various devices or equipment.
Power engineer: A power engineer is a professional who looks after or maintains equipment and machinery which generates power such as nuclear reactors, generators, turbines, and motors. The individual takes care of the heating, lighting, refrigeration, and several other utility services that require power in order to function. They are also responsible for the design of transformers, power electronics, generators, and motors.
Mechanical engineer: Mechanical engineers are responsible for evaluating electromechanical and mechanical structures as well as products through the design, preparing and performance of research projects through the application of mechanical, hydraulic, thermodynamic, material, and heat transfer principles. They are also responsible for designing machines that produce power such as electric generators, combustion engines, all kinds of turbines, and refrigeration systems.
Field Engineer: The role of field engineer includes a visit to a different location to provide maintenance and repair services in respect of electrical equipment. Apart from this job role, they are also involved in the inspection of old equipment and the installation of the new one. They often direct the installation crew or prepare a report on the project. Their main aim is to ensure that everything is being run smoothly.
Also read - Career as an energy performance engineer
What is the workplace/work environment of Electrical Engineer like?
Usually, electrical engineers work in laboratories and testing centres, factories, mines, industrial and manufacturing plants, power stations, and office settings. Electrical engineers may work in modern comfort or dry, crowded, or dusty places depending on their location. Electrical engineers ' working conditions can also be dangerous, particularly if they work with live electrical equipment and systems. Also, electrical engineers may spend time at desk designing plans, preparing budgets, and drawing up schedules for projects.
Electrical engineers spend a lot of time going around supervising the work of electricians, physicists, computer programmers, and other engineers. They can also spend time visiting clients, collecting knowledge, and researching equipment from their daily work.
Does Electrical Engineer require travelling?
Likely
Although some travel is required, spending nights away from home is unusual to electrical engineers. As electrical engineers within their companies have to work closely with clients and other staff, they can not work from home as many other workers do.
Employment Shifts
Full Time
This job doesn't fall under any specific shift timing. They might have to do overtime to fulfil the needs of the job. They need to work whenever their job requires it.
Employment Nature
Permanent
Electrical Engineers generally work for government agencies, defence systems, and scientific services. Generally, Electrical Engineers work in an office environment with computer systems. Sometimes they may be required to visit the field to test the equipment that they have designed.
Work Place
Due to several causes, electrical engineers may need to extend their shift or working hours. The work hours of an electrical engineer depends mainly on which field the Electrical Engineers work and of course on their commitment to their job. They need to work nine hours a day for electrical engineers. While they can spend time on their own after completing the job. The shift time or the culture of work is also highly paced and dynamic. In the work environment, a great deal of mental and physical effort is needed. In manufacturing companies, they could work day, evening or night shifts. When needed, they can work for more than forty hours a week, and there are several circumstances where the work can be extended. Calm, disciplined and hardworking people can only do this demanding task.
Presence in Geographical Area
Semi-urban, Urban
Electrical Engineers work in an office environment that is located in urban areas or semi-urban areas.
Time Pressure
Not Likely
Electrical engineers usually do not face any time pressure. During standard working hours, electrical engineers usually work forty hours per week. Operating on public holidays, on weekends, and late at night is uncommon among electrical engineers. However, additional hours may be needed close to deadlines and where issues occur, the immediate resolution is needed.
Overtime Details
Due to several causes, electrical engineers may need to extend their shifts or working hours. The work hours of an electrical engineer depend mainly on which field the Electrical Engineers work and of course on their commitment to their job. They need to work nine hours a day resulting in overtime.
Weekly Hours of Work
Min 40 Hours
During standard working hours, electrical engineers usually work forty hours per week. Operating on public holidays, on weekends, and late at night is uncommon among electrical engineers. However, additional hours may be needed close to deadlines and where issues occur, the immediate resolution is needed. Some jobs may also include flexible work conditions for electrical engineers who are unable to engage in full-time employment.
How to become a Electrical Engineer?
What are the skills and qualities required to become a/an Electrical Engineer?
Equipment maintenance: Enhancing the longevity of machinery and reducing such a need to buy expensive equipment is one of the electrical engineers' most essential skills set. Performing routine equipment maintenance and deciding when and what type of maintenance is needed. Repairing machines or systems using the appropriate instruments.
Quality control analysis: Quality assurance includes checking products and deciding whether they fall within the end product parameters. Quality testing requires every step of the manufacturing procedures. Most workers start testing the materials, collect samples along the production process, and evaluate the final product. Conducting quality or performance evaluation assessments and inspections of products, services, and processes.
Systems analysis: This is a method of gathering and analyzing information, finding problems, and breaking down a structure into its components. The study of the system is carried out to analyze a system or its components to establish its objectives. In general, an examination of a system provides an overview of how a system operates as well as how various elements connect within a system. Determining how a system will operate and how the results can be affected by the changes in the environment, operations, and conditions.
Problem-solving ability: Whatever their specialty, the engineers are problem solvers. This is especially true in electrical engineering, where in order to solve it, students are often forced to think logically and apply a specific rule or principle to an issue. Of course, this is easier than it sounds, but there are various techniques that can improve the problem-solving approach. When troubleshooting faulty devices, fixing materials, and manufacturing devices, electrical engineers have to solve complicated problems.
Decision-making skills: Decision-making is the selection among two or more different solutions to the problem. In the larger problem-solving process, decision-making requires picking from alternative courses of action. Decisions should be made by an adaptive or rational method, or by a combined application of both. Electrical engineers must make solid, educated decisions about the projects on which they are working.
Organizational skills: Organizational skills are the ability to stay concentrated on various tasks, and to make productive and effective use of the time, resources, stamina, mental power to yield the required effect. Such skills help electrical engineers prepare how to allocate money, create realistic budgets, and control the energy and effort of the people involved in their ventures.
Critical thinking skills: Critical thinking is a common skill that can be applied to a large number of circumstances and in electrical engineering, it is just as an essential skill set. Engineers try to reach a certain objective for their project, having the ability to do things creatively or take a different view of the standard makes a big difference. This includes analyzing the project's strengths and weaknesses or the issues and offering alternative solutions, strategies, and theories–all of the key components of critical thinking.
Creative thinking skills: Engineers are not just problem solvers-they are experts in this area. The solutions they provide in order to pursue and execute these ideas, and for this, they need to think outside of the box. This is especially true in the commercial field, where electronics companies are continuously trying to create new and innovative technologies, it is also an important characteristic in potential applicants that best engineering schools search for.
Basic circuit knowledge: The electrical design could become a very complicated subject, particularly when it comes to large installations or even in highly advanced pieces of small hardware, which are often used in smartphones. So if students are going to take this stream as their career then they need to have a clear understanding of basic circuit design first.
Communication skills: Sometimes, electrical engineers need to clarify principles and projects to people who have no professional knowledge of them. Electrical engineers constantly call on their communication skills whether writing documents or sharing details orally. Whether it's knowing a customer's requirements and expectations, working within project teams to create or upgrade a piece of equipment, or communicating with other teams and stakeholders, communication skills are an important factor to consider.
Organisational skills: It is important for an electrical engineer to be able to organize and manage time, as much of the work is expected to be or project-based, depending on which engineering field students are specializing in. Moreover, it is not just at the workplace that these skills prove useful. Through your studies, they would also prove important, as you will be studying and knowing complex subjects on top of all else that requires a higher education. Being able to handle everything and remain at the top–particularly during the exam season–will help you stand in good stead.
Programming skills: Although in some areas of electrical engineering the importance of coding is greater than in others, it is also a very useful skill to possess, especially when working with low-level integrated systems and when analyzing the data. The most useful languages to learn in this area are Java, C, C++, and Basic, but any programming knowledge students may offer the world is also valuable. It will definitely make the job easier and more enjoyable as well as improve the CV.
Which certifications and internships can be helpful in becoming Electrical Engineer?
Internship Availability
Yes
Experience is a prized attribute in any profession and the electrical engineering field is no exception. A many employers want their new joiners to have some sort of industry experience in the form of internships. Students of electrical engineering are strongly encouraged to do an internship to develop contacts and improve their practical skills before joining the workforce.
Career Path Progression for Electrical Engineer
Trainee: A trainee in the field of electrical engineering is supposed to complete all the tasks given by his or her supervisor on a daily basis. Their work involves learning as well as observing the various strategies and techniques that are used currently and they can also give their inputs in order to promote improvement. They also work on research programmes as well as collating information.
Associate engineer: An associate engineer in the field of electric engineering works under the supervision of a senior engineer. Their main role is to perform the various routine engineering works or tasks. While doing all these tasks they gain experience as well as acquire the several skills required in order to lead a team in the future.
Engineer: An electrical engineer deals with several electrical systems. His or her job is to design, develop, as well as test the electrical devices and equipment. The testing of the devices includes the testing of several parts like the communications systems, power generators, motors, and navigation systems. An electrical engineer also goes through the manufacturing process of these devices, systems, and equipment.
Senior engineer: A senior electrical engineer is responsible to firstly supervise the team of engineers junior to him in his team. Secondly, they are responsible for designing as well as conducting tests for several electrical equipment. A senior engineer also supervises the process of manufacturing the electronic devices produced in the company he or she is working with.
Project engineer: The job of a project engineer is to perform functions related to electrical project engineering. For instance, they are responsible for the cost estimation, designing of the packaged equipment, they also look into the control and wiring systems of devices. Not only that a project engineer in the field of electronics engineering processes orders as well as interfaces with the customers.
Senior project engineer: A senior project engineer prepares, coordinates, and monitors a project, from the very beginning to the end of the project. They are responsible for planning and making schedules for the technical activities involved in the project. A senior project manager with his team forecasts budgets and timelines to assure that the project is completed in due course of time.
Also read - Career as an electric power engineer
Electrical Engineer Jobs and Salaries
Electrical design engineer
Monthly Salaries
Average Salary

40000

Junior Level Salary

30000

Senior Level Salary

100000
Job Description
Electrical design engineers design new technological devices and applications. They explore ideas about programmes and make outline proposals for all those systems, generally by using a computer programme. Electrical design engineers are responsible for designing specifications and architectures for the applications.
Salary Description
Salaries in this profession of Electrical design engineers rely on the skills and experience. The entry-level pay is up to five lakhs per year, and eventually it could be more than twelve lakhs per annum.
What is the job outlook for Electrical Engineer?
Electrical engineering is a field that is booming. Electrical engineering careers have some relatively great opportunities. For development, design, manufacture, test, review, market, sell and manage electrical and electronic systems, electrical engineers are required. In India, fresh graduates will find employment in both the public and private sectors. The private corporations pay decent salaries relative to those of the government. Computer, telecommunications, and consumer electronics firms are amongst the largest employers of electrical engineers. Apart from making a professional career, by joining research laboratories and institutes one can also do research work in this field. Teaching careers are also attractive and rewarding. One can join as a full-time or part-time lecturer/professor at an engineering college or university.
There are numerous opportunities for electrical engineers to advance within their profession. They may decide to take on the position of project management or undertake another sort of managerial role. To enjoy more efficient lifestyles, many electrical engineers decide to become advisers or contractors. Some electrical engineers also plan to follow academic careers, teaching electrical engineering in colleges and universities. Gaining higher certification and a license can help electrical engineers to advance their careers. Additionally, membership of a related professional association, such as the Institute of Electrical and Electronics Engineers, can be beneficial for the electrical engineers.
Working as an electrical engineer is a valuable option for people who are passionate about engineering, science, and mathematics because it enables them to use these skills in new ways. They can enjoy good wages and work in a number of industries. Electrical engineering professionals have broad career opportunities, like working as electrical engineers, computer engineers, electronics engineers, systems or technical managers, aerospace engineers, electricians, or project engineers. Candidates of electrical engineers who complete graduate programs can start work in research and development or as teachers and professors of various institutions.
There are plenty of Electrical Engineering job opportunities in this field. Building companies, infrastructure and agencies, engineering and manufacturing and construction, transportation systems, and power delivery are various sectors of this career. An electrical engineer will initiate working with an industry dealing in product development, power management, manufacturing, product design, entertainment, transport, electronic equipment, wireless communication, pharmaceutical, and production, defence, automotive.
Frequently Asked Questions for Electrical Engineer
Que. What do you do as an electrical engineer?
Ans.
An electrical engineer is someone who designs modern electrical devices and implements them, solves problems and tests equipment. They study and apply the physics and mathematics of electricity, electromagnetism, and electronics for storing information and transmitting energy on both large and small scale structures.
Que. Does electrical engineering require math?
Ans.
It takes a lot of mathematics to study electrical engineering. What math offers is the basis for understanding how and why circuits work the way they do.
Que. Does electrical engineering require physics?
Ans.
Electrical engineering focuses mainly on applying the physics concepts of electricity and magnetism to make valuable devices. Electrical engineering and physics also overlap a lot, particularly in the field of solid-state physics.
You might also be interested in
The question have been saved in answer later, you can access it from your profile anytime.
Access now
Report Question
Select your reason of reporting