Computer Hardware Engineer
Who is a Computer Hardware Engineer?
Science is about knowing, engineering is about doing ~ Henry Petroski
Engineering is a career we all crave from the very beginning. A career as a computer hardware engineer attracts students because of the salary and on-site visits, promotions, and special allowances. Computer hardware engineers assess consumer specifications and propose appropriate hardware. He or she changes the hardware to allow forensic statistics or to alter the hardware system interface for many other activities. Computer hardware engineer carries out the technical exploitation and investigation of media content of the highest priority. He or she inspects and reviews technical accuracy, requirements, and design compliance.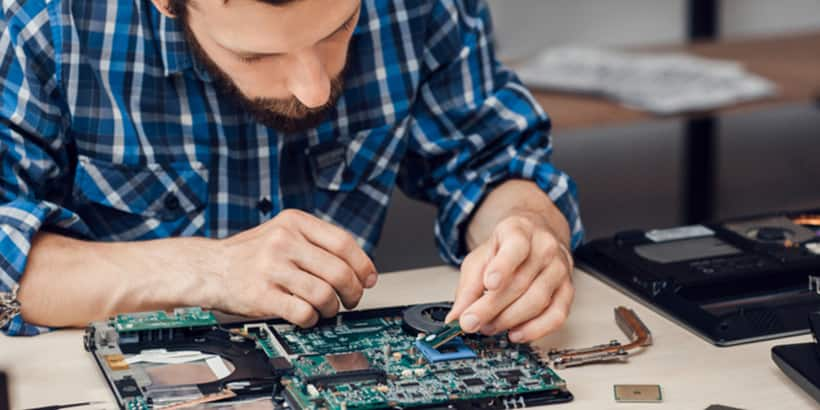 Computer Hardware Engineer in a Nutshell
Computer hardware engineers support by making innovations in computer hardware to drive modern computer technology. They build appliances and computer networks like integrated circuits, servers, processors and electronic components. Computer hardware engineers work with the latest technologies to ensure that software components work together. Hardware engineers also collaborate with computer programmers.
Quick Facts for Computer Hardware Engineer
Industry

Technology

Suitable for

Male, Female, Others

A career as a computer hardware engineer is insignificant in terms of gender. We also see that certain occupations are gender-specific since only a man or a woman can do a certain job. Yet there is no gender obligation in this career. Males and females both could comfortably pursue this profession. Anyone that has the ability irrespective of gender, might become a computer hardware engineer.

Any special needs

Yes

A career as a computer hardware engineer supports everyone, even those with physical disabilities. Most hardware engineers are expected to work on desks and computers. The ability to execute computer networks is eligible for employees to work as hardware engineer. People with a disability can get to work in field areas.
What is the role of Computer Hardware Engineer?
Computer hardware engineers study, design, build and evaluate computer systems and equipment like integrated circuits, processors, memory devices, networks and adapters. They design, manage and oversee the computer systems and related equipment being produced and assembled. Sometimes, Computer hardware engineers spend a lot of time dealing with problems, managing deployment and reviewing computer products.
Computer hardware engineers often construct non-computer systems, like automotive components or clinical devices connected to the internet and integrated into hardware devices. Now you know what is a Computer Hardware Engineer, read further to know about how to become a computer hardware engineer, is Computer Hardware Engineer a good career and what are Computer Hardware Engineer career options.
Designing
Designing the system process of defining a system's components, modules, interfaces and documentation to meet required specifications. Computers and other technologies for developing or altering systems, as well as the processes, practices, framework or theory that recommends used to develop the systems. The design of the control systems is a great example of product creation. The objective of implementing a monitoring system is to obtain configuration, quality requirements and identification of the critical factors of a developed framework to fulfil an actual requirement. Hardware components including circuit boards, processors and memory cards are designed and developed.
Inspection
The role of Computer hardware engineer is to do inspection which is typically more rigorous and comprehensive than verification. Testing is required to ensure that every part of a system operates as it should and that the process works entirely as per the relevant local requirements. Computer Hardware Engineer conducts practical tests to determine whether design conditions are achieved. He or she performs experiments both in laboratory environments and in a range of conditions.
System analysis
System analysis is necessary as it offers an avenue for alternatives within the framework. Through all of these various functions, the performance and efficiency of a system can be easily adjusted or increased, and error occurrences can be minimised in the end. Analysing device information to make hardware configuration settings. System analysis is an engineering methodology commonly used in construction projects to ensure a solution that satisfies the user's needs is achieved. Analysis of the system is carried out to study a system or its components to recognise its strategic goals.
Prepare reports
Reports should provide useful knowledge that can be used to create future predictions and decision-making changes. Technical reports are the engineers principal written work materials. They report information and assumptions about designs, tests, and other projects as well. These provide work on scientific principles, which also involve visual design and data representations. This is also an internal contact process inside the organization and the employees it employs. A report about successful projects needs to be submitted.
Types of a Computer Hardware Engineer
Aerospace Engineers: The construction of planes, rockets, spacecraft and missiles is the obligation of aerospace engineers. Aerospace engineers are experts in designing not only aircraft, rockets, satellites and missiles, but also constructing testing vehicles to ensure maximum performance. Aerospace engineers design new concepts and techniques that could be used in defence, aviation and spacecraft systems. Engineers make plans for technically and economically sustainable projects. Aerospace engineers do have to carry out many projects but not only maintain their performance and also fulfil the standards.
Computer Programmer: A computer programmer must decide the process of developing, composing, reviewing, debugging and troubleshooting and managing computer source code. The code is written in a specific programming language, and therefore the computer can recognize it easily. It is the duty of computer programmers to write code which forms the software. He or she is responsible for studying programme functionality, writing the code, evaluating the functionality of the system and developing software documentation.
Computer Network Architect: Computer network architects build local, broad, and intranet systems for data transmission. Several practitioners hold undergraduate degrees and job experience of five or more years. Networks for data transmission involve local area networks, broad area networks, and intranets, varying from a limited link to a large collection of globally distributed communications networks. Network architects need to have comprehensive knowledge of the business strategy of an organisation in order to design a network which can enable an organisation to achieve its targets.
Computer and Information Systems Managers: Computer and information systems managers evaluate the technical requirements of the company and suggest potential changes for top management to evaluate. They schedule and coordinate computer hardware and software design and installation. Computer and information systems managers incorporate and supervise computer-related operations in an organization. They coordinate a range of IT and business activities, establishing development targets and overseeing activities to achieve organisational goals.
Software Developer: Software Developers often work for computer firms and manufacturers. Their main role is to create the foundations for operative systems on which Computer Programmers work. A Software Developer is involved in all the processes related to creating and designing new systems; from initial planning to establishing parameters, designing, writing, coding, encrypting, and testing.
Hardware Developer: A hardware developer is a professional who has studied computer science and has a great intellect for designing the parts of a computer and upgrading it. A hardware developer is a computer hardware engineer. He or she can do wonders for the computer and IT industry. He or she can develop the world's fastest central processing unit (CPU) for PCs.
What is the workplace/work environment of Computer Hardware Engineer like?
Are you thinking about How to become a computer hardware engineer after 12th? Then a career as a computer hardware engineer helps to study, design, develop and maintain computer systems and equipment. Computer hardware engineers generally work in research laboratories that develop and test different aspects of computer systems. Many work in companies for the development and installation of computer networks. To support businesses and organisations, he or she can convert research and facts into simple English, so that he or she can know how to make smarter business decisions.
Does Computer Hardware Engineer require travelling?
Likely
A career as a computer hardware engineer requires them to travel regularly, both internationally and domestically, to provide information about processors, memory chips, networks and adapters, advice, and supervision for major shareholders or other relevant firms. He or she, therefore, needs to attend workshops, conferences, and seminars and interact with customers and other professionals.
Employment Shifts
Full Time, Part Time
A career as a computer hardware engineer requires working both full-time and part-time. Yet people still choose this career on a full-time basis. Many other computer hardware engineers work full-time, because schedules may vary depending on duties and obligations and durations.
Employment Nature
Contractual, Permanent
A career as a computer hardware engineer involves both functioning independently, likewise, workers work in companies as part of a team. Most hardware engineers collaborate with their coworkers on projects or communicate with customers across the globe. He or she travels to satisfy customers and work conditions that differ depending on the location of the customer or organisation.
Work Place
Laboratory, Offices
A career as a computer hardware engineer involves working in offices or laboratories, where he or she carries out various experiments and develops, tests and analyses different forms of computer hardware.
Presence in Geographical Area
Urban
A career as a computer hardware engineer has fewer resources in remote regions. Most workers of computer hardware engineers are primarily working in urban areas as there are several IT organisations located in urban cities. As it has been increasing in rural regions nowadays.
Time Pressure
Likely
Computer hardware engineers are prone to face time pressure. Their work is quite uncertain in nature and might require them to work under unusual circumstances and odd working hours. Computer hardware engineers usually work under a lot of time pressure.
Overtime Details
Typically, computer hardware engineers are required to work for 9 hours per day. But these working hours are generally expanded because of unattainable results and work pressure. Hence, computer hardware engineers are required to work long hours facing stressful situations.
Weekly Hours of Work
Min 45 Hours
A career as a computer hardware engineer requires working 45 hours a week, with increasingly demanding projects that usually involve additional shifts. But hardware engineers who are engaged only in research work often spend over 45 hours a week.
How to become a Computer Hardware Engineer?
Steps to become a Computer Hardware Engineer
If you are someone interested in studying, designing, developing and evaluating Computer systems then a career as a Computer Hardware Engineer is most suitable for you. Individuals who are looking how to become a Computer Hardware Engineer are required to follow certain steps. We have mentioned below the steps for how to become a Computer Hardware Engineer.
What are the skills and qualities required to become a/an Computer Hardware Engineer?
If you are still thinking about how to get into hardware engineering, then here are some of the skills listed that are required to become a Computer Hardware Engineer.
Analytical Skills: Analysis divides the issue into pieces and reveals the connections among them. Nevertheless, it is difficult to generate new approaches before knowing the challenge that relates to the study. However, the analytical thinking process would not end at synthesis. Analysis, the method of examining a device by analysing how its parts operate, comprises much of what hardware engineers do in designing, constructing, testing and debugging computer hardware.
Creativity: Hardware engineers, as developers, also have to think outside the box, combining creativity with previous experience as they anticipate endless opportunities and techniques. Problem-solving, a common practice of hardware engineering, often includes both imaginative and critical thinking. In engineering, innovation is often ignored but all engineers design, build and develop, effectively functioning as creative problem solvers. It is important to mention that in engineering, skills gained by art, programming, design and technology all have a specific value.
Communication Skills: Hardware engineers may sometimes work independently, depending on their organization, role, and project, however, hardware engineers often work in groups and mostly collaborate with software engineers, technicians, and partners. Communication skills save effort by promoting efficient problems - solving abilities and other resources. Communication skills of the computer hardware engineer are a must, both in a written and verbal manner. They would need to interact well with the seniors to explain advanced mathematical metals. They must, therefore, have the potential to translate and adapt this technical content into appropriate company information, with clear advice and suggestions.
Designing skills: Design skills form an important aspect of being a computer hardware engineer. Engineering design is the approach used by engineers in analysing and solving challenges. This one has been represented and illustrated in several ways, however, there are some basic characteristics in all interpretations, engineering design is a method. The effective problem-solving strategy is dynamic to function almost in every scenario. Engineering architecture indicates the basic distinction between computer science and computer engineering. To build machinery, computer engineers should incorporate techniques of design and reasoning skills.
Popular Online Engineering Courses and Certifications
Also read: Career as software developer
Which certifications and internships can be helpful in becoming Computer Hardware Engineer?
Internship Availability
Yes
When it comes to a career as computer hardware engineer, internships are very important since they provide an individual with practical knowledge about the field. It also helps students to improve their skills, and experience, including theories which they mostly formed during the course. Students of computer engineering study computer hardware and software programmes, and generally seek employment beyond programming.
Interns of computer hardware engineering gain experience, as well as the department, get a better means of solving a particular problem despite taking the time to write the programmes. Computer engineering is an extensive field. And it would be hard to draw conclusions about what interns do without strong statistics and analysing skills.
Career Path Progression for Computer Hardware Engineer
Junior Computer Hardware Engineer: A Junior Computer Hardware Engineer is a professional who is responsible for building appliances and computer networks like integrated circuits, servers, processors and electronic components. He or she studies, design, build and evaluate computer systems and equipment.
Senior Computer Hardware Engineer: A Senior Computer Hardware Engineer is an experienced professional who has previously worked as a Computer Hardware Engineer and also has a team of juniors working under him or her. He or she is responsible for designing, managing and overseeing the production and assembling of the computer systems and related equipment.
What is the job outlook for Computer Hardware Engineer?
A large number of engineers would be required to fulfil the demand for new computer technology, as technological advancement is increasing more quickly than hardware. Nevertheless, demand will rise for computer hardware engineers because more businesses keep exploring and designing their own electronic equipment beyond electrical and software product manufacturing. And thereby, while steadily decreasing work opportunities in manufacturing sectors that employ several employees will hamper the growth of this profession, computer hardware engineers will be less impacted unlike manufacturing careers as businesses will be less inclined to outsource this sort of profession.
A growth in hardware start-up businesses and a continuing rise in products, incorporated with software chips, including household appliances, clinical devices, and automobiles, add to certain employment development for computer hardware engineers.
Student Also Liked:
Frequently Asked Questions for Computer Hardware Engineer
Que. Is computer hardware engineering difficult?
Ans.
A computer hardware engineer's roles and responsibilities demand that you be capable of working through both theoretical and practical difficulties. In fact, a computer hardware engineer makes a decent salary, and there is considerable space for advancement, like getting promoted to project leadership or overseeing engineers and designers.
Que. What are the 5 types of hardware?
Ans.
For most computer systems, there are five elements of computer hardware that can be identified, from cell devices to desktop computer systems: processor, primary storage, secondary storage, input devices and external devices.
Que. Is computer hardware engineering in demand?
Ans.
Computer hardware engineering employment is expected to rise three per cent between 2014 and 2024, lower than that of the average for other occupations. A small number of engineers would have been required to meet the demand for new computer technology, as software is more technical advancement than technology.
Que. What tools do computer hardware engineers use?
Ans.
Many computer engineers have electrical testing instruments, which are multimeters and tester screwdrivers to support them examine and analyze device's circuits.
Que. Is coding a dying career?
Ans.
Programming and coding employment are not disappearing, the types of programmers that are being employed are evolving. The closure of training has to do more with its business strategy and the company's ability to recruit its students than it is with the employment market.
Que. What are the top bachelor degree programmes one can study to become a computer hardware engineer?
Ans.
B.E. in Computer Engineering (Bachelor of Engineering in Computer Engineering)
B.Tech. in Computer Engineering (Bachelor of Technology in Computer Engineering)
B.E. in Computer Science (Bachelor of Engineering in Computer Science)
B.Tech. in Computer Science (Bachelor of Technology in Computer Science)
B.E. in Electrical Engineering (Bachelor of Engineering in Electrical Engineering)
Que. What are the top computer science colleges in India?
Ans.
You might also be interested in
The question have been saved in answer later, you can access it from your profile anytime.
Access now
Report Question
Select your reason of reporting