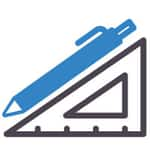 Architecture Engineering
Degrees offered: B.Arch, B.E /B.Tech, B.Sc.(Hons), Diploma, Dual Degree, M.A., M.Arch
Q&A : 2.4 K Question
What is Architecture Engineering
Architecture course is the art and science of planning, designing, and engineering large structures and buildings aimed at optimum utilisation of space. Also known as building engineering, architecture engineering blends the elements of science, art, and technology and requires the students to develop interdisciplinary skill sets comprising engineering knowledge, passion for modern technologies, creativity, and an understanding of social and environmental issues, tradition and cultural trends. Thus, the profession combines both the right and left brain elements and promises AE course graduates a rewarding career from all perspectives.
Architecture spans a wide range of activities- from macro-level urban and landscape designing to micro-level construction detailing and interiors. Residential architecture, public architecture, commercial architecture, landscape architecture, industrial architecture and interior designer are the major branches of architecture that the students are trained into. The scope in this branch of engineering is quite high; plus, the variations in the job profile and the opportunity it presents to visit the sites and travel the world make this course a highly sought after one. Architecture is a dynamic field as the technology keeps changing rapidly every day. The career is fast-paced and will earn accolades as the impact created by this subject is huge and attracts the attention of the public and press alike.


Architecture course highlights
Particulars

Specification

Course Type

Diploma, UG, PG and Doctoral Level

Admission Process

Entrance exams and academic qualifications

Duration of the program

UG- 4 years

PG- 2 years

Diploma – 3 years

Average course fee

Ranges from Rs. 1,20,000- 3, 45,000

Average Salary (per annum)

Around Rs.8 - 12 lakhs

Career Option

Architectural- Historian, Draftsman, designer, engineer, assistant, Landscape architect, Interior designer, Project consultant.

Specialization in

Health care, retail and housing and event management

Real estate or property development

Corporate facilities planning

Project delivery expertise field

Technical writing

Historic monument preservation

Project management

City planning

Urbanization projects
Architecture Degrees and Levels
The architecture course has various degree formats and levels in terms of graduation. A student can pursue an undergraduate (B. Arch) course and proceed to certification courses. Students can opt for a post-graduation course (M.Arch) and can even get a PhD or doctoral degree in Architecture.


Diploma in Architecture- 3 years' course
Diploma in Architecture is a certificate-level course in the Architecture domain.The diploma course is taken up by the students after their tenth standard. The course duration is three years with 6 semesters. The students can look out for jobs in the fields of teaching, layout and building designing and as an assistant architect.


Architecture UG course- Undergraduate level
B.Arch. stands for Bachelor of Architecture. It is a Bachelor's Degree course in Architecture. 12th pass students with PCM subjects and Diploma holders in Architecture can pursue this 4 years long course. Each academic year is divided into two semesters and the duration of each semester is six months.


Architecture PG course- Post Graduation level
M.Arch (General) - M.Arch. stands for Master of Architecture. The course deals with core architecture subjects. The academic program is 2 years long.
M.Arch. (Specialisation) - M.Arch. (Specialisation) programme is different from the general course. This program has the core subjects plus the specialisation. Architectural Design, Architectural Conservation, Landscape Design and Architectural History are the specialisations offered.


Doctoral Degree Course
M.Phil./PhD programs can be opted by the students and the duration is about 4 years. The student should have completed a Master's Degree in Architecture (specialisation or general) or Master's Degree in Social Sciences, Art History or Civil Engineering. The merit-based admission process is followed by all the reputed Universities.
5) Dual degree covering both undergraduate and postgraduate levels (5-year course) is also available for the students. These Architecture courses offer B.Arch+M.Arch degrees. The dual degree program can be completed with a specialisation subject.
Minimum and Maximum Duration of an Architecture course (In Months)
The course duration changes based on the degree awarded. A diploma is taken up after Class 10 and is of 3 years duration. Graduation is of 4 years and post-graduation in AE can be completed in two years. Since the M.Phil and PhD programmess in Architecture are based on research and internship, about 4-5 years can be taken up.
The maximum duration provided to the students depends on the University norms. For UG and diploma, relaxation might be given as 4 to 6 years. The research programmes may even take a time of 7 or 8 years as factors like scope of research, requirements of the guide will impact the duration of the study.
Also Read: Architecture and Engineering Certification Courses
Eligibility Criteria (UG & PG) of Architecture Engineering
A student has to secure a minimum of 55% aggregate marks in the class 10 to enrol for a diploma course in architecture. For the diploma course and the other UG and PG courses, the minimum eligibility is 60% for few colleges and 75% for the elite colleges. The students need to have Maths, Physics and Chemistry in both classes 10 and 12. The eligibility percentage is reduced by 5% for the SC/ST/PWD students. The postgraduate courses have the requirement as an undergraduate B.Arch degree with a minimum of first-class (60%) marks or distinction.


Admission Criteria for the Architecture course after class 12
The undergraduate architecture course requires a decent grade in class 12 with PCM. A diploma in architecture can be done after class 10. Postgraduate and research-based programmes require an undergraduate and postgraduate degree in Architecture. Along with this, candidates are required to qualify entrance exams.


Entrance examinations for Architecture
NATA or National Aptitude Test in Architecture is a national level aptitude entrance examination which is conducted by the Council of Architecture (COA). The entrance examination is conducted for students seeking admission in different architecture courses such as B.Arch. The score of this entrance examination is taken into consideration by different government-aided, government, universities and private institutions for providing admission in B.Arch. courses. For some undergraduate Architecture courses, the score of the JEE Main-Paper-II is also considered valid. Architecture aptitude test JEE Advanced AAT is the entrance exam for admission into IIT architecture colleges.

Fees and Expenses Architecture course
The tuition fee and college expenses for popular architecture courses are as follows:
Diploma degree: Total fee is in the range of Rs. 8000 and Rs. 85,000.
Undergraduate level: For the 4 years program, the fee differs from college to college. The general range of fee is Rs. 1,20,000 to Rs. 4,00,000.
Postgraduate and research: Postgraduate students get a stipend of about Rs. 10000-Rs. 50000 per month. The total fee ranges from Rs. 80000 to Rs. 400000.
Scope of Architecture Engineering in India and Abroad
As already discussed, the scope of AE is vast as the real estate and construction industry is in boom all over the world and the prices of the buildings are shooting up every day. Fresh AE graduates or postgraduates can expect to get the job of an intern or trainee architect in consultancies, architecture firms, real estate projects, and government organizations. They have to continuously hone their skill sets and build upon their knowledge with sheer hard work and innovative ideas to climb the ladder of success.


A career in architecture is lucrative and has lots of potential in terms of development, both in India and abroad. The salaries are high in the private sector as compared to the public sector. The jobs also provide long-term security. But to stay relevant and in demand, one has to stay abreast with the latest technologies and trends in the industry.


What are the other perks of becoming a certified architectural engineer? - They get to visit various sites and can travel to many places all over the world depending on their work. The major sectors where architects get to work are construction, urban planning and development, public works departments, and interior designing, etc. The job can range from designing houses, big complexes, luxury apartments, hospitals, hotels, stadiums, shopping complexes, schools, industrial complexes, and so on.
Students also liked
Course Fees Architecture Engineering
Minimum Fees
Maximum Fees
Private
Government
Private
Government
UG

16.75 K

B.Arch in Architecture Engineering at Nizar Rahim and Mark School of Architecture, Kollam

7.43 K

B.Arch in Architecture Engineering at Bangalore University, Bangalore

27.80 Lakhs

B.Arch in Architecture Engineering at Sushant University, Gurgaon

13.26 Lakhs

B.Arch in Architecture Engineering at Indian Institute of Technology Kharagpur

PG

55.00 K

B.Arch in Architecture Engineering at Jamia Hamdard, New Delhi

23.46 K

M.Arch in Architecture Engineering at North Eastern Regional Institute of Science and Technology, Nirjuli

14.00 Lakhs

M.Arch in Architecture Engineering at Narsee Monjee Institute of Management Studies, Mumbai

3.74 Lakhs

B.Arch in Architecture Engineering at Punjab Institute of Technology, Mohali

DOCTORAL

90.00 K

Diploma in Architecture Engineering at Integral University, Lucknow

75.00 K

Ph.D in Architecture Engineering at Jawaharlal Nehru Architecture and Fine Arts University, Hyderabad

21.60 Lakhs

Ph.D in Architecture Engineering at CEPT University, Ahmedabad

3.84 Lakhs

Ph.D in Architecture Engineering at Gautam Buddha University, Greater Noida

DIPLOMA

7.43 K

Diploma in Architecture Engineering at Dr Ambedkar Institute of Technology for Handicapped, Kanpur

5.99 K

Diploma in Architecture Engineering at Government Polytechnic College, Baramulla

3.24 Lakhs

Diploma in Architecture Engineering at Lovely Professional University, Phagwara

1.11 Lakhs

Diploma in Architecture Engineering at Maharaja Sayajirao University of Baroda, Vadodara
Course Subjects
The basic subjects taught in a diploma AE course are IT, maths, design, structural engineering, business communication, concrete technology, interiors and exterior designing, foundations of designs, civil draftsmanship and architecture, building constructions and project management.


The list of subjects taught in a UG AE course in any well-recognised architecture college is as follows:
Visual Arts and Basic Design I

Visual Arts and Basic Design II

Visual Arts and Basic Design III

Visual Arts and Basic Design IV

Architectural Design I

Architectural Design II

Architectural Design III

Architectural Design IV

Architectural Design V

Architectural Design VI

Architectural Design IX

Building Construction I

Building Construction II

Building and Construction III

Building and Construction IV

Building Construction V

Building Construction VI

Theory of Structures I

Theory of Structures II

Theory of Structures III

Theory of Structures IV

Theory of Structures V

Theory of Structure & Design II

Computer Applications I

Computer Applications II

Computer Applications III

Computer Applications IV

History of Architecture I

History of Architecture II

History of Architecture III

Professional Communications I

Professional Communications II

Sociology and Culture

Model making and Workshop

Climate-responsive Design

Surveying and Leveling

Environmental Studies

Human Settlement & Vernacular Arch

Water, Waste and Sanitation

Electrification, Lighting & Acoustics

Site Planning and Landscape Studies

Solar Active and Passive Systems

Art and Architectural Appreciation I

Art and Architectural Appreciation II

Research Elective I and 2

HVAC. Mech. Mobility & Fire Safety

Green Systems Integration

Energy System & Renewables

Sustainable Urban Habitats

History of Architecture IV

Specifications & Contracts

Design Methodology II

Contemporary Architecture

Art and Architectural Appreciation III

Architectural Theories

Art & Architectural Appreciation IV

Architectural Design VII

Practical Training

Working Drawings

Project Management

Architectural Appreciation IV

Arch. Research Seminar

Arch. Research- Elective III

Arch. Research- Elective IV

Arch. Research- Elective V

Arch. Research- Elective VI

Arch. Research- Elective VII

Arch. Research- Elective VIII

Architectural Design Thesis

Professional Practice

Thesis Design Research

Urban Design Studies

Professional Practice

Arch. Research Dissertation/ Art Thesis
Careers in Architecture Engineering
After completing a course in Architecture, a certified candidate can opt for various job profiles. However, the job prospects vary greatly depending on the level or degree completed. Some of the popular job profiles in the industry are as follows:


Technical Architect- A technical architect will often draw the schematic diagrams of each phase, rather than the overall look of the project.

Design Architect- A design architect will typically start the project and go through design development. The technical and design architects work on the sites for practical exposure and collect photos and survey on the project conditions. The architects are first trained on the hand drawings and then, they go by the technology for 2D and 3D drawings.


BIM Manager- BIM manager takes care of the project model and updates associated with it. BIM is basically a three- dimensional model.This role is more of project delivery. The BIM Manager will coordinate multiple models with consultants.


Specifications Writer- These writers work on written documents that contain the descriptions of materials types and their usage to the builders. Huge projects have 1000+ specification documents.


Interior Designer- They analyze the needs of the client and plan the preliminary space that is available. They prepare the sketches and apply various designable concepts. They select the furniture, fixtures, equipment and millwork.


Consultants-.The consultants work with large scale projects and some architects choose this vertical as their specialization. It is an interesting option that involves the research side of the student of an architecture course. They will interview clients and staff for various projects.


Sustainability Consultants- The designers under this vertical reduce the impact of urbanization on nature and the environment. All the architects aim to be LEED accredited professionals as sustainability is going to be a very important part of the building designs in the future.


Urban Designer- These designers work on the arrangement and appearance of the new towns, cities and their suburbs. They create the localities and design space around them where people prefer comfort and perfection.
Job Profiles and Top Recruiters
Here are some prominent AE job profiles that are available in their industry:
Design Architect: They gather design requirements and create plans for new structures. They are also consulted for redoing the designs of the existing architecture.


Architectural Engineer: They design buildings by combining systems such as structural, electrical, mechanical, lighting, environmental, acoustics, and fire protection.


Interior Designer: They design indoor units by maximizing available space and making them functional, safe, and aesthetically top-notch.


Architecture Draftsman: They convert designs and plans created by the architects and architectural engineers into technical drawings.


Architectural Historian/Journalist: A person who studies and writes the history of architecture is an architectural historian and one who writes interesting, analytical pieces on trends and emerging methodologies of architecture is an architectural journalist.


Set Designer: A person who designs the sets that appear in films, television shows or other performing art productions.


Landscape Architect: Someone who designs outdoor spaces with the aim to build a synergy between gardens and the surrounding buildings and roads.

Top Recruiters
After completing one of the AE courses in an architecture college in India, a fresh pass-out can expect to get a job in any of the following big companies:
Jones Lang LaSalle Meghraj
L&T
DLF
Jindals
IMAXE
Manchanda Associates
Architect Consultants
VSA Space Design (P) Ltd.
Edifice Architects Pvt.Ltd.
Chitra Vishwanath Architects
Sahara Group
Vasthu architects
Malwadkar and Malwadkar

Architecture speaks of time and place but yearns for timelessness. With the rapid advancement in technology and the integration of them into the profession, the role of an architect is changing fast. The architects consider what the future holds, and push themselves and the boundaries of the profession.
Popular Online Engineering Courses and Certifications
Average Salary
The salary range for the students who have completed a diploma in Architecture is about Rs. 30,000 to Rs. 60,000 per month. For the students who have completed under graduation, the package is around Rs. 4-6 lakhs per annum. Candidates having a postgraduate degree like M.Arch or PhD in Architecture can expect a pay scale of about Rs. 8-12 lakhs per annum.
Required Skillset for Architecture Engineering
Numerical Skills- Mathematics is a basic prerequisite to enroll in any architecture degree for the efficiency in drawings.


Creative Skills- A student has to be constantly innovating, creative and suggest ideas that would change the face of architecture.


Design Skills- It's important for the student to have a good understanding of design processes. They have to understand the concepts of functionality and visual skills.


Legal Knowledge- Building codes, regulations, policies, budgets and specifications of the client are to be understood by the student.


Communication Skills- Architects have to communicate with clients, lawyers, construction managers, surveyors, contractors, local government officials, tradesmen and structural engineers efficiently.


Teamwork- The architects should have the ability to work well with others. The architect will be required to work as part of a wider team with diverse industries and backgrounds.


Problem-Solving Skills- In the case of a design-related problem, an architect needs to resolve it quickly and efficiently.


Engineering Skills- Some understanding of basic physics and engineering principles is a must for the architects to work on the building designs
Course Curriculum for Architecture Engineering
The outline of a model curriculum of B. Arch (2019) as designed by the All India Council for Technical Education is as follows:
First Semester: Architectural Design, History of rt & Culture, Introduction to Principles of Architecture, Architectural Drawing, Environment and Ecology, Communication Skills/Communicative English, Universal Human Values


Second Semester: Architectural Design, History of Architecture, Building Materials & Construction, Architectural Drawing, Architectural Sketching & Model-Making, Structural Mechanics, Personality Development


Third Semester: Architectural Design, History of Architecture, Building Materials & Construction, Computer Applications, Structure, Climatology, Surveying


Fourth Semester: Architectural Design, Building Services – 1 (Water Supply & Sanitation), Building Materials & Construction, Computer Applications, Structure, Site Planning, Theory of Design


Fifth Semester: Architectural Design, Building Services – 2 (Electrical Services), Building Materials & Construction, Computer Applications, Structure, Acoustics, S Quantity Surveying & Specifications


Sixth Semester: Architectural Design, Building Services – 3 (Mechanical Services), Building Materials & Construction, Computer Applications, Structure, Working Drawing, Elective-1


Seventh Semester: Architectural Design, Building Economics & Sociology, Landscape Architecture, Interior Design, Project Management, Introduction to Town Planning, Elective-2


Eighth Semester: Architectural Design, Entrepreneurship skills for architects, Dissertation, Elective-3, 4, 5.


Ninth Semester: Professional Training/Internship


Tenth Semester: Design Thesis, Professional Practice, Elective-6 and 7.
Popular Architecture Engineering Entrance Exams in India
Popular Architecture Engineering Colleges in India VIEW ALL
Questions related to Architecture Engineering
Showing 2360 out of 2360 Questions
Interested in Architecture Engineering? Find information around eligibility, career scope, jobs , colleges and exams and much more for free.