Who is a Urban Planner?
By far the greatest and most admirable form of wisdom is that needed to plan and beautify cities and human communities ~ Socrates
In career as urban planner, individuals keep their communities lively and healthy by keeping up with the increasing population; replacing, or re-purposing ageing infrastructure; adding schools; and making communities more attractive to businesses. The population of the world is growing day by day and as the population is growing, there is a need for new infrastructure. But, have you thought about how much planning and brainstorming is done before the construction of for instance a shopping mall? Well, the answer is a lot. There are several factors that are considered before constructing a place like shopping malls, like the value of land, population around the area, transportation, laws, pollution and several similar things. Who does that all for us? It is an urban planner. Urban planning careers require developing land use plans and programmes that help create communities, accommodate population growth, and revitalize physical facilities. Individuals in urban planning careers, develop plans and programs for land use in their jurisdiction. Here, in this article, we will discuss the details of urban planning career paths, urban planner salary in India, urban planning degree jobs, urban planning career prospects,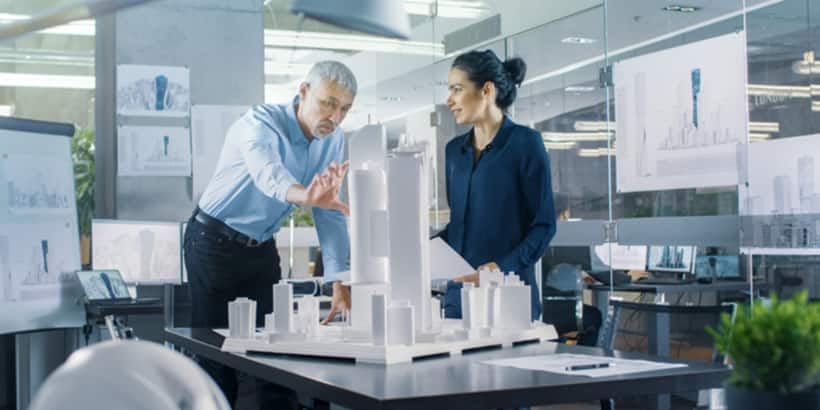 Urban Planner in a Nutshell
Urban Planning careers revolve around the idea to develop a plan to use the land optimally, without affecting the environment. Urban planning jobs are offered to those candidates who are skilled in making the right use of land to distribute the growing population, to create various communities. Urban planning careers come with the opportunity of making changes to the existing city and towns. They identify various community needs and make short and long-term plans accordingly.
Quick Facts for Urban Planner
Industry

Construction

Suitable for

Male, Female, Others

An urban planning career is suitable for all genders types, anybody can be an urban planner. Urban planning jobs are available for everyone without any gender restrictions.

Any special needs

No

No, a career as an urban planner does not suit candidates with special needs. The urban planning career totally depends on sound mental and physical health. With a brain full of ideas an urban planning career requires a lot of travelling to multiple locations. The traveling hours often exceed the hours of work which is too hectic for candidates with special needs.
What is the role of Urban Planner?
Besides planning the infrastructure of the city, there is a lot involved in an urban planning career. Urban Planners meet with developers, public officials, and the people of the city regarding development plans and land use. Individuals who opt for a career as an urban planner collect and examine economic and environmental studies, censuses, and market research data. Urban designer job description includes performing field investigations to analyse factors affecting the land use and view site plans given by developers and assess the proposals and identify changes required. It's up to them whether they deny or accept the proposal, projects are sent to planning officials and planning commissions once approved.
Designing
An urban planner designs the infrastructure of towns and cities. He or she is primarily focused on building healthy lifestyles and developing a better quality of life. He or she regenerates socially deprived areas and provides affordable housing facilities. An urban planner conducts socio-economic impact assessment and demographic studies for designing and developing a sustainable infrastructure. He or she prepares reports based on environmental impact assessment, site assessment and demographic studies.
Frame policies
An urban planner is responsible for framing such policies for building an urban infrastructure that reduces the effects of climate change. Such policies are framed for protecting the environment. He or she creates policies for management of traffic. He or she provides sustainable solutions for needs of transport.
Improving energy efficiency
An urban planner is responsible for improving energy efficiency. He or she finds the ways to cut out carbon emissions in our homes, factories, offices and other business. He or she is focused on building an environmentally friendly infrastructure. He or she ensures the participation of people in policy making as these policies have a bigger impact on the everyday lifestyle of people.
Planning
An urban planner is responsible for preparing master plans, regional plans, sector plans, district plans and neighbourhood plans. He or she prepares physical layout plans for development of infrastructure of residential, commercial, institutional, tourism and industries areas. His or her plans include recreation of old buildings and developing new infrastructure of cities, towns and urban areas. An urban planner has a direct control in the process of city development.
Types of a Urban Planner
There are several sub-disciplines of alternative careers for urban planners. One can specialise in any of the fields mentioned below with job titles to establish a successful career as an Urban Planner.
Urban Planner: Urban and community planners consult with government officials, developers, and the public about development projects and property usage. Enforce state plans or policies which impact land usage. Data from market analysis, census records, and environmental and economic studies are compiled and analyzed. An urban planner helps communities to make the best use of their land and resources for future growth and revitalization.
Urban Strategist: Urban strategists operate through local and regional scales to get people across the community to resolve challenging and complicated urban issues. And by using innovative thinking, strengthening structures and more flexible methods to improve environments and enhance people's quality of life. An urban strategist plans and develops sophisticated commercial proposals using proprietary modelling and planning tools, and provides consultation on projects. It is one of the major sub-disciplines of a career as an urban strategist.
Urban Developer: Urban developers analyse designer-submitted architectural drawings. Urban developers establish strategies and programmes for land use that help build community, manage population growth, and help revive public infrastructure in towns, cities and metro cities. An urban planner engages in dialogue with governments and other donor organizations on urban development thematic areas, promotes efficient use of resources and encourages participatory approaches to development planning, financing, and sustainability.
Landscape Architect: Landscape architects design beautiful, public parks, gardens, play areas, residential buildings, schools and universities and public areas. In all of these settings, they also design the areas of houses, paths, walkways, plants, shrubs and trees. A landscape architect designs open spaces such as parks, playgrounds, and plazas.
What is the workplace/work environment of Urban Planner like?
Urban planning jobs in India generally provide working opportunities with government agencies, urban local bodies, municipal corporations, town planning departments, and the housing department. Certain urban planners also work with private companies that are involved in real estate development. Individuals who opt for a career as an urban planner work in offices, buildings and meeting with clients, local people or officials is a part of their day to day activity. Working in construction sites or on a project is the part and parcel of their daily routine. Thus the work includes both indoors and outdoors activities.
Does Urban Planner require travelling?
Likely
Yes, travelling is a mandate in a career as an Urban Planner. Urban Planning jobs involve visiting cities, urban areas to get an overview in order to design a plan as per the community or people residing there that suits their needs.
Employment Shifts
Full Time, Part Time
A career as an Urban Planner provides full-time work during normal business hours, and some may work evenings or weekends to attend meetings with officials, planning commissions, and local groups.
Employment Nature
Permanent
Most employers hire a candidate for a permanent role in a company in the career as an Urban Planner. In the rarest cases some companies hire a candidate at a contractual basis which might be the need of a project or to reduce their costs.
Work Place
Office, On- Field
Urban planning degree jobs requires a candidate to work in an office, building, government offices, construction sites and many more to make a plan for the project. The basic work also requires analysing and collecting data which requires a candidate to travel to meet the necessary people to obtain the complete information required in the smooth functioning of a plan. On the other hand, a candidate needs to be flexible with the duration of work as there are no specific shifts.
Presence in Geographical Area
Rural, Semi-urban, Urban
The offices in which the planners' work are mostly situated in urban areas. However, the sites are in semi-urban and rural areas which they transform into a city once they complete the plan/project. The new and upcoming transmissions of Indian cities into smart cities are bringing up a wide range of urban planning job vacancies in this field. Indian states such as Maharashtra, Delhi, Andhra Pradesh and Uttar Pradesh are the important hubs for this profession. As they include the top colleges of planning and hire candidates from this field. So both knowledge and experience(jobs) can be accumulated from these places. Moreover, with the new mission, Smart Cities India itself would be a huge hub in the upcoming years for an urban planning career.
Time Pressure
Likely
Urban planning jobs in India provides full-time work. However, one who is positioned for a senior post might feel some time pressure because of his or her duties. Apart from this, urban planners rarely face any time pressure. When they are working in the field, experiencing raw weather conditions and surviving external factors can result in a little time pressure.
Overtime Details
Although Urban Planners spend most of their time in office, they are required to travel to their job sites. And traveling sometimes causes them to work for long hours under stressful conditions. The chances of Urban Planners working overtime are considered as 50-50.
Weekly Hours of Work
Min 50 Hours
The weekly hours of work varies from company to company so no specifically work hours(9-10 hours daily minimum) for an Urban Planning career. Working overtime to complete a plan is almost a part of every project due to tight deadlines.
How to become a Urban Planner?
Steps to become a Urban Planner
What are the skills and qualities required to become a/an Urban Planner?
Here, in this section, we have provided the skills required in urban planning career paths. All the urban planner requirements are mentioned below:
Open-Minded: An excellent urban planner understands that the process of developing the plans, in reality, can be tedious or exhausting. At the same time, such a process may also require some changes that you did not anticipate in the original plan. Because of this, you must have an open mind to accept whatever may come your way. Apart from this, do not shut people away just because they think differently from you. Always be open to suggestions and ideas.
Leadership: It is essential for an urban planning career to have a quality of leader as he or she is the person responsible for driving a plan to become a reality. It is the sole responsibility of a planner to lead from the front and complete a plan in a given time frame. Leadership techniques can make company owners inspire their workers and influence them, and create a moral for them. Acknowledgement, good performance reviews and offering employees the information and techniques they require to succeed are important factors that enhance motivation.
Visionary: The ability to imagine physical and social alternatives to the existing urban context is an essential aspect of the career as an urban planner. Individuals who opt for a career as an urban planner use their vision to determine the future of the land. With a broader vision, a planner would be able to put and produce new ideas into action which in turn would result in a wonderful plan. Leaders who could really convey a convincing forward-looking vision that links with people could very well encourage them to participate in working towards that objective. Visionaries can express what's behind the horizon, and boost a lot of confidence. They draw an organisation's talent and inspire teams to create more strategic decisions.
Analytical skills: Urban planners should possess strong analytical skills. They have to analyze information and data from a variety of sources, such as market research studies, censuses, and environmental impact studies. One needs to carefully assess and analyse the plan in order to obtain the best possible outcome with the resources efficiently. Analytical skills are essential because it allows you to identify solutions to everyday difficulties and to determine what steps to take after that. Recognizing issues and examining those for practical solutions is a crucial competency at all stages in the career as an Urban Planner.
Communication skills: Communication in the workplace is essential to businesses as it helps organizations to be competitive and function efficiently. Workers will notice an increase in productivity, efficiency and engagement if they can communicate within a company. In career as urban planner, individuals must communicate effectively because they have to interact with colleagues and stakeholders, prepare research reports, give presentations, and meet with a wide variety of audiences such as public officials, interest groups, and community members.
Decision-Making Skills: Urban career requires sharp at decision-making skills. Their ideas and decisions create infrastructure for big cities with a population of millions of people. Keeping in mind that a decision made by them is connected to millions of people who would be living in the infrastructure prepared by their plan. Since their decisions make a plan into reality one should make the decisions that turn to the best in the given scenarios.
Listening: Individuals who opt for a career as an urban planner must also see to it that you exert an effort in letting others know that you are listening to their concerns. Whenever someone calls you out for a potential error in your projects, do not get mad at them. Instead, tell them that you are willing to change. At the same time, you can also ask for some advice from these people. They are the ones who can give you the best judgment for your work.
Popular Online Engineering Courses and Certifications
Which certifications and internships can be helpful in becoming Urban Planner?
We have provided below major certification courses for a career as urban planner to enrich your skills and knowledge.
Internship Availability
Yes
Internships are a good way to have hands-on experience in a profession for the students before they land up a job. Internships provide an opportunity to apply one's classroom learning in the field. One can get to know how it is to work in a certain field of his or her choice. Internships not just help a student in gaining experience but also enables him or her to make contacts that can be of help in the urban planning career prospects. Urban planning degree jobs are available in architecture firms, planning commissions, and urban water resource management. One could find an internship through online mediums, or could also contact the firm of his or her choice directly.
Career Path Progression for Urban Planner
The career hierarchy of an urban planning career has various job roles. We have mentioned below the major urban planning degree jobs that one can get progressing in his or her career.
Junior Urban Planner: Junior urban planner is the entry-level job role in the career as an Urban Planner. In this phase of the urban planning career paths, a junior urban planner assists the team in preparing conceptual plans, demographics and land use related planning. Urban Planning career requires actively participating in stakeholder consultations at local, district and state levels. Junior Urban Planners require a well-developed knowledge of planning principles and practices. Must have knowledge of principles, methodology, practices of research and data collection. They are expected to possess in-depth knowledge within one or more planning specialities such as economic development, comprehensive planning, or environmental planning. The planners work under the supervision of a senior planning manager.
Planning Manager: Planning manager is a senior level job role in the career as Urban Planner. He or she requires to assist in all new product developments and improvements to existing products. Such planning jobs requires providing assistance in all new product development and improvement in all existing products and ensuring optimal inventory level at all times. They act as intermediaries between communities, developers, government entities, and businesses. They prepare a budget and oversee expenditures. They set goals, policies, and procedures for the project. They need to interpret and evaluate legal documents and relevant legislation to assess the impact on the project. They offer employee training and development. They communicate with other managers, supervisors, and colleagues throughout the project. They participate in all evaluation meetings on a weekly and monthly basis. They are the ones responsible for planning inventory levels and locations and executing all forecasting and planning programs. They are the ones maintaining an optimal level of performance within the required budget and ensuring compliance with all standard projects.
Assistant Planner: An Assistant Planner is a mid-level job role in the career as an Urban Planner. He or she works under the supervision of a senior planner. An Assistant Planner is responsible for leading and coordinating long-range planning projects and county-wide land use policy issues. Assistant Planners are responsible for the planning, administration, and operation of a variety of programs and projects within the planning division, and assist the manager with overall administrative responsibilities. Irrespective of the organisation where an Assistant Planner works, he must possess excellent skills of communication, documentation, statistical analysis; technical skills (CAD, MS Office, and internet), and many more. Assistant Planners must be willing to learn and grow with every project in order to be worthy employees for the organization. The assistant planner's responsibilities are to undertake all the administrative and operational tasks and support in the planning and execution of a project in which they work.
Senior Project Manager: Senior Project Manager is a senior-level job role in the career as an Urban Planner. He or she is responsible for validating drawings, specifications, method statements, SOPs, design parameters and detailed schedules of designs required for the delivery of township, residential and commercial projects. Senior Project Managers are responsible for scheduling all the planning and are required to secure funding for projects. They need to ensure that team members complete tasks according to the schedule. The key responsibility includes identifying if any staff members require further training and providing the training. They have to research industry trends and innovations. They implement value engineering in design, coordinate with infrastructure planners, environmental and green building consultants for IGBC (Indian Green Building Council/ environmental clearances.
What is the job outlook for Urban Planner?
The "Smart Cities Mission" has widened the area of employment in urban planning in upcoming years. The Planning jobs in the career as an Urban Planner would increase with the factor of the population which is growing each day around the globe. Also, demographic, transportation and environmental changes will drive employment growth for planners. The fastest job growth for urban and regional planners will occur in the private sector, primarily in the professional, scientific, and technical services industries. Suburban areas are the fastest growing and most in need of professional design and planning. Metropolitan areas will continue to require planners who specialize in revitalization. Private, for-profit employers' demand is expected to increase more dramatically than government employers' as municipalities are expected to continue to struggle with shrinking budgets. The job market scenario for Urban Planning would increase not only in public but also in the government sector resulting in the requirement of more and more planners. The urban planner requirements would not only be increasing in India but also would be increasing across the world.
Student Also Liked:
Frequently Asked Questions for Urban Planner
Que. What is urban planning?
Ans.
Urban planning career provides opportunity to opt for professions that concerns itself with the health and quality of life of urban places, cities, small towns and rural villages. Urban planners care for the environment, economy, environment, urban design and physical facilities, and the culture and politics of a city to maintain (or restore) the quality of life.
Que. Is urban planner a good career?
Ans.
Yes, definitely it is a good career to go ahead with. Urban planners need to have a lot of specific knowledge and experience to be good at their jobs, but they also need certain soft skills to help them manage the sometimes challenging environment of government work. Flexibility: Deadlines and specific priorities for projects often change, and planners need to adapt.
Que. What is an Urban Planner?
Ans.
An urban planning career involves developing plans and programmes for the use of land. They use planning to create communities, accommodate growth, or revitalise physical facilities in towns, cities, counties and metropolitan areas.
Que. How often urban planners require travel?
Ans.
It totally depends on the project that they are working for. Specific number of times in weeks or months cannot be determined as travelling is required to gather data from local people, meet clients, government officials and analysing the location or land can vary from project to project.
You might also be interested in
The question have been saved in answer later, you can access it from your profile anytime.
Access now
Report Question
Select your reason of reporting