Who is a Agriculture Officer?
The farmer is the only man in our economy who buys everything at retail, sells everything at wholesale, and pays the freight both ways ~ John F. Kennedy
One of India's most coveted and also well-paid government jobs is agricultural officers' post. A lot of prestige and recognition is attached to this position, and this post is bagged by thousands of students every year. But before you begin preparing for the competitive test, read everything you need to know about this place. This will definitely help you get a better idea about it and you can proceed with it accordingly. Individuals who opt for a career as agriculture officers must ensure that instead of state and local laws, all agricultural practises and products are in effect. Here in this article, we have mentioned all the requirements to become a agriculture officer and also an agriculture officer career in India.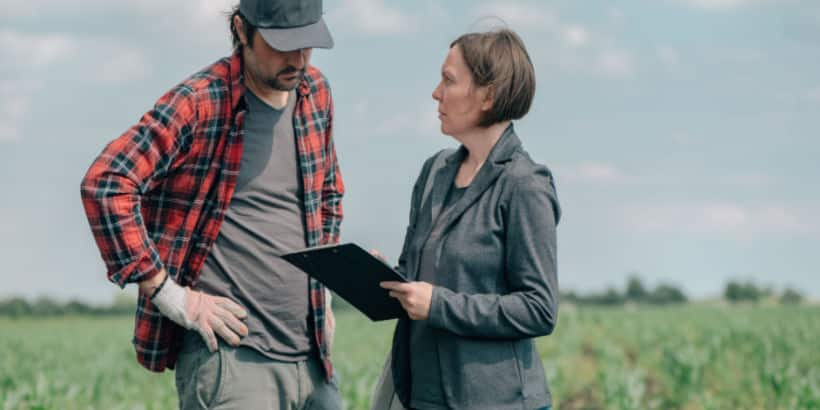 Agriculture Officer in a Nutshell
An individual who opts a career as agriculture officers must ensure that all agricultural activities and goods are replaced by state and local regulations. Jobs for agriculture officers in India are to search, review, analyse and evaluate all in order to decide whether they comply with state and local laws and regulations.
Quick Facts for Agriculture Officer
Industry

Agriculture

Average Salary in India

₹100000

Suitable for

Male, Female, Others

Individuals can take up a career as agriculture officers, it is not gender-specific. Men, women, and others can choose a career as agriculture officers. In India, a men and women agriculture officer enjoys equal benefits because gender is insignificant in this career.

Any special needs

Yes

Everyone, including those with physical disabilities, is appropriate for individuals who opt for a career as agriculture officers. Many agriculture officers work on desks in office settings. The career as agriculture officers is well suited to everyone, even those with special needs. They should have the desire to show the world that in all conditions, they can accomplish their goals.
What is the role of Agriculture Officer?
Individuals who opt for a career as agriculture officers, work with farmers to help them grow the best possible crops, such as corn, cotton, soybeans, and wheat, based on their experiments. They have detailed knowledge of the fields of chemistry, biology, economics, geology, ecology, and genetics. It is the responsibility of agricultural officers to ensure that all agricultural activities and goods take the place of state and local regulations. Jobs for agriculture officers in India is to audit, investigate, analyse and test agricultural products.
Inspection
Individuals who choose the career as an agriculture officer carry out inspection of horticultural products and livestock in order to detect damaging diseases, infestations or rates of growth. In order to assess the efficacy of medicine and feeding programmes, agriculture inspectors also evaluate animals. Inspect the process for transport and handling to ensure that it meets all regulatory requirements.
Testing
A person who opts for a career as agricultural officer, collects samples from animals, plants, and other products, such as animal feed, and sends them for testing purposes to laboratories. Periodic studies carried out by them also lead to the prevention of widespread illness among animals.
Prepare reports
Report writing is a significant part of the work profile of an agricultural officer. A person who opts for a career as an agricultural officer writes reports of observations or results during tests or to suggest and advise farmers about a particular process. The reports also often contain methods for crop growing or safety regulations.
Organising
Individual who chooses the career as agriculture officer plans, organises, supervises all the activities. A person who opts for a career as agricultural officer organises farm machinery, seeds, agricultural goods, livestock sales and purchases. It's their job to operate the farm efficiently and ensure that the company does not suffer. It's their job to make the farm profitable.
Types of a Agriculture Officer
In this section, we have discussed the types of agriculture officers.
Agriculture Inspector: Agriculture inspector evaluates food processing activities like harvesting, fishing and farming activities in order to ensure that food obtained by customers is safe for consumption. These types of agriculture officers are responsible for inspecting and maintaining the safety of meat processing units at meat processing facilities. Before crossing the border for sale in another state, they may also be necessary to calculate the quality requirements for the transportation of agricultural and agricultural products. Government departments, such as the Ministry of Food Processing Industries, the Ministry of Consumer Affairs, food and public distribution, usually employ agriculture inspectors.
Agricultural Manager: Agricultural managers supervise the activities of the farm. These types of agriculture officers are responsible for inspection of diseased plants and working farm machineries, such as tractors and hay pickers. The job can be hazardous, and when working with chemicals and heavy equipment, caution must be practised. Agricultural management mainly performs administrative duties, such as recruiting or selling, at large farms. The cultivation of crops, animals and other products that can be distributed to businesses or private customers is encouraged by agricultural managers. These types of agriculture officers are responsible for the day-to-day operations of commercial farming operations, such as nurseries and large farms, or can look at farming operations for landowners or farmers in need of management assistance who are absent.
Farm manager: Farm managers review existing operations, crops, livestock, staff, and financial records and recommend improvements to them. They make planting and harvesting plans and schedules, and ensure that employees' expectations are heard. In order to inspect crops, animals and even perform soil and water tests, farm managers visit the different divisions. These types of agriculture officers keep seeds, fertilisers, pesticides and other supplies restocked on a regular basis. Repairs, enhancements and equipment and machinery replacements are scheduled by farm managers. It is the duty of farm managers to track and maintain a farm. Farm managers are responsible for supervising the fertilisation, planting, irrigation, production and harvesting of crops on the farm. On a livestock farm, they supervise the general care of the animals and be careful in the prevention of diseases.
Agricultural Engineer: Agricultural engineers are important in a number of farming and agricultural industry-related operations. Such practises range from aquaculture to agriculture on land and forestry. Their tasks also include producing biofuels and discovering new ways to process food when it comes to working as agricultural engineers. With the assistance of computer-aided design (CAD) technology, agriculture engineers design parts and agricultural machinery. In agriculture and associated sectors, agricultural engineers prepare and manage environmental and land regeneration programmes. These types of agriculture officers collaborate with buyers, vendors, consultants, and other engineers in order to review the proposals to see whether or not anything needs to be altered.
Agricultural Technician: In order to maximise the overall performance, agricultural technicians analyse how the environment impacts crops. These types of agriculture officers perform tests, gather and interpret information and write reports based on their results. Agricultural technicians require a high school diploma only, whereas applicants are required to have a degree in a field such as animal or agricultural science for others. In order to determine the impact, the climate has on crop production, disease and growth patterns, agricultural technicians set up experiments and organise the operation of farming fields. Often, it is important to coordinate, interpret and prepare the data from these experiments for reporting.
Agricultural Scientist: A career in agriculture is often a profitable choice since it is one of the main industries that plays a vital role in economic and employment opportunities. It involves plant breeding research and growth, plant genetics, horticulture, soil science, production techniques such as irrigation, minimization of insect and animal effects, food production, protection of food and minimization of adverse effects on the environment. Agricultural scientists work closely with the government or a corporation carrying out research and scientific initiatives. They may be part of a product management team or operate as advisors for agriculture-related companies. These types of agriculture officers work in labs and out in the field several times.
What is the workplace/work environment of Agriculture Officer like?
Agriculture officers need to spend a lot of time working in an office setting, but for inquiries, they still need to visit fields. Individuals who opt for a career as agriculture officers have to face harsh weather conditions and do physically strenuous work sometimes. Most of the time, however, they spent time preparing indoors for the following season, selling their crops, or maintaining the facilities required to operate the farm effectively.
Does Agriculture Officer require travelling?
Likely
Individuals who opt for a career as an agriculture officer have to travel to the farm site because depending on the position of the agricultural property, the job needs to travel. There are days where they work indoors also in the fields, for making action plans.
Employment Shifts
Full Time
People do both full time and part-time jobs. But in general software engineers prefer this profession on a full-time basis. Most agriculture officers work full-time, though schedules may vary depending on duties and responsibilities and duration. Individuals who opt for a career as agriculture officers usually work 40 hours a week, with increasingly complex tasks generally requiring additional shifts. Agriculture officers involved in important projects will spend over 40 hours a week.
Employment Nature
Contractual, Permanent
The employment nature of agriculture officers is both permanent and contractual. Agriculture officers have to work as part of a team within the organisations. They interact over tasks with the superiors as well as communicate with clients around the globe. Individuals who opt for a career as an agriculture officer will need to be able to travel to serve consumers and employment requirements may vary depending on the company's geographical location. They may also be employed for a certain time span, but agriculture officers usually work as permanent employees.
Work Place
On-Field
Agriculture officers carry out all of those activities in the office environment. The job does not require too much physical labour, but intelligence and mental strength are needed. Sometimes they spend the time on the field or working outdoors.
Presence in Geographical Area
Rural, Semi-urban
Agricultural officers are required to operate in agricultural fields, so their work is usually semi-urban or rural. They may also work in the suburbs of an urban area. That depends on where they were recruited.
Time Pressure
Likely
In a given time-span, agricultural officers need to perform tasks for a company or individual. It takes a lot of time and mental strength to do this job because we know that nothing productive can be achieved without hard work and effort.
Overtime Details
Agriculture officers are expected to work each day for 9 hours. Individuals who opt for a career as an agriculture officer usually work through the files and records of different agricultural projects in indoor environments. However, due to travel inconveniences, they may be forced to work overtime.
Weekly Hours of Work
Min 40 Hours
Agriculture officers work around nine hours a day, roughly 40 hours a week. The job of agriculture officers comes under certain shifts, while they may work more hours to solve the problems. Individuals who opt for a career as agriculture officers work in big projects for nine to ten hours a day to correct the errors.
How to become a Agriculture Officer?
What are the skills and qualities required to become a/an Agriculture Officer?
Decision-making skills: Considering the potential costs and benefits of choosing the most effective of the potential actions. The ability to make a decision and stick to it is the basis of good leadership skills. In every business, decision-making is a process that helps to continue. Decision-making skill is important for individuals who opt for a career as agriculture officers. Having decision-making skills allows one to analyse the problem and find a solution that allows the staff and the business.
Communication skill: An agricultural officer must have good communication skills. Workplace contact is important for companies because it allows businesses to be successful and operate properly. Workers will experience an increase in morale, success and engagement if they work in a business together. Communication skills allow you to understand and respect someone else. This can include expressing ideas to others, actively engaging in debates, offering and receiving constructive feedback, and speaking to the public.
Technical skills: Agricultural officers should be able to manage a range of resources depending on the specifications. They must have programming skills and be able to manage applications like apps from Microsoft. For example Word/Excel/PowerPoint for compiling reports. The agricultural officer must have the capacity to write a report. In the event of legal action, they must be prepared to defend their study.
Which certifications and internships can be helpful in becoming Agriculture Officer?
We have mentioned below certification courses that aspiring individuals may opt to upgrade their skills and knowledge for a career as an agricultural officer.
Internship Availability
Yes
Internships are a good way to gain a foothold for individuals who opt for a career as agriculture officers. It gives the person the requisite exposure to the sector and the work environment, so they are prepared for the pressure that comes with the profession in some way. The intern assists in the planting and harvest service. They may also be expected to keep a record of pesticides used in crops. For this position, effective communication skills are needed. It is important to work with a variety of people in a career as an agriculture officer.
Agriculture Officer Jobs and Salaries
Agricultural economist
Monthly Salaries
Average Salary

100000

Junior Level Salary

70000

Senior Level Salary

200000
Job Description
Agricultural economists specialise in the economic and social development of the agricultural sector. They review agricultural industry statistics and data and predict potential patterns and developments within the economy.
Salary Description
The more experience that agricultural economists earn in the field, the higher the salary and opportunity they will make in the business. Agricultural economists earn more at the early stage of employment which is better than most other occupations which are approximately Rs. twelve lakhs per year but eventually earn more than Rs. twenty lakhs at senior level.
What is the job outlook for Agriculture Officer?
In India, the agricultural industry is a significant sector that plays a major role in India's economy. With the expansion of irrigation facilities, food storage, cold stores, the use of agricultural machinery and sustainable use of agricultural infrastructure, the sector is expected to expand in years to come. This means that an agriculture officer career in India is massive. This sector of agriculture is not just about scientific research and development. For students with business backgrounds as well, there are different positions. In the agricultural sector, almost half of all practitioners have business-related positions. Agriculture dominates a large portion of the Indian economy. More than 58 per cent of rural households are dependent on agriculture as their main means of livelihood.
From 2019 to 2029, the total jobs for Agriculture Officers in India is expected to rise by six per cent, faster than the average for all careers. The employment of agricultural and food scientists is projected to rise as research continues on methods and techniques for agricultural production. For people of all races, genders and age groups, there are plenty of opportunities and if the work itself is not enough to get you excited about this business, then the living benefits of country life will definitely be.
Frequently Asked Questions for Agriculture Officer
You might also be interested in
Questions related to Agriculture Officer
Showing 4 out of 4 Questions
The question have been saved in answer later, you can access it from your profile anytime.
Access now
Report Question
Select your reason of reporting