Who is a Agricultural Scientist?
The farmer is the only man in our economy who buys everything at retail, sells everything at wholesale, and pays the freight both ways ~ John F. Kennedy
An Agricultural Scientist is a specialised professional who works in the agriculture industry. He or she analyses various food production and farming methods and try to find new and improved methods of growing food and increasing soil fertility. Agriculture Scientists work in several specialties. Individuals who opt for a career as agricultural scientists focus on how domestic farm animals are used for food. They study reproduction, development, genetics, and diseases. Food science companies analyze nutrition and processing to make manufactured foods more appealing and nutritious.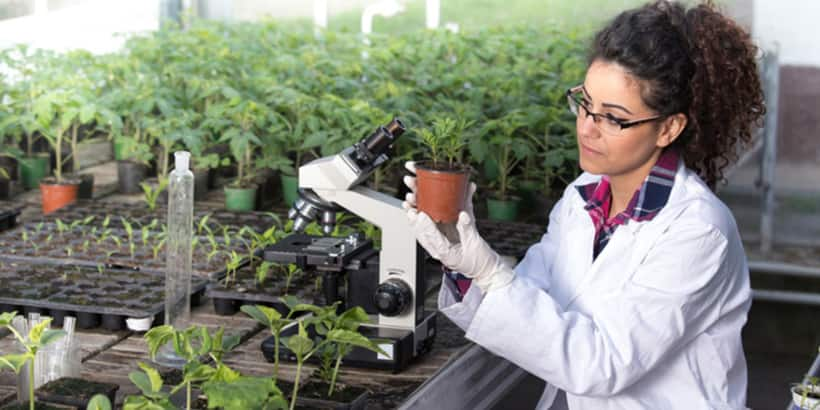 Agricultural Scientist in a Nutshell
Agricultural Scientist Job Description: A career as Agricultural Scientist is based on the food production and agricultural industry. He or she stays involved in studying and assessing agricultural productivity. Agricultural Scientist ensures that all agricultural elements utilised into food production are productive and safe. He or she improves the processes of the food production with ensuring high efficiency.
Quick Facts for Agricultural Scientist
Industry

Agriculture

Average Salary in India

₹73333.33

Suitable for

Male, Female, Others

Individuals can take up a career as agricultural scientists, it is not gender-specific. Men, women and others can choose a career as agricultural scientists. In India, male and female agricultural scientists enjoys equal benefits because gender is insignificant in this career. When it comes to gender suitability, people from all genders can make a career as an agricultural scientist. At present, there is a healthy mix of both men and women working as agricultural scientists in India.

Any special needs

Yes

Everyone, including those with physical disabilities, is appropriate for individuals who opt for a career as agricultural scientists. The career as agricultural scientists is well suited to everyone, even those with special needs. They should have the desire to show the world that in all conditions, they can accomplish their goals. If the disability is not impeding the efficiency of the task then agriculture science could be an apt career choice. In certain scenarios, agriculture science does involve physical activities that require strength or stamina. In most of the scenarios, agriculture scientists work from a static location but in other scenarios, it does involve fieldwork which may not be suitable for people with special needs.
What is the role of Agricultural Scientist?
Agriculture scientist work for the government or for a company directly performing research and scientific measures. They can be part of a product development team or work as a consultant to businesses concerned with agriculture. Many times, they work in laboratories and out in the field. Individuals who opt for a career as an agricultural scientist are concerned with the biological process of things and how they pertain to products and processes. Currently, agriculture teachers use biotechnology and nanotechnology in their research, studies, testing and development.
Plan strategies
As an agriculture scientist, it is the duty of the professional to develop strategies and plan logistics for various agriculture scientific initiatives that are undertaken by them on a routine basis.
Assessment
Individuals who opt for a career as agricultural scientists are also involved in studying, assessing and evaluating agriculture productivity to determine any shortcomings of any kind.
Develop scientific methods
Individuals who opt for a career as an agricultural scientist develop various scientific methods to find solutions to agriculture problems and implementing them in agriculture activities.
Role as an educator
Quite often agriculture scientists often don the role of an educator and make the farmers aware of various farming techniques and methods that help them in sustainable production.
Collaboration
In order to come up with effective solutions, it is often required that individuals who opt for a career as agricultural scientists collaborate and coordinate with each other. Solutions that come up as a team effort are likely to be more effective.
Understanding farming needs
Individuals who opt for a career as an agricultural scientist should understand the needs of those who are farming. This is one of the most important aspects of being an agriculture scientist.
Developing solutions
As scientists, it is imperative that people look up to them for solutions to various complex problems. Hence, it is important that they keep developing and foreseeing solutions and problems in the agriculture industry.
Conduct research
Individuals who opt for a career as agricultural scientists are expected to conduct scientific research on food, plants, animals and various other aspects that are associated with agriculture.
Types of a Agricultural Scientist
We have provided here details of career relevant to Agriculture Scientist. The field of Agriculture Science offers numerous career opportunities with varying job titles and work responsibilities.
Agriculture Engineer: An Agriculture Engineer is a professional who applies and uses the principles of agriculture and engineering to come up with solutions in the agriculture sector. An agriculture engineer plays a vital role in finding solutions to various agriculture problems and also to meet the agriculture demand of the people. Agriculture engineers design and develop new farming techniques and equipment that help in making farming more efficient in terms of sustainability, safety, and environment- friendly.
Agricultural Inspector: The Agriculture Inspector is someone who works to prevent food-borne diseases and provide healthy food to everyone. Agriculture inspector does this inspection on a daily basis to ensure that the food processed from the crops of the farm or raw meat of the processing facility is healthy for consumption.
Agricultural Manager: An individual who pursues a Agricultural Manager oversee all aspects of running farms and other facilities that produce crops. Duties of an agricultural manager include planning, supervising and sometimes participating in the planting, fertilization and harvesting process.
What is the workplace/work environment of Agricultural Scientist like?
Depending on the type of specialisation an Agriculture Scientist is employed in research organisations, private firms, government organisations and agricultural based companies, food production and manufacturing entities. They may spend the majority of their time in the field, at the office, at a farm, or in a research lab. If individuals who opt for a career as Agricultural Scientists are working for a company, it is likely the working environment will be that of a typical office. They are often required to travel as well to collect samples of soil or crop and other items.
Does Agricultural Scientist require travelling?
Likely
Agriculture Scientists spend their majority of work hours in laboratories and offices. At times, these scientists may be required to perform fieldwork that requires them to travel to a farm or food processing plant. Individuals who opt for a career as an Agricultural Scientist are also required to go to agricultural fields to collect samples of soil, groundwater and sometimes the crop.
Employment Shifts
Full Time
Agriculture Scientists typically work full time and have standard schedules. Some positions may require these workers to travel for a moderate portion of their work time.
Employment Nature
Permanent, Contractual
The employment nature of Agricultural Scientists is both permanent and contractual. Agricultural Scientists have to work as part of a team within the organisations. They interact over tasks with the superiors as well as communicate with clients around the globe. Individuals who opt for a career as agricultural scientists will need to be able to travel to serve consumers and employment requirements may vary depending on the company's geographical location. Individuals who opt for a career as agricultural scientists may also be employed for a certain time span, but agriculture scientists usually work as permanent employees.
Work Place
On-Field, Laboratory
Agricultural Scientists carry out all of those activities in the office environment. The job does not require too much physical labour, but intelligence and mental strength are needed. Agricultural Scientist jobs also involve field work, they may occasionally be required to spend work hours on field collecting soil and crop samples.
Presence in Geographical Area
Rural, Semi-urban, Urban
In a majority of cases, an Agricultural Scientist works in rural areas where there are agriculture fields. Agriculture Scientists are also required to work in a laboratory, where they carry out their research. Also, depending on the type of specialisation, Agricultural Scientists might work at farms, offices or a research lab. Also, individuals who opt for a career as Agricultural Scientists work all over the country.
Time Pressure
Not Likely
Individuals who opt for a career as Agricultural Scientists usually don't face any time pressure. They are required to work in laboratories having air conditioning for most of the time. For quite a few instances, they might be required to visit agricultural land to collect samples and equipment which might lead to some time pressure. Apart from this, time pressure is rare in the profession.
Overtime Details
Typically, Agricultural Scientists are required to work nine hours per day. Individuals who opt for a career as Agricultural Scientist hardly face any overtime working problems. However, occasionally during project deadlines, they might be required to work for long hours under stress.
Weekly Hours of Work
Min 50 Hours
Agricultural Scientists work around nine hours a day, roughly 40 hours a week. The job of Agricultural Scientist comes under certain shifts, while they may work more hours to solve the problems. Individuals who opt for a career as agricultural scientists work in big projects for nine to ten hours a day to correct the errors.
How to become a Agricultural Scientist?
What are the skills and qualities required to become a/an Agricultural Scientist?
Aspirants who want to become Agricultural Scientist are required to acquire specific skill set. We have provided here details of Agricultural Scientist skills. These skills are crucial to perform efficiently in the Agricultural Scientist work environment.
Adaptability: Adaptability is a skill that is transferable from industry to industry, but it is particularly important for anyone considering a career in agriculture. Adaptability is also necessary for the business, with professionals needing to be able to learn and adapt quickly to meet the changing consumer demands. The industry itself is also swiftly changing, with new challenges constantly coming up. This means individuals who opt for a career as an Agricultural Scientist must be able to adequately address these new obstacles by quickly adopting new methods and advanced technological innovation, in addition to predicting what new challenges lie ahead.
Interpersonal Management: For Agriculture professionals working in supply chain management, interpersonal skills are incredibly important. They are routinely required to interact with farmers who produce raw materials and deliver these goods to other firms. These firms will either send the product to another location for further manufacturing or directly to the consumer. The ability to negotiate is incredibly important in the agriculture industry. Farmers, associations, and the many advocacy groups that represent them must demonstrate interpersonal prowess when entering a formal and informal dialogue with independent regulatory bodies, key stakeholders, and of course, the government.
Time Management and Organisation Skills: For individuals who opt for a career as Agricultural Scientists working in logistics, organization skills are a must. These professionals are tasked with ensuring that raw materials are properly transported, stored, and delivered from the producer to the wholesaler, to the consumer. It is not unusual for agriculture professionals to work with a variety of products, as well as a variety of farmers and numerous clients. In short, strong organizational skills may be a strong determining factor in one's success in this role. Time management and organisation are also important for those in the field – including labourers, farmers, and machine operators.
Tech-Savvy: The knowledge of where technology is going in terms if new techniques and advancements, particularly in terms of agriculture practices, is incredibly important. This includes a focus on things such as irrigation, pesticide use, and improving methods and techniques of cultivation, harvest, storage, and transport.
Also read: A Career as Farm Manager
Which certifications and internships can be helpful in becoming Agricultural Scientist?
We have provided below a list of certification courses that aspiring individuals may opt to upgrade their knowledge and skills for a career as Agricultural Scientist.
Internship Availability
Yes
Working in the agriculture sciences gives interns the chance to get out of big cities and learn what life is like in the rural areas of their destination countries. Agricultural Science interns work to analyze the impact of farming practices and help to implement new, more sustainable, and cost-effective models. This often includes analysing the business, environmental, and social impact of farming practices, developing crop optimization models, inspecting animals for diseases and pests, and creating analyses and reports on crops. Agricultural Scientist interns may also conduct research and provide administrative support.
Individuals who opt for a career as an Agricultural Scientist must develop good communication skills and have a strong background of basic agriculture practices. In addition, interns should be flexible in their work sphere as they may be expected to assist with planting crops, work with livestock, or hold panels to discuss agriculture practices.
Career Path Progression for Agricultural Scientist
Agricultural Manager: As an agricultural manager, one must take charge of all agricultural activities taking place on the farm or in other locations and be responsible for them. An agricultural manager also sits with the stakeholders and plans a variety of events to help increase production by sustainable means. It is also the responsibility of the agricultural manager to provide farmers with an effective supply chain for the required supply of agricultural products. They also carry out research work and perform surveys to obtain more knowledge on the subject, which will ultimately lead to improved production.
Agricultural Lawyer: Agricultural lawyers are a valuable resource because they offer practical guidance and support for the use of land and pesticides, as well as for crops, water, labour, and environmental issues. Because of this highly regulated sector, agricultural lawyers ensure that customers understand the laws and regulations of agriculture; it is their duty to help customers operate their agricultural business or farm in an acceptable way. They need to stay up-to-date on new rules and regulations so that the advice they provide is appropriate. These types of agriculture officers may specialise in various branches, some of which include: the purchase and financing of a farm, marriage or divorce that may affect the farm, corporate farming, tax problems, mineral and gas rights, land and estate planning, and generic farm agreements.
Agricultural Technician: A person who pursues a career as an agricultural technician analyses the impact of the environment on crops in order to help improve the overall performance of an activity by performing farm research and experiments, gathering and analysing data, and preparing reports based on their findings. In order to help farmers operate their businesses, agricultural technicians are expected to use their knowledge of agricultural technology to find the most cost-effective way to work on their land. A career as agricultural technicians includes certain tasks such as providing farmers with advice and information about their agricultural technology firms, choosing crops based on soil quality, studying weed control, helping farmers choose the right animals, performing laboratory tests, and taking field samples.
Agricultural Scientist Jobs and Salaries
Senior Agricultural Manager
Monthly Salaries
Average Salary

100000

Junior Level Salary

70000

Senior Level Salary

200000
Job Description
The roles of senior agricultural managers are also much broader, involving the management of all farm properties as well as activities and employees. As core elements of the work, senior agricultural manager careers concentrate on strategic sourcing and procurement, risk management , supplier partnership, and supplier integration.
Salary Description
The more experience that senior agricultural manager earn in the field, the higher the salary and opportunity they will make in the business. Senior agricultural manager earn more at the early stage of employment which is better than most other occupations which are approximately Rs. twelve lakhs per year but eventually earn more than Rs. twenty lakhs at senior level.
Agricultural Lawyer
Monthly Salaries
Average Salary

70000

Junior Level Salary

40000

Senior Level Salary

100000
Job Description
Agricultural lawyers are responsible for ensuring that all government regulations are adhered to. In addition, since there are various guidelines covering property laws, agrarian legal advisors often need to handle issues related to the agricultural system, security and intellectual property. They also deal with cases that include labour regulations, environmental insurance and suitable land use.
Salary Description
Salaries in this career largely depend on the company and the role which an individual occupies. An average salary for an agricultural lawyer is up to Rs. seven lakhs per year. At the beginning of their career, they receive more than Rs. four lakhs a year which increases to even more than Rs. twelve lakhs a year in senior positions.
Agricultural Technician
Monthly Salaries
Average Salary

50000

Junior Level Salary

30000

Senior Level Salary

90000
Job Description
Agricultural technicians with experience have some autonomy and may supervise other employees. Another aspect for those who are pursuing a career as agricultural technicians is that they are also required to work with agriculture engineers, agriculture managers, agriculture inspectors and farm managers.
Salary Description
The salaries of agricultural technicians depend on career growth or rely entirely on the experience of the particular field. The salary of agricultural technicians depends mainly on the experience of the employees. The agricultural technicians receive on average up to Rs. six lakhs a year. They get more than Rs. four lakhs a year at the early stage but finally get more than Rs. ten lakhs at the senior level.


What is the job outlook for Agricultural Scientist?
A career in agricultural science is always a lucrative option because it is one of the largest industries playing a vital role in economy and job opportunities. It includes research and development on plant breeding, plant genetics, horticulture, soil science, production techniques like irrigation, minimization of effect of pests and animals, food production, food preservation and minimisation of adverse environmental effects. Smart farming which involves agricultural IT services, incorporation of the latest communication technologies and artificial intelligence into agriculture production is one of the recent developments in agriculture science. The government is focusing more on agriculture and hence the future growth prospects in agriculture and allied industries are very high. With a shortage of talents in the field of agriculture, salaries are increasing.
Potential growth for an agriculture scientist is expected to grow at a substantial rate, or about the average rate of others. While substantial research has been done in certain areas, there are constantly new avenues evolving that contribute to the likelihood of new positions. Since agriculture scientists work in a wide array of roles and for a variety of companies, there is always the potential for growth.
Students also liked
Frequently Asked Questions for Agricultural Scientist
Que. What is the most important agriculture scientist qualification?
Ans.
Food science is a great degree and there is a demand for food scientists. Food science is a great degree and there is a demand for food scientists. You need a good background in chemistry, as well as a feel for flavours - seasoning, spices and some knowledge of foods to do really well.
Que. Is agriculture a good career?
Ans.
Agriculture is one of the largest industries and a good source of employment across the country. Agriculture also plays a vital role in the Indian economy. It promotes the efficient production of quality food in the agriculture-food industry & on the farm linked to farming.
Que. Which country is best for agriculture jobs?
Ans.
Instead, you can think of the Netherlands which has made remarkable progress in agriculture crop production and is the largest exporter of farm produce (surpassing even USA, China, India, other European countries).
Que. What is agricultural science?
Ans.
Agriculture science is that component of science which deals with the production of food production and processing. Agricultural science students study about various technologies used for crop cultivation, harvesting and processing of plant and animal products which can be used for human consumption.
Que. What is the role of Agricultural Engineer?
Ans.
Agricultural Engineers are involved in a variety of activities related to farming and the agricultural industry in general. These activities range from aquaculture (breeding, raising, and harvesting fish, shellfish and aquatic plants) to land farming and forestry. When it comes to career as agricultural engineers their activities also include developing biofuels and finding better ways to process food.
You might also be interested in
The question have been saved in answer later, you can access it from your profile anytime.
Access now
Report Question
Select your reason of reporting