Who is a Molecular Biologist?
Almost all aspects of life are engineered at the molecular level, and without understanding molecules, we can only have a very sketchy understanding of life itself ~ Francis Crick
We all know that our ancestors were monkeys but how did we find that out? The answer is various disciplines of science enabled us to have information like this. The field of molecular biology deals with the examination of plants, animals as well as human genetics in order to find the variation as well as relationships between them. If you wish to be a part of this process wherein you get to study DNA as well as RNA of living organisms then you can go for a career in molecular biology. There are several opportunities in the field of molecular biology and going for it can be a wise career choice.
Molecular biologists spend most of the time working in laboratories and offices. Their work responsibilities include examining samples and conducting experiments. Molecular biologists sometimes have to work with toxic chemicals that might prove dangerous to life. They follow strict safety measures while working in a laboratory. While working in offices they gather the results of their findings through various data analysis programs. Molecular biology is the branch that deals with the study of biology which involves the functions of nucleic acids, proteins, and other macromolecules' structure analyses and manipulation.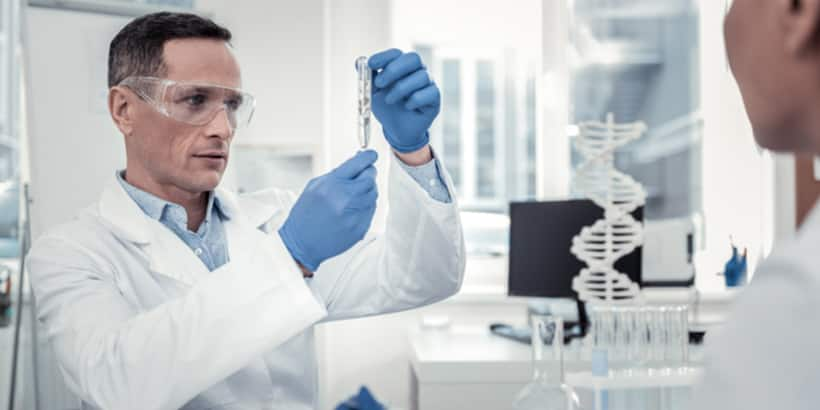 Molecular Biologist in a Nutshell
Molecular biologists conduct study and experiments in the laboratory. They examine human genetics, animal and plant. Molecular biologists use their knowledge of physiology, chemistry, and genetics science while working on animals, plants, humans and other organisms' deoxyribonucleic acid or DNA, ribonucleic acid or RNA in the laboratory.
Quick Facts for Molecular Biologist
Industry

Technology

Average Salary in India

₹30000

Suitable for

Male, Female

It is suitable for individuals of each gender. The candidate should be a science scholar having a passion for research in the subject of biology or life sciences.

Any special needs

Yes

It is not suitable for candidates with special abilities. A molecular biologist conducts experiments and prepares reports. He/she should be frequent to record accurate results. Some molecular biologists have to carry out experiments using toxic chemicals that could turn dangerous to life if any mismanagement happens.
What is the role of Molecular Biologist?
It would not be wrong to say that a molecular biologist's mind is always occupied by cells and its functional structure. Here, the word cells suggest the thoughts related to the functioning and mechanism of cells. Each day, they spend hours to understand the complex molecular networks of a single molecule to inspect the activities of a cell during life processes. They conduct experiments and study to understand the evolutionary processes such as reproduction, birth, and death of plants, animals, humans and other living organisms. Molecular biologist's prime responsibility includes changing genetic properties to cure or slow disease infestation. They use critical thinking in their assigned tasks to enact changes to processes and apply the new methodology to solve problems.
Application of scientific techniques
A molecular biologist uses several scientific techniques while carrying out his or her daily work routine. He or she applies standard molecular biological techniques such as the process of cloning, ligation, PCR, gel electrophoresis, primer, DNA sequence analysis and several other complex scientific techniques.
Manufacturing
A molecular biologist's work responsibility also includes manufacturing research-grade materials. They may be responsible for creating several B2B products used for clinical purposes such as manufacturing IVD products, IVD stands for in vitro diagnostic products. They are instruments or systems that are used for diagnosing several diseases.
Presentation
A molecular biologist generally works with a team of people. They must have the skill to prepare data presentations which are made for purposes like a scientific meeting or a meeting with the stakeholders. There can be several reasons behind conducting a presentation. It could be either done to start a new project or to show the progress of the existing one.
DNA study
A molecular biologist spends his or her most of the time in designing and analysis of DNA construct. A molecular biologist aims at finding DNA relationships between several living organisms therefore he or she is involved in research to understand and find any similarities or patterns.
Use of digital tools
A molecular biologist uses software in order to construct DNA and molecular modeling of living organisms. On a daily basis a molecular biologist interacts with several digital tools which can make his or her work easier.
Review
Science keeps evolving as time passes. Therefore, to keep up with several scientific advancements taking place around the globe a molecular biologist keeps reviewing scientific literature and journal articles. It is important to know about the changes going on in the field to cope up with the competition.
Quality check
There are certain quality standards that are pre-decided in the field of molecular biology. Therefore, a molecular biologist holds the responsibility of quality control while he or she is carrying out a lab experiment or conducting a study for analyses.
Prepare reports
Several studies and experiments are conducted by a molecular biologist on a daily basis. A molecular biologist is responsible for preparing reports from the findings of the studies, researches and experiments conducted and presents it in the scientific meetings or in a meeting with the stakeholders.
Types of a Molecular Biologist
Biology teacher: The biology teacher or professors teach students subjects such as earth sciences, technological advances, research methods within the discipline. A bachelor's degree in the subject is required to teach secondary level students. The responsibilities of a biology teacher is to assist in the preparation for ISI and other educational inspections, be able to communicate with parents, governors, feeder/senior schools and other groups and individuals on academic matters, contribute to the termly reports to governors and speech day report contribute to the annual information for the prospectus, contribute to the update of both staff and Parents' Handbooks Make recommendations for staff inset, write school magazine articles as appropriate.
Research specialist: A research specialist conducts experiments and studies. He/she analyzes the findings of their study and prepares the report. Researchers work in clinical and non-clinical areas. They may work in the lab or field. Biochemists seek to understand how the structure of a molecule relates. They provide new ideas and experiments to understand how life works, support our understanding of health and disease, and contribute innovative information to the technology revolution.
Cellular biologist: Cellular biologist conducts experiments and examines to find out the cell development process. They conduct experiments involving the molecular genetics of cells to research and prepare a report of their findings. They cover an array of living organisms such as insects, humans, and plants. Their job duties include researching the effects of substances such as drugs, hormones, and food on tissues and biological processes, preparing technical reports, research papers, and recommendations based on their research, presenting research findings to scientists, engineers, and other colleagues.
Also read - Career as a nanotechnologist
What is the workplace/work environment of Molecular Biologist like?
Microbiologists spend most of their time working in laboratories, offices, on-field, industrial settings, and other workplaces. They have to follow safety measures strictly while examining specimens of cells. As they have to work with toxic chemicals which could prove dangerous to their lives. On-field microbiologists generally collect samples exposed to the environment or worksites. They may be required to travel occasionally for on-field work or to collect samples. Generally, researchers work in academic institutions or they own their laboratories to conduct research.
Does Molecular Biologist require travelling?
Likely
Molecular biologists occasionally require traveling. The purpose of travel may vary. They visit on-site for the collection of samples from outside fields.
Employment Shifts
Full Time
A molecular biologist works full time. It may take years to study and research to find the cure or alternative to slow down the effects of the disease. Therefore, this career does not come up with work from home, hourly basis or on-call work opportunities.
Employment Nature
Permanent
A majority of the molecular biologists are permanent employees of a company. In case there are any short-term projects or survey to do, the company might hire molecular biologists on contract basis.
Work Place
Laboratory, Office, universities, pharmaceutical
Molecular biologists serve their services in laboratories, offices, universities, government agencies, pharmaceutical companies, and other related industries. They work eight hours a day and 35 hours a week. Their work hours sometimes may extend to meet the deadlines.
Presence in Geographical Area
Urban
Urban cities are flourishing with employment opportunities while rural areas provide negligible job opportunities for this career. The rapidly developing cities with a vast population such as Delhi, Bengaluru, Ahmedabad, and Chennai offer great opportunities for careers related to life sciences and molecular biology.
Time Pressure
Not Likely
Molecular biologists usually don't face any time pressure. They're required to work in laboratories having air conditioning for most of the time. For quite a few instances, they might be required to visit outdoors to collect samples and equipment which might lead to some time pressure. Apart from this, time pressure is rare in the profession.
Overtime Details
Typically, molecular biologists are required to work nine hours per day. Molecular biologists hardly face any overtime working problems. However, occasionally during project deadlines, they might be required to work for long hours under stressful conditions.
Weekly Hours of Work
Min 45 Hours
Molecular biologists generally work eight hours a day in a lab or office environment. They don't work on rotational shifts. Their work hours generally start from mornings and end in mid evenings. Their work hours sometimes may extend to meet the deadlines.
How to become a Molecular Biologist?
What are the skills and qualities required to become a/an Molecular Biologist?
Communication skills: Communication is basically the transferring of knowledge from one location, individual or community to another. Communication requires one transmitter, one message, and one receiver. This might also look simple, but communication is, in reality, a very complicated matter. Communication in the workplace is very important to businesses because it helps industries to be productive and operate more efficiently. A molecular biologist must effectively communicate his/her ideas and results of experiments to other colleagues and stakeholders. He should be able to listen, clarify and respond effectively
Interpersonal management: Interpersonal skills are essential irrespective of the profession, as they: allow staff to create and maintain positive working relationships with each other and to their stakeholders, lead to growing organizations and the company's effectiveness. Interpersonal responsibilities include the interactions a manager needs to have with others. A molecular biologist has to work in a team. He/she has to establish good relations with the team to avoid conflicts and remain productive at work
Supervisory skill: Time- and primary consideration-management capabilities can improve performance and productivity. An essential skill is becoming ready to maintain a strong workforce and resource limitations when overseeing and delegating other workers and projects. Supervisory skills are appropriate for the ability to understand which are essential and what is relevant. A molecular biologist requires to monitor the project effectively to ensure its successful completion and improve it where it lacks
Organisational skills: Organizational competencies could hopefully maintain things in line. They find things simple to control the workload of assignments, schedule, and maintain the documents. Organizing oneself can also significantly decrease the distractions at the work station so that the worker could be more efficient in the working space. A molecular biologist has to be organized to effectively manage things. He/she has to design, plan, organize, and execute the projects to complete within a given schedule.
Project management: Project management is vital as it guarantees what is distributed, is appropriate, and can give added value to the companies' ability. Every company has organizational plans, and those priorities are supported by the projects. It is the most important aspect of a molecular biologist's profession. He/she has worked on multiple projects and set priorities on work assignments. He/she must be flexible to adapt to changing conditions.
Which certifications and internships can be helpful in becoming Molecular Biologist?
Internship Availability
Yes
An internship or apprentice is an initiative that an employer provides to prospective workers, called interns, to function for a specified period of time at a company. Practitioners are usually university students or graduates and mostly the internships extend starting from a month to six months. The internship might be both paid or unpaid but in both the cases interns are rewarded with a certificate for further placements. Students search manually or with the help of the various websites to find and apply for an internship opportunity, and send a resume to the hiring companies to show the background and preferences and usually involves some certain professional experience that the students might have.
The interns can find good opportunities in biotech and pharmaceutical companies. The companies hire interns to assist in the assessment of biochemical activities under diseased conditions. One can find various options through recruiting websites such as naukri.com, Glassdoor, Internshala, indeed.com, and other online platforms.
Career Path Progression for Molecular Biologist
Director: The director is responsible for giving strategic scientific advice and inputs. He/she is responsible for healthcare science, science policy development, and its implementation. A director is the highest authority and looks after all the activities that take place.
Deputy regional director: A deputy director reports to the director directly. He/she leads the project. He/she is responsible for its development and execution. He/she is responsible for supporting the direction in building up essential relationships with scientific societies, advisory boards, centers of excellence, professional associations and stakeholders.
Research associate: He/she is responsible for conducting experiments and studying the evolutionary processes such as reproduction, birth, and death of plants, animals, humans and other living organisms. Molecular biologists' study primarily contributes to the findings of molecular networks of disease mechanisms.
Molecular biology technician: The technicians must have gained expertise in molecular biology techniques such as DNA/RNA extraction, PCR, modification, clone selection, transformation, and propagation. They are required to pay great attention to details. Excellent communications are essential for effective functioning.
Molecular Biologist Jobs and Salaries
Research associate
Monthly Salaries
Average Salary

30000

Starting Salary

25000

Junior Level Salary

25000

Senior Level Salary

45000
Job Description
Research associates plan, organize, and conduct research on businesses, markets, investments, or the economy. They are employed by asset management firms, financial institutions, consulting firms and in-house research departments of companies. The responsibilities of research associates can vary depending on the size and needs of the firm.
Salary Description
The basic pay for research associates is 25,000 INR per month. An entry level research associate is expected to receive a total compensation of 25,000 INR per month. After gaining experience in the field, their salary increases upto 45,000 INR per month.
Molecular biology technician
Monthly Salaries
Average Salary

30000

Junior Level Salary

25000

Senior Level Salary

50000
Job Description
The technicians would have acquired experience in techniques of molecular biology, like collection of DNA / RNA, PCR, alteration, clone development, transition and propagation.
Salary Description
The salary of molecular biology technician based on experience and technical skills. The entry-level salary could be up to four lakhs per year and eventually, it could be above six lakhs per year depending on the skill and experience.
What is the job outlook for Molecular Biologist?
As science has developed and people are more aware of the technology. This career opens the doors to some of the most wonderful opportunities. There's a boom expected in the number of job growths in the next five to ten years. There' be 19 per cent expected job growth that is quite higher than any other occupation. The career focuses on the human cycle and the evolution of life. The molecular biologists are identifying many chronic diseases and their cures. The deadly disease cancer which was considered incurable before has its cure now. Thanks to the power of molecular biology and its wide perspective of understanding the possibility of life through the functioning of a cell.
Molecular biologists find job opportunities in private industries, universities( government and private), government agencies. Molecular biologists serve as consultants and advise on environmental issues in the private industry. While in government agencies, they are involved in researching to find the cure or treatment of diseases. In academic institutions or universities, the professors instruct students as well as contribute the research within their fields. For entry-level positions, a bachelor's or master's degree is sufficient. But for a senior role, a doctorate or Ph.D. in the specialization of physics, chemistry, biochemistry, biology or related subject is required.
Frequently Asked Questions for Molecular Biologist
Que. What are the educational and training requirements for molecular biologists?
Ans.
To establish a career as a molecular biologist, one must pursue a bachelor of science or BSc in life sciences or related subjects with a concentration in molecular biology. A master's degree in the related subjects is considered a bonus point to bag the entry-level job opportunities. A doctoral degree or Ph.D. degree is required for senior roles.
Que. What are the workplaces for molecular biologists?
Ans.
A molecular biologist serves his/her duties in laboratories, hospitals, universities, research firms, and pharmaceutical companies.
Que. What are the pros and cons of being a molecular biologist?
Ans.
There is an expected growth of 19 percent by the year 2022 in the field of molecular biology. Several entry-level jobs only require a bachelor degree. There is a huge scope for the career, as there are multiple fields such as medical, pharmaceutical and forensic sciences.
You might also be interested in
The question have been saved in answer later, you can access it from your profile anytime.
Access now
Report Question
Select your reason of reporting