Who is a Biochemist?
It is one of the more striking generalisations of biochemistry - which surprisingly is hardly ever mentioned in the biochemical textbooks - that the twenty amino acids and four bases are, with minor reservations the same throughout Nature ~ Francis Crick
The human body is extremely complex in nature. But understanding the complexity of the human body has always been a matter of interest. Similarly, individuals who opt for a career as a biochemist or bacteriologist are required to deal with various chemicals and enzymes and their biological effects. A biochemist job involves the study of the fundamental unit of human beings that is the 'cell' of the human body, He or she studies DNA, heredity, and a lot of other concepts. Career as biochemist involves developing the right drug for human consumption to decrease the symptoms of diseases and cure them. It is not necessary that a Biochemist must be a graduate of biochemistry college. He or she can also be a graduate of biology or biotechnology college or other related fields. Biochemists work to understand how reactions happen in tissues and record the effects of medicines. The objective of career as biochemist is to improve the quality of life by understanding living organisms at a molecular level.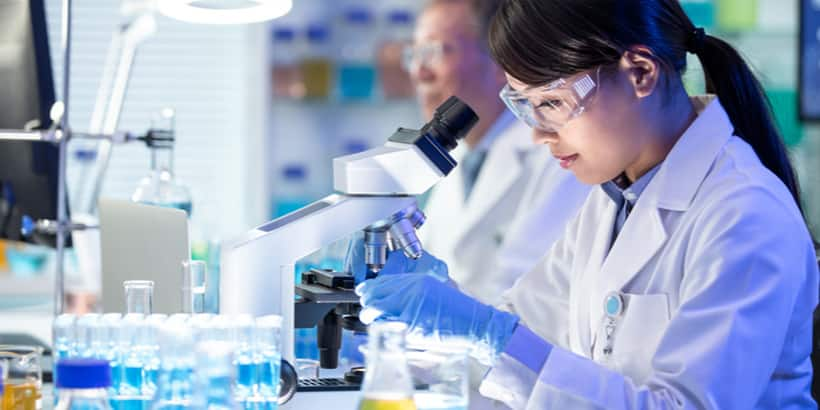 Biochemist in a Nutshell
Biochemists study the behaviour of living things at a molecular level to understand the processes that occur. Individuals who have opted for career as Biochemists study how pharmaceutical drugs and food affect an organism's biology. Biochemist education requirements include the study of various applications in medicine, agriculture and the environment to improve our quality of life.
Quick Facts for Biochemist
Industry

Healthcare

Average Salary in India

₹69166.67

Suitable for

Male, Female, Others

A career as a biochemist is suitable for both genders as the tasks involved in the profession can be easily executed by both the genders. Gender does not provide any hindrance in the biochemist career growth. There are specific biochemist education requirements to opt for a biochemist career path.

Any special needs

No

A Biochemist job is not suitable for candidates with special needs, as the profession involves handling toxic materials which require a lot of patience and attention and a slight mistake can lead to a big disaster. A Biochemist is a research professional. His or her work involves attention to detail. Candidates with special needs find it difficult to perform efficiently in biochemist career.
Table of Contents for Biochemist
What is the role of Biochemist?
Individuals opting for a career as Biochemists may require to study to discover how certain genes or environmental factors cause disease and the solution to these diseases. Several biologists stay involve in conducting research projects, manage laboratory teams, prepare technical reports, and share research findings with the scientists. A career as a Biochemist requires analysing DNA, enzymes, and other molecules to research the effect of drugs and food on biological processes. They use high-tech equipment to determine the structure of molecules. The primary job of Biochemist involves studying the chemistry of living processes at molecular and cellular levels. It includes cell development, reproduction, death and metabolism also. He or she studies chemical as well as physical properties of cells by using electron microscopes.
Analysis
Biochemists analyse organic and inorganic compounds to determine chemical and physical properties, composition, structure, relationships, and reactions. Biochemists analyze the sample, observe and collect data, and write about their research in the form of a report. Analysis forms the basic work attribute of a biochemist's work profile.
Quality control
In order to ensure that the medicine is of good quality, biochemists conduct several tests that ensure the desired quality of the product. They conduct numerous test in order to find out the properties of the medicine and how a human body might react to it after consumption. Usually, repeated tests are performed for precision and avoidance of inaccuracy.
Maintenance of equipment
Equipment maintenance is extremely important, as a wrong reading could potentially lead to an incorrect diagnosis. Biochemists maintain laboratory instruments to ensure proper working order and repair when the instruments are not properly functioning.
Evaluation
Biochemists also have to continuously evaluate and monitor laboratory safety procedures and make sure that the lab instruments are functioning properly. This is done so that the tests that are conducted are accurate and precise. In order to remove any kind of anomaly or hurdles in the tests, evaluation is done a regular basis by biochemists.
Maintain records
Biochemists keep records of all the activities using notes, logs, and data collecting instruments in accordance with the standard operating procedures. Record maintenance is also an important part of a biochemist's job profile. Several tests are done on a daily basis so it is important to keep their records in a proper manner as when the need arises, the record can be found immediately and steps can be taken accordingly.
Types of a Biochemist
Individuals who have studied biochemistry may also opt for alternative job roles of a career a biochemist. We have mentioned below major career options as an alternative to career as biochemist. These are the highest paying biochemistry jobs.
Forensic Scientists: Forensic Scientists are the one who helps investigate crimes by collecting and analysing physical evidence. Most of these specialise in either crime scene investigation or laboratory analysis. Crime scene investigators may work long hours under distressing conditions. They also help the police in evidence gathering and its analysis.
Analytical Chemist: Analytical Chemists are the people that study and test the chemical composition and behaviours of many different substances. They are key figures when it comes to the creation of new drugs that might help in fighting a disease or a virus. How to use the chemical compound in the best possible way to help combat the disease is what primarily analytical chemists do.
Biomedical Scientist: Biomedical Scientist work to gain knowledge on the main principles of how the human body works and react to various drugs. by continuously testing and researching, biomedical scientists often find ways to prevent or fight a disease. Many times, they are the frontrunners when it comes to creating a new type of medicine or a vaccine.
Clinical Research Associates: Clinical Research Associates organise and regulate clinical trials of new or current drugs in order to assess the benefits and risks of using them. Clinical trials is an important job as new drugs that have been developed are first tested in a controlled environment. Hence, Clinical Research Associates is an important position. You may also read a career as a Clinical Research Coordinator.
Toxicologist: Toxicologists use analytical and scientific techniques to identify toxins such as chemicals, biological substances, and radiation to assess the potential risks and harmful effects present in them.
What is the workplace/work environment of Biochemist like?
Biochemists work indoors in fully equipped laboratories or at research and development facilities. A Biochemist work environment is similar to other research professionals. Those who work with hazardous or toxic substances need to follow safety procedures to avoid contamination. Biochemist responsibilities and daily activities often involve being exposed to harmful chemicals. Therefore, Biochemists are required to wear protective gear to protect themselves and to prevent the contamination of samples or equipment present in the labs. Individuals in a career as a Biochemist require protective clothing such as coats, gloves, masks, eye protection or even all-over sealed protective suits to work in laboratories.
Does Biochemist require travelling?
Not Likely
Career as a Biochemist provide mostly work in indoor settings like offices and laboratories. Biochemists working in offices and buildings do not require travelling as their tasks are completed in offices and laboratories. However, several Biochemists or Biologists working in environmental restoration firms may need to travel. Travelling is not required in the career as a biochemist on a daily basis.
Employment Shifts
Full Time, Part Time
Employers mostly hire Biochemists for a full-time job, however, there are companies that hire Biochemists on a part-time basis. Individuals in a career as a Biochemist have a regular work shift which is nine to five. Biochemists working in hospitals are often required to do on-call work. Usually, weekends are considered off in the bacteriologist profession however, some biochemists can work on weekends and work for long hours as and when required by the employer. Most biochemists work a regular nine to five shift on weekdays.
Employment Nature
Contractual, Permanent
A career as Biochemist provides employment on both a permanent and contractual basis depending on the requirements of the company. Biochemists working in manufacturing, energy development, or environmental restoration firms, hospitals and laboratories are hired on a permanent basis. Bacteriologist employment opportunities exist for various job roles such as faculty, research staff, or teachers at colleges, universities, and secondary schools where individuals can be hired on a contractual basis.
Work Place
Laboratory
Biochemists generally work in laboratories, wherein they carry out research and do their experiments. They might also work in a classroom setting if they are teaching students bio-chemistry. As such most of the time, their work requires them to be indoors. They might also work in hospitals as consultants.
Presence in Geographical Area
Semi-urban, Urban
Metro cities can be considered as job hubs for the career as biochemist, as laboratories with hi-tech equipment are easily available in the urban areas. Cities such as Mumbai, Bangalore, Delhi, Kolkata, Hyderabad, and many more can be considered as hubs as jobs in these cities are easily available. Top biochemistry institutions providing educational knowledge along with the biochemist job opportunities exist in these cities.
Time Pressure
Not Likely
Biochemists usually don't face any time pressure. They're required to work in laboratories having air conditioning for most of the time. For quite a few instances, individuals who have opted for a career as a Biochemist might be required to visit outdoors in order to collect samples and equipment which might lead to some time pressure. Apart from this, time pressure is rare in the Biochemist profession.
Overtime Details
Typically, Biochemists are required to work nine hours per day. Biochemists hardly face any overtime working problems. However, occasionally during project deadlines, they might be required to work for long hours under stressful conditions.
Weekly Hours of Work
Min 45 Hours
Individuals in the career as Biochemists usually work for a minimum of 40 to 45 hours on a weekly basis apart from the overtime hours. Biochemists may or may not be compensated for the additional hours they put in the regular shifts, depending on the rules and regulations of the industry they work for.
How to become a Biochemist?
What are the skills and qualities required to become a/an Biochemist?
There are several skills set that candidates must be aware before opting a career as a biochemist. As these skill sets are mandatory to efficiently functioning in the industry in the career as biochemist. The minimum Biochemist education requirements are successful completion of a bachelor's degree programme in biochemistry or other related specialisations. One can-not acquire a biochemistry job without the skillset mentioned below.
Analytical Skills: Biochemists must be able to conduct scientific experiments and analyses with accuracy and precision. Analytical thinking could help participants understand various issues, make decisions, and develop solutions. Analytics studies of a topic or problem for pushing more effective solutions upon it. A career as biochemist require individuals who can conduct scientific experiments and analyses with accuracy and precision.
Communication Skills: Communication is a basic characteristic of any career and the healthcare industry is no different. Nobody can actually perform properly despite the proper review, must always pay attention to the managers or the employees to operate excellently. A career as a biochemist requires to write and publish reports and research papers, give presentations of findings, and communicate with team members. It is essential that they ask more questions at the perfect time. It takes not only listening but also writing skills to make notes and to interact confidently with peers and stakeholders in the career as a biochemist.
Critical-Thinking: Biochemists draw conclusions from experimental results through sound reasoning and judgment. A career as a biochemist requires individuals who can think rationally about determining the advantages and limitations and providing a solution, insights, or alternatives to the challenges. They have to think out of the box to come up with better practical solutions. Biochemists draw conclusions from experimental results through sound reasoning and judgment.
Interpersonal Management: Typically, biochemists and biophysicists collaborate with research groups but they need to operate well with each other towards a shared vision. Numerous individuals function as team leaders and have to be able to encourage and direct other members of the organization. A person must be collaborative in the career as a biochemist. He or she must be willing to function as part of a team, and passionate.
Mathematical Skills: Biochemistry could not be approached unless one knows the mathematics and statistics connected with it. A career as a biochemist requires a detailed understanding of the science behind healthcare and related technology is required. It is possible to apply proper scientific methods and rules to solve the problem and to emerge to be more impactful. Biochemists use complex equations and formulas regularly in their work; they also need a broad understanding of mathematics, including calculus and statistics.
Problem-Solving Ability: The scientific study requires significant trials and falls, and the work of biochemists and biophysicists should not even be avoided. A career as biochemists involve scientific experiments and analysis to find solutions to complex scientific problems. Biochemists discuss the sources of organisational failures and evaluate what could be learned about them. Troubleshooting is also about highlighting the major issue and proposing solutions to all of it.
Time-Management: Time management skills seem to be something almost every other employee would have. Similarly, biochemists should be able to manage their time and also other colleagues'. It is no special from other sectors since this individual often has to work longer hours due to the extreme work overload. Individuals in the career as biochemists usually need to meet deadlines when conducting research. They must be able to manage time and prioritise tasks efficiently while maintaining the quality of work.
Which certifications and internships can be helpful in becoming Biochemist?
We have mentioned below certifications that individuals may opt who want to establish a career as Biochemist.
Internship Availability
Yes
The hands-on work experience gained by biochemistry interns is invaluable and cannot be obtained in a classroom or college. Internships help students to apply the knowledge they gained in different courses to real-world experiences. Internships help students to get acquainted with the desired field that they wish to work in the future. Internships in biochemistry are easily available to students all across India and other parts of the world. The duration of the biologist internships varies from firm to firm. So it totally depends on the students which firm they wish to choose for the internships. Individuals are required to undergo internships to opt for a full-time career as a Biochemist.
Career Path Progression for Biochemist
One can find numerous biochemistry jobs in the industry and progress to senior-level biochemistry jobs such as Senior Scientist or Development Scientist. You may go through the Biochemist job description provided below with various titles.
Research Associate: A research associate is a major job role in the career as a biochemist. They plan, organize, and conduct research on businesses, markets, investments, or the economy. Research associates are employed by asset management firms, financial institutions, consulting firms and in-house research departments of companies. The responsibilities of research associates can vary depending on the size and needs of the firm.
Senior Scientist: A senior scientist is a senior-level job role in the career as biochemist. Senior scientists are people who are able to handle problems outside of primary expertise. As a bacteriologist, they design and conduct studies that investigate both human diseases caused by bacteria and methods to prevent and treat them. They write research grant proposals and apply for funding from government agencies and private funding sources. Senior scientists standardise drug potency, doses, and methods to allow for the mass manufacturing, distribution of drugs and medicinal compounds. Hence, they play a crucial role in career as a biochemist.
Senior Development Scientist: Senior Development Scientist is one of the crucial job roles in the career as a biochemist. These biologists are responsible for planning and completing laboratory work required for projects within the research and development team. Senior development scientists also stay involved in the preparations of work plans, analysis, and presentation of all results using excel and PowerPoint for review. Individuals reach this level after hard work for nine years in career as biochemist.
Biochemist Jobs and Salaries
What is the job outlook for Biochemist?
The biochemist job market is projected to grow six per cent from 2018 to 2028. The requirement of biochemists will increase to do the research that increases scientific knowledge. More Biochemists would be required to research and develop biological products and processes that improve people's lives. With the rapid growth of the population demand for new drugs and procedures to cure and prevent the disease will also increase. It is expected that a career as Biochemist in future will require individuals to conduct genetic research and to develop new medicines and treatments that are used to fight genetic disorders and diseases such as cancer.
Biologists work demands to research and develop alternative energy sources such as biofuels. Increasing population and food prices are expected to support the development of genetically engineered crops and livestock that provide greater yields and require fewer resources. The new and improved way to clean and preserve the environment will increase the demand for Biochemists.
Students also liked
Frequently Asked Questions for Biochemist
Que. What kind of work does a biochemist do?
Ans.
The daily work in the career as a biochemist includes analysing enzymes, DNA, and other molecules to research the effects of drugs and food on biological processes. They use electron microscopes, lasers, and other laboratory instruments as well as computer modelling software to determine the structures of molecules.
Que. What does a biochemist do in a hospital?
Ans.
Clinical biochemists are responsible for testing patient samples and interpreting the results for medical staff. They work as part of a hospital medical team that is responsible for investigating and diagnosing patient illnesses.
Que. What skills do biochemists need?
Ans.
There are several skill sets that candidates must possess in order to opt for a career as biochemist. Such skill plays a crucial role in efficiently functioning in a career as biochemist. Analytical skills, communication skills, critical-thinking skills, interpersonal skills, math skills, perseverance, and problem-solving skills play a significant role in the career as a biochemist.
Que. Where do biochemists work?
Ans.
Biochemists work in a variety of settings like some work in manufacturing, energy development, or environmental restoration firms and in hospital laboratories. A career as a biochemist provides employment opportunities as faculty, research staff, or teachers at colleges, universities, and secondary schools. Several biochemists also work for law firms, where they deal with scientific cases.
Que. What are the highest paying biochemistry jobs?
Ans.
The highest paying biochemistry jobs include academic researcher, bio-technologist, analytical chemist, medicinal chemist, clinical research associate, forensic scientist, biomedical scientist, biochemical engineer, clinical scientist, molecular biologist, and biochemist.
Que. How much does a biochemist make?
Ans.
The average salary of biochemist is Rs. 308,000. The entry-level average biochemist salary with less than a year's experience is Rs. 300,000 per year. A senior-level biochemist could earn more than Rs. 400,000 per annum.
You might also be interested in
The question have been saved in answer later, you can access it from your profile anytime.
Access now
Report Question
Select your reason of reporting