Who is a Travel Journalist?
Travel is fatal to prejudice, bigotry, and narrow-mindedness ~ Mark Twain
Many of you think of travelling the world, roam around on the unknown streets, meet new people, but have you ever wondered if you will get paid for this? Sounds amazing right? This could be your dream job, is not it? A travel journalist is one who travels to different locations, explores them, researches their cultural heritage, and then writes about everything.
Journalism does have its own challenges. If you have a passion for research and travel and are willing to compromise on financial security, you could really start your career as a Travel Journalist. The job of a Travel Journalist involves researching and writing about the places, their heritage, culture, food and people. Here, in this article, we will be discussing what does a travel journalist do, travel journalist salary, how to become a travel journalist, travel journalist in India, travel journalist job description, what is travel journalism.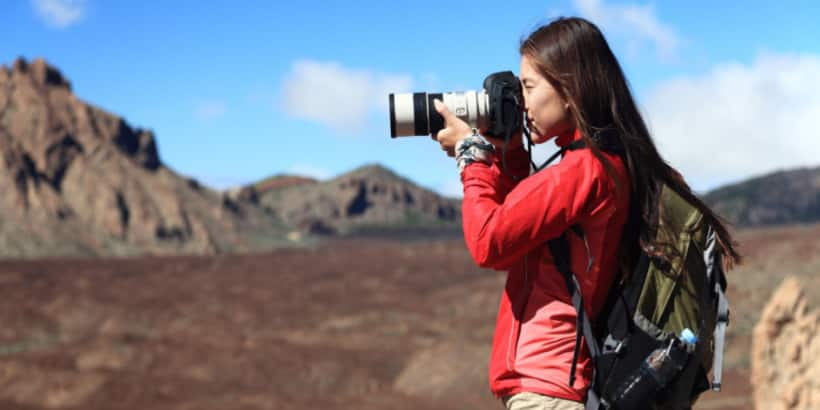 Travel Journalist in a Nutshell
The career of a travel journalist is full of passion, excitement and responsibility. Journalism as a career could be challenging at times, but if you're someone who has been genuinely enthusiastic about all this, then it is the best decision for you. Travel journalism jobs are all about insightful, artfully written, informative narratives designed to cover the travel industry. Travel Journalist is someone who explores, gathers and presents information as a news article.
Quick Facts for Travel Journalist
Industry

Media, Tourism

Average Salary in India

₹37500

Suitable for

Male, Female, Others

Individuals can take up a career as Travel Journalists, it is not gender-specific. Males, women, and others can choose a career as Travel Journalists. In India, a male and female Travel Journalist enjoys equal benefits because gender is insignificant in this career.

Any special needs

Yes

As long as the individual's disability is not hampering the work, anyone, with any disability can become a travel journalist.
What is the role of Travel Journalist?
A travel journalist usually narrates a tale about people who are unique to that place and conveys the factual information. The aim of travel journalism is to promote a wider understanding and knowledge of the world in which we live, to make the readers visit places in imagination with their blogs and articles. Travel journalists tell the stories and give more insight into locations which go beyond a review of a restaurant, festival, or museum.
Individual in the travel journalism jobs is a storyteller. He or she writes and reviews stories about locations, culture and entertainment. The Travel Journalist provides detailed information so that people can develop their views and make more informed decisions.
Create ideas
As a travel journalist is regarded as a storyteller, the very first step towards becoming a storyteller is to have a story concept. A travel journalist needs to find the lead for the article he or she wants to cover. The concept of the plot is generally the area or the beat in which the travel journalist operates.
Taking interviews
Travel journalists take interviews of people regarding the current story they are covering, helping in gathering information and adding up to the research work. If travel journalists interview more people, more voices give them credibility to their story. It is extremely important for a journalist to do his or her research before going to an interview, particularly if the interviewee is a well-known person. Prior to actually conducting an interview, one should prepare a set of questions though in this profession one has to be very impromptu.
Fact check
Once a Travel Journalist has completed his or her research work or interviews, certain information gathered must be checked for factual information. It helps the individual to avoid any kind of problems in the future. One has to be sure that the information provided by the interviewee is reliable, or one may also mention the source of the data while filling out the document.
Photography
Travel Journalists take photographs of people and different places, based on the current story which they are covering, helping in collecting information and adding up to the research work. They take pictures which depict the accrual scenario in a proper way.
Types of a Travel Journalist
Reporter: Reporters conduct interviews, find the source, and collect all the information needed to write a well-rounded news article. Reporters will also present data in writing or verbally in news stories, documentaries or feature stories. Reporters cover all sorts of news articles, and others may specialise in areas like sports, lifestyle or politics. A reporter should have the intellect to draw a distinction between story and objectivity.
Photojournalist: Photojournalists may work as freelance photographers or may be appointed by photo agencies, publications or local newspapers. The areas of employment also include digital media, television and printing. A photojournalist is one who photographs, edits, and displays photographs to tell a visual story. The photojournalists interpret and interact with the event through photographs.
News Editor: The news editor is the person responsible for all news reporters. Individuals make these decisions about what storylines to cover and who is going to do the work. In large media organisations, the news editor may well have a deputy, sometimes referred to as the Chief of Staff, whose job it is to allocate journalists to selected stories.
What is the workplace/work environment of Travel Journalist like?
Individuals in the career as travel journalist needs to go out on the field, gather information, and then compile a story. The journalist's job is both physically and mentally demanding. It is a job for people those who do not like boredom in their day to day life. They work on filed, travel the whole world, meet different people. Their work station also changes regularly.
Does Travel Journalist require travelling?
Likely
As travel journalists, you need to travel a lot locally if there is a storey that breaks. Travel journalists need to travel every now and then, depending on the requirement of a story, or in the case of any event to be covered. Individuals in the career as travel journalists travel not only when a particular story is needed, but they also travel on their own, when they actually want to visit a place.
Employment Shifts
Full Time, Part Time
The shift in the employment of a travel journalist is both full-time and part-time in nature. The duration is generally between 40-45 hours per week. It often stretches depending on the individual's workload. Many times there are incidents that can happen late at night, and a travel journalist is also required to cover them.
Employment Nature
Contractual, Permanent
Travel Journalists work full time, part-time and also work as a freelancer. Individuals in the career as travel journalists work whenever they want to. But while working for any media houses they need to work accordingly.
Work Place
Home Office, On-Field, Office
The nature of the employment of travel journalists are permanent and also of a freelance nature. The firm hires him or her on a full-time or part-time basis. Individuals in the career as travel journalists may be required to work in almost all kinds of scenarios, as it is his or her job to provide information to the people. They travel a lot to gather information. Travel journalists do not really work in an office environment. Though while editing and writing the news article they need particular space for that.
Presence in Geographical Area
Semi-urban, Urban
Travel Journalists mostly work in urban or semi-urban locations. If any incidents happen then journalists from the nearest branch of the media house are sent. But it is not limited only to the country, but also to other countries.
Time Pressure
Likely
A Travel Journalist's job is time-bound. He or she constantly works under time pressure. Deadlines are stapled in the field of journalism. They sometimes work under pressure when some news to be covered in a short notice.
Overtime Details
A travel journalist may have to work overtime in order to meet the desired target or deadline. However, due to travel inconveniences, they may be forced to work overtime.
Weekly Hours of Work
Min 45 Hours
A travel journalist does not have a minimum working hour condition, but one has a goal to complete. Every Travel Journalist needs to file the required number of stories set as a target. But travel reporters generally work around eight-nine hours a day on average.
How to become a Travel Journalist?
Steps to become a Travel Journalist
What are the skills and qualities required to become a/an Travel Journalist?
In, in this article, we will discuss how to become a travel journalist and skills are required by travel journalist.
Communication skill: A Travel Journalist must have good communication skills. Workplace contact is important for Travel Journalist because it allows them to be successful and operate properly. They need to communicate with people for their resources and to take people's reaction. They even take interviews with well-known people, for these communications skills are very important.
Writing skills: Travel Journalist needs to be skilled at communicating clear ideas and thoughts. Most journalists will start writing before the start of their work. It is not just about good writing, but also about building knowledge of various writing styles. Travel Journalist writes about the information which they have collected from various places.
Research skills: Research skills for journalists is a comprehensive, approachable and highly functional guide to the development of a diverse set of skills necessary to make well-researched, journalistic integrity across a wide variety of platforms. Travel Journalists are expected to be highly dedicated to any article. To know the news, to look in the right places, to find the story, to analyse the narrative and, finally, to tell the full story in an impartial, uncompromised and accurate way.
Popular Online Arts And Crafts Courses and Certifications
Which certifications and internships can be helpful in becoming Travel Journalist?
We have mentioned below certifications that individuals may opt who want to establish a career as a Travel Journalist.
Internship Availability
Yes
Internships are proven to be the ideal way to gain experience in a travel journalist career path. Internships allow the candidate to build relationships in the field for future use. If he or she performs well throughout the internship, a lot of companies or organisations also might recruit a candidate on a full-time basis. This is such a field, where internship really adds a value to the candidate's career. Candidates can find internship opportunities in media houses for two or three months. Mostly travel journalism internships are unpaid, but eventually, those companies hire those interns after the
Career Path Progression for Travel Journalist
Junior Travel Journalist: Junior Travel Journalists write well-structured editorials on the basis of accurate information. They often work on research information and on data checks. Junior Travel Journalists help to take and edit pictures as accordance with the news. The work of Junior Travel Journalists is quite simple in the journalism field. Individuals operate as trainees and assist travel journalists in their job.
Senior Travel Journalist: Senior Travel Journalists are those who search and gather news stories and deliver them to the public through various platforms. They also edit, proofread, and design graphics to help enhance the interests of the readers. Senior Travel Journalists write articles on people, culture, the heritage of a number of places. They need to take photographs, as well as videos.
Travel Journalist Jobs and Salaries
Junior Travel Journalist
Job Description
Junior Travel Journalist's work is very basic in the field of journalism. They work as an intern and assist the travel journalist in their work. They sometimes write articles or help the senior journalists in videography in taking interviews.
Salary Description
Salaries in this career largely depend on the company and the role which an individual occupies. At the beginning of their career, they work for free or may get some stipend. And eventually, they earn more than Rs. two to three lakhs per annum.
Senior Travel Journalist
Job Description
Senior Travel Journalist's work is quite inserting as they work while travelling the whole world with a good amount of salary. They write articles on people, culture, the heritage of several places. They need to do photography, videography as well. They sometimes get help from the interns, but generally work all alone. You can definitely term them as a one-man army. Travel Journalists are very good at mobile journalism.
Salary Description
The salaries of Senior Travel Journalists depend on career growth or rely entirely on the experience of the particular field. The salary of Senior Travel Journalists depends mainly on the experience. The Senior Travel Journalists receive on average up to Rs. six lakhs a year. Source - (GLASSDOOR)
What is the job outlook for Travel Journalist?
A candidate who wants to become a travel journalist is experiencing major job growth. When an individual gains experience and understanding, he or she gets higher ranks in the field of journalism. Because the field is massive and continues to expand, there are plenty of possibilities for employment growth. The life of a travel journalist could be exhausting and somewhat expensive, but somebody who wants to explore the whole world will consider it a most satisfying adventure.
Travel Journalism does not assure a huge amount of money, especially in the early stages of the career, and people can not expect a lot of salaries as there will be thousands of people out there who can do the unpaid work. There is also no stability both in the income and the job. But definitely, it can be said that this job is for those who do not want monotony in their career.
Student Also Liked:
Frequently Asked Questions for Travel Journalist
Que. Is travel journalism a good career?
Ans.
Travel Journalism does not ensure a great deal of money, especially in the early stages of your career, and you can not just expect a huge amount of money as there will be millions of people out there who can do your work for free.
Que. Is journalism a dying field?
Ans.
Journalism is certainly not dying, but it is changing and competitive. You need to be excellent at editing your multimedia content. We might think that print media is dying because of the digital era, but no media is actually dying.
Que. Is journalism a stressful job?
Ans.
Journalists have to deal with time constraints, stressful working environments, insane deadlines, travel, demanding editorial staff, a much more demanding public, and anxiety of being laid off. By all of these, you can surely understand it is a stressful job, but if you have the passion of being a journalist nothing can stop you.
Que. Is it difficult to become a journalist?
Ans.
Working as a reporter could be an exciting and challenging job. However, it can also be difficult work that often leads to unpleasant stories and constructive criticism, and not pays well compared to other professions.
Que. What do travel journalists write about?
Ans.
Travel journalists have their own individual knowledge and expertise to define tourist attractions for different kinds of publications. Such writings may be in the type of blurbs, articles, documentaries or travel guides. They usually accompany their writings with photos of the destinations they visit.
You might also be interested in
Questions related to Travel Journalist
Showing 2 out of 2 Questions
198 Views
I got 98.52 percentile in Jee paper 2. Is there any chances to me at SPAs,. What is the rank priduct to me.
Hello Aspirant
The percentile you got are pretty good. If you want to predict the rank, I am providing you up with a link through which you will get an idea about it . The link is below:-
https://engineering.careers360.com/jee-main-rank-predictor
As the official list is not out by the NTA , so we are unable to guess which colleges you are eligible for as their are several criteria for it.
If you have any further questions do ask.
Thank you!
The question have been saved in answer later, you can access it from your profile anytime.
Access now
Report Question
Select your reason of reporting